Das neue Projekt
"Face Europe"
Die vielen Gesichter Europas.
Ein Zeitraffer Video von einem 2 Stunden Portrait während Interview mit Bill
Im Titel steckt auch die Auseinandersetzung mit dem Thema Europa im Allgemeinen und der EU im Besonderen. "The face": das Gesicht
aber auch "To face": begegnen, sich stellen, gegenüber treten bis zu "let´s face it": seien wir ehrlich.
Es geht auch bei diesem Projekt um die Darstellung der Menschen (Zeichnung und Malerei, sowie Audio und Video), die Geschichte des "Europäers" in einem ganzheitlichen Porträt zu erfassen und sichtbar und erlebbar machen.
Zu diesem Zweck werden wir Europa mit einem extra dafür adaptierten 20 Jahre alten Lkw bereisen, kleine und große Orte, Locations, Museen, öffentliche Plätze aufsuchen, spontan und auch schon vorab organisiert Menschen dazu einladen, sich porträtieren zu lassen und dabei interviewt und gefilmt zu werden.
Diese Aktionen sollen einem möglichst großen Publikum zugänglich sein und dabei werden auch die Besucher zum Dialog mit dem Porträtierten eingeladen.
Was macht das Projekt so besonders?
Es ist interaktiv, authentisch, historisch, sozial, vielschichtig, kreativ und weit über die Individualität hinaus für eine ganze Gemeinschaft von Staaten dazu da sichtbar zu machen.
Das Ergebniss – die hunderten von gesammelten Porträts und Geschichten – wird in ganz Europa präsentiert.
Die Leidenschaft
zu malen und das Verlangen lebendige Porträts zu schaffen haben bei dem österreichischen Künstler Wilfried König zu seinem aktuellen Projekt geführt : "Face Europe".
Während des Porträtierens können die Menschen ihre ganz persönlichen Geschichten erzählen, ihre philosophischen, sozialen und politischen Statements zur Diskussion stellen, einfach über sich und ihr Leben plaudern.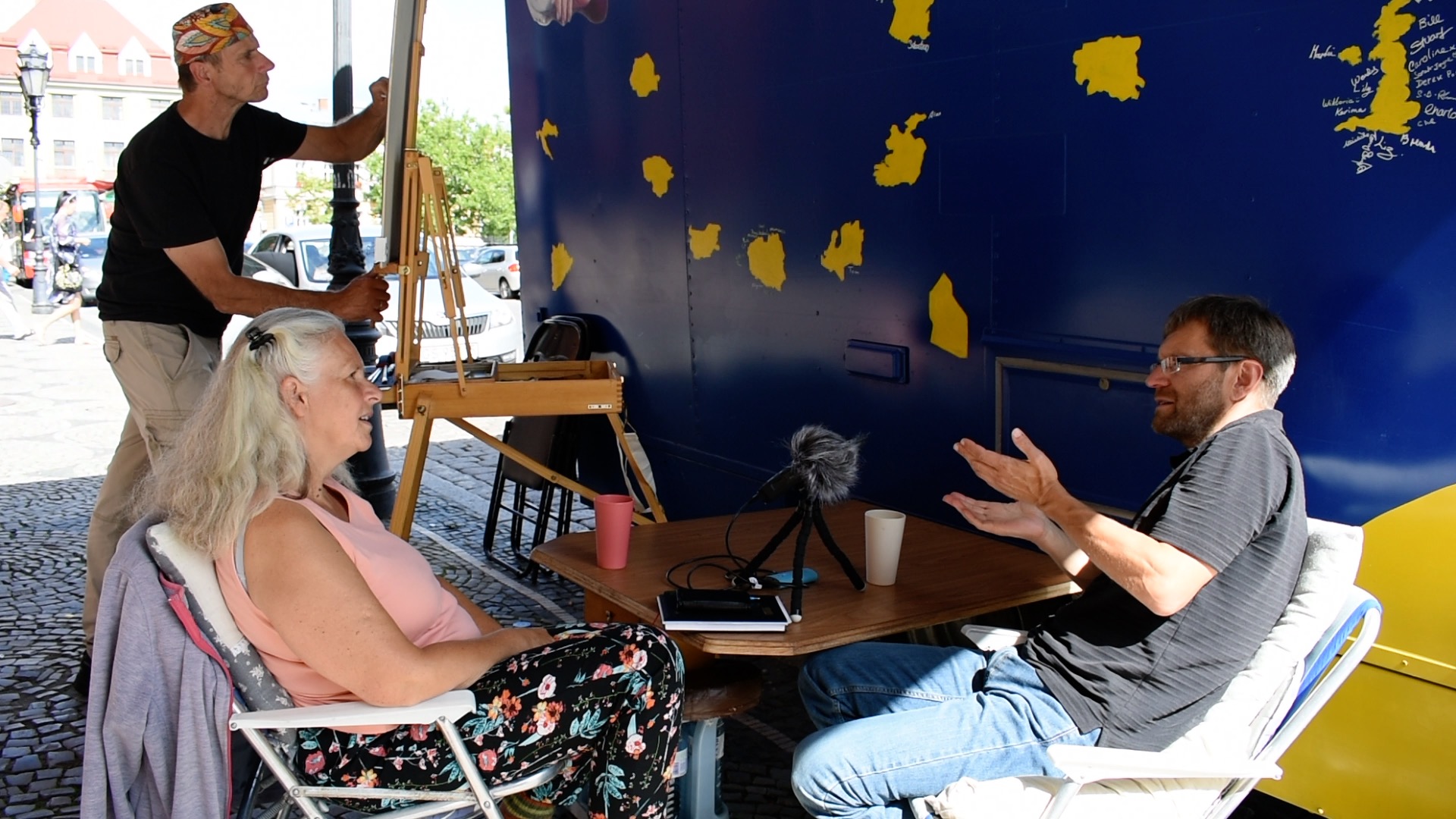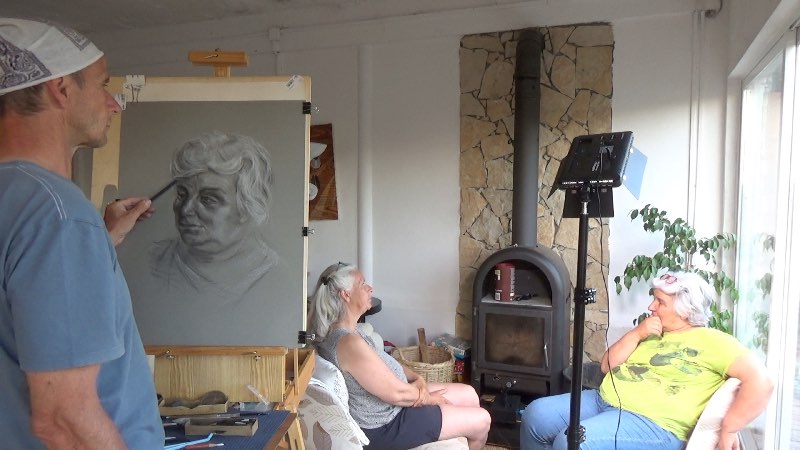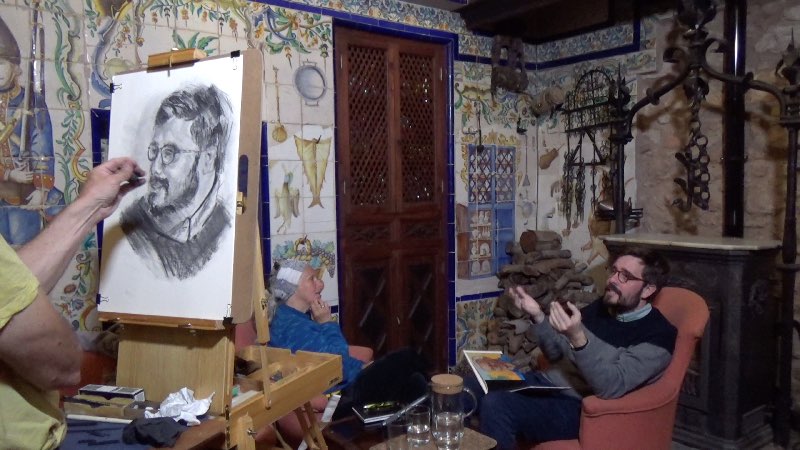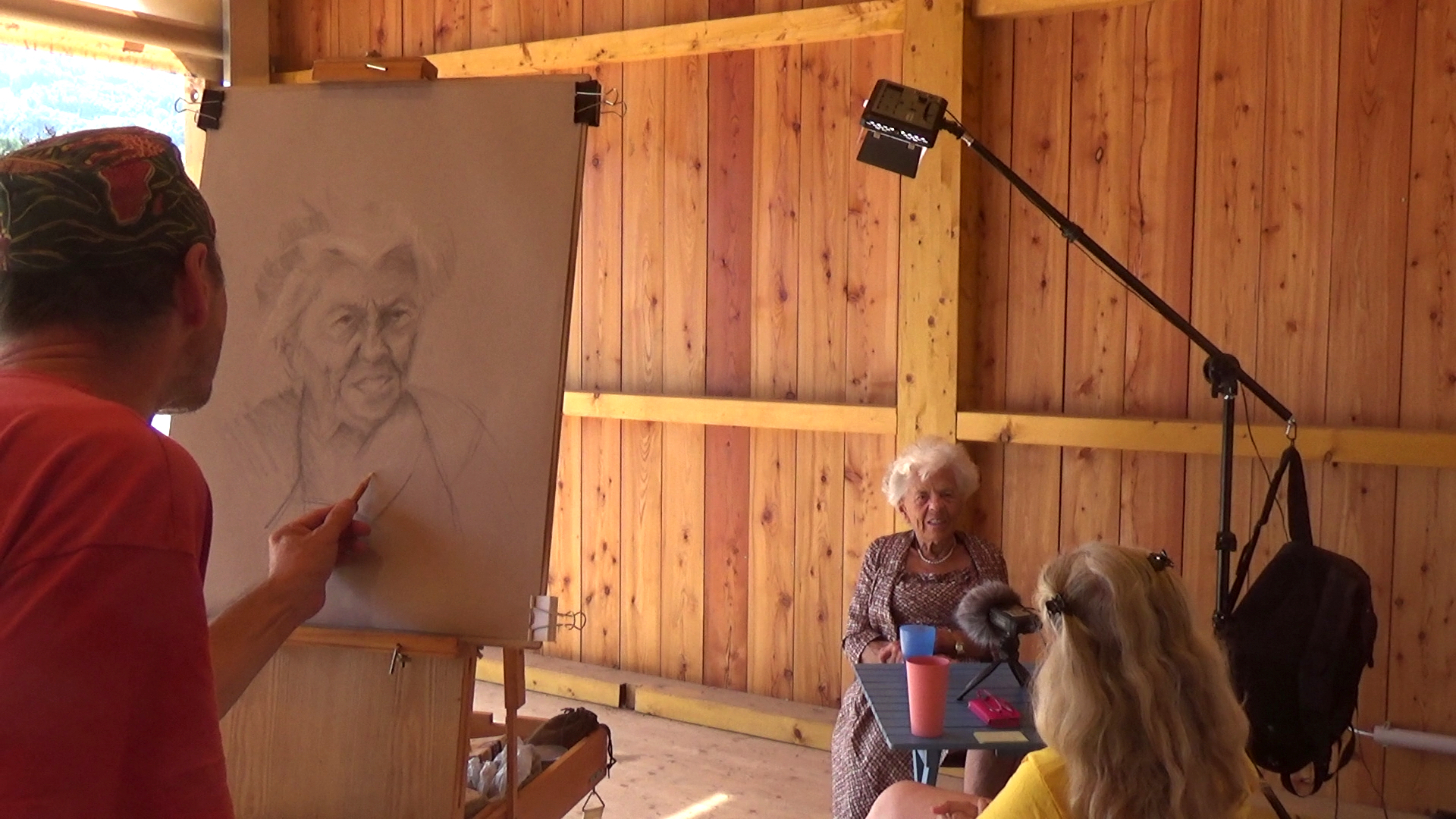 Face Europe no. 68 - Pavel / Poland - after 120 min
Face Europe no. 68 - Pavel / Poland
Face Europe no. 52 Mena / Portugal
Face Europe no. 41 Gabriel / Spain
Face Europe no. 37 Brigitte / France
face europe no.132-Margarete-Austria
Während des lockeren Gespräches – gerne auch mit dem Publikum und dem Künstler finden wir gemeinsam auf eine sehr respektvolle Art heraus, was Menschen in Europa verbindet und was uns voneinander trennen kann.
Der Prozess des "Lebendigen Porträt Malens" wird gefilmt und eventuell als historisches Dokument aufbewahrt. Vielleicht entsteht daraus ein weiteres Projekt, ein Dokumentarfilm oder ein wissenschaftliches Projekt.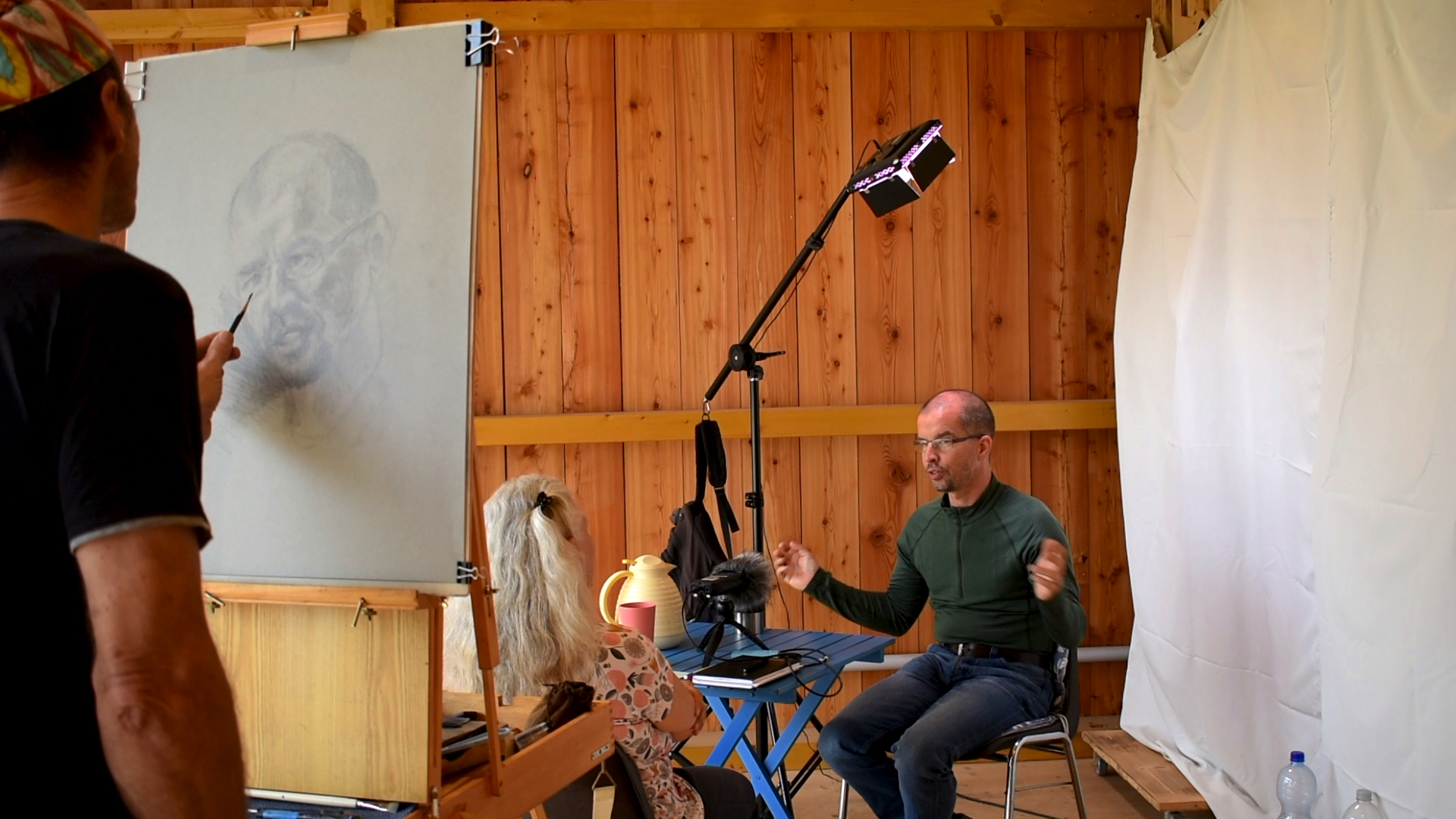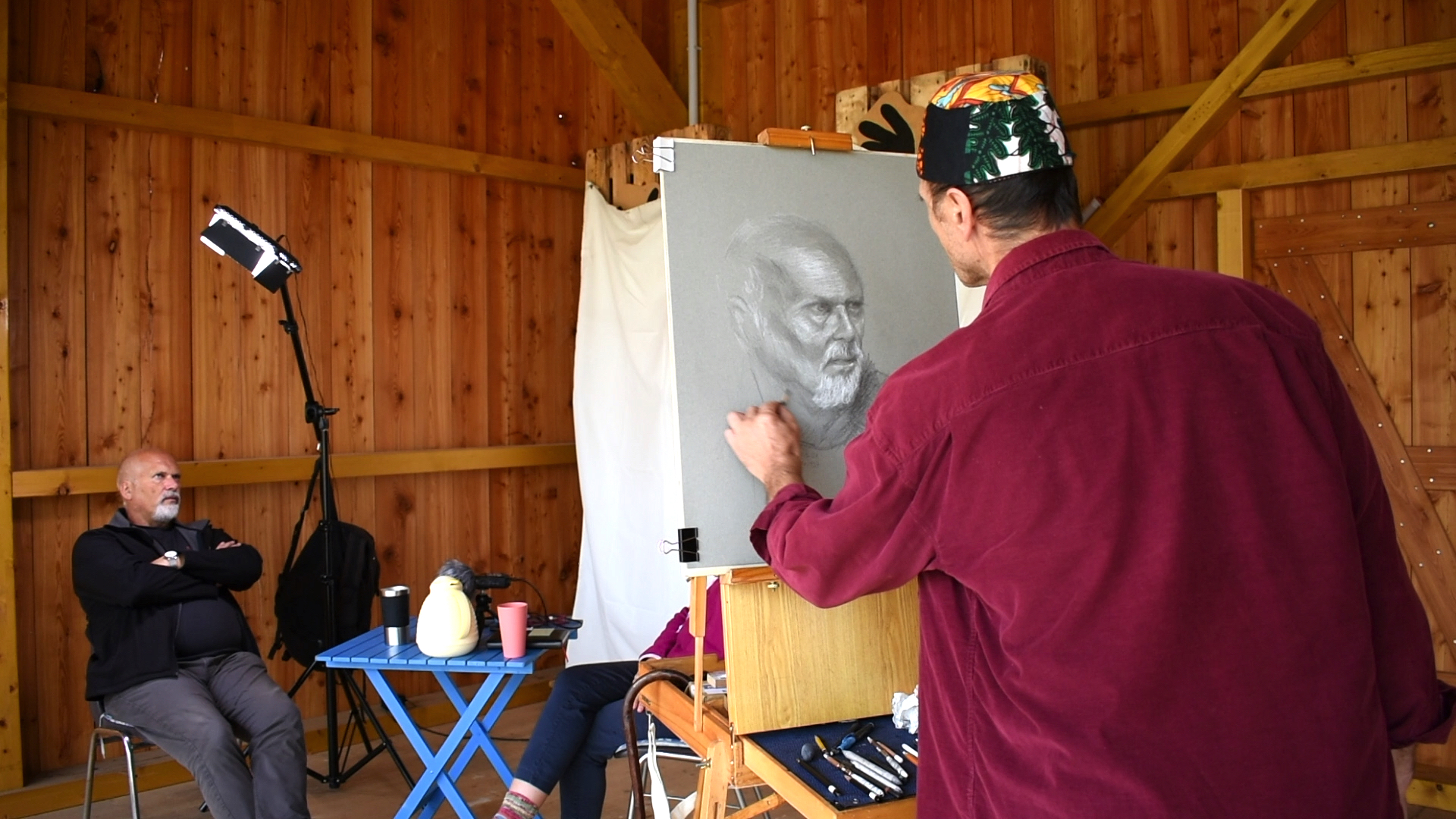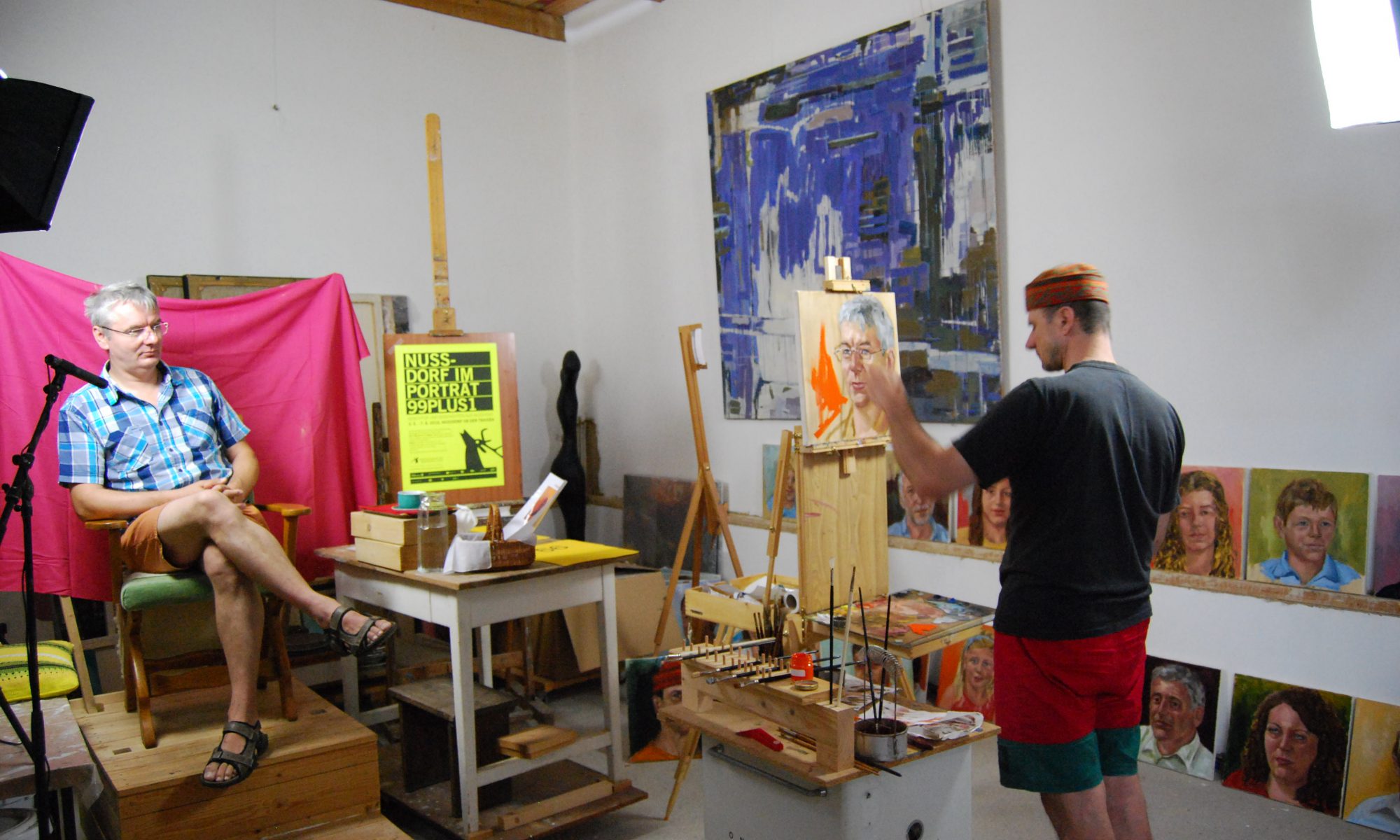 queen-lisbeth
Wilfried is painting his wife Lisbeth
cropped-DSC_2629-2000x1200
sitzung-rohrhofer-2000x1200
Das Procedere des Gemaltwerdens vermag unter Umständen sogar dem Gemalten selbst ein neues Bild von sich zu vermitteln.
Außerdem kommt auch der Spaß nie zu kurz.
Nach durchschnittlich 2 – 4 Stunden Arbeitszeit, Zeit, die wie im Flug vergeht, verbleibt das Bild (meist ein Ölporträt oder auch eine Zeichnung) beim Künstler – es sei denn das Bild wird vor Ort erworben.
Wilfried König sucht innerhalb der EU öffentliche Plätze oder Plätze, die für die Dauer der Performance öffentlich gemacht werden können.
Außerdem lädt er auch Menschen ein, für einen Zeitabschnitt von ca. 4 Stunden Königin oder König zu sein.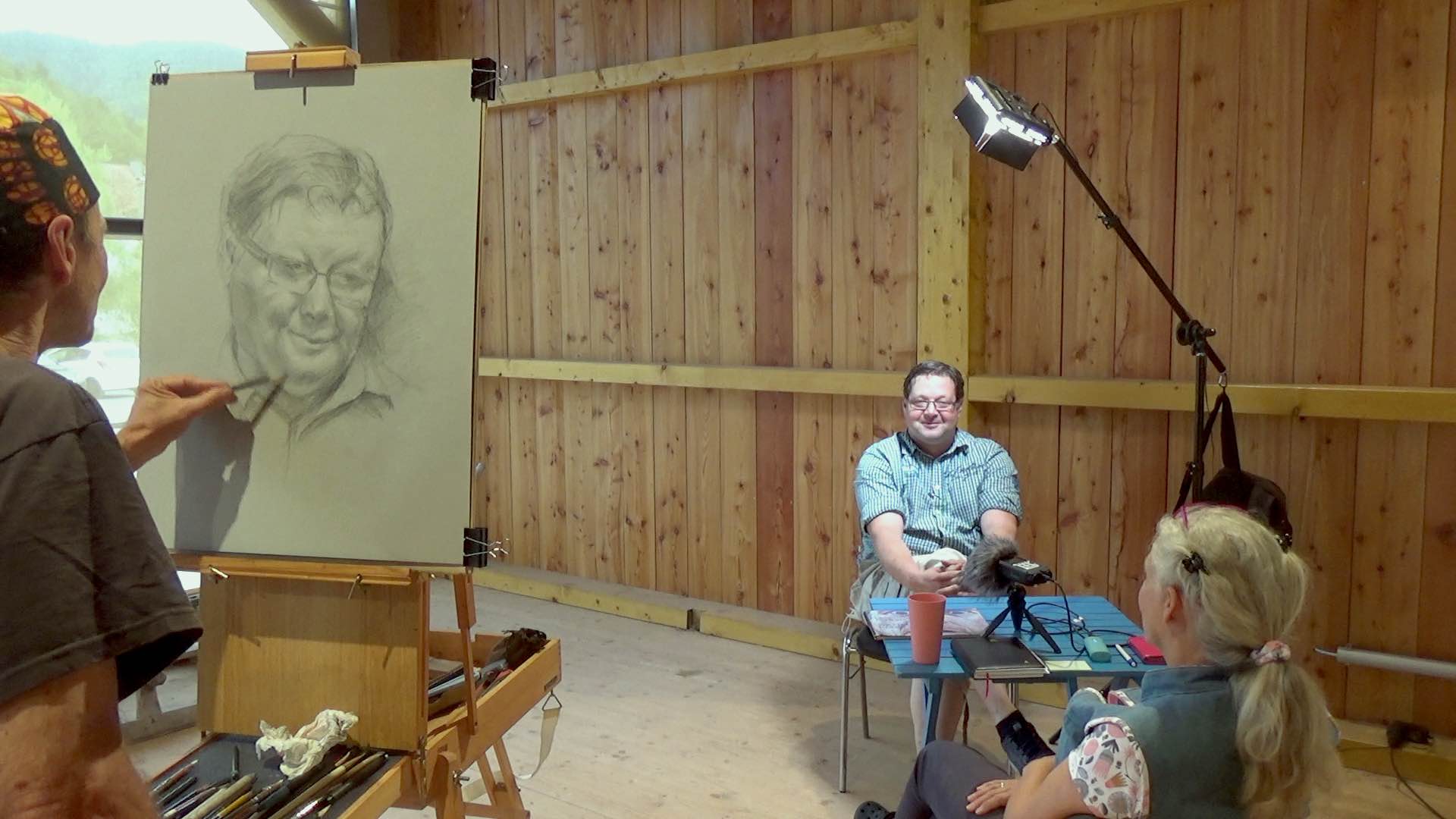 So wie in früheren Zeiten, als hauptsächlich Aristokraten sich von Malern porträtieren ließen, malt Wilfried König in den nächsten 5 Jahren Menschen ohne (aber auch mit) aristokratischen Background.
Unterwegs ist er mit seiner Frau Lisbeth Löffler in seinem "rollenden Atelier" und freut sich über Einladungen von Menschen, die gemalt werden wollen und über Vorschläge von Plätzen, wo diese Aktion stattfinden kann.
Bitte kontaktiere Wilfried König oder Lisbeth Löffler
E-mail: face-europe@art-koenig.com[:en]
The many faces of Europe.
"Face Europe" – An art project that affects us ALL
Time-lapse Video a 2 hours portrait during Interview with Bill
The topic of this project is Europe in general and the EU in particular. The title "face Europe" also includes the two different meanings of "Face": the face, to face and varieties thereof.
In this project the image of people (drawn or painted)  is captured to visualize the history of the "European", because the action will also be audio and video documented.
For this project we will travel around Europe with a specially adapted 20 years old truck. Small and large places, locations, museums, public places, (spontaneous or already pre-arranged) invite people to be portrayed and interviewed while filmed.
These actions should be accessible to the widest possible audience, while the visitors will be invited to dialogue with the people portrayed.
What makes the project so special?
It is interactive, authentic, historical, social, complex, creative and serves the individual as well as a whole community of states to feel themselves as a big family.
The result – the hundreds of human portraits and stories – will be presented throughout Europe.
The passion
of painting and the urge of doing life portraits in a new way have emerged in a new project of Wilfried König, Austrian artist.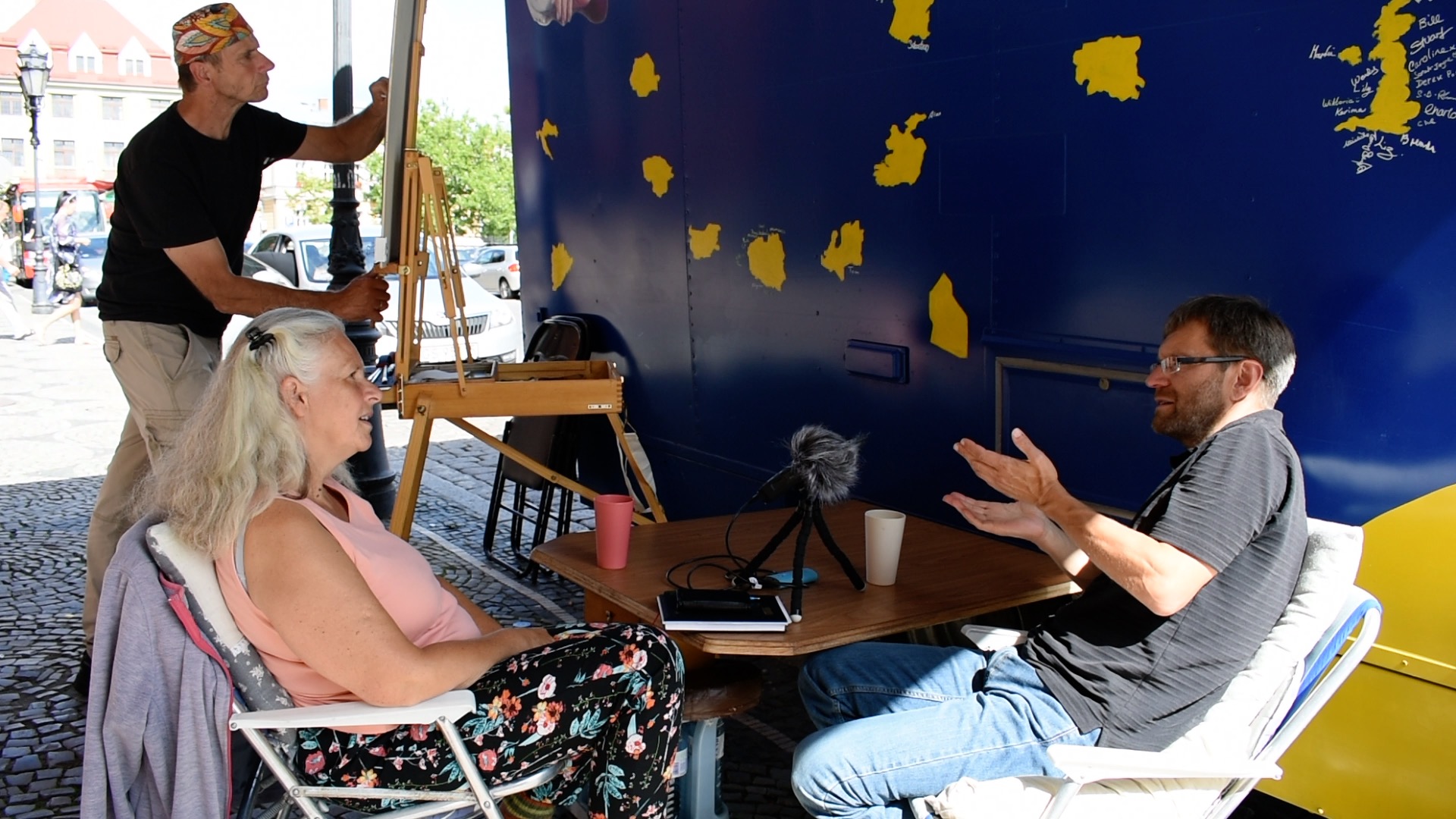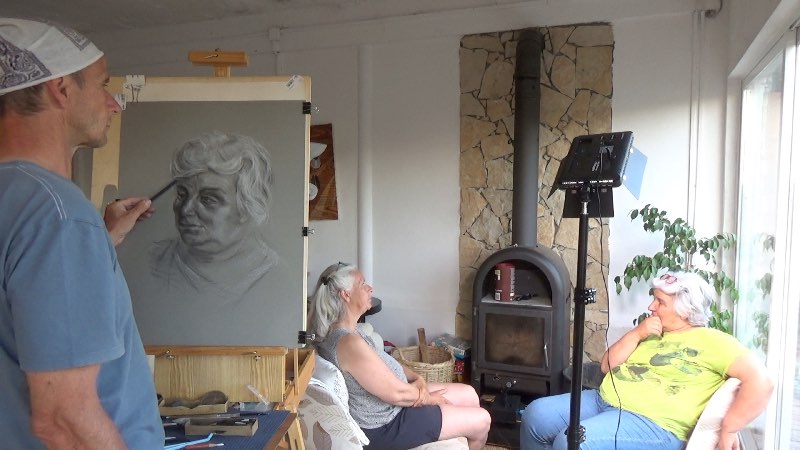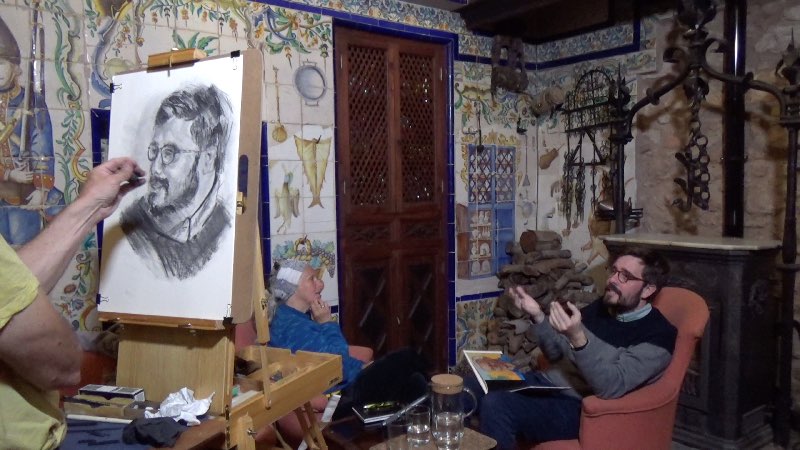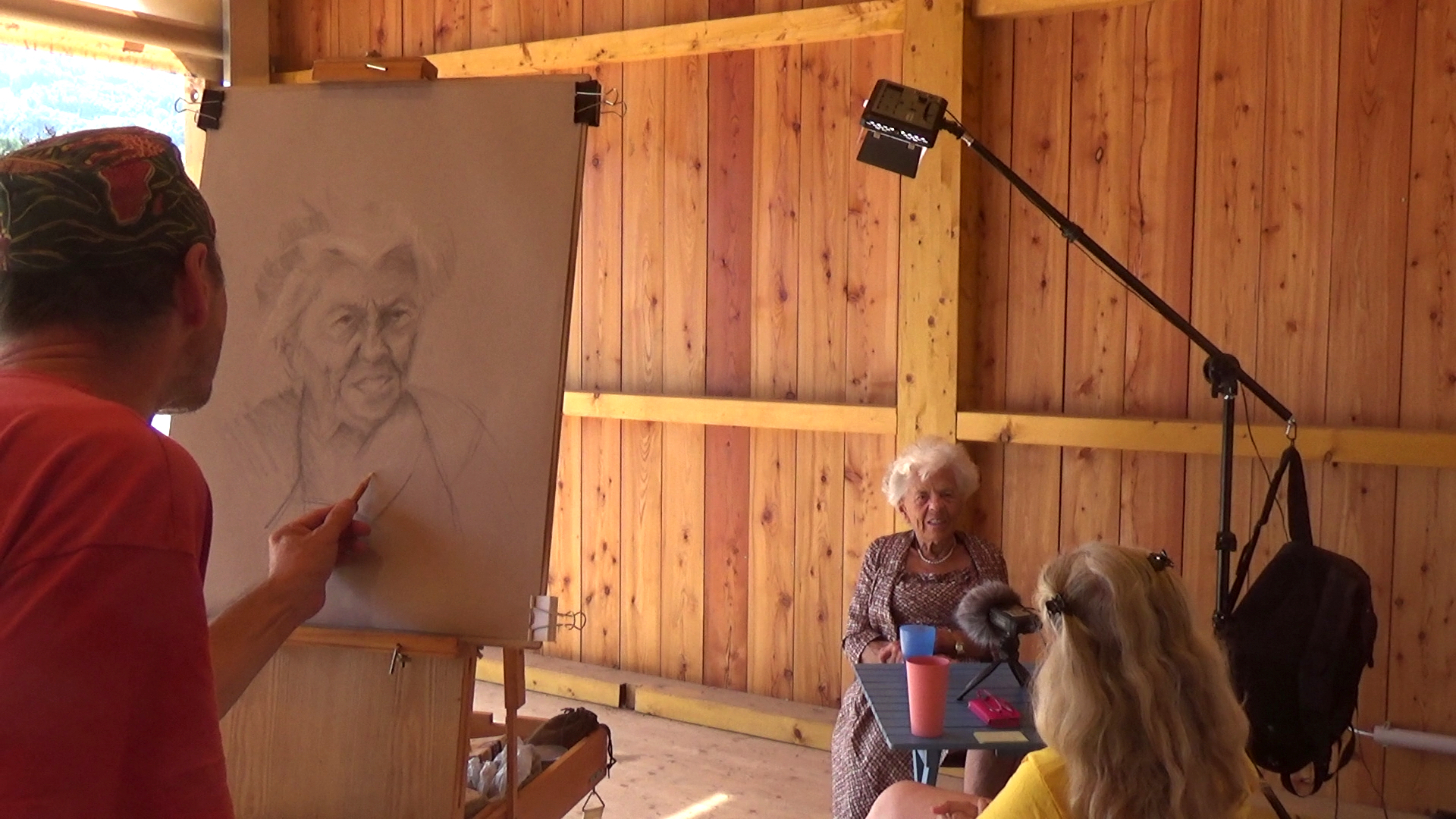 Face Europe no. 68 - Pavel / Poland - after 120 min
Face Europe no. 68 - Pavel / Poland
Face Europe no. 52 Mena / Portugal
Face Europe no. 41 Gabriel / Spain
Face Europe no. 37 Brigitte / France
face europe no.132-Margarete-Austria
During the process of  being portrayed people offer their life stories or parts of their philosophical, social, political – just their personal way of life. Talking to the artist and the audience in a very casual way about every day life – but in a very respectful manner is an approach to get an idea about people living in the European Union. What are the similarities and what the differences that makes living in different EU countries?
The process of many life portraits is being filmed and used for a historical document. It will eventually result in a documentary movie or university project.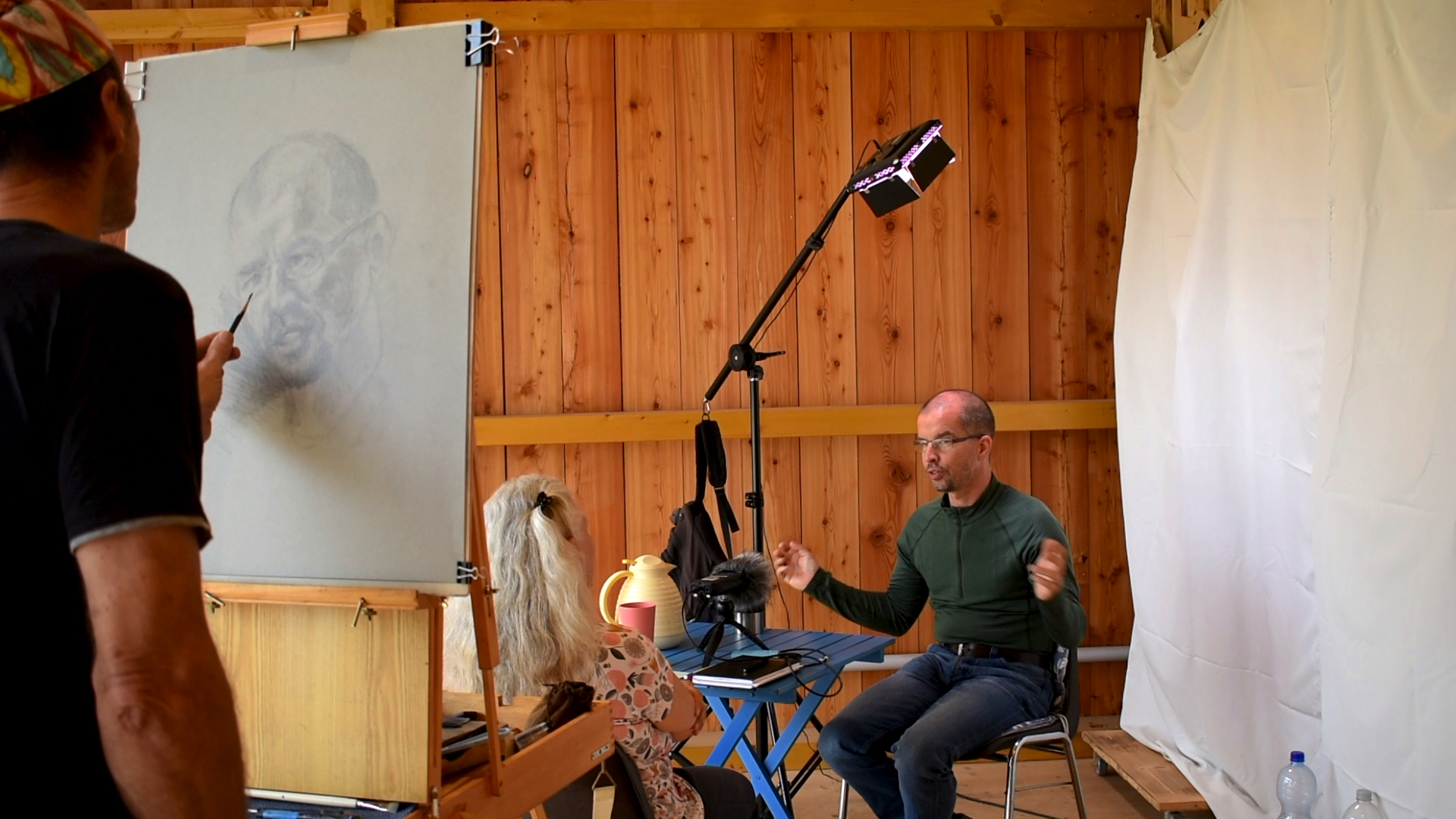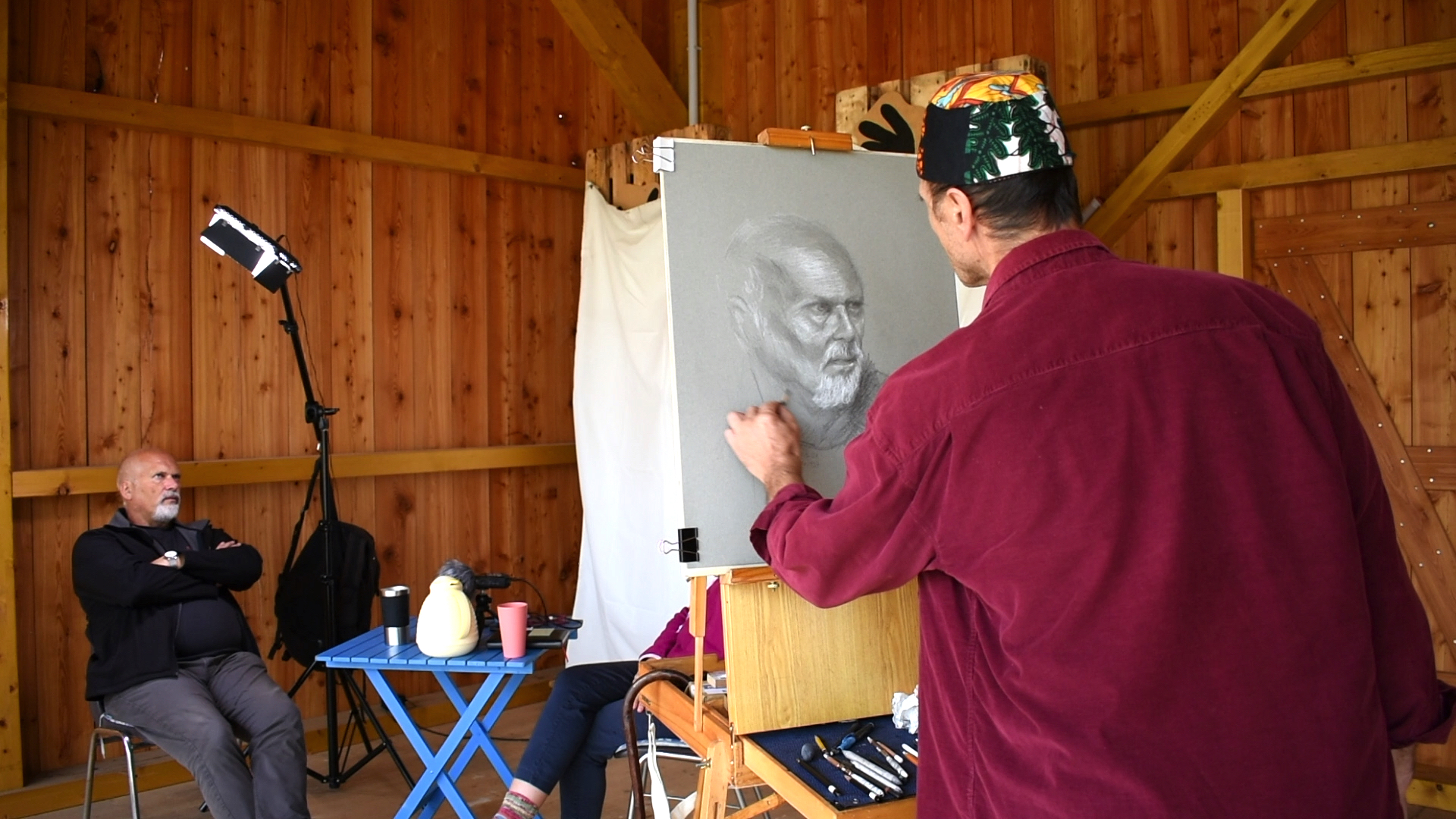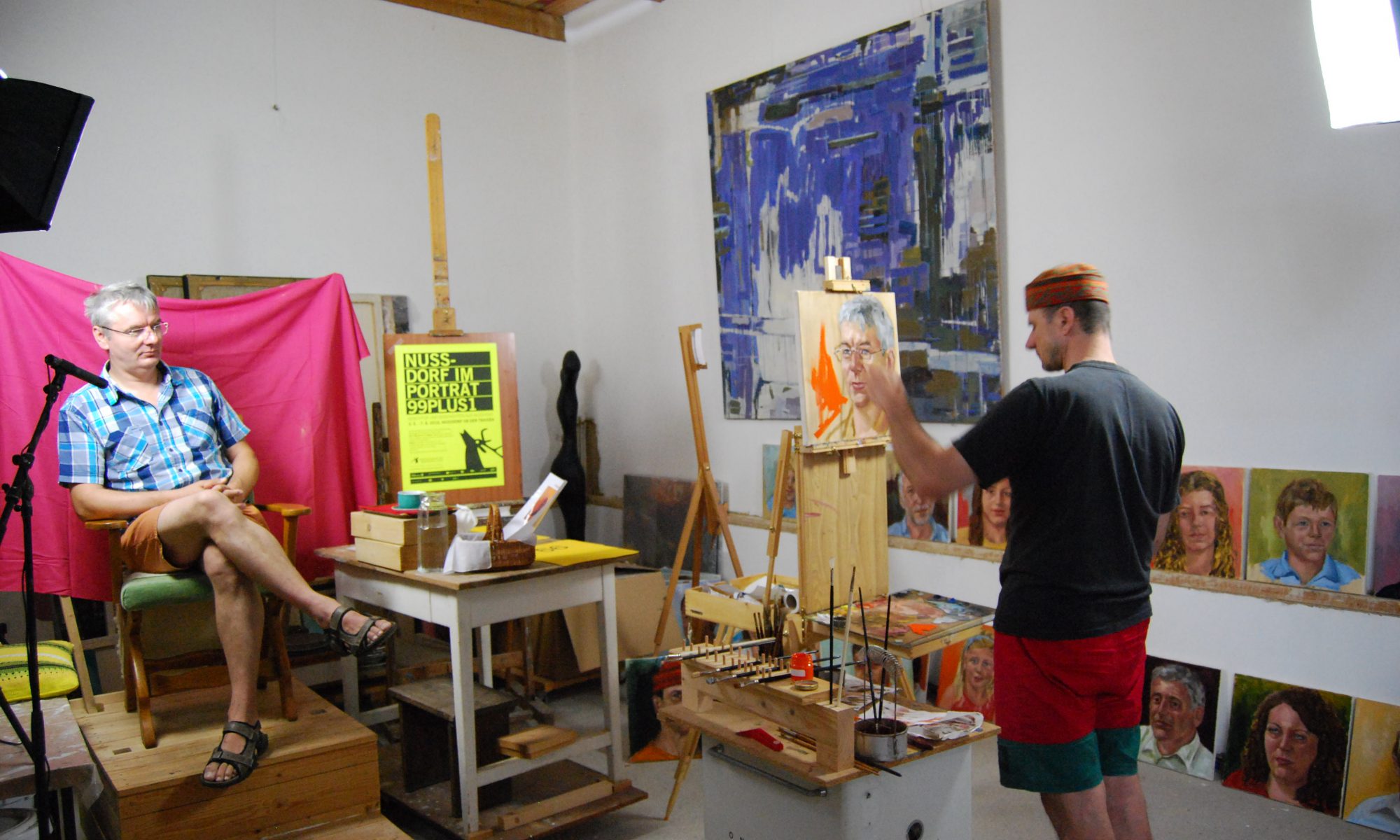 queen-lisbeth
Wilfried is painting his wife Lisbeth
cropped-DSC_2629-2000x1200
sitzung-rohrhofer-2000x1200
The process of being painted is a very personal and unique one. The portrayed person might find out new aspects of his (or her) life not known before. In any case it will also be lots of fun.
The portrait which takes about 4 hours stays at the artist unless being sold on the spot.
Wilfried König is searching for public places or places open for public for these special events throughout the European Union. He also looks for people who would like to be king or queen for the day like it was in former times when artists were hired from the aristocracy.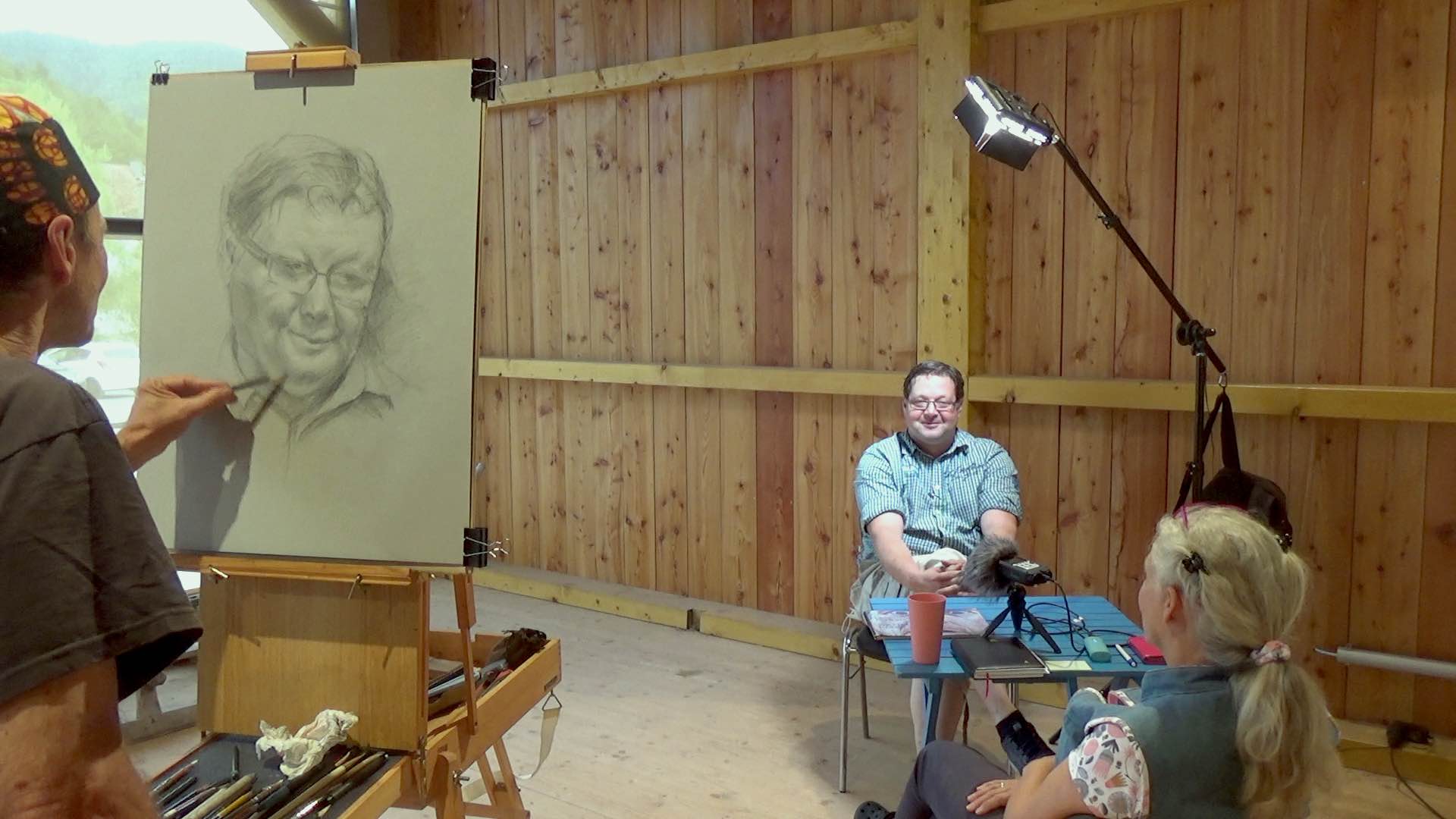 Wilfried travels with his "studio on the move" in his mobile home together with his wife Lisbeth Löffler to which ever place invited. Looking forward to your suggestions in regard to place and time to meet you.