Who we are?

Wilfried: boss. artists, craftsmen, wunderwuzi
The passion and desire to paint vivid portraits have led the Austrian artist Wilfried könig to his latest current project: "Face Europe".
While portraying people can tell their own personal stories, put their philosophical, social and political statements for discussion, chat just about themselves and their lives.
While the loose talk – also with the audience and the artist we will find out in a very respectful way, what connects people in Europe and what can separate us from each other.
The process of "living portrait painting" will be filmed and possibly kept as a historical document. Maybe for another project, a documentary or a science project it will be kept.
The procedure of painted may convey a new image for the painted person.
In addition, it will also be lots of fun.
After an average of 3-5 hours of work, time flies by, the image (usually an oil portrait or a drawing) will remain at the artist.
Wilfried König investigates into public places or places that can be made public for the duration of the performance within the EU.
In addition, he also invites people for a time lasting for 3 – 5 hours to be queen or king of the day. Just as in earlier times, when mainly aristocrats left their portraits of painters, Wilfried König paints in the next 5-7 years people without (but also with(!)) aristocratic background.
He travels with his wife Lisbeth Loeffler in his "rolling studio" ("Big Fredi") and looks forward to invitations from people who want to be painted as well as suggestions of places where this action can take place.
Please contact Wilfried König or Lisbeth Löffler
E-mail: face-europe@art-koenig.com
previos project and the art of Wilfried König click here

Lisbeth: boss where Wilfried no boss, organizer

Big Fredi: our rolling home for the next year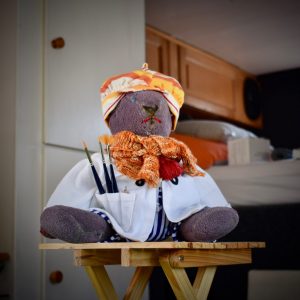 Little Fredi: come to life after 50 years of deep sleep, ascended to his self-proclaimed artist sky
Origin and accurate time of birth unknown. Supposedly Aunt Greti homemade, possibly passed on to her daughter and to Lisbeth when she was small. Favorite stuffed animal of Lisbeth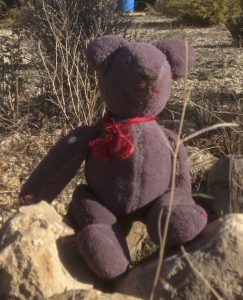 When he was once not found from Lisbeth, her dad showed her the bear who was hung on the clothesline on the ears, claiming he had washed it. Lisbeth's heart broke at the sight of the poor guy on the clothesline and she fell into a crying fit, which her sister Irene as well as Lisbeth are still remembering after almost 60 years.
So Fredi was the first and most important friend of Lisbeth.
Like life but so plays and friends are sometimes overshadowed by other interests, also Fredi was replaced by other friends. But he was never forgotten. He always moved in all homes of Lisbeth.
About 5 years ago (2013) Fredi got out of his dark unawareness and back into the reality of Lisbeth's life.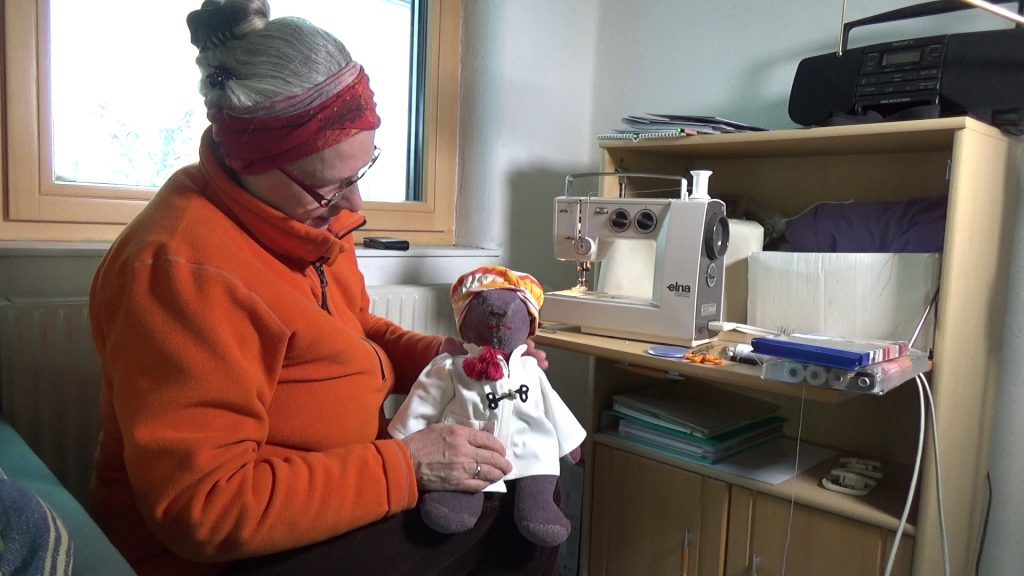 He was being clothed new to be appreciated as an artist and accompanies Wilfried and Lisbeth on their European tour: "Face Europe"
What is the purpose of our trip?
"Face-Europe":
500-1000 Portraits
28 + 5 EU countries
5 – 7 years
Wilfried paints life portraits of people who talk about themselves and the EU.
Videos of the actions are recorded