[:de]Am Montag, den 17. September wurden wir von laut auf das Dach fallenden Eicheln geweckt, die der Sturm auf Big Fredi knallen ließ.
Es war eine ruhige Nacht, keine krawallmachenden Jugendlichen. Einfach nur angenehm und ruhig.
Wir hatten nun den ganzen Montag zur Verfügung, um nach Kettering zu kommen und uns die Stadt anzusehen.
Auf dem Weg dorthin, nur mehr ein paar Meilen entfernt, geraten wir auf eine Nebenstraße und erlebten folgendes Szenario:
Wer kann uns sagen, ob es sich dabei um einen Sperber, einen Falken oder ein ganz anderes tier handelt. Wenn ihr genau hinschaut – seht ihr wie brutal die Natur ist. Das Opfer, das hier zerlegt wurde, lebt noch.
Wir spendierten der Stadtgemeinde einige Pfund, um auf dem Parkplatz stehen zu können und Wilfried nutzte die Bibliothek, um mittels gratis WLAN den Film von Caroline auf YouTube zu laden. In der Zwischenzeit schmökerte Lisbeth in alten Ansichten von Kettering und Landkarten, die einen tollen Maßstab aufwiesen.
Beim Italiener in der Stadt, genannt "Wildwood" gönnten wir uns ein hervorragendes 3 gängiges Menü. Wir waren so satt und es hat so köstlich geschmeckt. Wir konnten uns nicht vorstellen innerhalb der nächsten 3 Tage wieder etwas essen zu können.
Bei Vodafone reklamierten wir den von uns nicht verwendeten Verbrauch der Gigabites und nach vielen e-Mails mit der Zentrale wurde uns ein Guthaben von 6 Gigabites auf die SIM Karte übertragen und wir sollen weiterhin beobachten, ob es wieder passiert, dass Guthaben verschwindet, obwohl der Router ausgeschaltet ist.
Als es gegen Ende der Geschäftszeit ging und wir darauf bestanden, nicht eher zu gehen, als das Problem gelöst wäre, ging dann alles sehr schnell und beim Hinausgehen gefragt, ob es denn schon Sperrstunde ist, hieß es dann: "vor 7 Minuten"!
Eigentlich wollten wir ja auf dem Parkplatz in Kettering bleiben. Er erschien ruhig und wir machten es uns bereits gemütlich, als plötzlich wieder ein Krawallmacher mit seiner Schüssel am Parkplatz auftauchte, die Türen weit geöffnet und in höchster Lautstärke seine Musik aufdrehte. Grund genug für uns, uns gleich wieder auf den Weg zu machen.
In der Dunkelheit einen anderen Platz zu finden ist weit schwieriger als bei Tageslicht. Wir fuhren also gleich bis Desborough, stellten uns auf den ersten besten Platz auf eine Nebenfahrbahn und konnten dann ganz gut schlafen. Der Wind peitschte zwar die weichen Äste der Trauerweiden auf Big Fredis schöne Außenhaut, aber ich hoffe, er hat es uns verziehen.
Wir waren um 10 Uhr bei Lesley und Mark verabredet und Lisbeth durfte Haare waschen und duschen. Die Gasreserven gehen gegen Null und das Risiko nicht genug Warmwasser mitten bei der Haarwäsche zu haben, war einfach zu groß.
Mark war auch so liebenswürdig uns zu einem Baumarkt zu bringen, um eine neue englische Leihflasche organisieren zu können. Die einzige, auf die unsere Adapter passten, war nur mit 4,5 kg gefüllt, würde aber bis Freitag für uns reserviert, falls wir in der Zwischenzeit keine größere auftreiben können.
Um 1:00 pm war dann Liz bereit von Wilfried gemalt zu werden. Fein, dass immer wieder Zuschauer hereinkamen und mit diskutierten.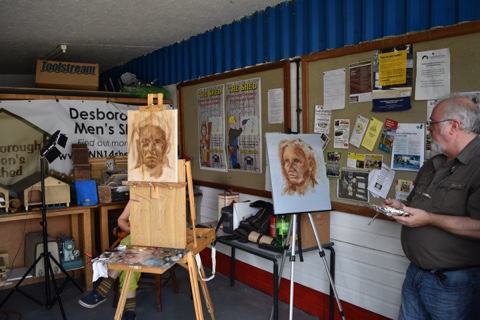 Die Anstrengungen des 3,5 stündigen Malens und anschließenden Aufräumens wurden von einem köstlichen indischen Abendessen belohnt, zu dem uns Mark und Lesley eingeladen hatten.
Nach Vor- und Hauptspeise waren wir so wohlig satt und es hatte die richtige Schärfe, die wir beide so sehr mögen.
Danke Mark und Lesley, was ihr alles für uns getan habt: Liz zu finden, die gemalt wurde, uns einen Parkplatz und Strom zu geben vor eurem "Desborough Men's Shed" und einen Tag einen Workshop zu organisieren, an dem 4 Teilnehmer mit gearbeitet haben.
Sogar ein Radio Interview hattest du organisiert! Wow! Echt super! Danke Mark![:en]On Monday, 17 September, we were awakened by loud falling acorns that popped on Big Fredi's roof from the storm.
Until it was a quiet night, no noise-making youths. Just pleasant and quiet.
We now had all day Monday available to come to Kettering and to have a look at the city.
On the way there, only a few miles away, we come to a side road and experienced the following scenario:
Who can tell us whether this is a hawk, a falcon or a completely different animal. If you look very closely – you can see how brutal nature is. The victim that was dismantled here was still alive.
We spent a few pounds on the municipality, to stand in the parking lot and Wilfried used the library to load Caroline's film up to YouTube using free Wi-Fire. In the meantime, Lisbeth was browsing through old views of Kettering and maps that showed a great scale.
In the Italian restaurant in the city, called "Wildwood" we enjoyed an excellent three course meal. We were so tired and it tasted so delicious. We could not imagine being able to eat something within the next 3 days.
At Vodafone we complained the consumption of gigabytes unused by us and after many e-mails with the headquarters a credit of 6 gigabytes was transferred to our SIM card. We shall continue to monitor whether it happens again that credit disappears, although the router is switched off.
When it came towards the end of business hours and we insisted not to go before the problem would be solved, all went very quickly and when we asked on the way out if they are already closing, the answer was: "7 Minutes ago"!
Actually we wanted to stay in the parking lot in Kettering. It appeared calm and we made ourselves comfortable, when suddenly another rude guy appeared with his "bowl" in the parking lot, widely open doors and turned up his music in full volume. That was enough reason for us to us disappear again.
To find another place in the dark is far more difficult than it is in daylight. So we went straight to Desborough, parked on the first best place on a side road and were able to sleep very well. The wind whipped the soft branches of the weeping willows on the Big Fredi's beautiful skin, but I hope he has forgiven us not to find a belter.
We had an appointment at 10 am at Lesley and Mark and Lisbeth was allowed to wash her hair and take a shower. The gas reserves in Big Fredi are close to zero and the risk of having no hot water in the middle of shampooing, was just too big.
Mark was kind enough to bring us to a garden store to organize a new English loaning gas bottle. The only one that fit on our adapter, was filled with only 4.5 kg, but would be reserved till Friday for us if we can not find a bigger one in the meantime.
At 1:00 pm Liz was then ready to be painted by Wilfried. Fine that always people came in and discussed with Liz and us.
The efforts of the 3.5 hour painting and subsequent cleanup were rewarded by a delicious Indian dinner to which Mark and Lesley had invited us.
After starter and main course we were so pleasantly full and it had the correct spiciness, which we both like so much.
The next day a portrait workshop was held, in which we all very well comfortable.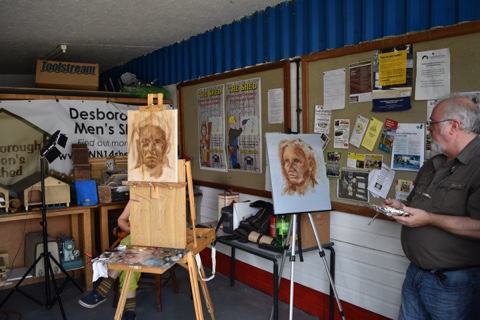 Thank you Mark and Lesley, what have you done for us: to find Liz, who was painted, to give us a parking space and power, to organize a workshop in your "Desborough Men's Shed" for a day for four participants.
Even a radio interview you had organized! Wow! Really great! Thanks Mark!
Also thank you for all your help to drive us to the camping shop and the art store before we left on Thursday.[:]