[:de]Am Donnerstag, den 20. September verabschiedeten wir uns von Mark, der uns davor noch behilflich war, Campinggas zu finden und uns noch zu einem Künstlerbedarf Geschäft brachte.
Wir richteten danach unsere Aufmerksamkeit auf die Dinge, die während der Fahrt schon Nerven kosteten: zum einen der noch immer nur notdürftig reparierte Außenspiegel und die kaputten Gasfedern an der Heckgarage.
Die Gasfedern wurden fachmännisch bei Metrol in Northampton getauscht und kosteten einen Bruchteil dessen, was wir bisher im Internet gefunden hatten. Überglücklich und zufrieden kehrten wir zu unseren Iveco-Freunden im Waterbeach zurück, die wir am Anfang unserer Reise eine knappe Woche unfreiwillig belagert hatten, um auch noch den schon vor Wochen bestellten Spiegel abzuholen. Natürlich hatte ihn in der Zwischenzeit niemand Anderer gebraucht. Wer braucht auch schon einen Spiegel für ein 20 Jahre altes Auto! Wir übernachteten an einem schönen und ruhigen Parkplatz am Straßenrand an der Promenade des Forschungszentrums gleich um die Ecke von Iveco. Der Sturm wackelte wieder einmal so heftig an unserem Big Fredi, dass wir uns schon auf einem Schiff wähnten.
Cambridge, als wunderschöne Stadt gepriesen, wollten wir uns diesmal nicht entgehen lassen und wagten es im Zentrum an der Kaimauer zu parken
. Ein "Todesmarsch" in die Stadt am Ufer des Flusses Cam entlang führte uns direkt ins Zentrum. Der Besuch des Kettle's Yard Museum war spannend. Ein Haus von seinen Besitzern – Jim and Helen Ede – dem Staat vererbt unter der Bedingung, dass nichts verändert wird. Die Möbel, die Bilder, das ganze Interieur muss immer so gestaltet bleiben, wie es der Besitzer gehabt hat.

Sogar die Frischblumen und die echte Zitrone müssen wöchentlich ausgetauscht werden und dafür sind eine Menge Angestellte zuständig. Die Architektur des Hauses so wie die Anordnung der Bilder zeugten vom guten Geschmack der Besitzer.
Von der Tour durch das Haus zwar schon ein wenig müde, marschierten wir weiter an vielen Colleges vorbei durch prachtvolle Häuserzeilen, die schon vielen Generationen von Studenten als Wohnraum gedient haben mögen. Auf dem Markt ging es lebhaft und nahrhaft zu. Wir schlugen bei einem chinesischen Streetmarket Stand zu und Wilfried genoss danach noch vom Spanier ein Kartoffellaberl vom Rost in einem Semmerl, das sonst nur für Hamburger verwendet wird. Eine eigenartige Kombination, aber mit der Creme auf Sauerrahmbasis schmeckte es sehr gut. Lisbeth befriedigte ihren süßen Gaumen noch mit einem hausgemachten Kaffetortenstück von einer Brasilianerin.
Wir wanderten wieder am Fluss entlang zum Auto zurück, übernachteten am Parkplatz und wollten am nächsten Tag London besuchen. Lisbeth fühlte sich nicht gut und so wurde der Londonbesuch um einen Tag verschoben und die Planung darauf noch verbessert. Um 40£ online Tickets für 2 Personen Tour-retour Cambridge-London gekauft und am Samstag noch vom Bahnhof abgeholt. Damit ging es dann am Sonntag zügig in die Metropole.
Wir staunten nicht schlecht viele Ruderboote im strömenden Regen an uns vorbeisausen zu sehen. Selbst mit voller Regenmontur ausgerüstet, begegneten uns auch auf den Straßen die hartgesottenen Engländer immer noch mit kurzen Hosen und T-Shirts.
Was für ein Trubel und eine Hektik! Und das an einem Sonntag. Wir schafften es am letzten Tag die BP Award Ausstellung in der National Portrait Gallery zu besichtigen. Unser Publikumsvoting entsprach nicht ganz der Meinung der Jury.
Wilfried hätte noch Tage dort verbringen können. Er zeichnete ein Porträt, das Lisbeth gut gefiel, weil es einen alten Mann mit viel Charme und einem positiven Blick in die Zukunft zeigte.
Gut, dass wir selbst gemachte Sandwiches mit hatten, so dass wir nicht hungers ermatteten.
In der National Gallery war eine Sonderausstellung der Impressionisten zu sehen, die wir auch noch kurz streifen mussten.
Am Trubel vom Picasilly Circus vorbei schlenderten wir Richtung Themse und überquerten gemeinsam mit Millionen von Touristen und Sonntagsausflüglern eine Fußgängerbrücke in Richtung London Eye. Natürlich keine Attraktion für uns Panausen.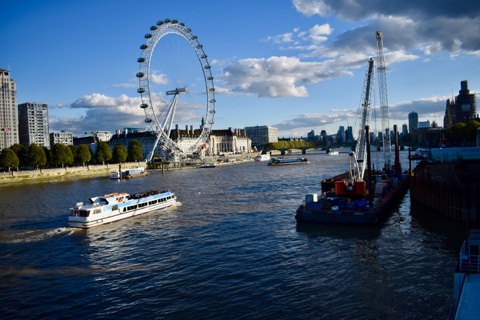 Obwohl den ganzen Tag Regenwetter angesagt, blitzt am Nachmittag die Sonne hervor und es soll nun angeblich eine ganze Woche Schönwetter kommen.
An den Southbanks ließen wir uns ein wenig treiben bis wir bei Waterloo wieder zu einer Zugstation kamen und müde in die Northern Schnellbahn einstiegen. Noch ein letzter Kraftaufwand, eine Station zu Fuß bis zum Kings Cross, wo der Zug nach Cambridge schon auf uns wartete.
Wilfrieds Idee, durch die Stadt Cambridge am Abend dann noch zu Fuß zum Auto zu gehen, kann ja nur als Scherz aufgefasst werden. Gerne warten wir 25 Minuten, um das Ziel sitzend zu erreichen. Die Füße schmerzen, der Rücken tut weh, aber wir kommen wohlbehalten bei den Fredis an. Der kleine hat brav auf den großen aufgepasst.
Am Montag – mit dem Gratis Parken ist nun Schluss – fahren wir zum Highfield Farm Touring Park in Comberton. Es ist Zeit wieder einmal Wäsche und Lisbeths Haare zu waschen. Nicht dass das Haare Waschen in Fredi nicht möglich wäre. Nein, es geht wider Erwarten sogar sehr gut. Aber man muss halt schon sparsam mit dem Wasser umgehen. 400 Liter gehen theoretisch in die Wassertanks, aber wir füllen Sie nie voll. Das wäre dem Fredi zu schwer. Und außerdem gehen wir sowieso immer sparsam mit dem Wasser um. Man weiß nie, wo man das nächste Mal eines bekommt.
Kaum am wunderschönen und ruhigen Campingplatz
angekommen, macht sich Wilfried gleich ans Werk und montiert den neuen Spiegel. Nun sind wir gut für die Weiterfahrt gerüstet.
Ein zweiter Tag am Campingplatz kostet zwar inklusive Strom 23£, aber dafür kann Wilfried wieder Filme schneiden. Der Laptop braucht dafür sehr viel Strom. Mit vollen Batterien können wir unabhängig bis zu 5 Tage stehen. Der Kühlschrank und das Licht brauchen nicht viel. Allerdings kann man den Laptop maximal zwei mal aufladen. Dann wird es mit dem Strom schon knapp.
Wir wollen daher den Herbstaufenthalt in Nußdorf nützen, um eine Solaranlage auf das Dach zu montieren um noch unabhängiger von teuren Campingplätzen zu werden.[:en]On Thursday, 20 September we said goodbye to Mark, who had helped us to find camping gas and brought us to an art supplies shop.
We then turned our attention to the things that had cost nerves while driving: the first one is the still just poorly repaired door mirror and the second is the broken gas springs at the rear garage door.
The gas springs are replaced at Metrol in Northampton and cost a fraction of what we had previously found on the Internet. Happy and satisfied, we returned to our Iveco friends in Waterbeach that we had besieged almost a week involuntarily at the beginning of our trip. We picked up the mirror which we had ordered weeks ago. Of course no-one else had picked it up in the meantime. Who would need a mirror for a 20 year old car! We stayed in a beautiful, quiet street parking place on the promenade of the research center just around the corner from Iveco. The storm wobbled again so violently in our Big Fredi that we already thought we were on a ship.
Cambridge, hailed as a beautiful city, this time we wanted not to be missed and dared to park next to the quay wall. A "death march" into the city along the banks of the River Cam led us directly
into the center. The visit of the Kettle's Yard Museum was exciting. A house by its owners – Jim and Helen Ede – given to the State under the requirement that nothing is changed. The furniture, the pictures, the whole interior must always be designed the way it has beendone by the owners.
Even the fresh flowers and the real lemon must be replaced weekly and for this a lot of employees are responsible. The architecture of the house as well as the arrangement of the pictures on the walls testified the good taste of the owners.
From the tour of the house, although a little tired, we marched on passing many colleges through magnificent rows of houses that may have already served many generations of students as living space. On the market it was lively and nutritious. We popped in a Chinese Street Market stand and afterwards Wilfried enjoyed a grilled potatoe pancake in a bun, which isusually used for hamburgers. A strange combination, but with the cream based on sour cream it tasted very good. Lisbeth satisfied their sweet taste with a homemade coffee cake piece of a Brazilian lady.
We walked back along the river back to the car, slept there in the car in the parking lot and wanted to visit London the next day. Lisbeth was not feeling well and so the London visit was postponed one day and planning was improved. 40 £ for online tickets for two persons tour-retour Cambridge-London were bought and even picked up on Saturday from the station. So we could start early on Sunday into the metropolis.
We were amazed to see many rowing boats in the pouring rain. Ourselves in full rain gear, we met some hard-nosed Englishmen in shorts and T-shirts.
London:  What a hustle and a bustle! And even on a Sunday. We made it to see the BP Award exhibition at the National Portrait Gallery on the last day of its exhibition. Our audience vote was not strictly the same as the opinion of the jury.
Wilfried could have spend days there. He drew a portrait of a man that Lisbeth liked because it was an old man with a lot of charm and a positive look into the future.
Good thing we had homemade sandwiches with us, so we do not weaken from hunger.
In the National Gallery, a special exhibition of the Impressionists was to be seen briefly.
Past the bustle of Picasilly
Circus we strolled towards the river Thames and together with millions of tourists we crossed a pedestrian bridge towards London Eye. Of course, no attraction for us.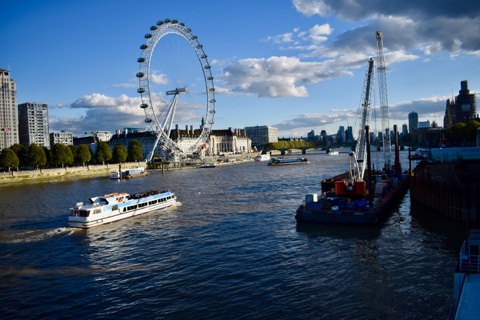 Although prognoses were all day rain, the sun flashed out in the afternoon and it is now supposed to be a week of fine weather to come.
Along the South Banks we strolled until at Waterloo we came back to a train station and hopped into the Northern train.
One last effort, one more train station to walk to Kings Cross where the train to Cambridge already waited for us.
Wilfried's idea to walk through the city of Cambridge in the evening back to the car, could only be seen as a joke. We were happy to wait 25 minutes to sit in the bus. Our feet hurt, our backs are in pain, but we come back safely to the Fredis. Little Fredi has dutifully taken care of the big Fredi.
On Monday – the free parking is over now – we go to Highfield Farm Touring Park in Comberton. It's time to do laundry and Lisbeth's hair needs to be washed again. Not that the hair washing in Fredi would not be possible. No, unexpectatly is goes very well. But you have to be sparing with the water. Theoretically 400 liters go into the water tank, but we never fill it up to the top. That would be too heavy for Fredi. And besides, we go anyway economical with the water. You never know where you get water the next time.
Shortly after we have arrived the beautiful and quiet campsite Wilfried installed the new mirror. Now we are well prepared for the onward journey.
Although a second day at the campsite costs 23 £ including electricity, we decide to stay a second day. Wilfried can make movies again. The laptop needs a lot of power. With full batteries, we can independently stand up to 5 days. The refrigerator and the light do not need much. However, we can recharge the laptop a maximum of two times. Then it is already tight with electricity.
We will therefore benefit the autumn stay in Nussdorf to mount solar panels on the roof to be independent from expensive campsites.[:]