Blogeintrag 17. Oktober 2018
After all we have been at RDAvery for 10 days but finally we had to depart. Waited in vain for more people to get portrayed. Ray was so kind to ask his friends, but no one could decide. 
Tony was kind enough to take us into the town of Romsey, where we visited the Cathedral in which we saw an interesting sculpture exhibition. In his Renault Clio we have survived his "sporty" driving style.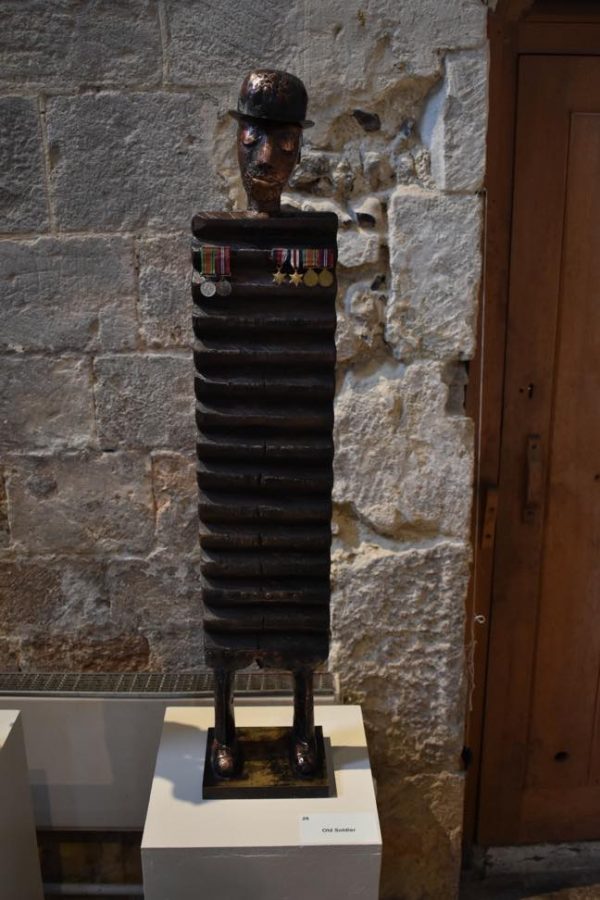 He was also the one who took us to the mobile pizza man. There is actually a small company consisting of a couple that has built a charcoal stove into a bus and they bake the most delicious pizzas. They were even really hot when we ate at Big Fredi which was a 5 minutes drive away.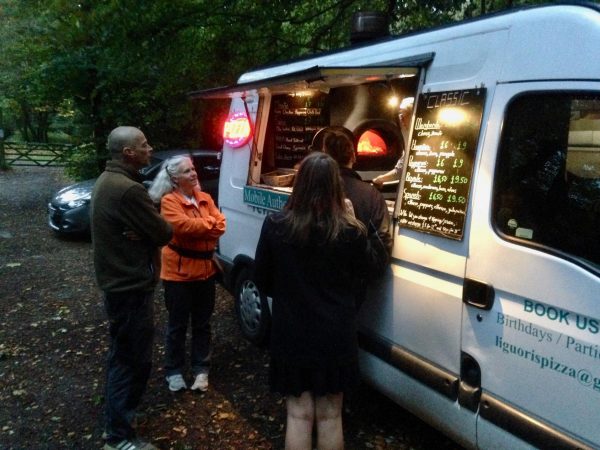 These were, together with a small common walk (Wilfried and Lisbeth) the only highlights this weekend. 
On Monday morning we started our final part of the trip in the UK. Beginning midday we got sunshine and the closer we got to the sea, the warmer it got. Almost the kind of weather for T-shirts and shorts. We stopped quite early in the afternoon at the coast in Peace Heaven on top of the chalk cliffs and enjoyed a hunter's chicken at the pub. Free parking space secured for the night. 
In the morning a short walk to the beach while paragliders whizzed around our ears.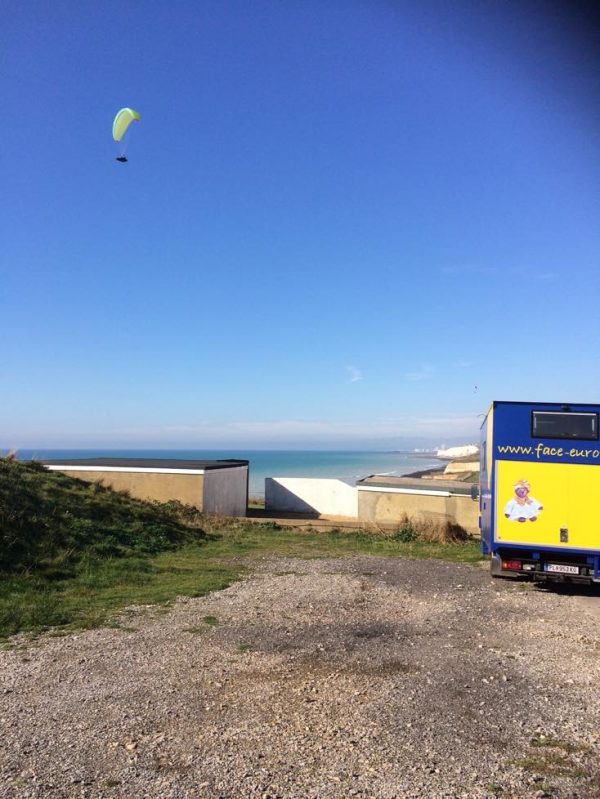 The last part of the trip was lead by our Navi on the narrowest roads. After a huge hole in the road Big Fredi subsequently gave this suspicious noise which made Wilfried crazy. While searching for a place to stay on the island once more – it was already getting dark – we were approaching the ferry terminal in Dover. Without any waiting time we entered the ferry to Dunkirk. It was a pleasant trip. No more than 20 cars on the ferry.
When we arrived in Dunkirk Wilfried was taking no chances that Big Fredi would get more break downs and therefore we moved with activated hazard warning lights almost at walking pace towards the first French parking space. The Navigation – as so often imprecise led us first into the wrong direction of the road and it took a lot of time and walking before we finally found the place to park in the dark.
With the time change, it was 1:00 am when we finally turned off the lights.