23. November 2018
After a few weeks at home, which were meant for adaptations and improvements at the car – such as for example a solar system – it's now back on the road: Portugal and Spain are on face-Europe program this winter.
On Tuesday, 20 November, at 12:30 we finally hit the road. In snowfall and misty weather we left Nussdorf and moved south.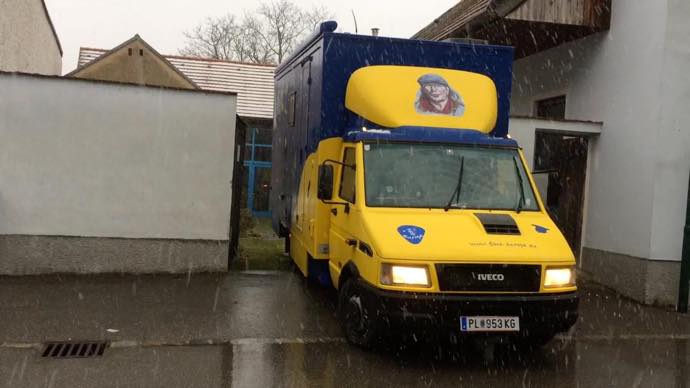 In other words, just behind St. Poelten we bought 2 gas cylinders for the trip to Portugal and the returning from Spain to have enough gas on board. In Spain and Portugal it is – due to the different ports – necessary to purchase country-specific loaning gas bottles and hope that the adapters fit this time. At the end of the journey we must bring the loaners in the respective countries. 
Anyway, it was quite warm in Big Fredi and it was quite comfortable even in freezing temperatures outside.
We got more and more into the sunshine, the more we  drove uphill and downhill through the beautiful Lower Austrian and Styrian landscape. Even Big Fredi liked the roller coaster ride. This time it was not hot – just like in our last tour to Carinthia in midsummer. Now we know what the built in switch in the car is for: it is the additional cooling to face slopes. 
So we cruised up to Mooslandl in Styria, slept at the parking lot of the beautiful summer bath and inspected the next morning the terrain. A cool camping area, a great natural state pool that invites in winter for walking. 
Next day we went comfortably to St. Veit to visit Wilfried's brothers. 
It was a fine evening, unfortunately we did not meet Gitti, the sister from Australia because she went too soon back in her Australian homeland. Health problems forced her to turn back sooner than she intended. I very much hope that we meet her in person next year and in the meantime we can only Skype. 
Our journey on Thursday was not very long because in Untergreuth was our next stop. Thomas and Marion, our dear friends, got their borrowed video camera back and we enjoyed the visit of the wonderful house very much. The trout we had for supper and breakfast would earn easily 5 royal stars! We slept in Big Fredi and at 10 o'clock we went on towards Italy. Sun and clouds alternated until finally the clouds prevailed shortly after Venice and now we are in our cosy car in Campagna Lupia, away from the main route, on a small community owned parking lot and the rain splashes on the roof.