[:de]
23. November 2018
Nach einigen Wochen zu Hause, die für Adaptionen und Verbesserungen im Auto waren – so wie zum Beispiel eine Solaranlage – geht es nun wieder auf Achse: Portugal und Spanien stehen diesen Winter auf dem Face-Europe Programm.
Am Dienstag, den 20. November ging es zu Mittag endlich los. Bei Schneefall und diesigem Wetter kehrten wir Nußdorf den Rücken und zogen Richtung Süden.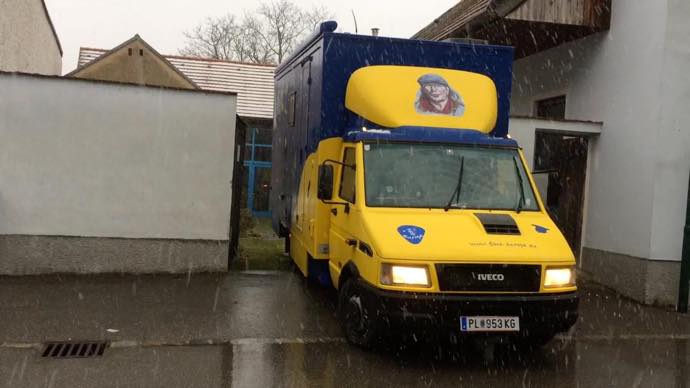 Das heißt, gleich hinter St. Pölten bunkerten wir 2 Gasflaschen, um für die Fahrt nach Portugal und die Rückkehr aus Spanien genug Gas an Bord zu haben. In Spanien und Portugal ist es – bedingt durch die jeweils verschiedenen Anschlüsse – notwendig länderspezifische Leihflaschen anzukaufen und zu hoffen, dass die Adapter diesmal passen. Am Ende der Reise müssen wir die Leihflaschen wieder an den Mann bringen.
Jedenfalls wurde es recht schön warm im Big Fredi und es war auch bei Minusgraden recht gemütlich.
Wir kamen immer mehr in den Sonnenschein, je mehr wir uns bergauf- und bergab durch die schöne niederösterreichische und steirische Landschaft bewegten. Auch Big Fredi gefiel die Berg- und Talfahrt. Er wurde diesmal nicht heiß – so wie bei unserer letzten Kärnten Tour im Hochsommer. Jetzt wissen wir ja auch, wofür der eine Hebel im Auto gebaut ist: es ist die zusätzliche Kühlung bei starken Steigungen.
Wir kurvten also bis Mooslandl in der Steiermark, hielten am Parkplatz des wunderschönen Sommerbades und inspizierten am nächsten Morgen das Gelände.
Ein cooler Campingplatz, ein tolles naturbelassenes Schwimmbad, das jetzt im Winter auch zum Spazierengehen einlädt.
Nächsten Tag ging es dann gemütlich weiter nach St. Veit, um Wilfrieds Brüder zu besuchen.
Es war ein feiner Abend, leider trafen wir Gitti, die Schwester aus Australien nicht an, denn sie fuhr verfrüht wieder in ihre australische Heimat zurück. Gesundheitliche Probleme zwangen sie dazu. Ich hoffe sehr, dass wir sie nächster Jahr persönlich antreffen und in der Zwischenzeit können wir ja Skypen.
Weit ging unsere Reise am Donnerstag nicht mehr, denn in Untergreuth war
schon unsere nächste Station. Thomas und Marion, unsere lieben Freunde, bekamen ihre geliehene Videokamera retour und wir genossen den Besuch in deren wunderbarem Haus ganz außerordentlich. Die Forellen, die es zum Nachtmahl gab und das königliche Frühstück verdienen locker 5 Sterne! Wir ließen es uns nicht nehmen, in Big Fredi zu übernachten und um 10 Uhr ging es dann wieder weiter Richtung Italien. Sonne und Wolken wechselten sich ab, bis schließlich die Wolken kurz nach Venedig die Oberhand behielten und nun stehen wir im bacherlwarmen Auto in Campagna Lupia, weg von der Hauptroute, auf einem kleinen gemeindeeigenen Parkplatz und der Regen plätschert lustig auf das Dach.[:en]
23. November 2018
After a few weeks at home, which were meant for adaptations and improvements at the car – such as for example a solar system – it's now back on the road: Portugal and Spain are on face-Europe program this winter.
On Tuesday, 20 November, at 12:30 we finally hit the road. In snowfall and misty weather we left Nussdorf and moved south.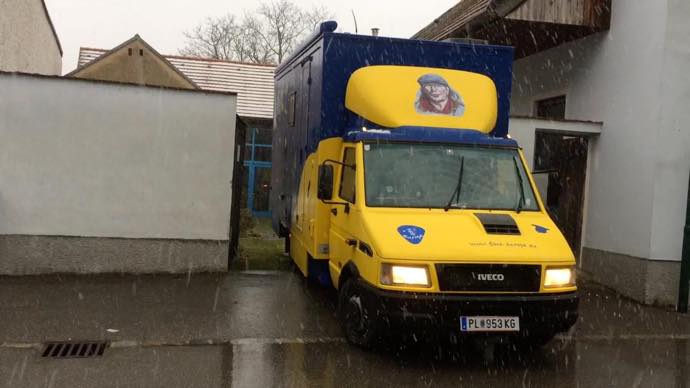 In other words, just behind St. Poelten we bought 2 gas cylinders for the trip to Portugal and the returning from Spain to have enough gas on board. In Spain and Portugal it is – due to the different ports – necessary to purchase country-specific loaning gas bottles and hope that the adapters fit this time. At the end of the journey we must bring the loaners in the respective countries. 
Anyway, it was quite warm in Big Fredi and it was quite comfortable even in freezing temperatures outside.
We got more and more into the sunshine, the more we  drove uphill and downhill through the beautiful Lower Austrian and Styrian landscape. Even Big Fredi liked the roller coaster ride. This time it was not hot – just like in our last tour to Carinthia in midsummer. Now we know what the built in switch in the car is for: it is the additional cooling to face slopes. 
So we cruised up to Mooslandl in Styria, slept at the parking lot of the beautiful summer bath and inspected the next morning the terrain. A cool camping area, a great natural state pool that invites in winter for walking. 
Next day we went comfortably to St. Veit to visit Wilfried's brothers. 
It was a fine evening, unfortunately we did not meet Gitti, the sister from Australia because she went too soon back in her Australian homeland. Health problems forced her to turn back sooner than she intended. I very much hope that we meet her in person next year and in the meantime we can only Skype. 
Our journey on Thursday was not very long because in Untergreuth was our next stop. Thomas and Marion, our dear friends, got their borrowed video camera back and we enjoyed the visit of the wonderful house very much. The trout we had for supper and breakfast would earn easily 5 royal stars! We slept in Big Fredi and at 10 o'clock we went on towards Italy. Sun and clouds alternated until finally the clouds prevailed shortly after Venice and now we are in our cosy car in Campagna Lupia, away from the main route, on a small community owned parking lot and the rain splashes on the roof.[:]