Blog post January 5, 2019
Tom was an extremely sensitive and interesting conversation partner
He was Face Europe # 30 and the first Dutchman. Perhaps also because of his musical work he has quite a wide view of things – with his 30 years of age. To work with him in his orchestra would  be quite a bit of fun. Tom comes to visit us every day at the beach when he gets into the wireless lan from company Norauto here next to our parking place. 
It would be nice if we could meet him at his current home address and he could organize a workshop there for us. He also knows enough people who may be interested in a portrait, perhaps.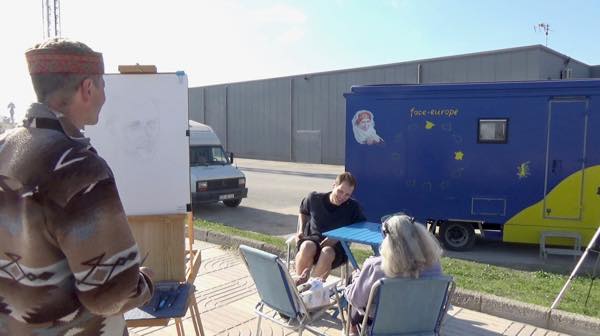 It's very exciting to see how many "non-Spanish" people are now involved in Face Europe: Italy, Germany, Netherlands, Czech Republic, Ireland, Poland. 
Originally yesterday Zbignev would have to be drawn from Poland. But then all of a sudden Hana appeared from Czech Republic, who asked to be portrayed. So much that they even postponed their trip home for another day. So Big Fredi was quickly converted back into a studio and Hana did appear in the evening. 
But now I have to let Little Fredi write his experiences:
Fredi, "Well, I've already often experienced that people like me very much, but Hana was head over heels in love with me easily. Felt well indeed ! I like her very much. And then she almost kidnapped me and took me away to the Czech Republic. At the last second she has then refrained from her purpose and I very much hope that we will meet again. How we laughed with her on the previous evening. In the middle of the portrait session the container supplier of Norauto appeared, loudly rumbled at the window and asked Wilfried to leave so that he could replace the container. Cameras, light, everything had to be stowed away safely for a few meters of movement. 
But the portrait then ran smoothly. It is really great class. The way Wilfried gets people on paper (or canvas) is always great.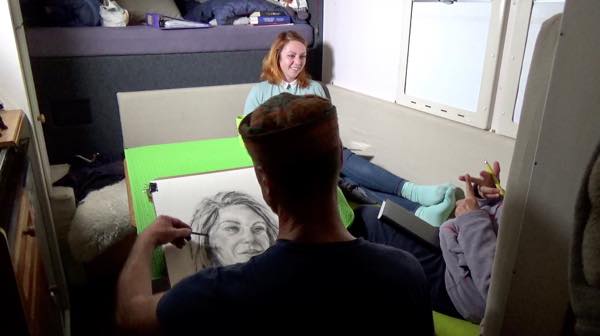 Last night after the portrait session Enrico knocked at the door – half-frozen after the trip to Valencia and Kai and Ayu also cuddled into big Fredi. With them the place was really crammed full. And all of them admired me. Autographs I have not given. But that may come later. 
So now I took the computer away from Little Fredi. Otherwise he would never stop to write 
Lisbeth: Today was a sunny and cloudless day, so we could take a shower and wash our hair. At noon Zbignev from Poland joined us as portrait model #32 of Face Europe.
A non brainwashed Polish person who is rather quiet and reserved, but during the session he got more and more open. I think he feels more comfortable in our midst.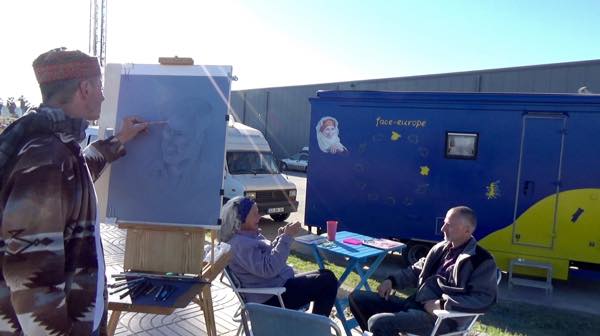 During today's meeting on the beach a lot of people walked by, some of which showed interest to be portrayed. A fixed date on Wednesday could be arrange with Teresa. 
Pablo comes tomorrow. He is the actor from Valencia, the holy King of the department store, which I spoke to a few days ago when he distributed candy to the children and asked them about their wishes.
That he would fulfill our request for being part of Face Europe so promptly, we did not dare to hope. Am already curious about tomorrow.