[:de]
Blogeintrag 5.Jänner 2019
Tom war ein äußerst sensibler und interessanter Gesprächspartner am 3. Jänner.
Er war Face Europe # 30 und der erste Niederländer. Mit seinen 30 Jahren hat er – vielleicht auch durch sein musikalisches Schaffen eine ziemliche Weitsicht der Dinge. In seinem Orchester mit zu wirken muss ziemlich viel Spaß machen. Tom kommt uns hier am Strand täglich besuchen, wenn er ins WLAN der Firma Norauto einsteigt.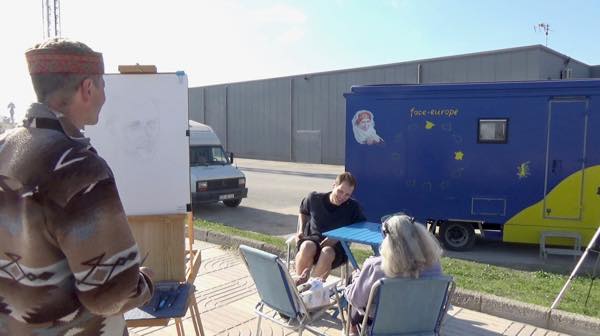 Es wäre schön, könnten wir ihn an seiner derzeitigen Heimatadresse wieder treffen und könnte er dort einen Workshop organisieren für uns. Ebenso kennt er genug Menschen, die sich vielleicht für ein Porträt interessieren könnten. Es ist schon äußerst spannend, wie viele "Nicht-Spanier" nun hier schon Teil von Face Europe geworden sind: Italien, Deutschland, Niederlande, Tschechien, Irland, Polen. 
Eigentlich hätte ja gestern Zbignev aus Polen gezeichnet werden sollen. Dann aber tauchte Hana aus Tschechien auf, die so gerne porträtiert werden wollte, dass sie ihre Heimreise dafür um einen Tag verschob. Also wurde Big Fredi kurzerhand wieder in ein Studio umgebaut und Hana erschien wirklich. 
Jetzt muss ich aber Little Fredi zu Wort kommen lassen:
Fredi: "Also, ich habe ja schon oft erlebt, dass mich die Menschen sehr lieb haben, aber Hana hat sich Hals über Kopf einfach in mich verliebt. Hat das gut getan! Ich mag sie auch sehr gern. Und dann hätte sie mich beinahe gekidnappt und nach Tschechien mitgenommen. In letzter Sekunde hat sie aber dann von ihrem Vorhaben Abstand genommen und ich hoffe sehr, dass wir uns wieder sehen. Was haben wir gelacht mit ihr an dem gestrigen Abend. Mitten in die Zeichen-Session ist auch noch der Containerlieferant von Norauto aufgetaucht, hat laut an das Fenster gepoltert und gebeten, dass Wilfried wegfährt, damit ein Container getauscht werden konnte. Kameras, Licht, alles musste wackelsicher verstaut werden für die paar Meter. 
Das Porträt lief aber dann wie geschmiert. Ich weiß es, das sagt man nicht, weil schmieren tut ja unser Wilfried nie. Der ist echt super Klasse. Wie er die Menschen immer zu Papier (oder Leinwand) bringt, ist immer wieder toll.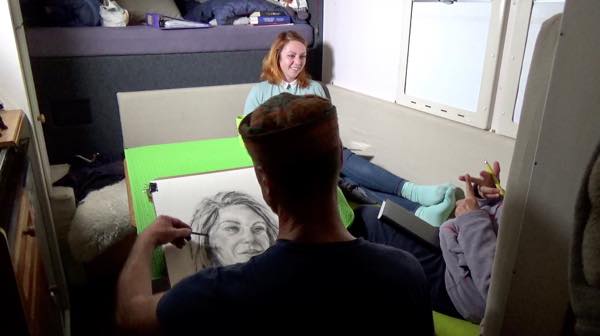 Gestern Abend nach der Porträtsitzung hatten wir dann auch noch Besuch von Enrico, der halb erfroren von Valencia heimkehrte und Kai und Ayu kuschelten sich auch noch zu uns herein. Da war die Bude dann echt super voll. So hab ich das gern. Und alle haben mich bewundert. Autogramme habe ich keine gegeben. Aber das kann ja noch kommen. 
So jetzt hab ich dem Little Fredi den Computer wieder weg genommen. Der hört ja sonst gar nicht mehr auf zu schreiben. 
Lisbeth: Heute war wieder ein sonniger und wolkenloser Tag, den wir zum Haare waschen und duschen nutzen konnten. Ab Mittag gesellte sich Zbignev als 32. Face Europe Modell aus Polen zu uns.
Ein nicht gehirngewaschener Pole, der eher ruhig und zurückhaltend ist, aber immer mehr und mehr auftaut. Ich glaube, er fühlt sich in unserer Mitte immer wohler.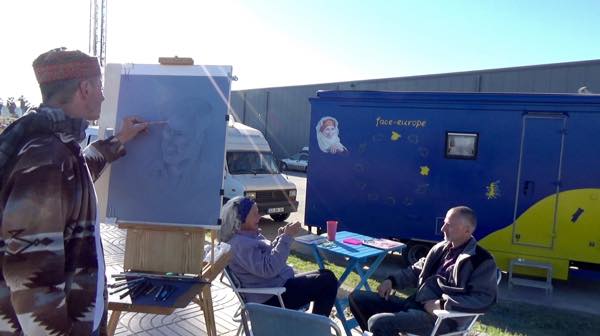 Während der heutigen Sitzung am Strand spazierten viele Leute vorbei, von denen einige wieder Interesse zeigten, porträtiert zu werden. Einen Fixtermin am Mittwoch konnten wir mit Teresa arrangieren. 
Morgen kommt Pablo, der Schauspieler aus Valencia, der heilige König aus dem Kaufhaus, den ich vor ein paar Tagen ansprach, als er den Kindern Schlecker verteilte und sie nach ihren Wünschen fragte.
Dass er unseren Wunsch so prompt erfüllen würde haben wir gar nicht zu hoffen gewagt. Bin schon neugierig auf morgen. [:en]
Blog post January 5, 2019
Tom was an extremely sensitive and interesting conversation partner
He was Face Europe # 30 and the first Dutchman. Perhaps also because of his musical work he has quite a wide view of things – with his 30 years of age. To work with him in his orchestra would  be quite a bit of fun. Tom comes to visit us every day at the beach when he gets into the wireless lan from company Norauto here next to our parking place. 
It would be nice if we could meet him at his current home address and he could organize a workshop there for us. He also knows enough people who may be interested in a portrait, perhaps.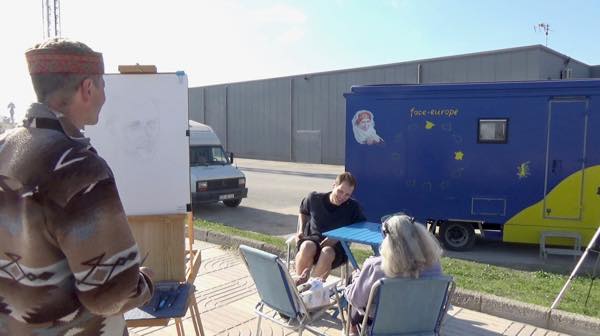 It's very exciting to see how many "non-Spanish" people are now involved in Face Europe: Italy, Germany, Netherlands, Czech Republic, Ireland, Poland. 
Originally yesterday Zbignev would have to be drawn from Poland. But then all of a sudden Hana appeared from Czech Republic, who asked to be portrayed. So much that they even postponed their trip home for another day. So Big Fredi was quickly converted back into a studio and Hana did appear in the evening. 
But now I have to let Little Fredi write his experiences:
Fredi, "Well, I've already often experienced that people like me very much, but Hana was head over heels in love with me easily. Felt well indeed ! I like her very much. And then she almost kidnapped me and took me away to the Czech Republic. At the last second she has then refrained from her purpose and I very much hope that we will meet again. How we laughed with her on the previous evening. In the middle of the portrait session the container supplier of Norauto appeared, loudly rumbled at the window and asked Wilfried to leave so that he could replace the container. Cameras, light, everything had to be stowed away safely for a few meters of movement. 
But the portrait then ran smoothly. It is really great class. The way Wilfried gets people on paper (or canvas) is always great.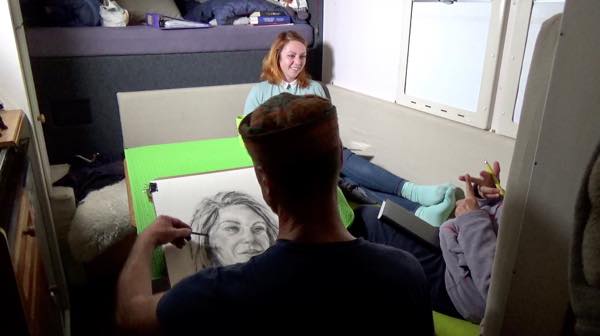 Last night after the portrait session Enrico knocked at the door – half-frozen after the trip to Valencia and Kai and Ayu also cuddled into big Fredi. With them the place was really crammed full. And all of them admired me. Autographs I have not given. But that may come later. 
So now I took the computer away from Little Fredi. Otherwise he would never stop to write 
Lisbeth: Today was a sunny and cloudless day, so we could take a shower and wash our hair. At noon Zbignev from Poland joined us as portrait model #32 of Face Europe.
A non brainwashed Polish person who is rather quiet and reserved, but during the session he got more and more open. I think he feels more comfortable in our midst.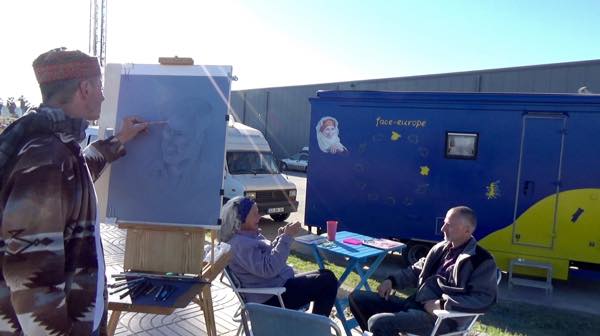 During today's meeting on the beach a lot of people walked by, some of which showed interest to be portrayed. A fixed date on Wednesday could be arrange with Teresa. 
Pablo comes tomorrow. He is the actor from Valencia, the holy King of the department store, which I spoke to a few days ago when he distributed candy to the children and asked them about their wishes.
That he would fulfill our request for being part of Face Europe so promptly, we did not dare to hope. Am already curious about tomorrow. [:]