We are back from the blog free time zone.
We hope you had a peaceful Christmas time and gained new strength and fresh resolutions for the new year!
The time has rushed for us and was full of beautiful encounters in a friendly, warm and soul-warming atmosphere. Our Christ Child Ayu was portrayed  by Wilfried in oil on December 24, on the beach at beautiful and bright sunshine. The time flew by. Ayu, the lively Spaniard of the neighboring car talked, talked and talked.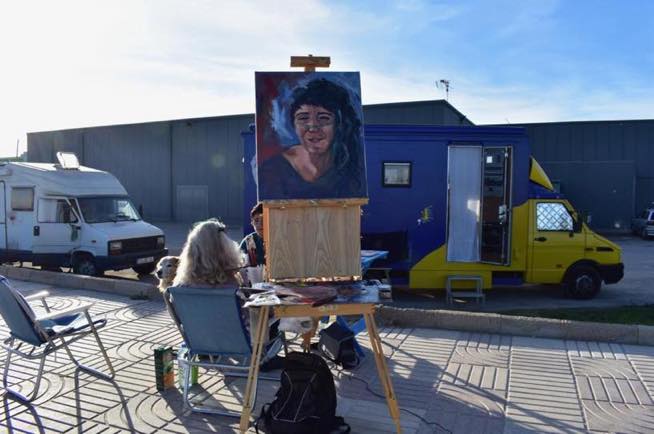 It was a pleasure to listen to her. Her joy is like a spark that leaps to her surrounding. 
In the evening, Ayu and Kai were guests at our cheerful "Christmas dinner".  
During the days after Christmas, the place got filled again with new campers. Poland emerged, a Spanish RV emerged whose owners seemed quite shy to wink at us. Was it the friends of the Kiwis who had been announced by them? Only when the Kiwis at 28.12. reappeared, the mystery was solved. Yes, the friends they had met a year ago in Istanbul, were our new neighbours. Quickly their shyness disappeared and Zoe even overcame her shyness and got herself portrayed.
This happened at the last day in 2018. She was born in England but lived in Fuerteventura until 14 months ago. Since then she is travelling with her Irish friend in 46 mostly European countries. I did not know that Europe has so many countries. 33 of them belong to the EU or aspire their membership. 
29. 12.2018 Wilfried even drew 2 persons in a day: at noon Kai was the first and in the evening,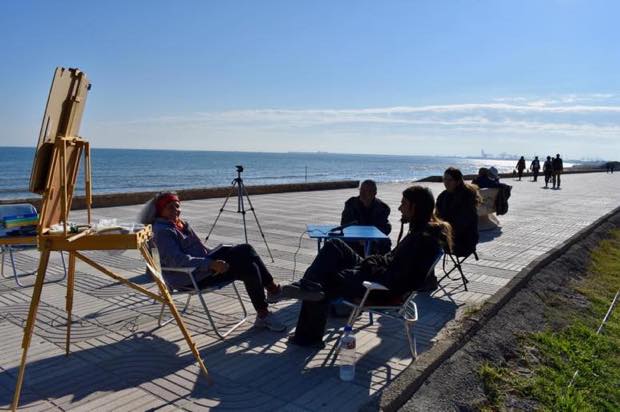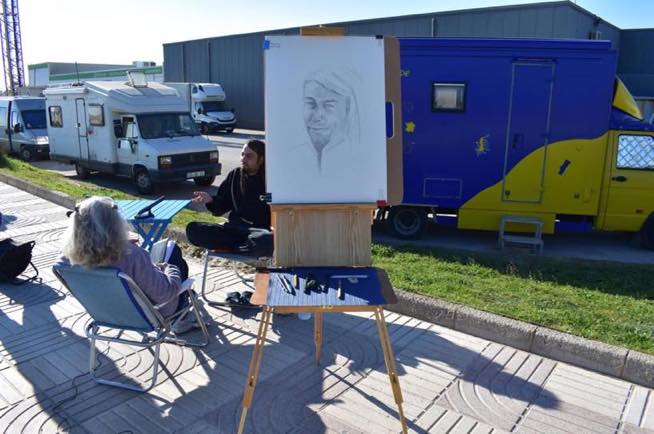 our Spanish neighbour Reyes sat with us in Big Fredi while Wilfried drew her. With even two cameras and the 3 of us next to our large LED light it was a miracle to fit it all in. But we made it (even without Angela Merkel)!
The evening ended with a Spanish course for me and the idea for the New Year's Eve was also born: everyone should cook a special dish from their home and share it with the other campers. 
So that was the result: 14 people from 9 different countries cooked, ate, drank, made music together and welcomed the year of 2019. It was great.
Now we have another year time to get used to the year 2019!
Even our Austrian friend Paul celebrated with us and came all the way from Benidorm. 
New Year's Eve also Enrico, the Italian approached after Zoe had been painted. He was also invited to the New Year's party by the group and spoiled us with original Italian pesto. Enrico is the owner of a sailing yacht and a great and lovely Iveco motor home. It is about 30 years old but it has character. We would take it immediately. He would also love to get Big Fredi. Today Enrico was the first Italian in the new year who was portrayed by Wilfried.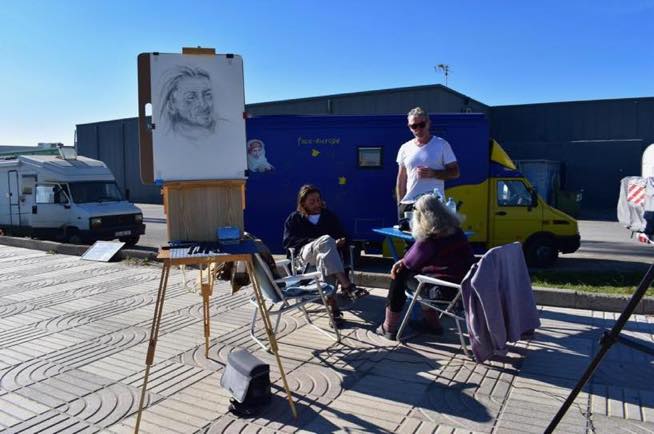 It is very surprising to us that here in Spain, not only Spaniards take part in the project Face Europe, but also people of other nationalities. 
When we visit their countries, we do not come very inexperienced, but know a little bit about it already. Tomorrow it is Tom's  turn (he is from Holland), the day after tomorrow Zbignev from Poland will be drawn. After that we hope to get Pablo whom we met at the department store today disguised as one of the Holy Kings.