[:de]
Wir sind wieder zurück aus der blogfreien Zeitzone.
Wir hoffen, Ihr hattet eine friedliche Weihnachtszeit und habt neue Kraft und frische Vorsätze für das neue Jahr!
Die Zeit ist auch für uns vorbeigerauscht und war voller schöner Begegnungen in einer freundschaftlichen, warmen und herzerquickenden Atmosphäre. Unser Christkind Ayu wurde am 24.12.2018 am Strand bei wunderschönem und strahlenden Sonnenschein von Wilfried in Öl porträtiert.
Die Zeit verging wie im Flug. Ayu, die quirlige Spanierin vom Nachbarauto erzählte, erzählte, erzählte. Es war eine Freude ihr zuzuhören. Ihre Lebensfreude ist wie ein Funke, der auf ihre Umgebung überspringt.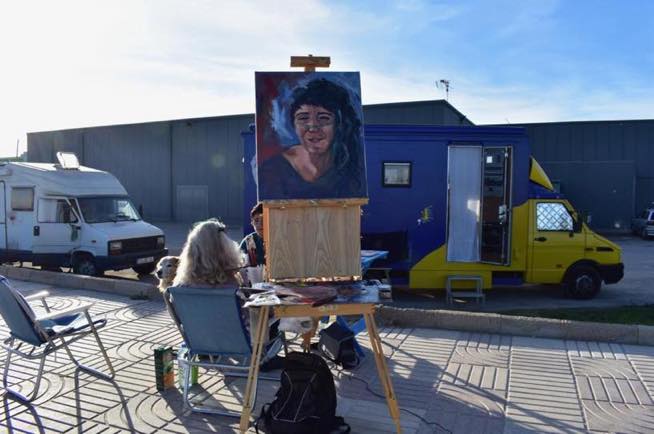 Abends waren die beiden unsere Gäste bei einem fröhlichen "Weihnachtsessen".  
In den Tagen nach Weihnachten füllte sich der Platz hier wieder mit neuen Campern. Polen tauchten auf, ein spanisches Wohnmobil tauchte auf, deren Besitzer schienen eher scheu auf uns zu blinzeln. Waren es die Freunde der Kiwis, die von Ihnen angekündigt wurden? Erst als die Kiwis am 28.12. wieder auftauchten, konnte das Rätsel gelöst werden. Ja, die Freunde, die sie vor einem Jahr in Istanbul kennengelernt hatten, waren unsere neuen Nachbarn. Schnell wurde ihre Scheu beseitigt und Zoe erklärte sich sogar bereit sich zeichnen zu lassen und ihrer Schüchternheit ein Schnippchen zu schlagen. Dies geschah dann zu Silvester.
Sie ist zwar in England geboren, lebte aber bis vor 14 Monaten in Fuerte Ventura. Seither ist sie mit ihrem irischen Freund in 46 meist europäischen Ländern unterwegs. Ich wusste gar nicht, dass Europa so viele Länder hat. 33 davon gehören jedenfalls der EU an oder streben die Mitgliedschaft an.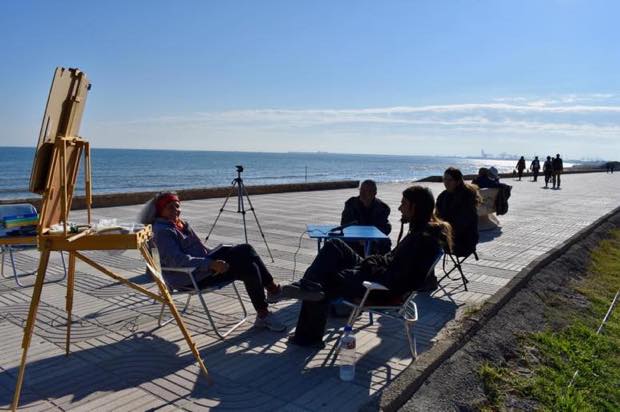 Am 29. 12.2018 zeichnete Wilfried gleich 2 Personen an einem Tag: zu Mittag war Kai dran und am Abend setzte sich unsere spanische Nachbarin Reyes noch zu uns in Big Fredi, wo Wilfried sie ebenfalls zeichnete.
Dass auch noch 2 Kameras und wir 3 Platz hatten neben unserem großen LED Licht grenzt an ein Wunder. Aber wir schafften das (auch ohne Angela Merkel) doch irgend wie. Der Abend endete mit einem Spanisch Kurs für mich und die Idee für den Silvesterabend wurde ebenso geboren: wir wollten alle ein spezielles Essen aus unserer Heimat kochen und dieses mit den anderen Campern teilen. 
So wurde es dann auch praktiziert: 14 Leute aus 9 verschiedenen Ländern kochten, aßen, tranken, musizierten und begrüßten gemeinsam das Jahr 2019.
Jetzt haben wir wieder ein Jahr Zeit, um uns an die Jahreszahl zu gewöhnen!
Sogar unser österreichischer Freund Paul feierte mit uns und kam dazu extra aus Benidorm angereist. 
Zu Silvester näherte sich auch Enrico, der Italiener, nachdem Zoe gemalt worden war. Auch er wurde zur Silvesterparty eingeladen und verwöhnte uns mit original italienischem Pesto. Enrico ist Besitzer einer Segeljacht und und eines tollen Iveco Wohnmobils. Circa 30 Jahre alt aber mit Charakter. Wir würden es sofort nehmen. Auch er hätte mit Big Fredi seine Freude. Heute war Enrico der erste Italiener im neuen Jahr, der von Wilfried porträtiert wurde.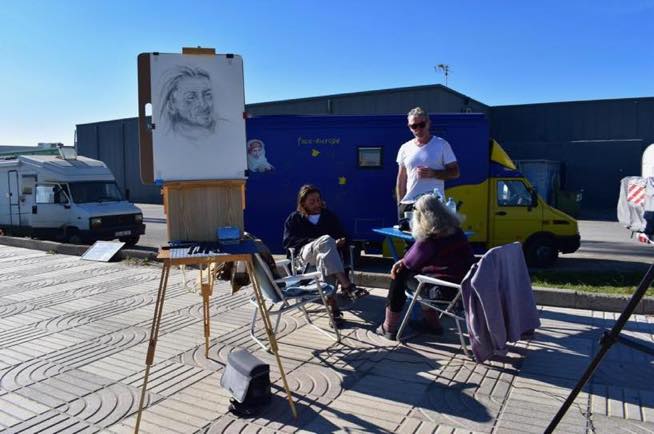 Es ist für uns sehr überraschend, dass hier in Spanien nicht nur Spanier am Projekt Face Europe teilnehmen, sondern auch Menschen anderer Nationalitäten mit machen. 
Wenn wir deren Länder besuchen, kommen wir nicht mehr ganz unerfahren, sondern wissen schon ein wenig Bescheid. Morgen kommt Tom aus Holland an die Reihe, übermorgen Zbignev aus Polen und dann hoffen wir auf den als einen der Heiligen Könige verkleideten Pablo, den wir soeben im Kaufhaus kennen gelernt haben. 
[:en]
We are back from the blog free time zone.
We hope you had a peaceful Christmas time and gained new strength and fresh resolutions for the new year!
The time has rushed for us and was full of beautiful encounters in a friendly, warm and soul-warming atmosphere. Our Christ Child Ayu was portrayed  by Wilfried in oil on December 24, on the beach at beautiful and bright sunshine. The time flew by. Ayu, the lively Spaniard of the neighboring car talked, talked and talked.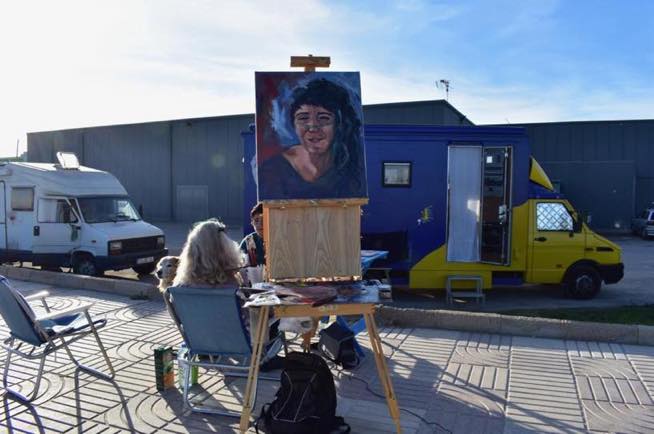 It was a pleasure to listen to her. Her joy is like a spark that leaps to her surrounding. 
In the evening, Ayu and Kai were guests at our cheerful "Christmas dinner".  
During the days after Christmas, the place got filled again with new campers. Poland emerged, a Spanish RV emerged whose owners seemed quite shy to wink at us. Was it the friends of the Kiwis who had been announced by them? Only when the Kiwis at 28.12. reappeared, the mystery was solved. Yes, the friends they had met a year ago in Istanbul, were our new neighbours. Quickly their shyness disappeared and Zoe even overcame her shyness and got herself portrayed.
This happened at the last day in 2018. She was born in England but lived in Fuerteventura until 14 months ago. Since then she is travelling with her Irish friend in 46 mostly European countries. I did not know that Europe has so many countries. 33 of them belong to the EU or aspire their membership. 
29. 12.2018 Wilfried even drew 2 persons in a day: at noon Kai was the first and in the evening,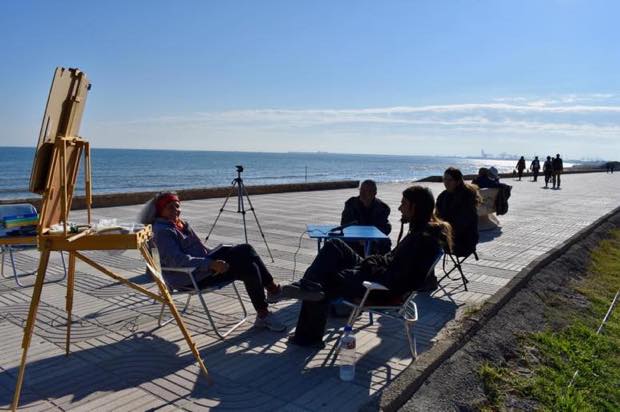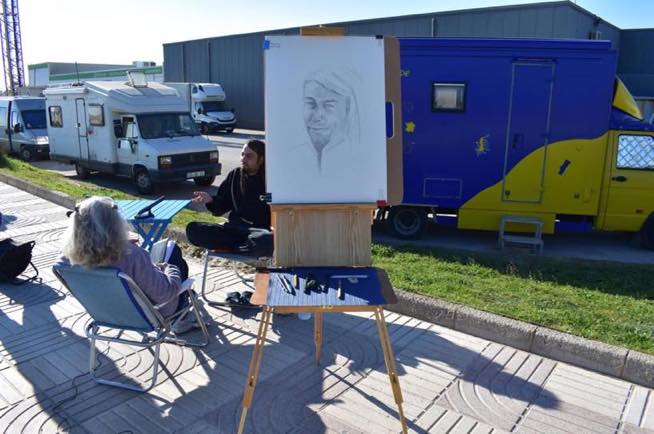 our Spanish neighbour Reyes sat with us in Big Fredi while Wilfried drew her. With even two cameras and the 3 of us next to our large LED light it was a miracle to fit it all in. But we made it (even without Angela Merkel)!
The evening ended with a Spanish course for me and the idea for the New Year's Eve was also born: everyone should cook a special dish from their home and share it with the other campers. 
So that was the result: 14 people from 9 different countries cooked, ate, drank, made music together and welcomed the year of 2019. It was great.
Now we have another year time to get used to the year 2019!
Even our Austrian friend Paul celebrated with us and came all the way from Benidorm. 
New Year's Eve also Enrico, the Italian approached after Zoe had been painted. He was also invited to the New Year's party by the group and spoiled us with original Italian pesto. Enrico is the owner of a sailing yacht and a great and lovely Iveco motor home. It is about 30 years old but it has character. We would take it immediately. He would also love to get Big Fredi. Today Enrico was the first Italian in the new year who was portrayed by Wilfried.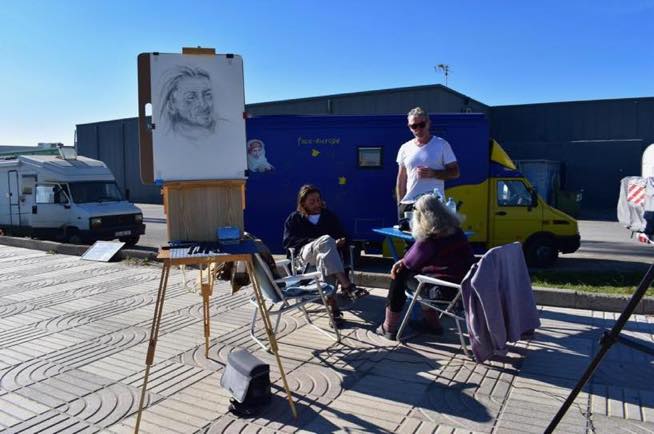 It is very surprising to us that here in Spain, not only Spaniards take part in the project Face Europe, but also people of other nationalities. 
When we visit their countries, we do not come very inexperienced, but know a little bit about it already. Tomorrow it is Tom's  turn (he is from Holland), the day after tomorrow Zbignev from Poland will be drawn. After that we hope to get Pablo whom we met at the department store today disguised as one of the Holy Kings.
[:]