Blog entry 25/01/2019
Yesterday we were amazed as we were expecting to welcome Paul, who was not Paul.
We did not know her before so, Empar – her sister – showed up and said Paul was sick and she was pleased to be a part of Face Europe insted. Although she speaks very good German, Ayu was here to translate.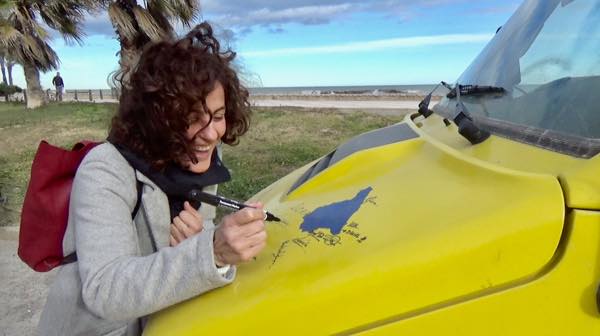 It was a happy afternoon in a warm atmosphere. Paul wants to come to be portrayed in a week on Thursday. We wish Paul a speedy recovery! We look forward to you!
Today was the first day that felt really like summer. 23 degrees, no wind – and the Spaniards go still with winter jackets. I was about to take off my sweater and go with the T-shirt, I saw most people still wrapped firmly into warm clothes we only wear in winter. 
Bettina took me one day to her harvest field where she originally wanted to olant potatoes. But since Miguel was not on site, and there also were no potatoes for planting, we contented ourselves with the harvest of her wonderful vegetables and went on to the market. A paradise! Tiger nuts, peanuts, dried figs, and, and, and. We unloaded what Bettina had bought for her in her apartment while I could visit Helga, who has now broken a rib when coughing. Poor person! Hopefully she will be healthy before she has to go home again. 10 days are too short for a real recovery. And then when you are sick when the holiday feeling goes down towards zero. 
Today we tested the sea with our feet for the first time and walked along the beach over confluent streams just about to the level of Bettina's house. 
The sea was not too cold, the sand already heated up. Great experience this walk on the beach! And that happened on January 25!
I intend to do that more often, it's very invigorating.