[:de]Blogeintrag 25.1.2019
Gestern staunten wir nicht schlecht als wir um 1 Uhr Paul begrüßen wollten, die dann gar nicht Paul war.
Wir kannten sie ja nicht, sie stellte sich mit Empar vor und erklärte, ihre Schwester sei krank und sie freue sich, ein Teil von Face Europe zu sein. Obwohl sie ganz gut deutsch spricht, blieb Ayu trotzdem zum Übersetzen.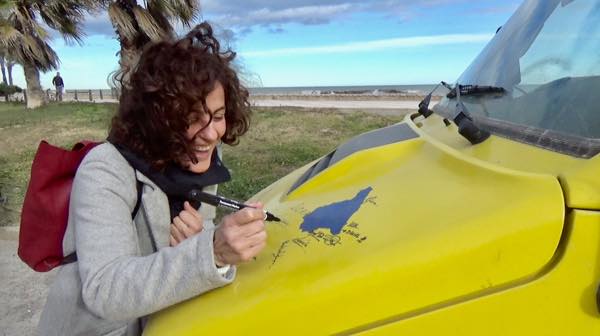 Es wurde ein fröhlicher Nachmittag in herzlicher Atmosphäre. Paul lässt es sich nicht nehmen in einer Woche am Donnerstag zum Porträtieren zu kommen. Baldige Besserung Paul! Wir freuen uns auf dich!
Heute war der erste Tag, der sich so richtig sommerlich anfühlte. 23 Grad, kein Wind – und die Spanier gehen trotzdem mit Winterjacken. Ich wollte schon meinen Pullover ausziehen und mit dem T-Shirt gehen, da sah ich die meisten Menschen auf der Straße noch fest eingepackt. 
Bettina nahm mich heute auf ihr Erntefeld mit, wo sie ursprünglich Erdäpfel eingraben wollte. Da Miguel aber nicht vor Ort war, und es außerdem gar keine Erdäpfel zum Anbauen gab, begnügten wir uns mit einer Ernte, von der ich auch wieder ab bekam und fuhren weiter zum Markt. Ein Eldorado! Erdmandeln, Erdnüsse, getrocknete Feigen,und, und, und. Wir luden das, was Bettina gekauft hatte, bei ihr ab und ich konnte Helga besuchen, die sich jetzt zu guter Letzt auch noch eine Rippe beim Husten gebrochen hat. Die Ärmste! Hoffentlich wird sie noch gesund bevor sie wieder heim fahren muss. 10 Tage sind für eine echte Erholung zu kurz, wenn man dann auch noch krank wird, ist der Erholungswert dann gleich null. 
Wir testeten heute das erste Mal das Meer mit unseren Füßen und marschierten am Strand entlang durch einmündende Bäche bis auf die Höhe von Bettinas Haus.

Das Meer war gar nicht so kalt, der Sand schon aufgeheizt. Prima Erfahrung so ein Strandspaziergang! Und das am 25. Jänner!
Ich habe mir vorgenommen, das jetzt öfter zu tun, es ist sehr belebend. [:en]Blog entry 25/01/2019
Yesterday we were amazed as we were expecting to welcome Paul, who was not Paul.
We did not know her before so, Empar – her sister – showed up and said Paul was sick and she was pleased to be a part of Face Europe insted. Although she speaks very good German, Ayu was here to translate.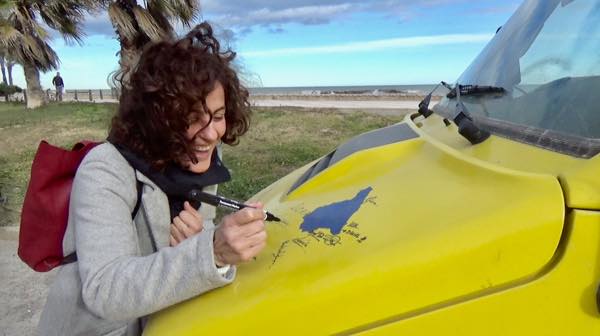 It was a happy afternoon in a warm atmosphere. Paul wants to come to be portrayed in a week on Thursday. We wish Paul a speedy recovery! We look forward to you!
Today was the first day that felt really like summer. 23 degrees, no wind – and the Spaniards go still with winter jackets. I was about to take off my sweater and go with the T-shirt, I saw most people still wrapped firmly into warm clothes we only wear in winter. 
Bettina took me one day to her harvest field where she originally wanted to olant potatoes. But since Miguel was not on site, and there also were no potatoes for planting, we contented ourselves with the harvest of her wonderful vegetables and went on to the market. A paradise! Tiger nuts, peanuts, dried figs, and, and, and. We unloaded what Bettina had bought for her in her apartment while I could visit Helga, who has now broken a rib when coughing. Poor person! Hopefully she will be healthy before she has to go home again. 10 days are too short for a real recovery. And then when you are sick when the holiday feeling goes down towards zero. 
Today we tested the sea with our feet for the first time and walked along the beach over confluent streams just about to the level of Bettina's house. 
The sea was not too cold, the sand already heated up. Great experience this walk on the beach! And that happened on January 25!
I intend to do that more often, it's very invigorating. [:]