[:de]Blogeintrag 28.1.2019
Heute ist Alcampo und Leroy Merlin wieder geöffnet. Es bläst wieder ein kräftiger Wind vom Land, der sich kühl anfühlt. Ansonsten scheint – so wie immer – weitgehend die Sonne. Der Stromeintrag ins Solarsystem steigt stetig an.
Gestern half Sylvia bei der Produktion der Orangenmarmelade mit und heute früh war die neue Orangen/Zitronenmarmelade dann auch schon fertig in Gläser gefüllt.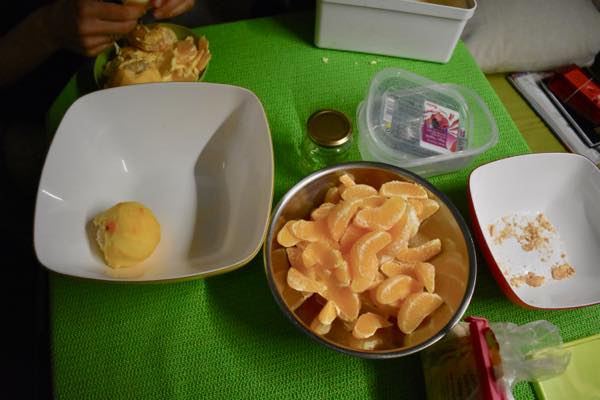 Sie ist einzigartig köstlich. Fruchtig, süßsauer und lecker. 
Der gestrige Sonntag war außerdem wieder einmal einer größeren Putzaktion gewidmet. Der Teppich, der uns in der Kälte gute Dienste geleistet hatte, muss gewaschen werden und verschwand in der Schmutzwäsche. Somit kann man den Tisch wieder bequem verschieben und muss ihn nicht immer anheben. 
Gestern Nachmittag spazierten wir die ca. 5 km bis zum Hafen von Valencia am Strand entlang.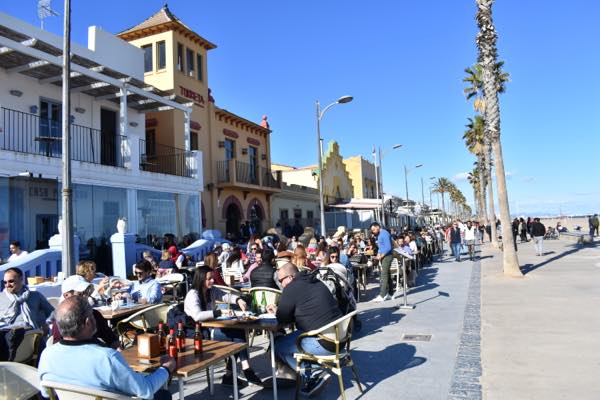 In Patacona war Fiesta und wir konnten die fein gekleideten Mädchen beim Fotoshooting beobachten und ebenso fotografieren. Man sah den Stolz auf ihre Kleider förmlich in den Augen blitzen.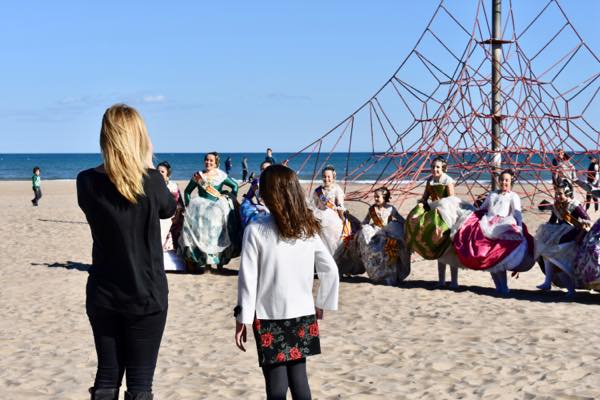 Beim Heimgehen blies uns ein heftiger Wind entgegen, der uns beim Hingehen als Rückenwind nicht so sehr aufgefallen war.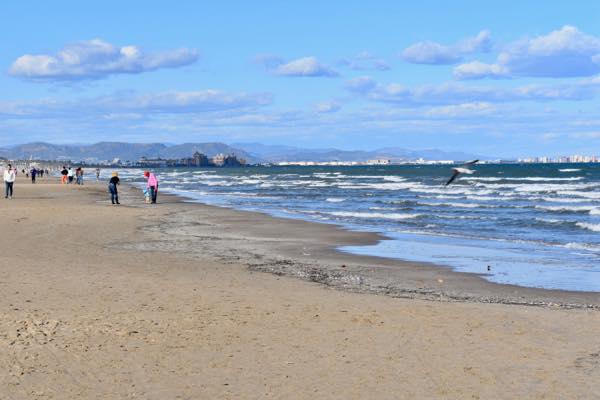 Es tat gut, sich danach auszuruhen. Sylvia lud uns zum Nachtmahl zwei Wohnwagen weiter zu sich ein, wo auch Ayu eine Zeitlang zu Besuch war, bevor sie sich ins Valencia Nachtleben stürzte. 
Heute war es wieder vom Land her sehr windig, nachmittags schaute kurz auch Brigitte, die Französin vorbei, nachdem sie bei Leroy Merlin ein Schleifgerät für die Renovierung ihrer Wohnung eingekauft hatte. Jetzt kann sie ans Werk gehen. Jean Jaques ist heute nach Frankreich zu seiner Tochter gereist. Auch Enrico war bei Leroy Merlin, um Pinseln für seinen Bootsanstrich zu besorgen. 
Wir haben noch keine Nachricht von Naranja Del Carmen bezüglich Termin für diese und nächste Woche erhalten. Freuen uns auf Donnerstag und sehen weiter, was da kommt. [:en]Blog entry 28/01/2019
Today Alcampo and Leroy Merlin is reopened.
 

A strong wind from the land feels cool. Otherwise – as always – the sun is shining. The current entry into the solar system is steadily increasing.

Yesterday Sylvia helped me with the production of orange marmalade and today the new orange / lemon marmalade was finished and is already filled in jars.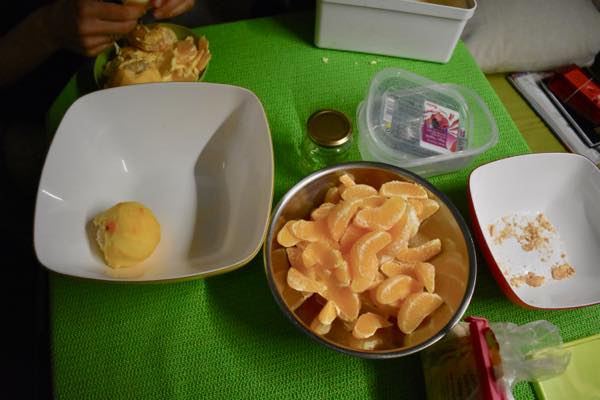 It is really delicious. Fruity, sweet and sour and very yummy.
Sunday was a major clean-up day. The carpet, which had served us in the cold very well must be washed and disappeared in the dirty laundry. Thus, you can move the table again and you do not need to lift it.
Yesterday afternoon we walked the 5 km to the port of Valencia along the beach.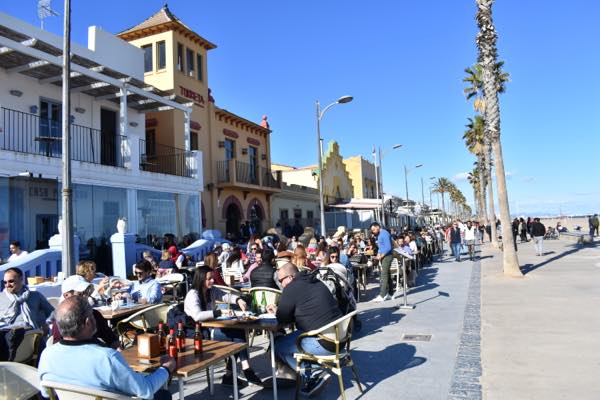 Patacona Fiesta took place and we saw the well-dressed girls at a photo shooting and also photographed the group.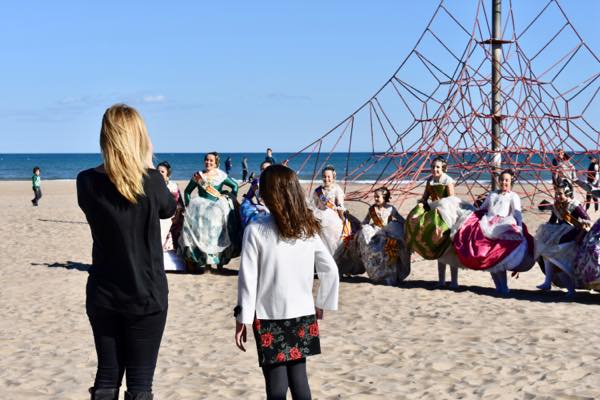 You could see the pride in their clothes literally in their eyes flash.
When going home a fierce wind was blowing against us, which was not so much noticed before as a tailwind.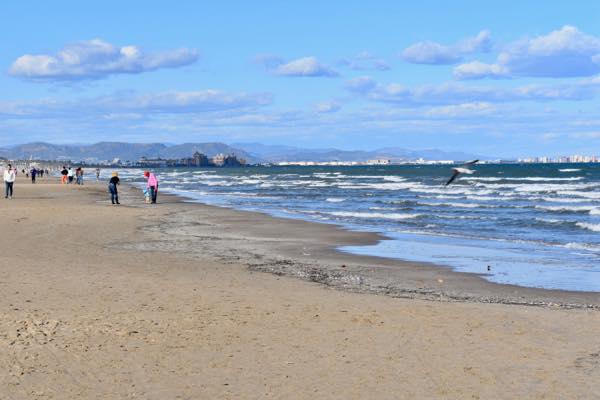 It was good to rest after the walk. Sylvia invited us to dinner two caravans further, where also Ayu was for some time before she plunged into Valencia nightlife.
Today it was very windy from the land again. In the afternoon Brigitte dropped in. She is the French woman Wilfried had drawn.  After she had bought a sander for renovating her apartment she surprised us with her visit. Now she can go to work. Jean Jaques has left today to France to see his daughter. Also Enrico got some brushes for his boat painting job at Leroy Merlin.
We have not received any message from Naranja Del Carmen regarding appointment for this and next week so far. 
We are looking forward to Thursday and we will see what happens next. [:]