[:de]Blogeintrag 1. Oktober 2021
Das Heimkommen und der Anblick der Hochwasserschäden war schockierend.
Aber schon am nächsten Tag, also am 25. Juli wurde der Schaden vom Katastrophenfond geschätzt und wir konnten mit den Aufräumarbeiten beginnen. Die Kellerräumlichkeiten waren bis zu einer Raumhöhe von 90 cm total zerstört und es konnte alles nur mehr in Bausch und Bogen auf die Müllhalde kommen. Dazu half uns die Gemeinde mit einem Frontlader.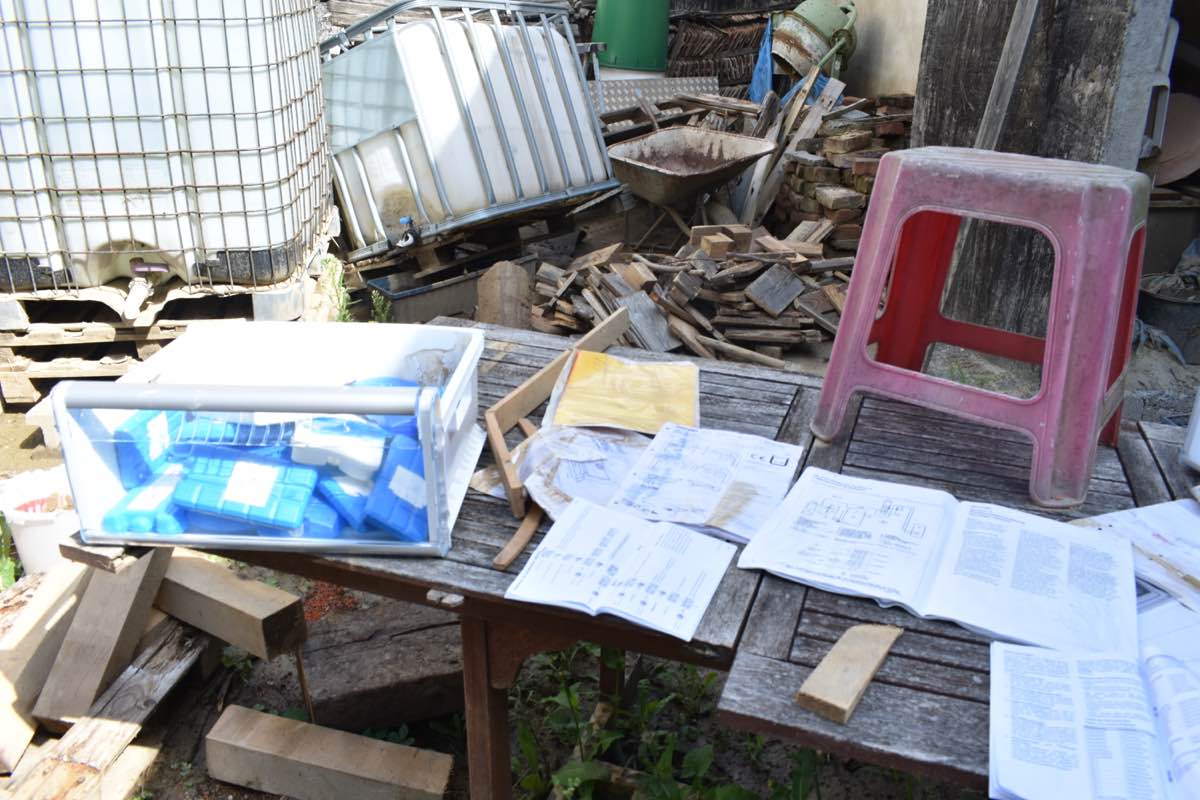 Wieviel unnötiges Sammelsurium sich da über die Jahre angesammelt hatte und sogar noch von unserem Vorbesitzer dagelassen worden war. 
Das war eine befreiende Aktion, die wir mit tatkräftiger Hilfe von Martin und Erika in ein paar Tagen schafften. 
Dann bekamen wir für eine Woche Besuch von Philipp, der aus Berlin zu uns kam. Er hatte vorher einen Job in Wien und half ebenso beim Aufräumen und Buddeln gleich tatkräftig mit. 
Dann konnten wir uns auch von unserem Feigenbaum befreien, der uns seit Jahren schon nur mehr im Weg ist.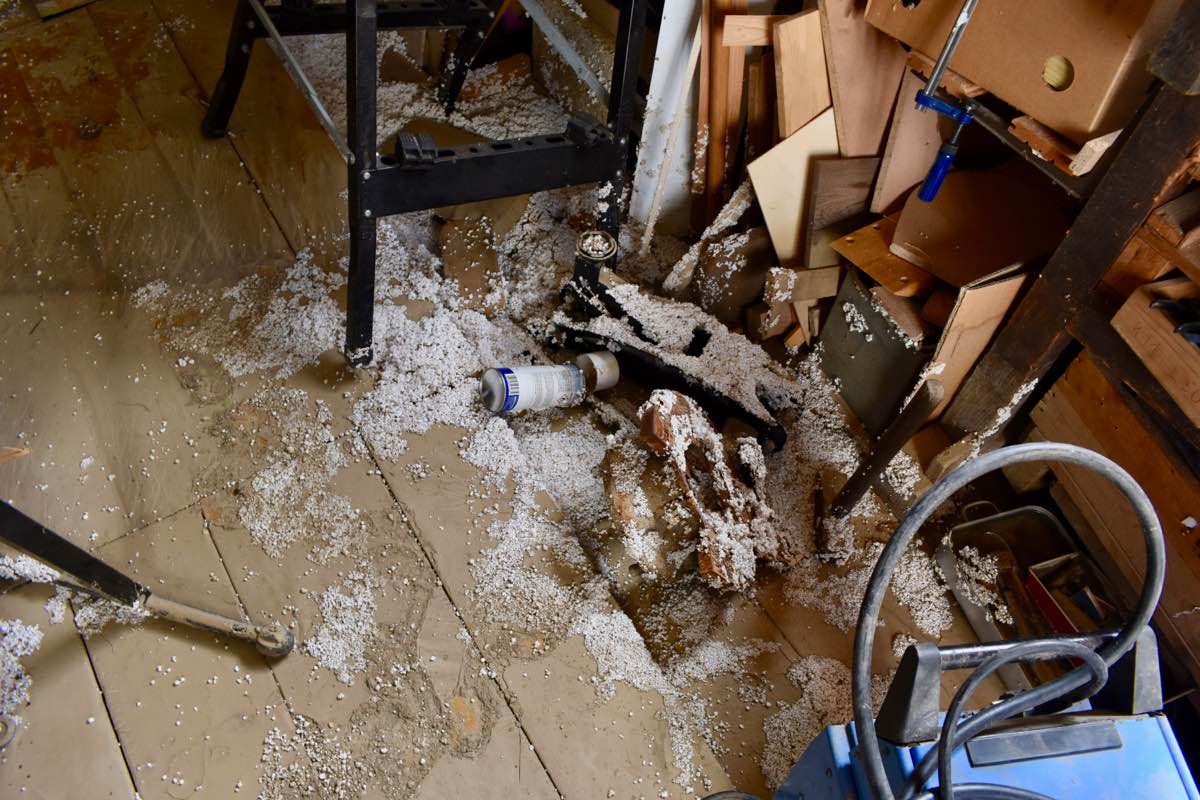 Die meiste Arbeit aber hatte Wilfried in der Werkstatt. Dort musste der komplette Fußboden herausgerissen werden (eine Holzkonstruktion mit losen Styroporkügelchen isoliert, die sich beim Hochwasser mit dem Lehm und Dreck vermischt hatte. Um die Umwelt nicht mit dem ganzen Isoliermaterial nicht zu belasten, wurde es gewaschen, getrocknet und in Säcke gefüllt auf dem Dachboden aufbewahrt. 
Nach etwa 2 Wochen war auch diese Arbeit getan. 
2 Trocknungsgeräte arbeiteten brav Tag und Nacht die Kellerräume wieder trocken. 
Wilfried verpasste dem Big Fredi noch schnell ein neues Kupplungsseil und unser Opel bekam noch eine neue Kupplung und wurde in der Werkstatt eingeparkt. 
Am 14. September war es dann endlich wieder so weit.  
Nach einem Besuch bei meiner Mama konnten wir am nächsten Tag bis Wulkaprodersdorf im Burgenland weiter reisen. Ein gutes Gefühl wieder unterwegs zu sein. Auch wenn unser Heißhunger auf ein Eis nicht in einem Kaffeehaus gestillt werden konnte, sondern lediglich ein Eis am Stiel wurde. Aber immerhin wurde der "Todesmarsch" in die Wulkaprodersdorfer "Innenstadt" doch belohnt. Auf unsere Frage an einen Passanten, ob es denn irgendwo einen Eissalon gäbe, ernteten wir nur ein höhnisches Lachen: Nein, hier in Wulkaprodersdorf, da gibt es so etwas nicht. Vielleicht gibt es im Kaffeehaus ein Eis, aber wahrscheinlich eher nicht. 
Es war noch sommerlich heiß und schwül, als wir am nächsten Tag nach Ungarn weiter fuhren und am Nachmittag bei unseren Freunden Petra und Uli mit ihren 3 Kindern ankamen.
Die Familie hatten wir in Lagos in Portugal am Strand kennen gelernt und gleich einen guten Draht entwickelt. Sie sind Deutsche Staatsbürger, die sich vor etwa einem Jahr in Nemessandorhaza ein Haus gekauft haben und es schick umgebaut haben.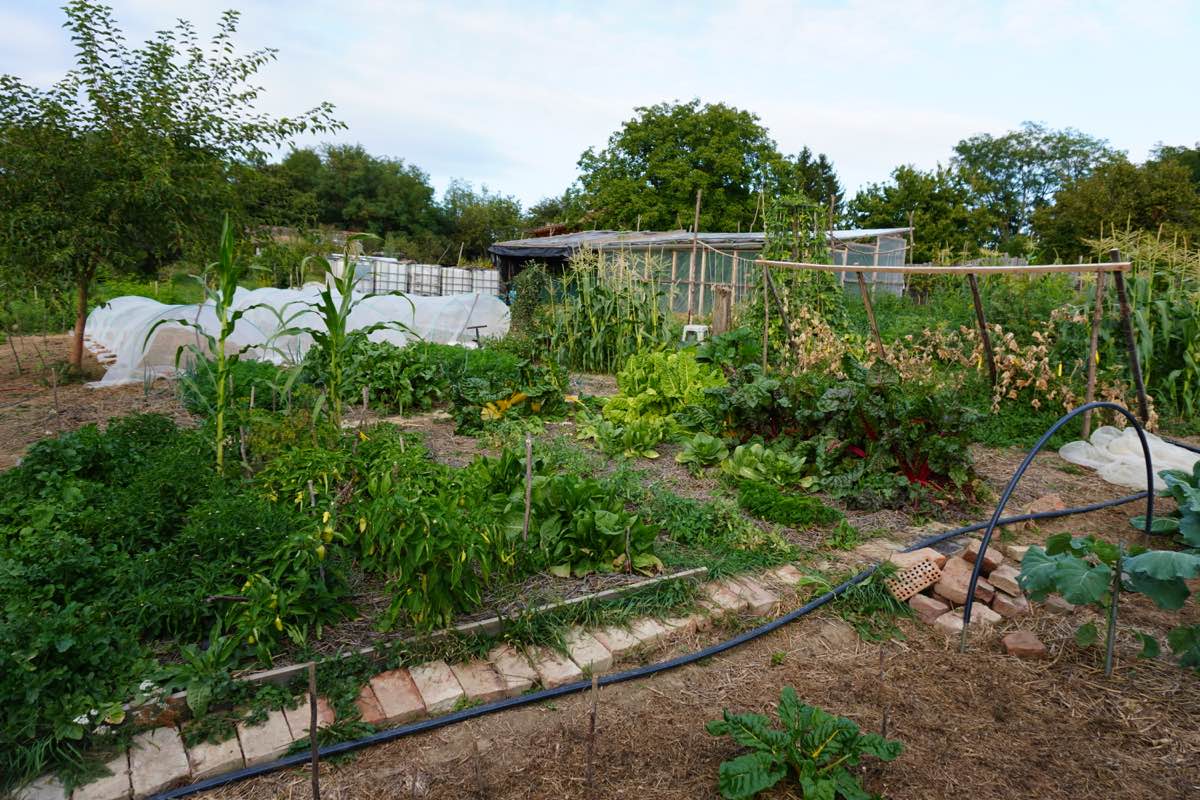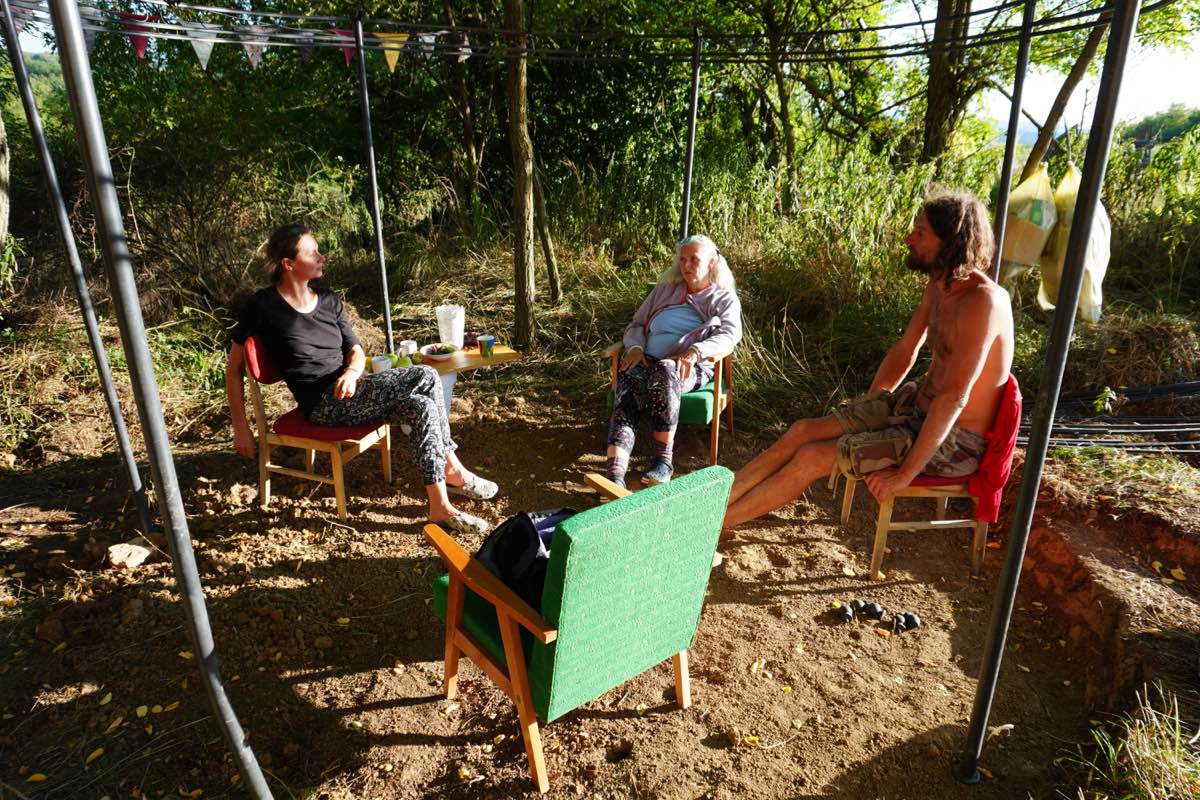 Wir durften eine Woche die Umgebung mit einigen anderen deutschen Familien kennenlernen, die sich im Umkreis ansiedelten. Beeindruckend, welch Pioniergeist in 40 ha Land stecken. 
Mit den 3 Kindern (Leo 7 Jahre, Elin 5 Jahre und Luna 2 Jahre) hatten wir ziemlich viel Spaß. Sie fühlten sich bald bei uns im Big Fredi pudelwohl und wir durften mit ihnen Ausflüge in den Wald machen. Als wir den ersten Tag nach unserer Abreise allein frühstücken mussten, gingen sie uns gleich ab. 
Aber unsere Reise geht ja schließlich weiter. 
Der nächste Höhepunkt lag in Belgrad. Vor 6 Jahren hatten wir Ana kennengelernt, als wir beide in Kroatien auf Urlaub waren.
Seit damals hatten wir auf ein Wiedersehen gehofft und jetzt war es endlich so weit. Mitten in Belgrad organisierte Ana für uns einen Stellplatz nur 5 Minuten zu Fuß von ihrem Appartement entfernt. Am Parkplatz der serbisch orthodoxen Kirche Hram Sv. Simeona Mirotočivog. 
Ein schöner sakraler Bau inmitten von modernen Hochhäusern. Auch hatten wir eine Privatklinik gleich nebenan, von dort durften wir am Internet mitnaschen. 
Die Tage mit Anas Familie waren wunderbar.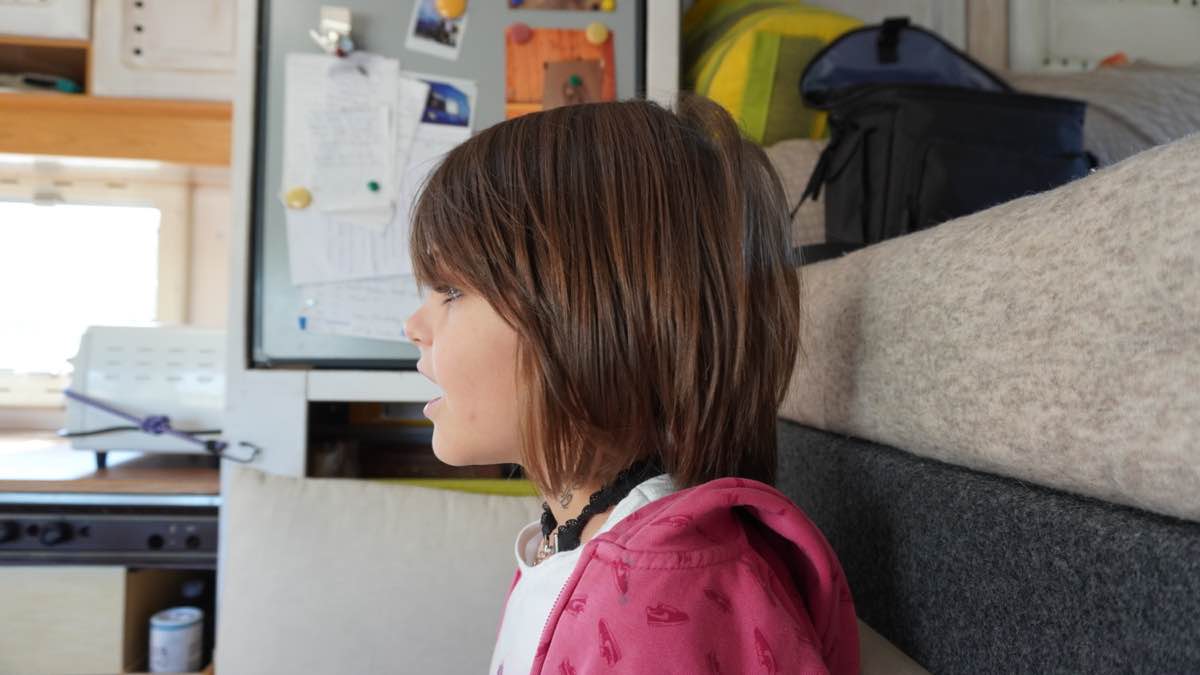 Die Kinder Zoe (7 Jahre), Wuk (5 Jahre) und Mia (fast 2 Jahre) waren entzückend. 
Micha, der Familienvater musste arbeiten und half auch tatkräftig bei der Kinderbetreuung und Erziehung mit.
Wir durften mit ihnen einen Ausflug in das schöne Umland von Belgrad machen und die ersten beiden Serbischen Porträts von Ana und ihrer Freundin Aleksandra entstanden in Big Fredi.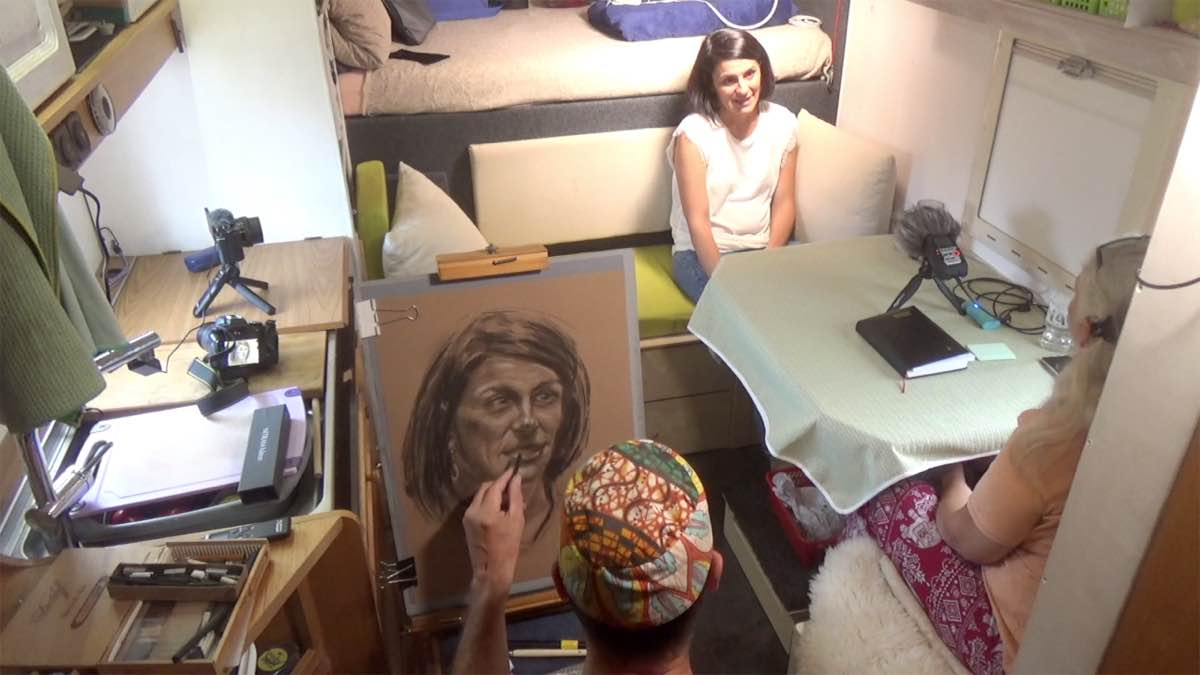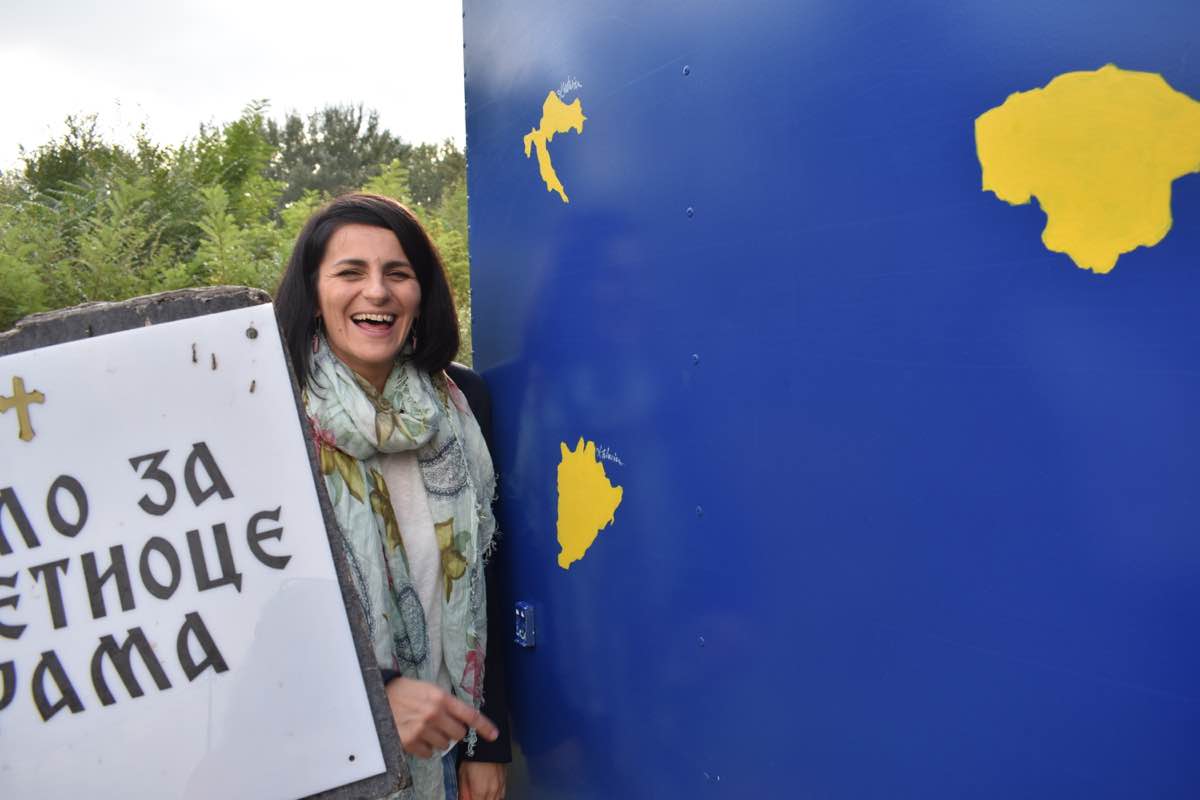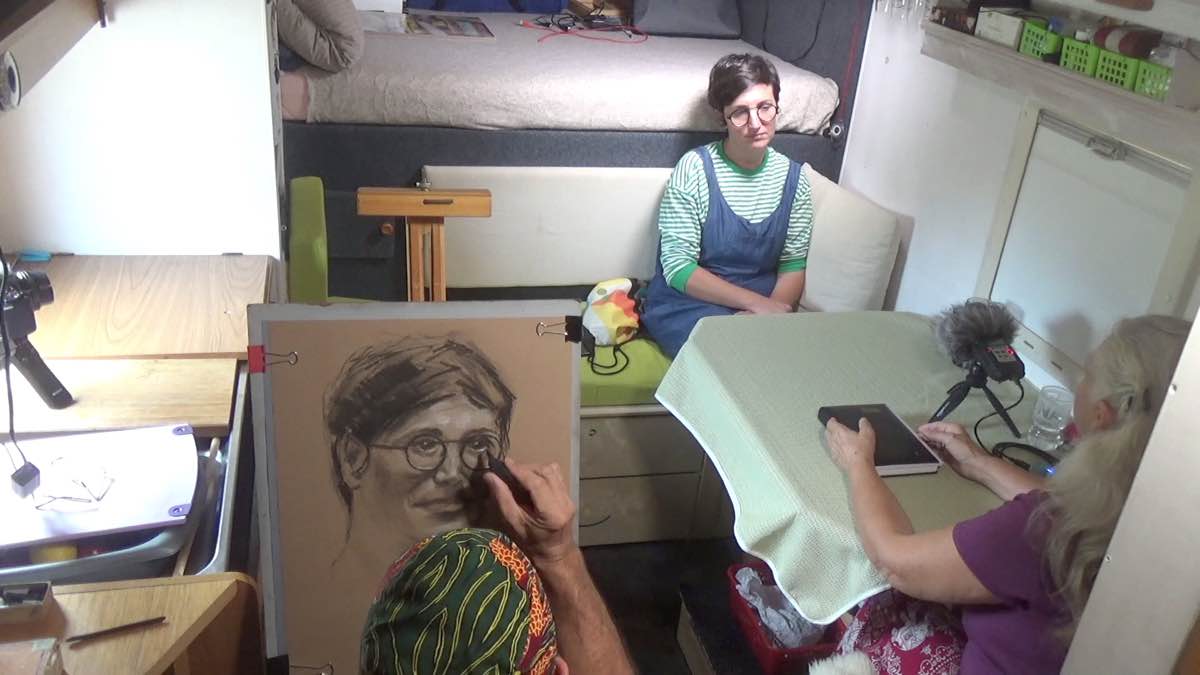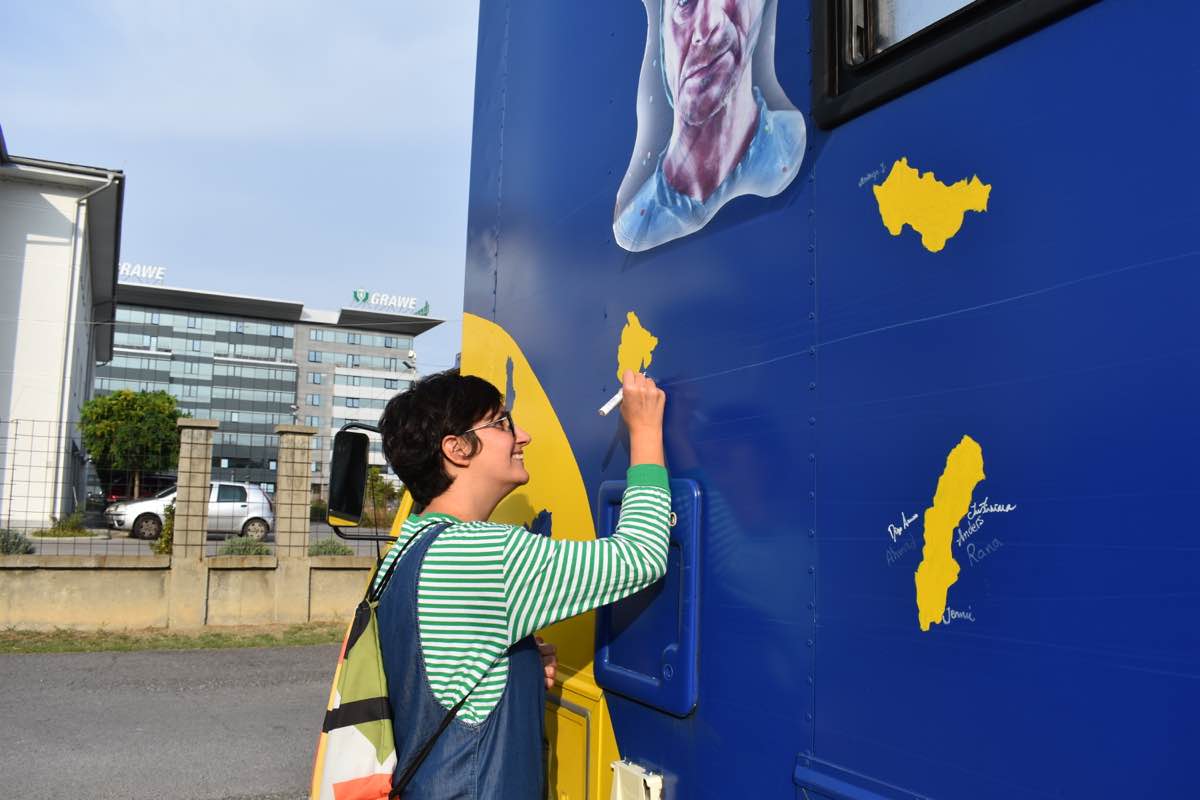 Das hochsommerliche Wetter vom Wochenende schlug in eine regnerische Periode um und ließ die Lust auf einen Belgradbesuch sehr schrumpfen. Mehr als zu einem Spaziergang zur Donau reichte es nicht. 
Leider hieß es heute Morgen Abschied nehmen 
Raus aus der Stadt war noch mit Navi stressig genug, ohne wären wir hoffnungslos verloren gewesen. Belgrad ist eine Riesenstadt voller Autobahnen, Kreisverkehre und man muss sich schon gut auskennen, wenn man sich nicht verfahren will. Kaum draußen aus der Stadt war es auf der Bundesstraße recht entspannt und nun sind wir in der Nähe von Čačak gelandet an einem Restaurantparkplatz, der für die Nacht Ruhe verspricht. Mal sehen, es ist Freitag Abend und die Nacht ist noch nicht um.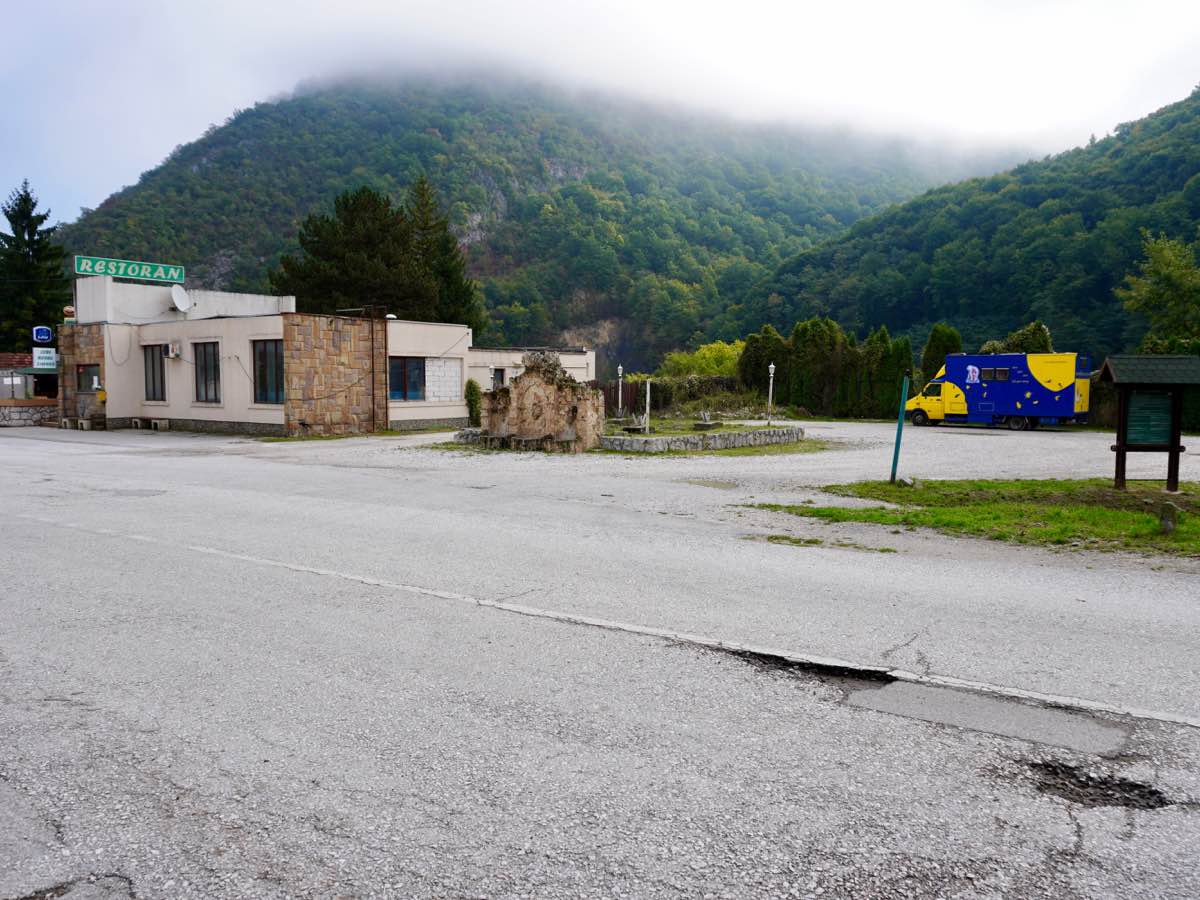 [:en]Blog entry 1 October 2021
Coming home and seeing the flood damage was shocking.
But already the next day, on 25 July, the damage was estimated by the disaster fund and we could start with the clean-up work. The basement rooms were totally destroyed up to a room height of 90 cm and everything could only be dumped in a heap. The municipality helped us with a front loader.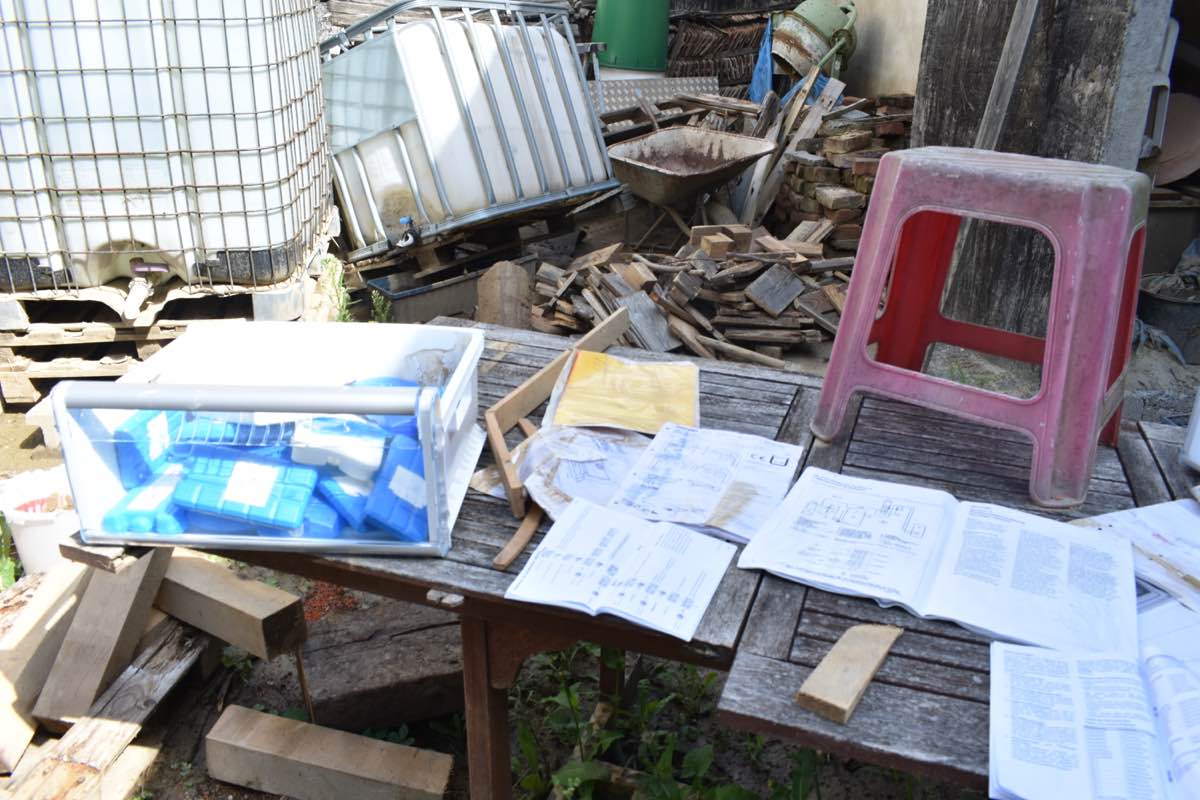 How much unnecessary clutter had accumulated over the years and had even been left there by our previous owner. 
This was a liberating action, which we managed in a few days with the energetic help of Martin and Erika. 
Then Philipp came to visit us for a week from Berlin. He had a job in Vienna before and also helped with the cleaning and digging. 
Then we could also get rid of our fig tree, which has only been in our way for years.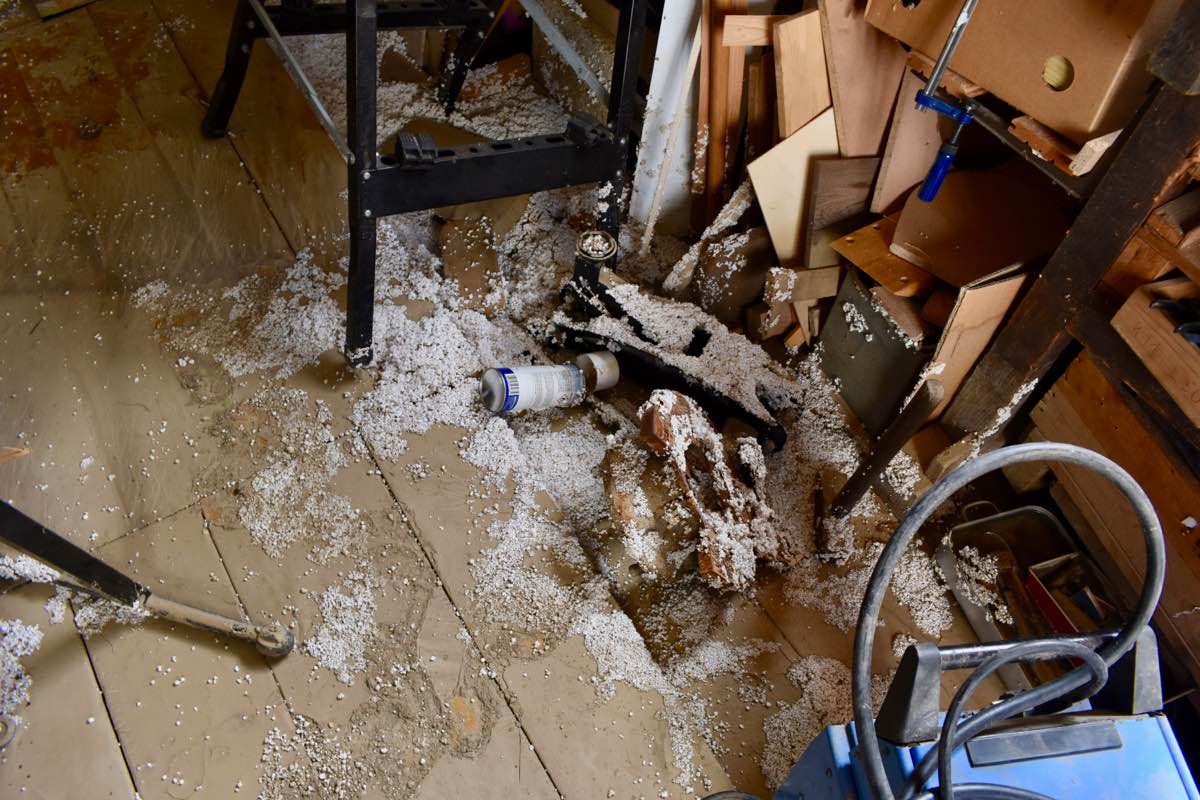 But Wilfried had the most work in the workshop. There, the entire floor had to be torn out (a wooden construction insulated with loose polystyrene balls that had mixed with the clay and dirt during the flood.) In order not to pollute the environment with all the insulating material, it was washed, dried and stored in bags in the attic. 
After about 2 weeks, this work was also done. 
2 drying machines dutifully worked day and night to dry the cellar rooms again. 
Wilfried quickly fitted Big Fredi with a new clutch cable and our Opel got a new clutch and was parked in the workshop. 
On 14 September, the time had finally come again.  
After a visit to my mum, we were able to travel on to Wulkaprodersdorf in Burgenland the next day. It felt good to be on the road again. Even though our craving for an ice cream could not be satisfied in a coffee house, but only became an ice cream on a stick. But at least the "death march" to Wulkaprodersdorf's "town centre" was rewarded. When we asked a passer-by if there was an ice cream parlour somewhere, we only received a derisive laugh: No, here in Wulkaprodersdorf, there is no such thing. Maybe there is an ice cream in the coffee house, but probably not. 
It was still summery hot and humid when we drove on to Hungary the next day and arrived at our friends Petra and Uli's house with their 3 children in the afternoon.
We had met the family on the beach in Lagos, Portugal, and immediately developed a good rapport. They are German citizens who bought a house in Nemessandorhaza about a year ago and have renovated it. We were allowed to spend a week getting to know the area with some other German families who had settled in the vicinity. It was impressive to see the pioneering spirit that went into 40 hectares of land.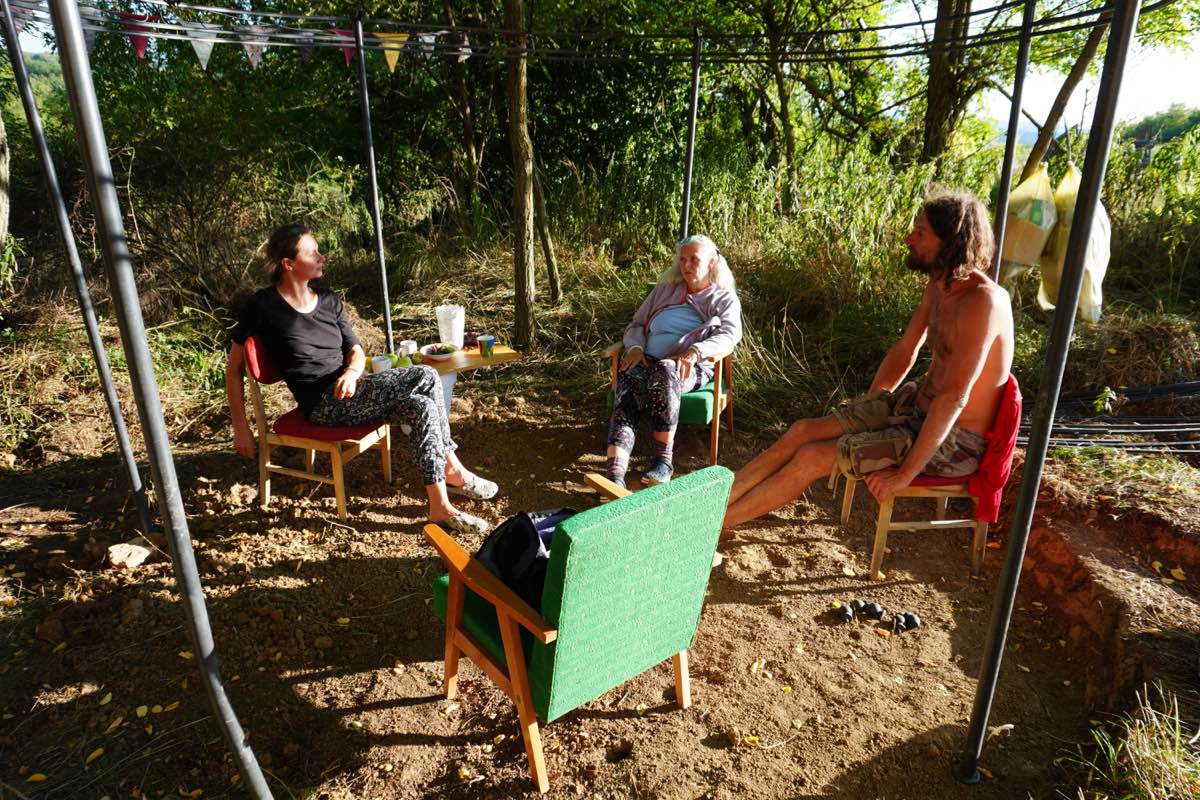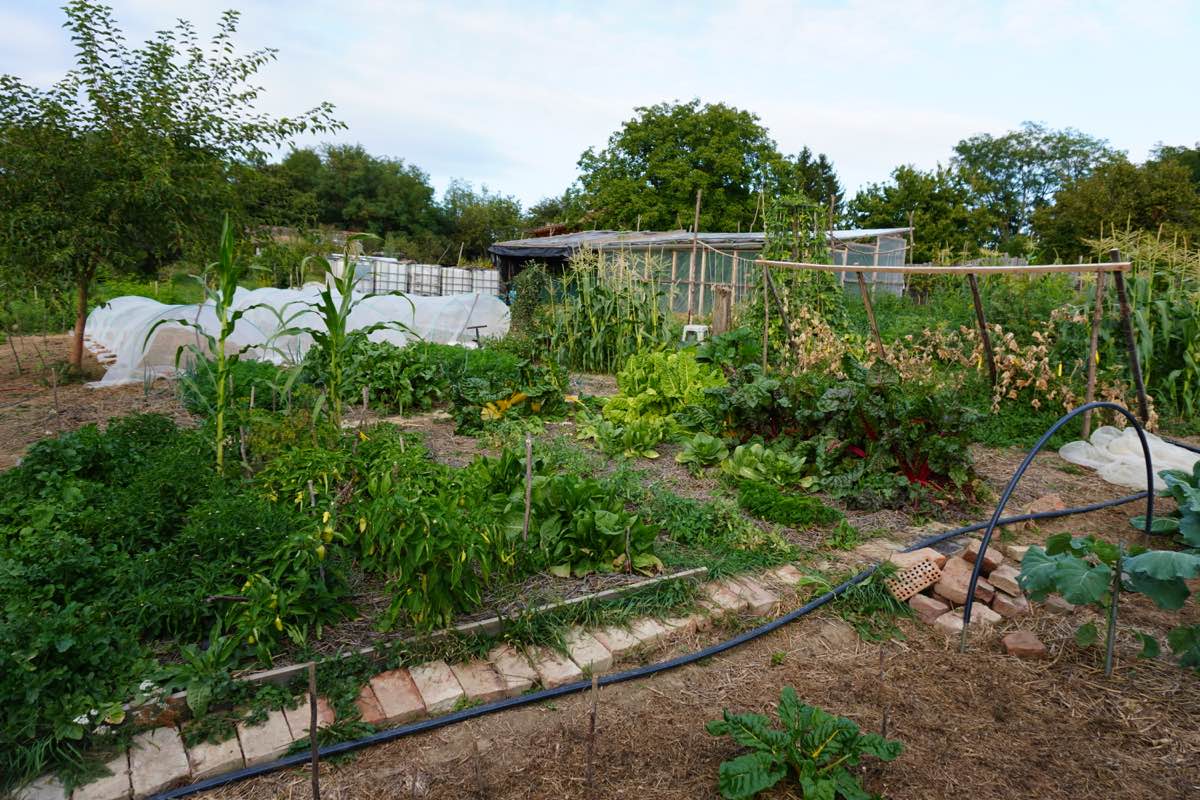 We had a lot of fun with the 3 children (Leo 7 years, Elin 5 years and Luna 2 years). They soon felt right at home with us at Big Fredi and we were allowed to take them on excursions into the forest. When we had to eat breakfast alone the first day after we left, they left us sad right away.
But our journey goes on, after all. 
The next highlight was in Belgrade. We had met Ana 6 years ago when we were both on holiday in Croatia.
Since then we had been hoping for a reunion and now it was finally happening. In the middle of Belgrade, Ana organised a parking space for us just 5 minutes walk from her flat. At the car park of the Serbian Orthodox Church Hram Sv. Simeona Mirotočivog. 
A beautiful sacral building in the middle of modern high-rise buildings. We also had a private clinic right next door, from where we were allowed to snack on the internet. 
The days with Ana's family were wonderful.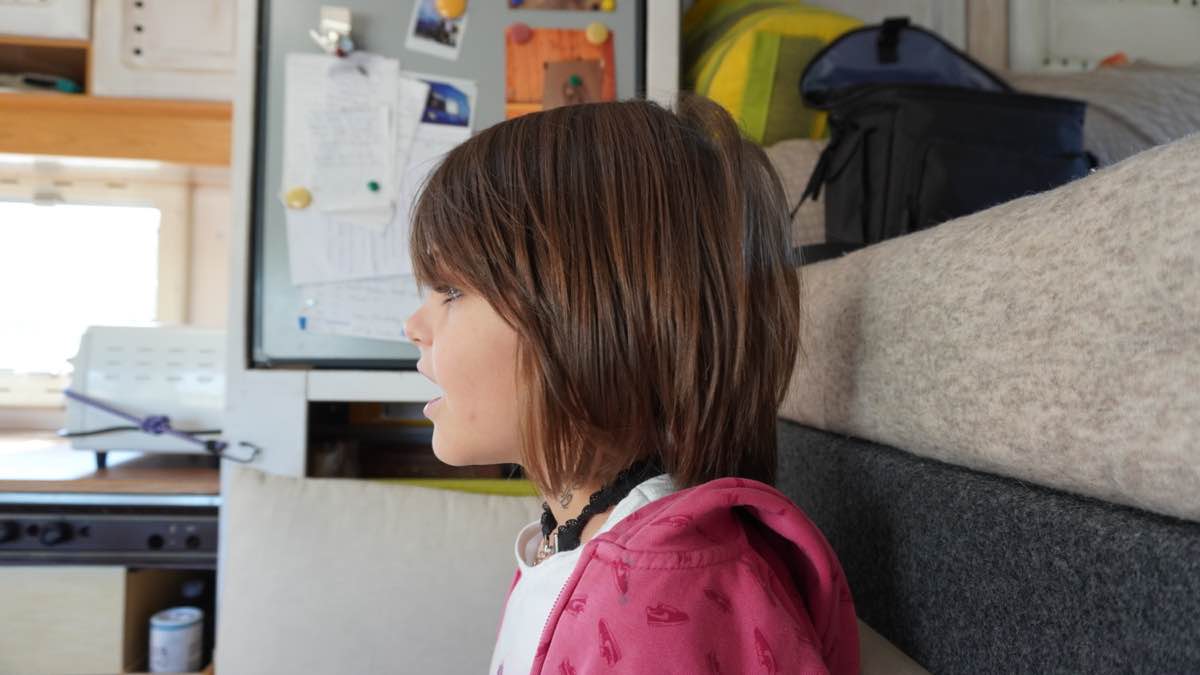 The children Zoe (7 years), Wuk (5 years) and Mia (almost 2 years) were delightful. 
Micha, the father of the family, had to work and also actively helped with childcare and education. We were allowed to go on a trip with them to the beautiful surroundings of Belgrade and the first two Serbian portraits of Ana and her friend Aleksandra were taken in Big Fredi.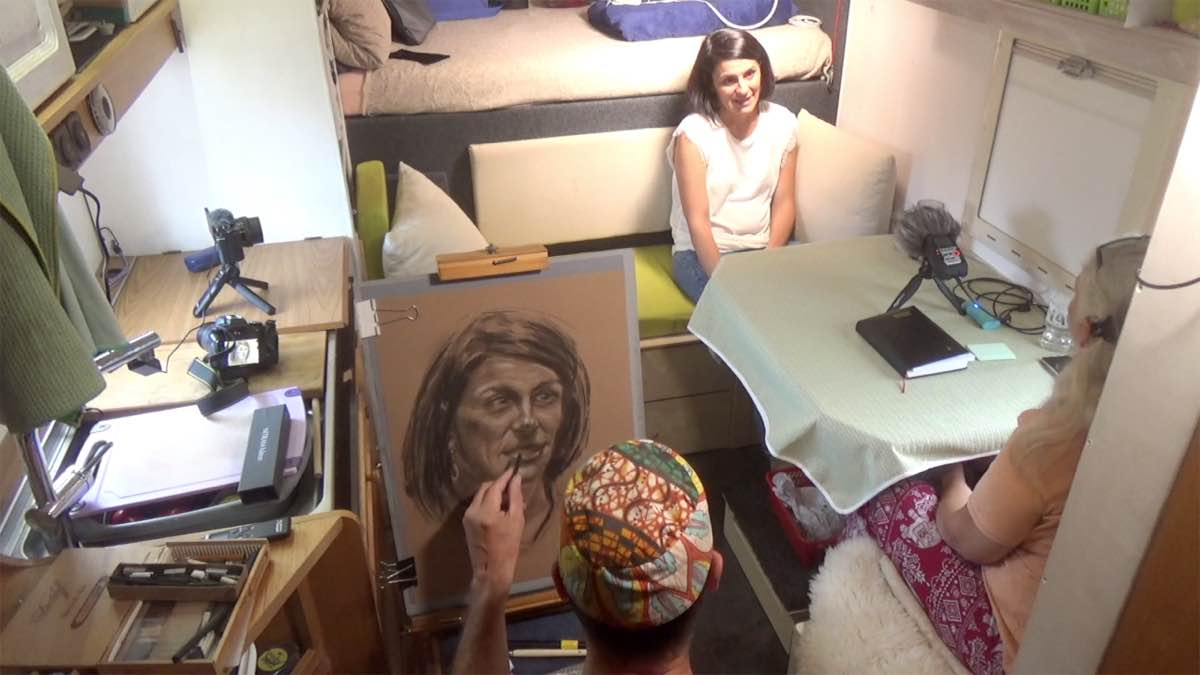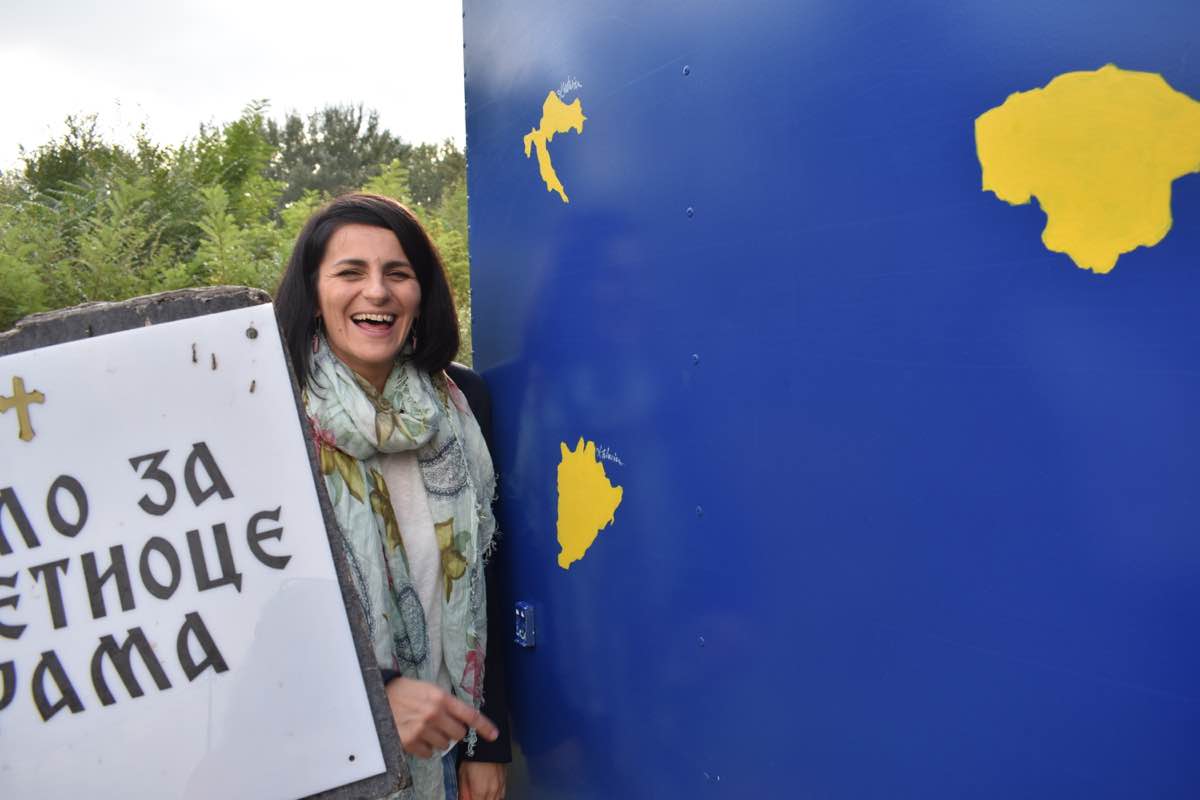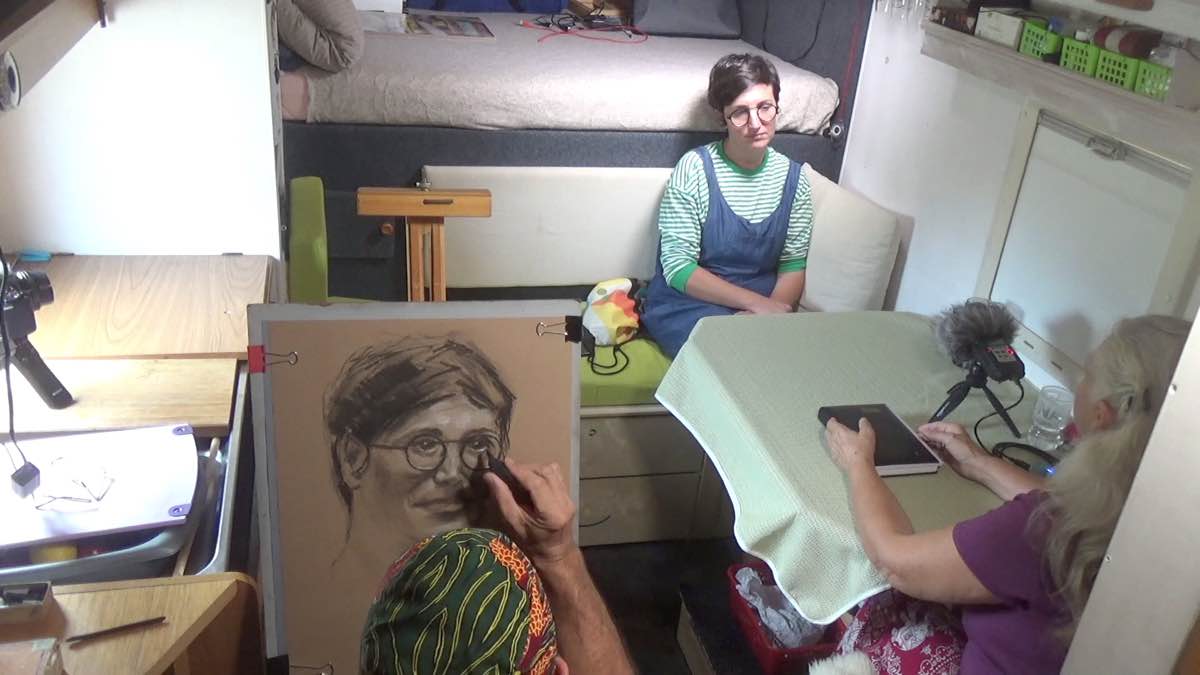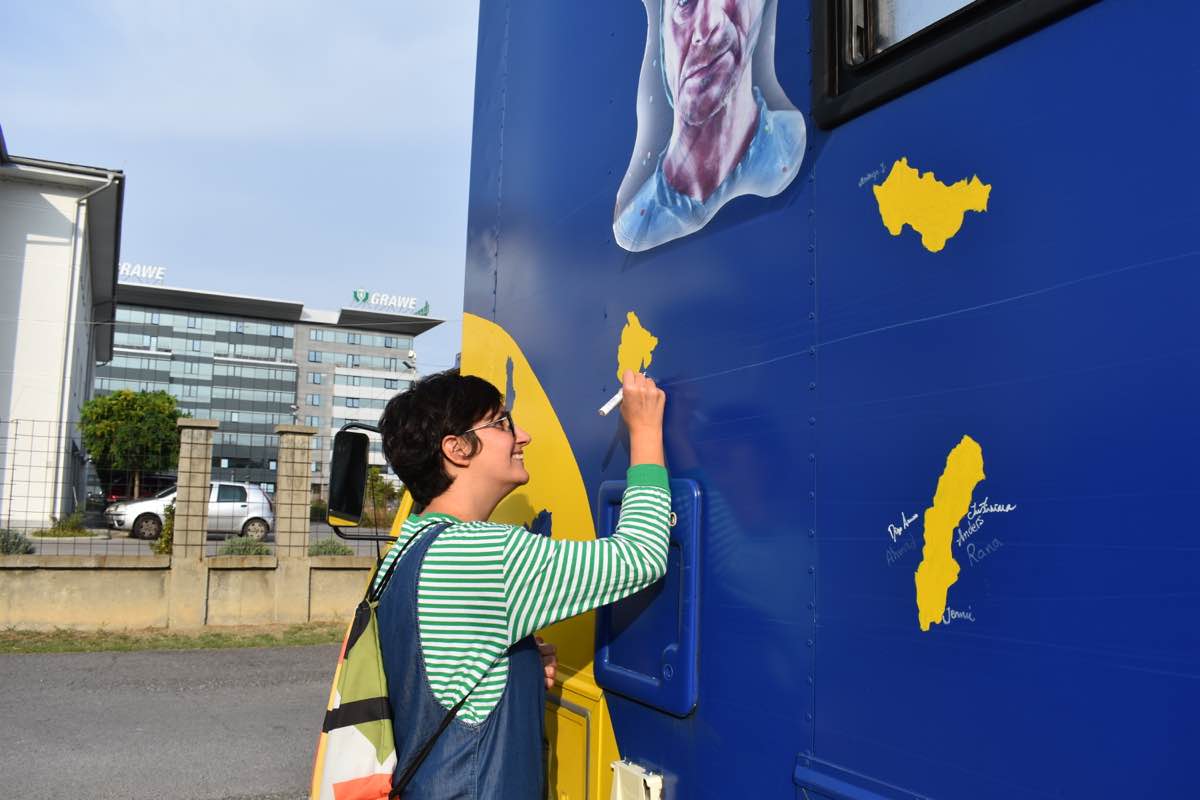 The high summer weather of the weekend turned into a rainy period and made the desire to visit Belgrade shrink a lot. It was not enough for more than a walk to the Danube. 
Unfortunately, it was time to say goodbye this morning 
Getting out of the city was stressful enough with sat nav, without it we would have been hopelessly lost. Belgrade is a huge city full of motorways, roundabouts and you have to know your way around if you don't want to get lost. As soon as we left the city, it was quite relaxed on the main road and now we ended up near Čačak at a restaurant car park that promises peace and quiet for the night.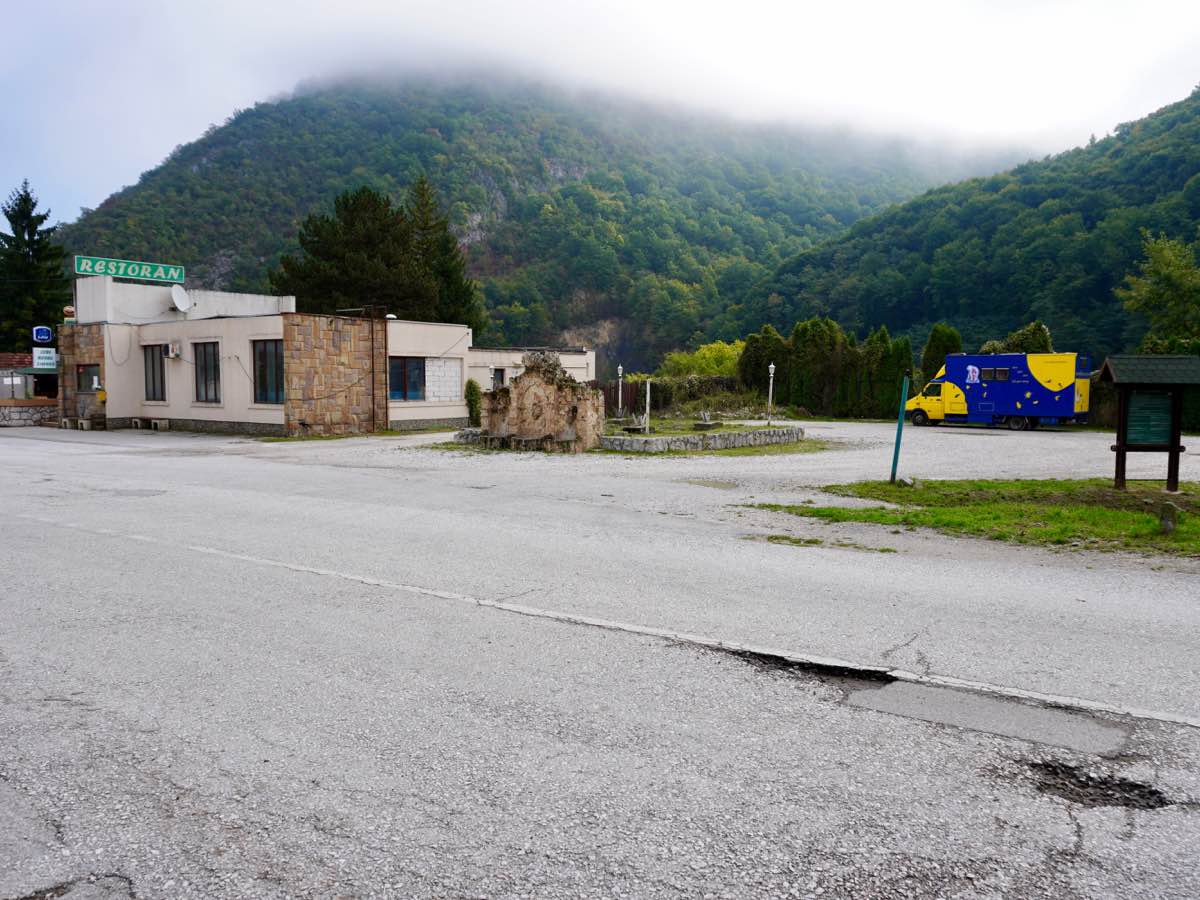 Let's see, it is Friday evening and the night is not over yet. [:]