[:de]Blogeintrag 4. Oktober 2021
Der Platz in der Nähe eines Klosters in Moravicki war extrem ruhig und erholsam.
Frische Luft, Nähe der Berge, ein super sauberes WC direkt beim Parkplatz sind auch für Wanderer ein schöner Ausgangspunkt. Die Nacht war totenstill – so wie schon seit Langem nicht mehr. 
Wilfried nutzte das gratis WLAN an der Flusspromenade, während ich auf die Anhöhe zum Kloster und zum Friedhof spazierte.
Erst gegen Mittag verließen wir den Ort, um bis knapp vor der Grenze zu kommen. 
Anstatt einen Park4night Platz aufzusuchen, steuerten wir auf einen kleinen Ort – Salug – knapp vor der Grenze an. Ein Minarett zog uns dabei irgendwie magisch an.
Ein kleiner Laden hatte einen ebenen Parkplatz. Dort durften wir über Nacht stehen. Aber welch ein Unterschied zur Nacht davor. Die Dorfjugend hatte gleich daneben ihren Fußballplatz.
Die scharfen Bälle am Tor vorbei trafen Big Fredi immer hart. Die Jungs grüßten aber freundlich und man sah, dass es ihnen leid tat, wenn sie unser Auto trafen. 
Es gesellte sich auch bald Johe (ich weiß nicht, ob der Name richtig ist) zu uns und erzählte uns, dass er in Mannheim arbeite und derzeit auf Urlaub ist. 
Offensichtlich standen wir im Zentrum der Aufmerksamkeit, aber die Sprachbarriere ist groß und außer viel Kommen und Gehen neben uns, war kein Kontakt mit Einheimischen möglich. 
Der Muhezin rief lautstark zum Gebet. 
Um 1:15 Nachts klopfte es dann eindringlich an der Tür und Johe stand da mit einem Lunchpaket: gekochtes Rindfleisch, Wurst, Brot, Bananen und Schokolade. Wir waren perplex. Er fragte uns, ob wir noch etwas brauchen und wir baten ihn um Trinkwasser. Er versprach für 9 Uhr Früh 2 Häuser weiter Wasser bereit zu stellen. Wer aber leider nicht auffindbar, war Sohe. Wahrscheinlich hatte er verschlafen. 
Ich wollte die Moschee besuchen und versuchte auf mehreren Wegen dort hin zu gelangen. Kam aber immer wieder auf Grundstücke, Bauernhöfe oder Privathäuser, dessen Hausfrieden ich nicht stören wollte. Ein kurzes Gespräch mit Wahid, der gut Englisch konnte, ließ Hoffnung für ein Porträt aufkeimen. Er versprach bei Interesse zu uns zu kommen. Da sich bis 12:30 nichts getan hatte, was einen weiteren Aufenthalt in Salug gerechtfertigt hätte, beschlossen wir nach Montenegro weiter zu fahren.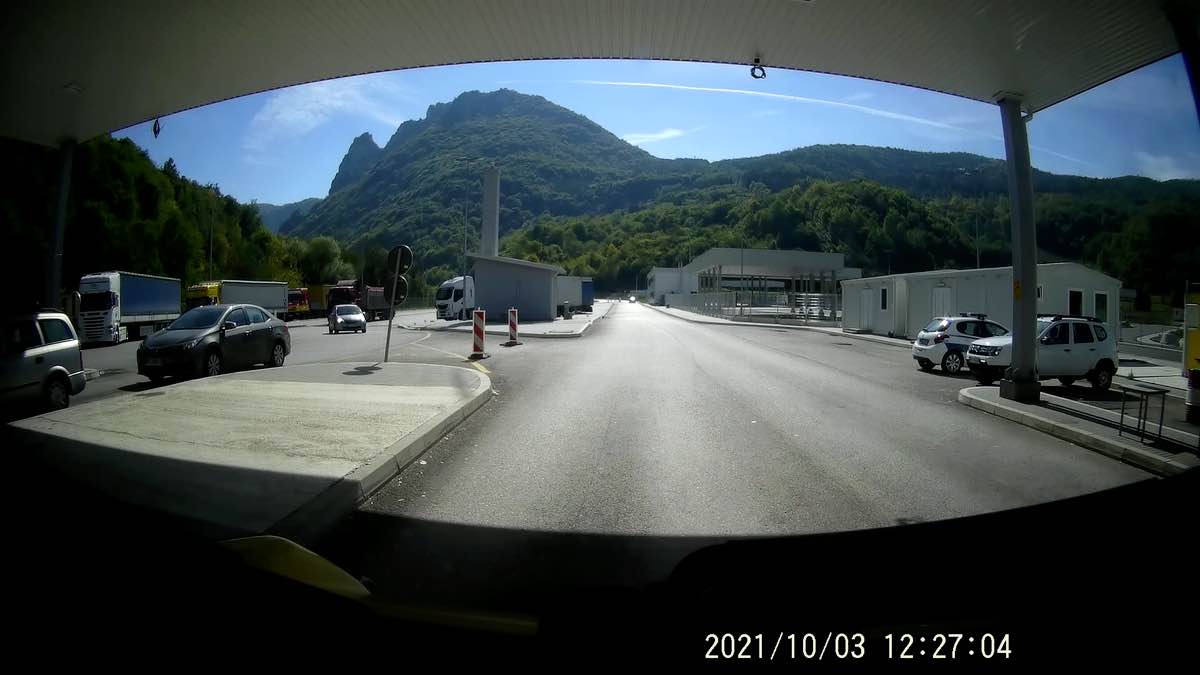 Die Grenzüberschreitung machte Wilfried mehr Bauchweh als er zugab und um so erleichterter waren wir, als wir nach 15 Minuten Aufenthalt und keinerlei Fragen nach Covid über die Grenze waren. 
Montenegro begrüßte uns mit ebenso toller Landschaft wie der Süden Serbiens uns schon die ganze Zeit begleitet hatte. Berge, Seen, Flüsse, ziemlich unberührte Landschaft. Nur der Müll auf den Straßen ist abstoßend. Dran werden wir uns gewöhnen müssen, fürchte ich. 
Nach etwa einer Stunde ab der Grenze lachte uns ein ebener und großer Parkplatz an, direkt an einem Restaurant gelegen. Als Wilfried den Vorschlag zu einem "Essen gehen" machte, musste ich nicht erst überlegen. Solche Vorschläge von Wilfried kommen so selten, dass man sie nicht übergehen darf. Wer weiß, wann es wieder einmal so weit ist.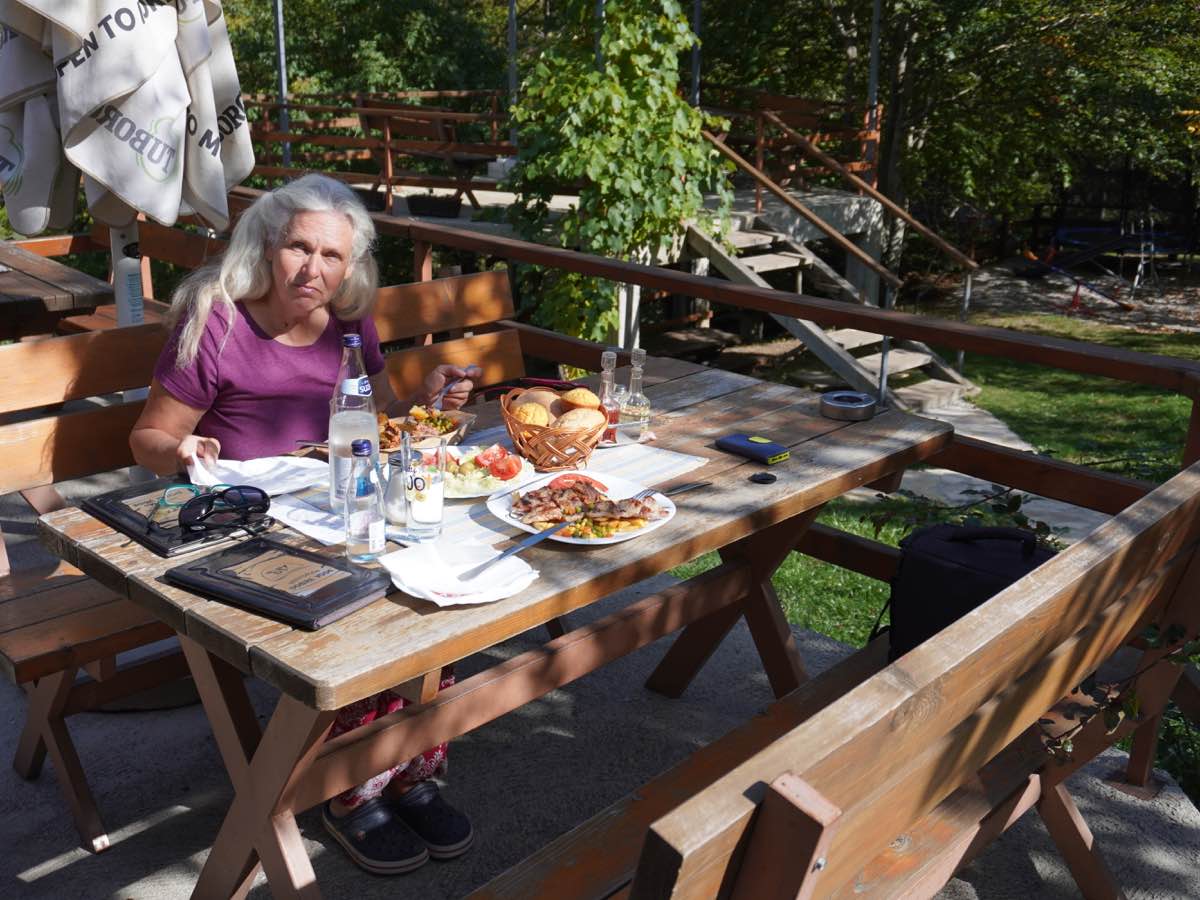 Ich wurde mit einem köstlichen Lamm belohnt. Sein Hirtenspieß war leider nicht so weich wie erhofft. 
Wir durften übernachten und bekamen auch die WLAN Zugangsdaten des Restaurants. 
Man merkte schon, dass wir auf der Hauptstraße in Nord-Süd Richtung von Montenegro standen, denn der Verkehr ebbte in der Nacht nur mäßig ab. [:en]Blog entry 4 October 2021
The site near a monastery in Moravicki was extremely quiet and relaxing.
Fresh air, proximity to the mountains, a super clean toilet right by the car park are also a nice starting point for hikers. The night was dead quiet – like it hadn't been for a long time.
Wilfried used the free Wi-Fi on the river promenade, while I walked up the hill to the monastery and the cemetery. It was only around noon that we left the town to get to just before the border.
Instead of finding a Park4night site, we headed for a small town – Salug – just before the border. A minaret somehow magically attracted us. 
A small shop had a flat car park. We were allowed to stay there overnight. But what a difference to the night before. The village youth had their football field right next to it. The sharp balls past the goal always hit Big Fredi hard. But the boys greeted us in a friendly way and you could see that they were sorry when they hit our car.
We were soon joined by Johe (I don't know if that's the right name), who told us that he worked in Mannheim and was currently on holiday. 
Obviously we were the centre of attention, but the language barrier is big and apart from a lot of coming and going next to us, no contact with locals was possible.
The muhezin called loudly for prayer. 
Then at 1:15 a.m. there was an insistent knock on the door and Johe was standing there with a packed lunch: cooked beef, sausage, bread, bananas and chocolate. We were perplexed. He asked us if we needed anything else and we asked him for drinking water. He promised to have water ready for 9 o'clock in the morning 2 houses away. But unfortunately, Sohe was not to be found. He had probably overslept. 
I wanted to visit the mosque and tried several ways to get there. But I kept coming across properties, farms or private houses whose peace I did not want to disturb. A short conversation with Wahid, who knew English well, gave me hope for a portrait. He promised to come to us if he was interested. Since nothing had happened by 12:30 that would have justified another stay in Salug, we decided to drive on to Montenegro.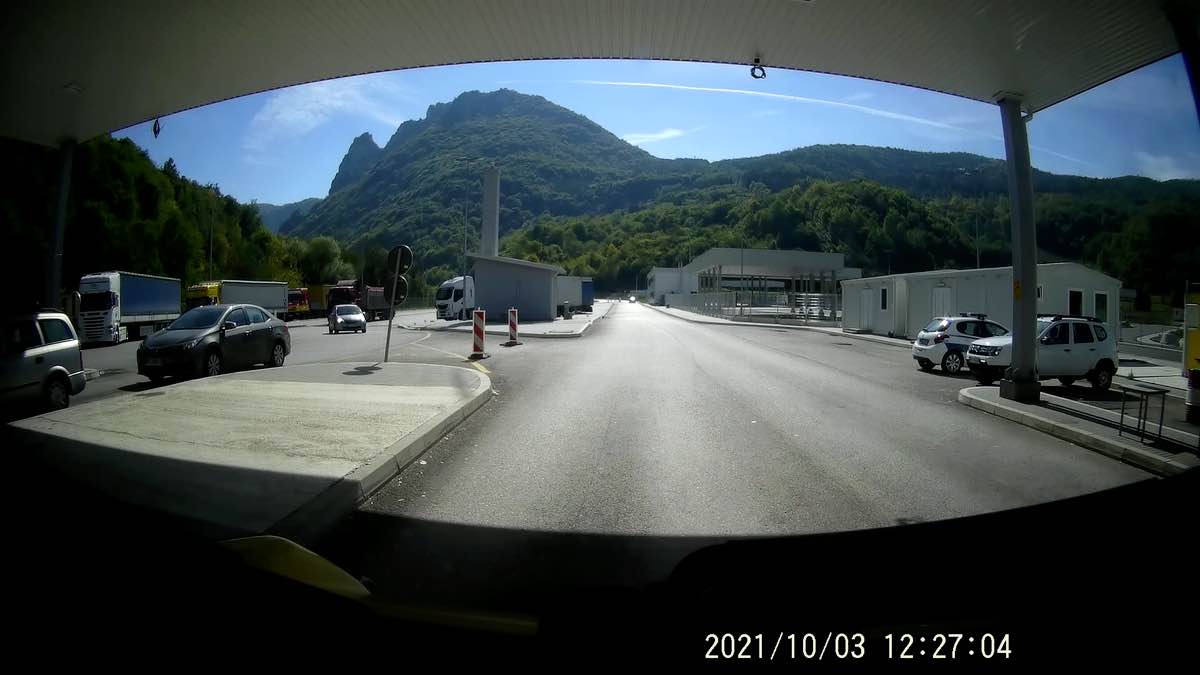 The border crossing gave Wilfried more stomach ache than he admitted and we were all the more relieved when we crossed the border after 15 minutes and no questions about Covid. 
Montenegro greeted us with just as great a landscape as the south of Serbia had accompanied us the whole time. Mountains, lakes, rivers, pretty much untouched landscape. Only the rubbish on the streets is repulsive. We'll have to get used to that, I'm afraid. 
After about an hour from the border, a flat and large car park beckoned us, right next to a restaurant. When Wilfried made the suggestion to "go for a meal", I didn't have to think twice. Suggestions like that from Wilfried come so rarely that you can't pass them up. Who knows when the time will come again.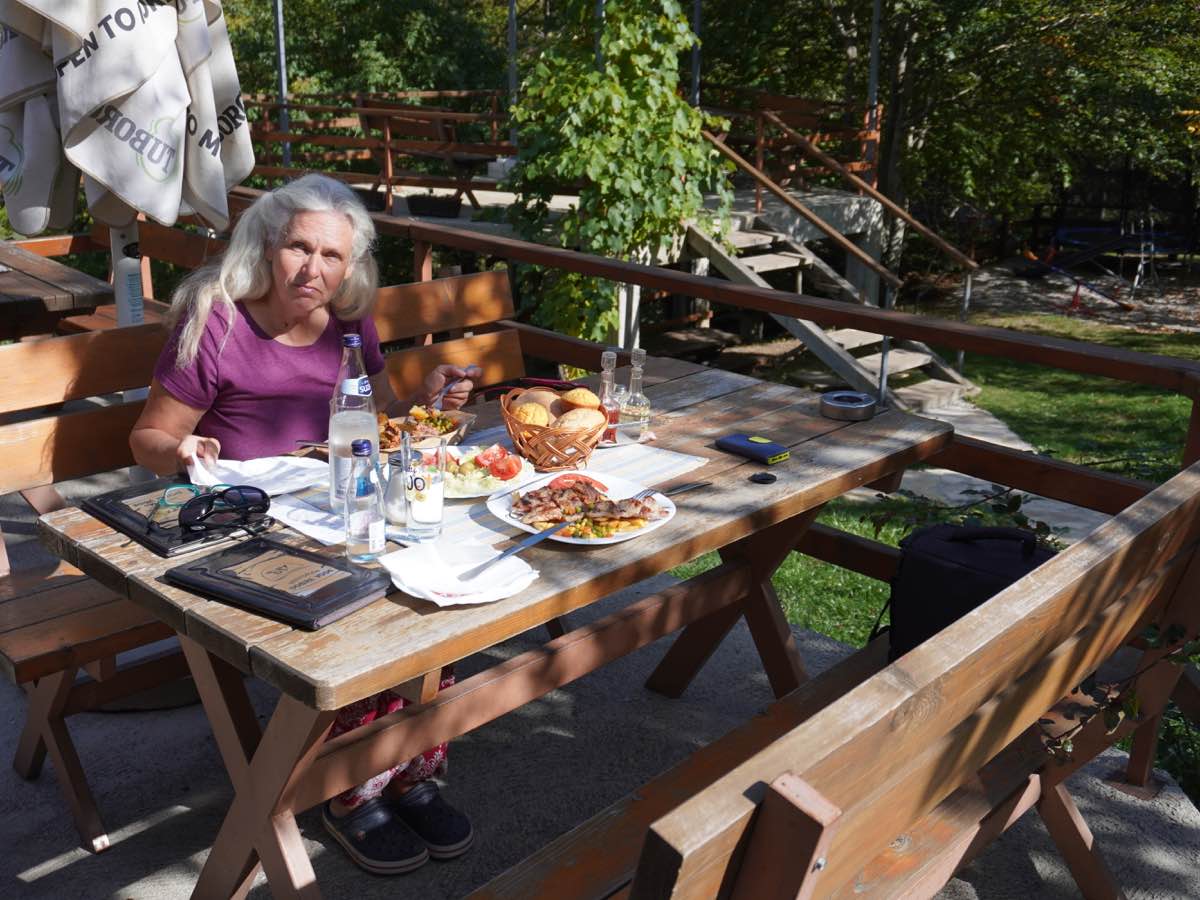 I was rewarded with a delicious lamb. Unfortunately, his "šašlik" was not as soft as I had hoped. 
We were allowed to stay overnight and were also given the restaurant's Wifi access data. 
You can already tell that we are on the main road in the north-south direction of Montenegro, because the traffic eased only moderately during the night.[:]