Blog entry 16 January 2022
We dared to take the step on December 10th and approached Greece after all.
The rain in Albania somehow made us give up the idea of spending a relaxing winter in Albania.
So we approached the border insecurely with the vague fear that they would not let us in. This was unfounded, however, and re-entering the EU was also harmless. A tobacconist filled out our entry form and at the border we had to take a quick test for Corona. 
Then it was just off to the south. A few days in Menidi on the Ambracian Gulf were not productive for a Face Europe portrait. The village sank into hibernation and the few visitors or locals couldn't do anything with our Big Fredi either.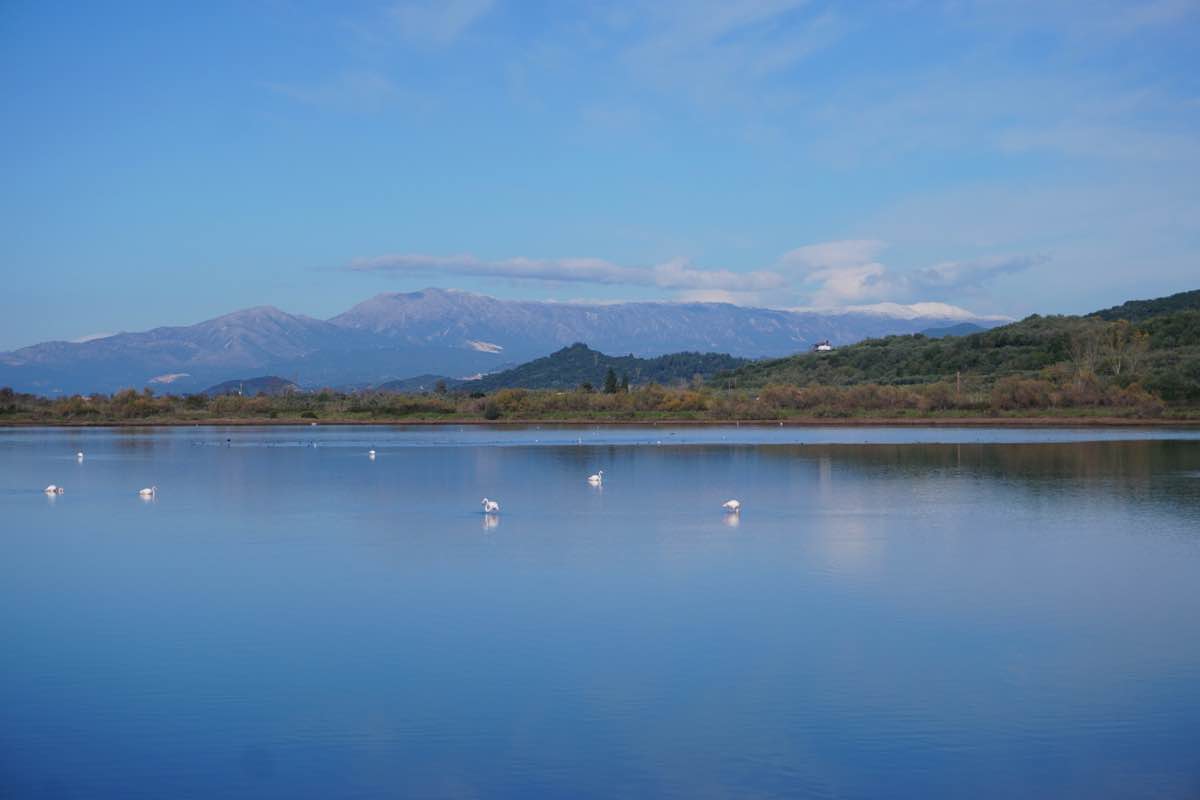 At Lake Trichonida we wanted to spend one night. But already on the way there a bad cough seized me. Fortunately I could convince myself with my brought Coronatests that it was not Corona.
That made me feel better right away. Nevertheless, I cured myself thoroughly and let Wilfried spoil me with tea and food. Before it was completely bad with my voice, the Belgian long-distance cyclists Cheyenne and François also arrived with us, who both spontaneously decided to take a portrait.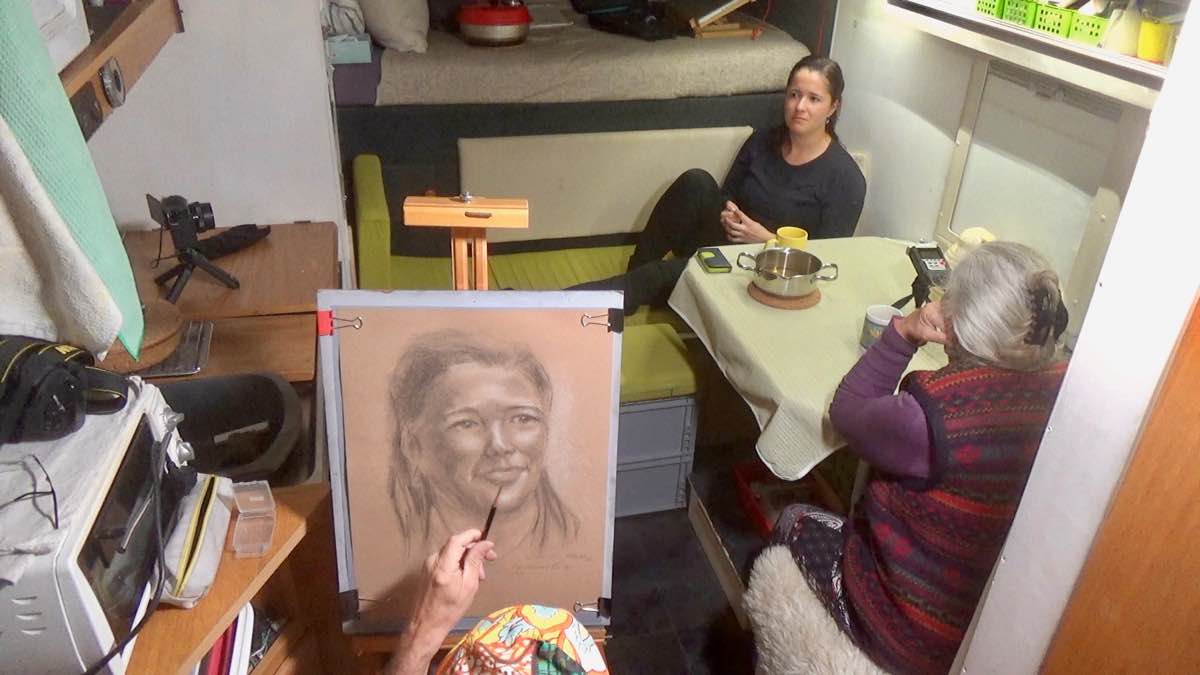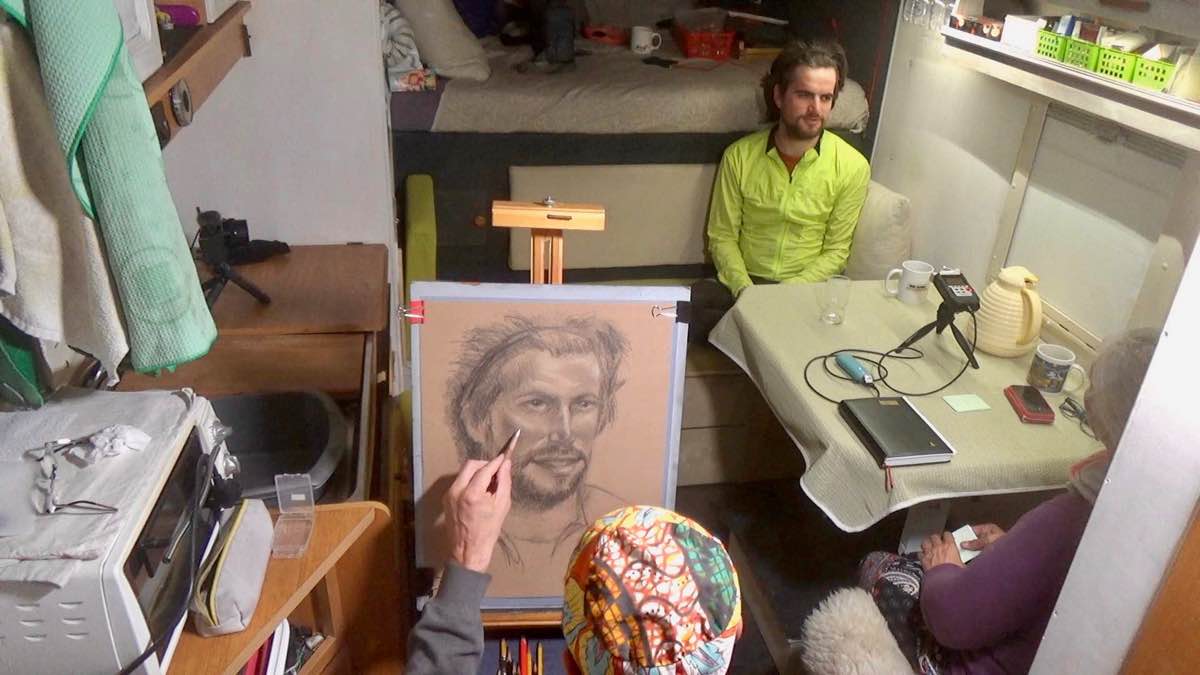 We spent Christmas in Nafpaktos, a pulsating small town with a castle on the mountain and we could already look over to our next destination.
In between, only the Gulf of Corinth separated us, which we crossed on a ferry in calm seas and bright sunshine. The toll over the bridge would have cost double and we would not have seen the bridge so beautifully. 
Our Swiss friends Adelina and Philippe had entered Greece a few days before us and did not let the bad weather forecast stop them from visiting the Meteora monasteries. With them, however, we wanted to meet again in any case. On the evening of December 26, the meeting place was at a brewery near Patras, which we had located on Park4night. The description was very inviting. With the words "You are our Christmas present" we were welcomed by Adelina. And it was our Christmas present too. For a few days we lingered outside the closed gates of the microbrewery, but already met two of the owners Kostas and Nikos, who showed us around the brewery.
Until the reopening after the Christmas break, for which we were promised portraits, we turned our backs from the coast and drove inland a bit into the mountains. On the way there through Patras, Philippe actively supported me in buying a new cell phone. My old one disintegrated and also the technology could not be updated anymore. Philippe, a true expert in the field of IT got the device I wanted while I as an unvaccinated and untested person had no access. We were allowed to go to the shopping center next door without an ID card, as there was also a grocery store in there. 
We quickly went shopping for a weeks' surviving so that we would not starve and then we went up to 600 meters into the area of Chalandritsa. Together with Adelina and Philippe we celebrated the turn of the year with Wiener Schnitzel. Some smaller and bigger hikes I was allowed to do together with them. During one of these excursions we met a poor skinny street dog, who – after we had shared our meal with it – did not leave our side. Adelina and Philipp immediately had a "good connection" with the dog. She looked terribly starved, but had such a fine demeanor while feeding that we assumed someone had trained her well. She carefully took the hard-boiled egg in small bites from Adelina's hand and she also liked my banana. Probably she would have eaten everything she got. She followed us. She lay down under the Swiss car and did not leave its side.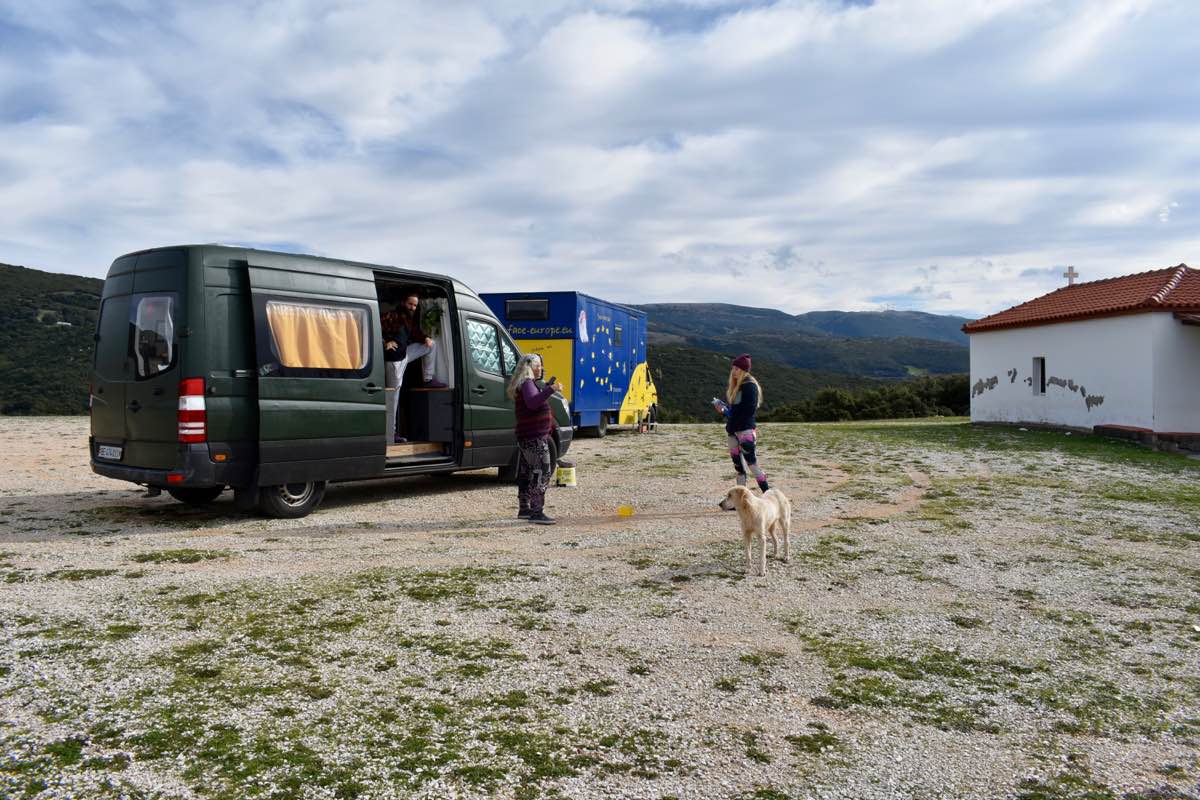 It was a heartbreaking decision to leave the dog behind for the two of them who had always wanted a dog. And after they were almost in Athens, they turned around and took "their darling" to them. How the story ends, you can see on 
and follow along. 
We unfortunately had to part with Adelina and Philippe, because Kykao, the brewery attracted us with its Friday bar.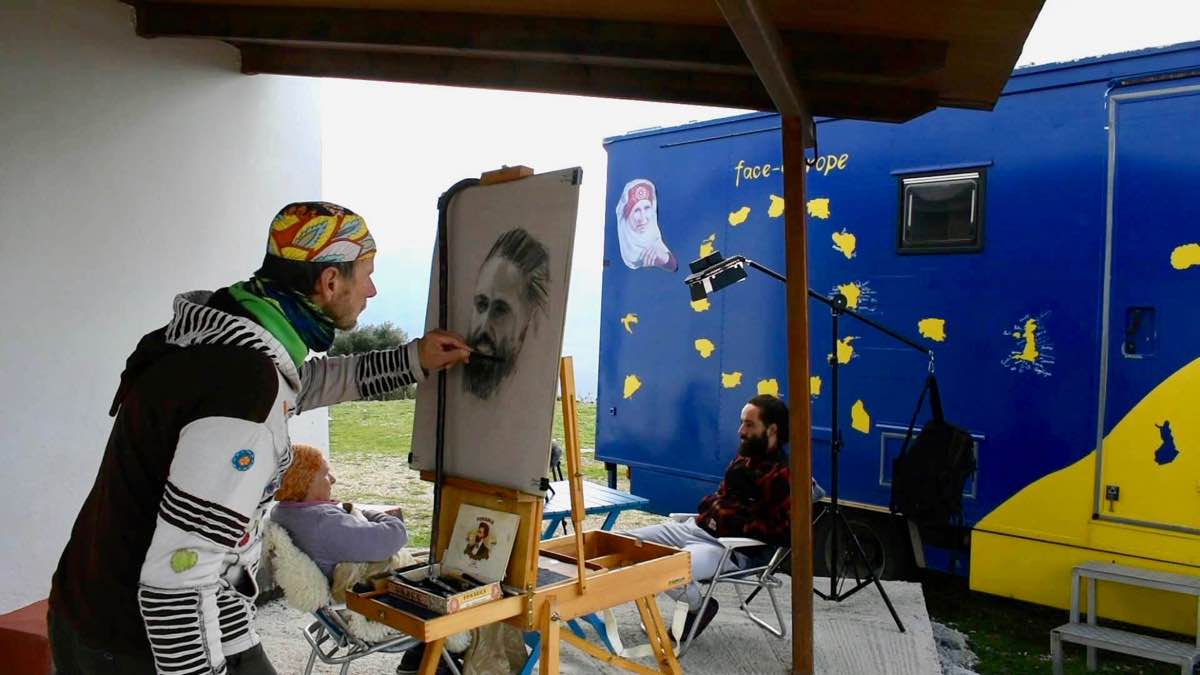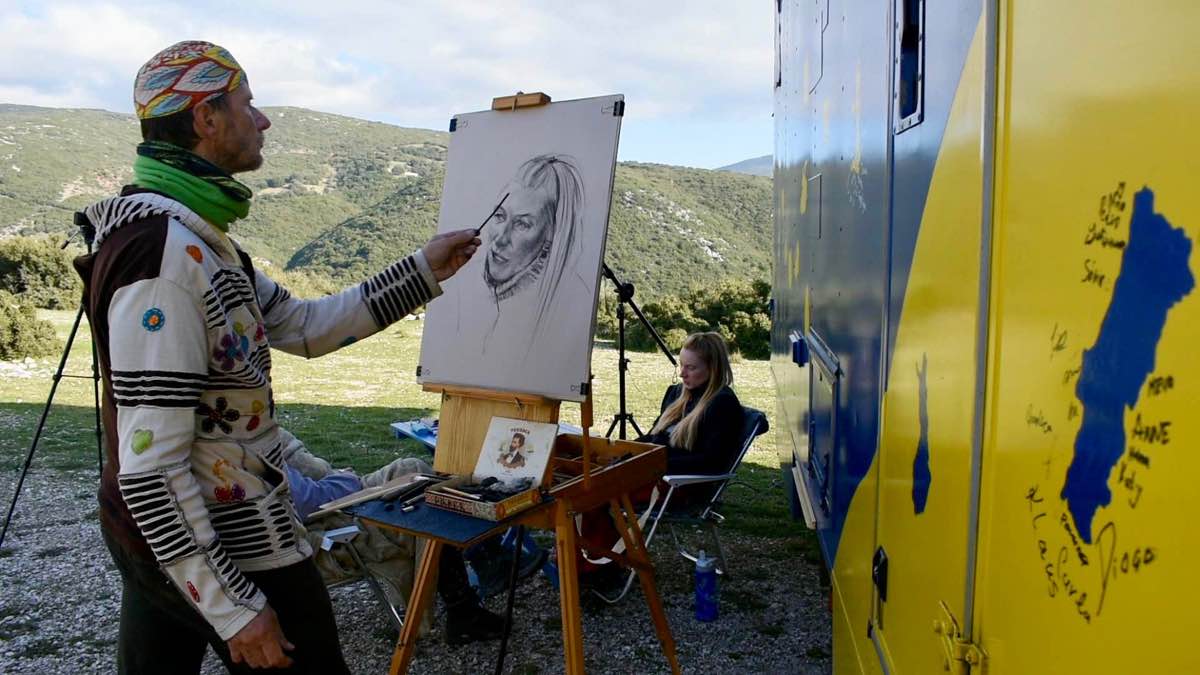 Kostas greeted us like old friends and also his brother Vangelis was immediately fond of us. I was allowed to help a little with the food preparation and we were able to get to know each other a little right away.
Kostas and his friend Cristos conjure up a very special meal for their guests every Friday night.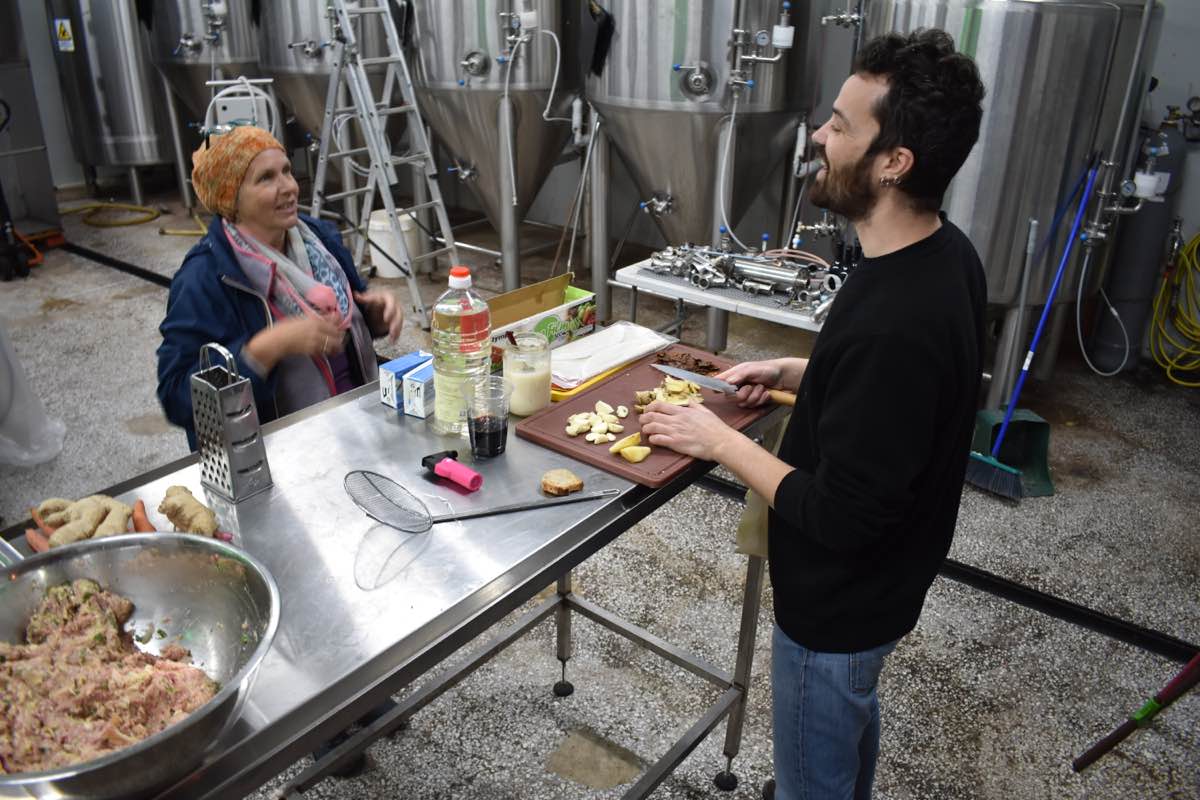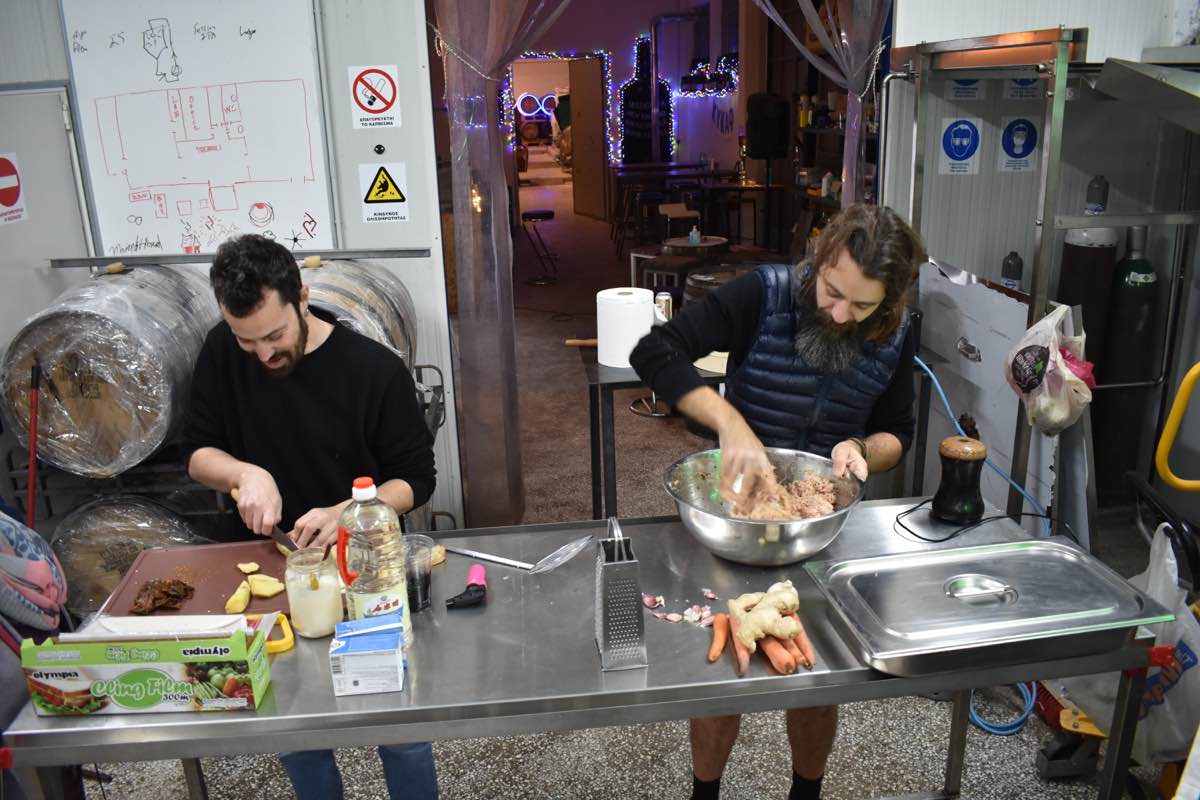 Chinese spring rolls, Indian lamb, always very spicy is free for guests. There is something new to taste every Friday. Only the beer is paid for. The crowd is open-minded, young, interested and English-speaking throughout.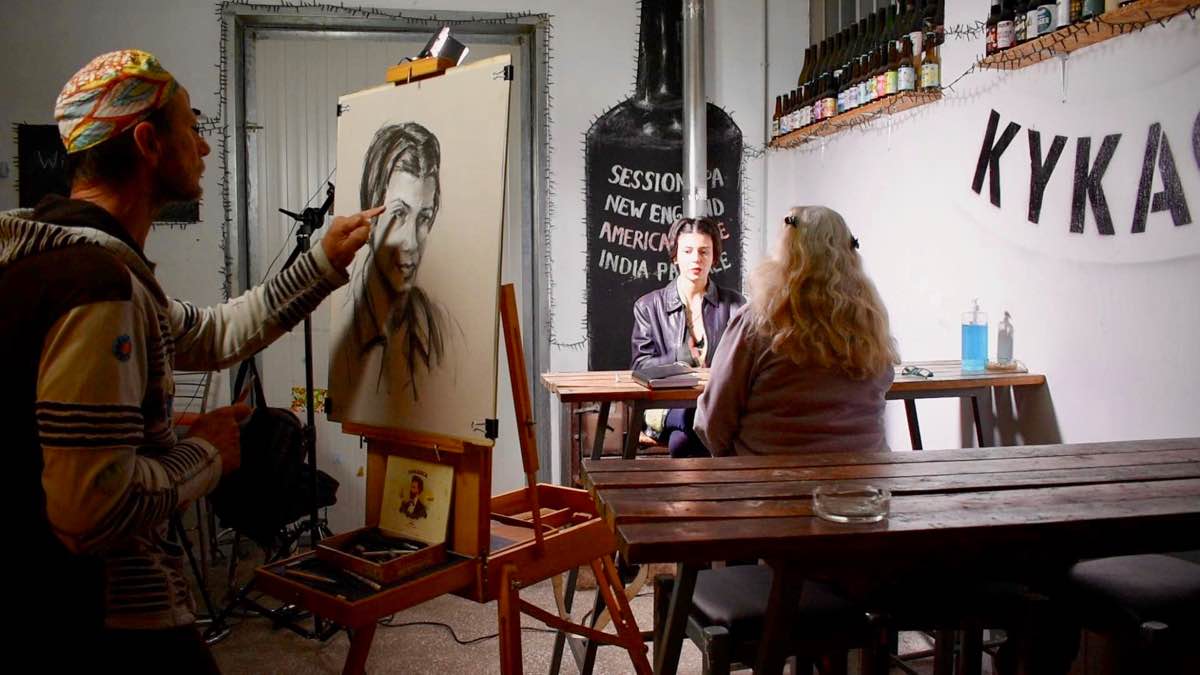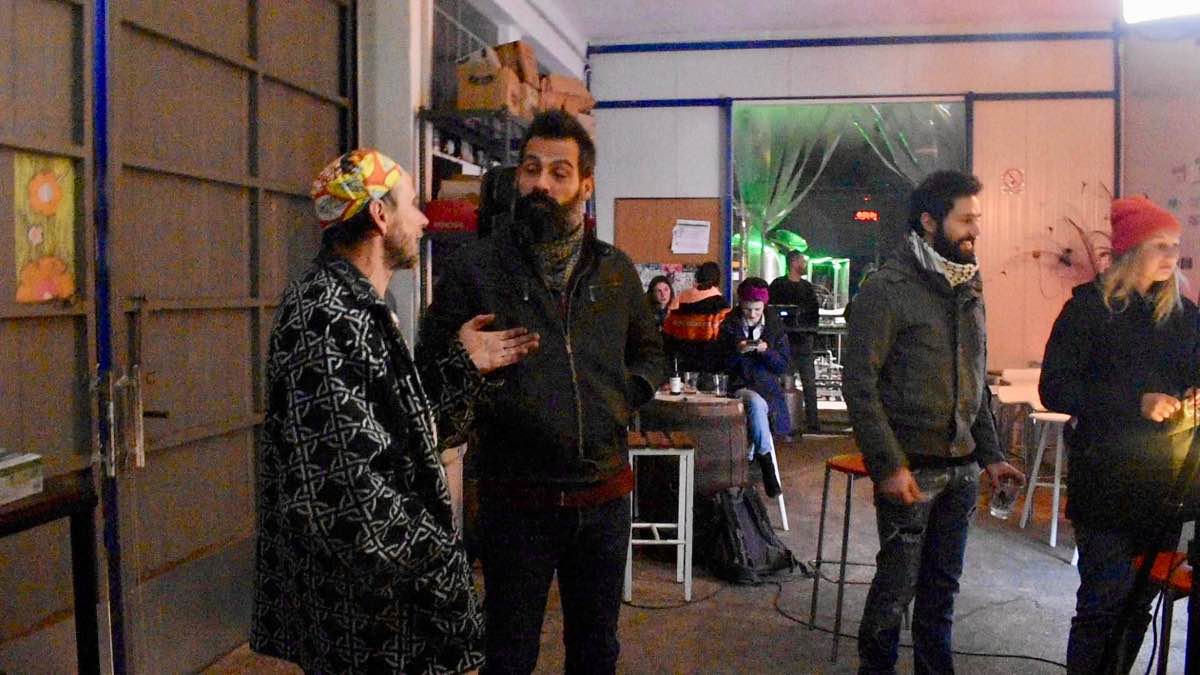 Now Face Europe really gets going and on the very first day we got a key to the brewery and are allowed to use the amenities at any time. So we have an interesting ambience while portraying and sometimes even onlookers.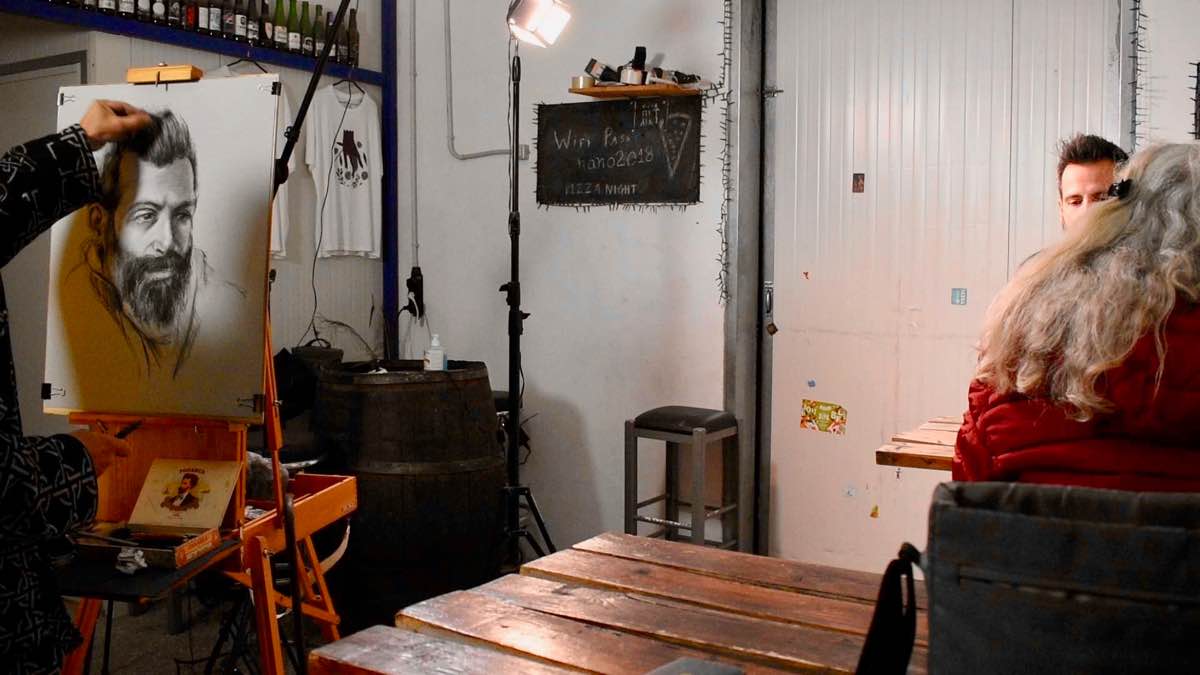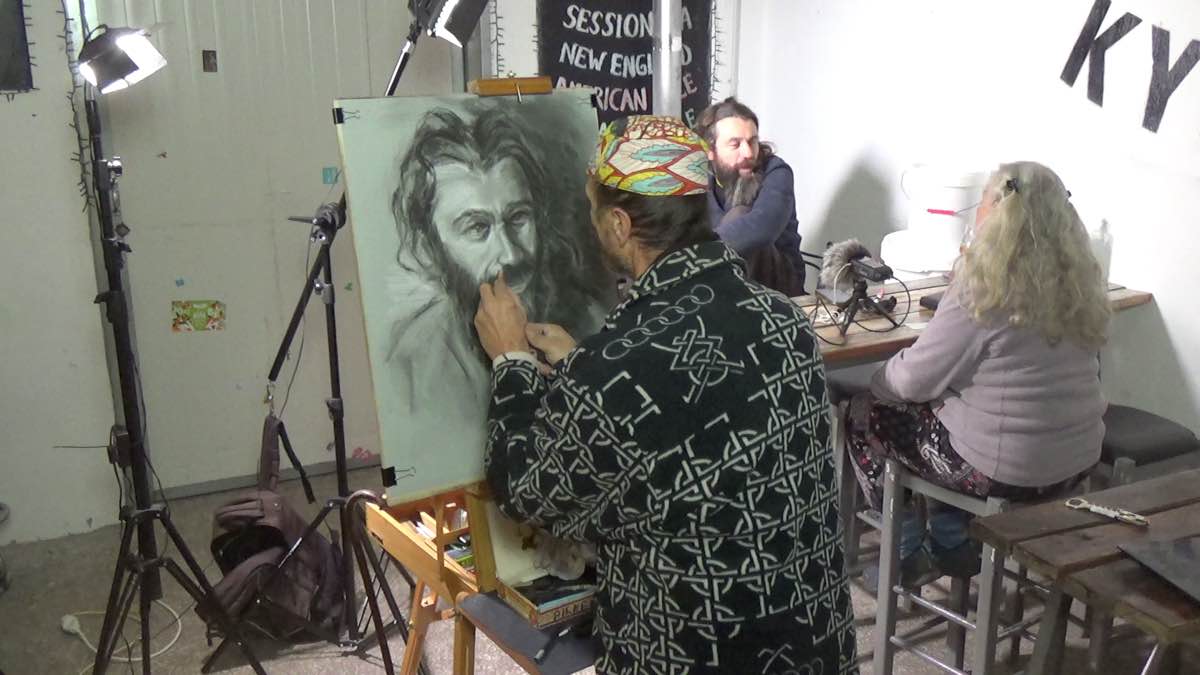 The bar operators – a group of  friends – are cooperative and equal and highly motivated. 
Yesterday Marilena also stopped by here on her way through, a German student who has rewarded her successful master's degree with a 5 month trip. Spontaneously she was also willing to do a portrait.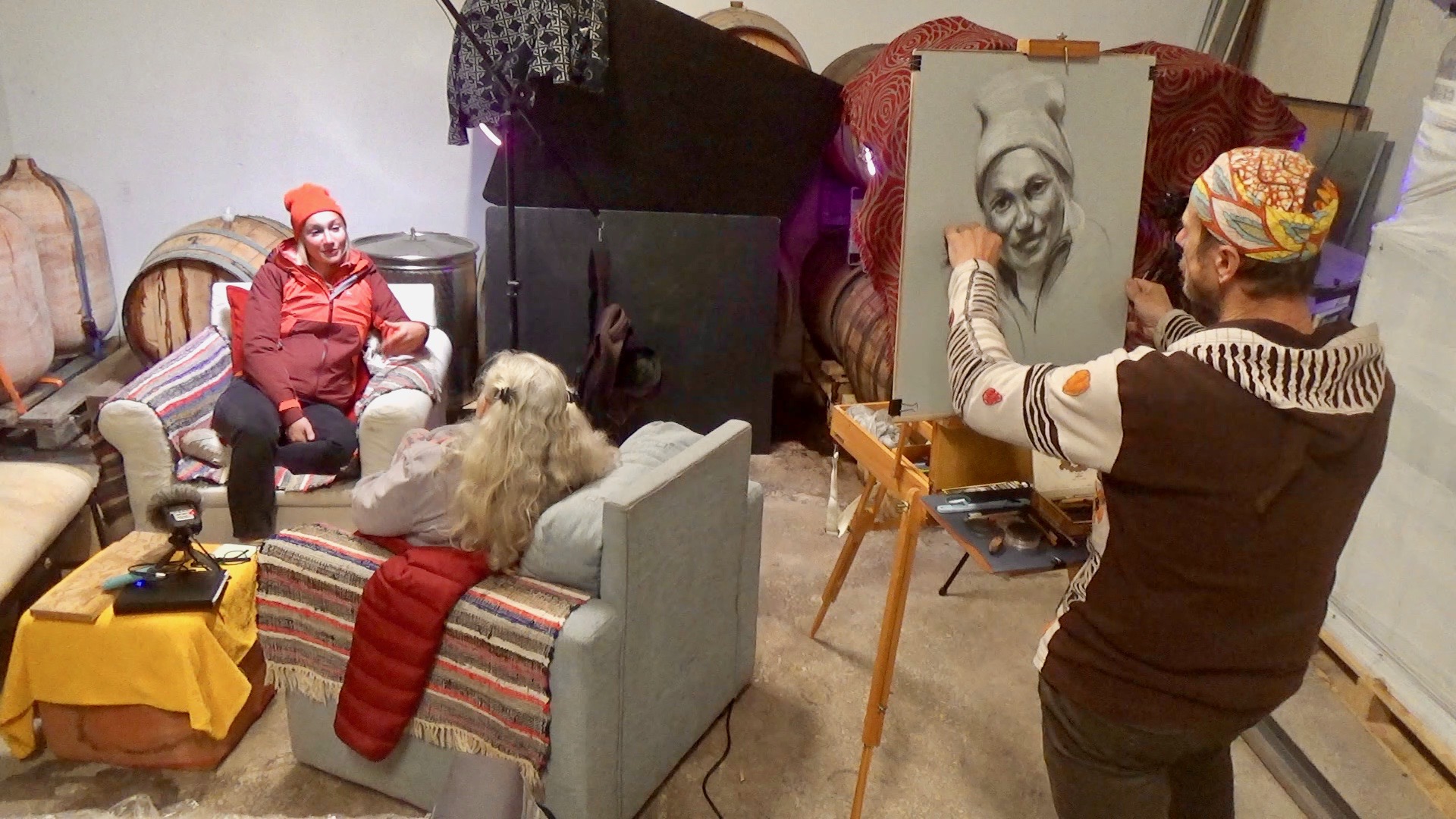 A French student couple from near Lyon is also on a year-long trip through Europe and will return here after a few days to be welcomed into the Face Europe family. We are happy to welcome Fanny and Benjamin.