[:de]Blogeintrag 16. Jänner 2022
Wir haben doch den Schritt am 10. Dezember gewagt und uns Griechenland genähert.
Der Regen in Albanien ließ uns irgendwie den Gedanken aufgeben, einen entspannten Winter in Albanien zu verbringen.
Also näherten wir unsicheren Schrittes der Grenze mit der unbestimmten Angst, dass man uns nicht hinein lässt. Diese war aber unbegründet und auch das Wiedereinreisen in die EU war harmlos. Ein Trafikant füllte uns das Einreiseformular aus und an der Grenze hieß es noch einen Schnelltest für Corona zu machen.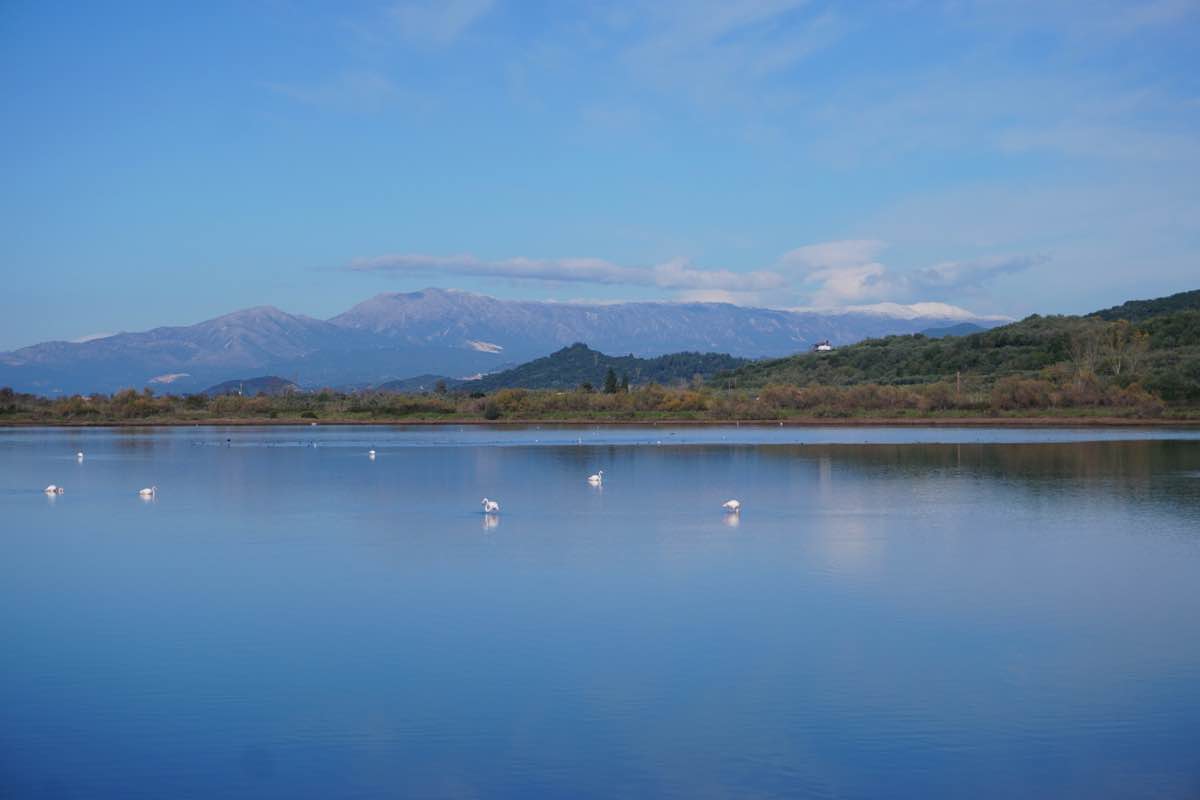 Dann ging es einfach ab in den Süden. Ein paar Tage in Menidi am Ambrakischen Golf waren nicht ergiebig für ein Face Europe Porträt. Die Ortschaft ist im Winterschlaf versunken und die wenigen Besucher oder Einheimischen konnten mit unserem Big Fredi auch nichts anfangen. 
Am Trichonidasee wollten wir eine Nacht verbringen. Aber schon auf dem Weg dorthin erfasste mich ein schlimmer Husten. Zum Glück konnte ich mich mit meinen mitgebrachten Coronatests überzeugen, dass es nicht Corona war.
Da ging es mir gleich besser. Trotzdem kurierte ich mich gründlich aus und ließ mich mit Tee und Essen von Wilfried verwöhnen. Bevor es ganz um meine Stimme geschehen war, trafen auch noch die belgischen Weitradler Cheyenne und François bei uns ein, die sich beide spontan für ein Porträt entschieden.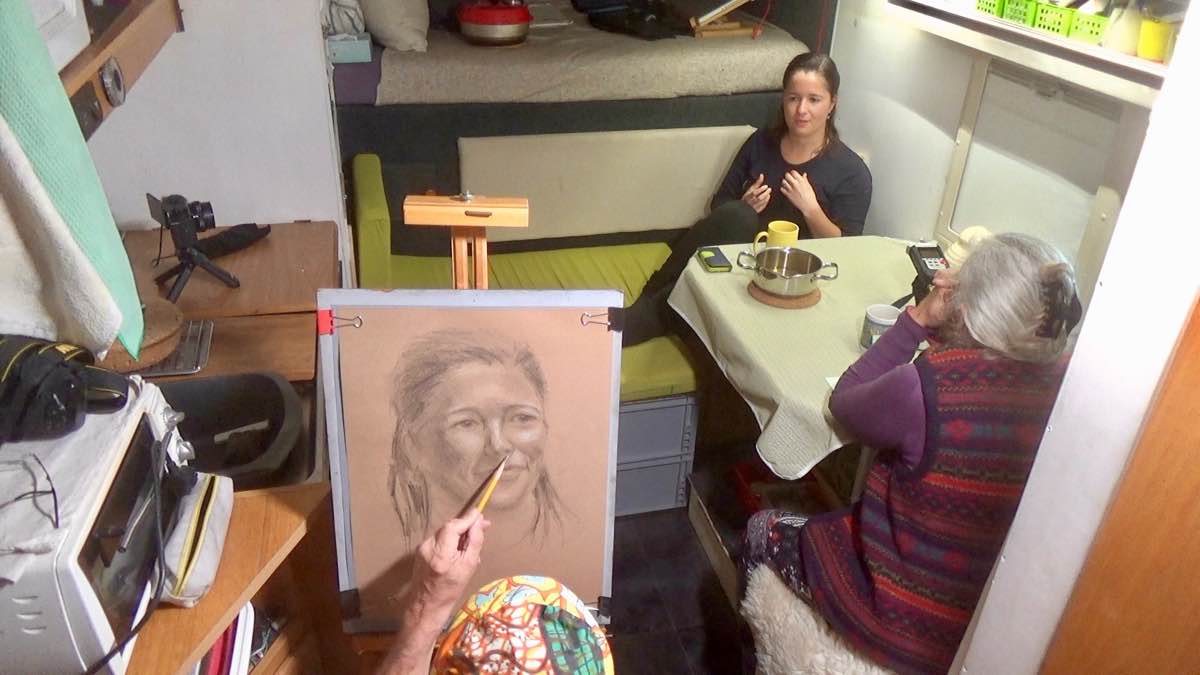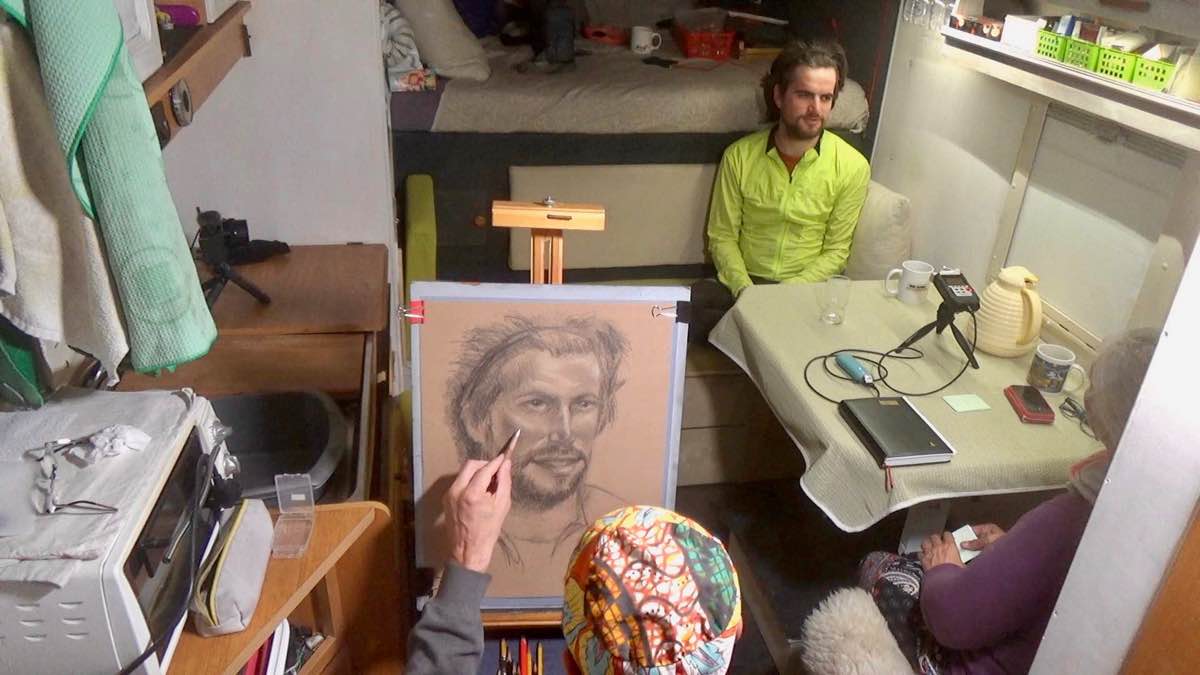 Weihnachten verbrachten wir in Nafpaktos, einer pulsierenden Kleinstadt mit einer Burg auf dem Berg und wir konnten schon auf unseren nächsten Stellplatz quasi hinüber schauen.
Dazwischen trennte uns nur der Golf von Korinth, den wir bei ruhigem Seegang und strahlender Sonne auf einer Fähre überquerten. Die Maut über die Brücke hätte das Doppelte gekostet und man hätte die Brücke nicht so schön gesehen.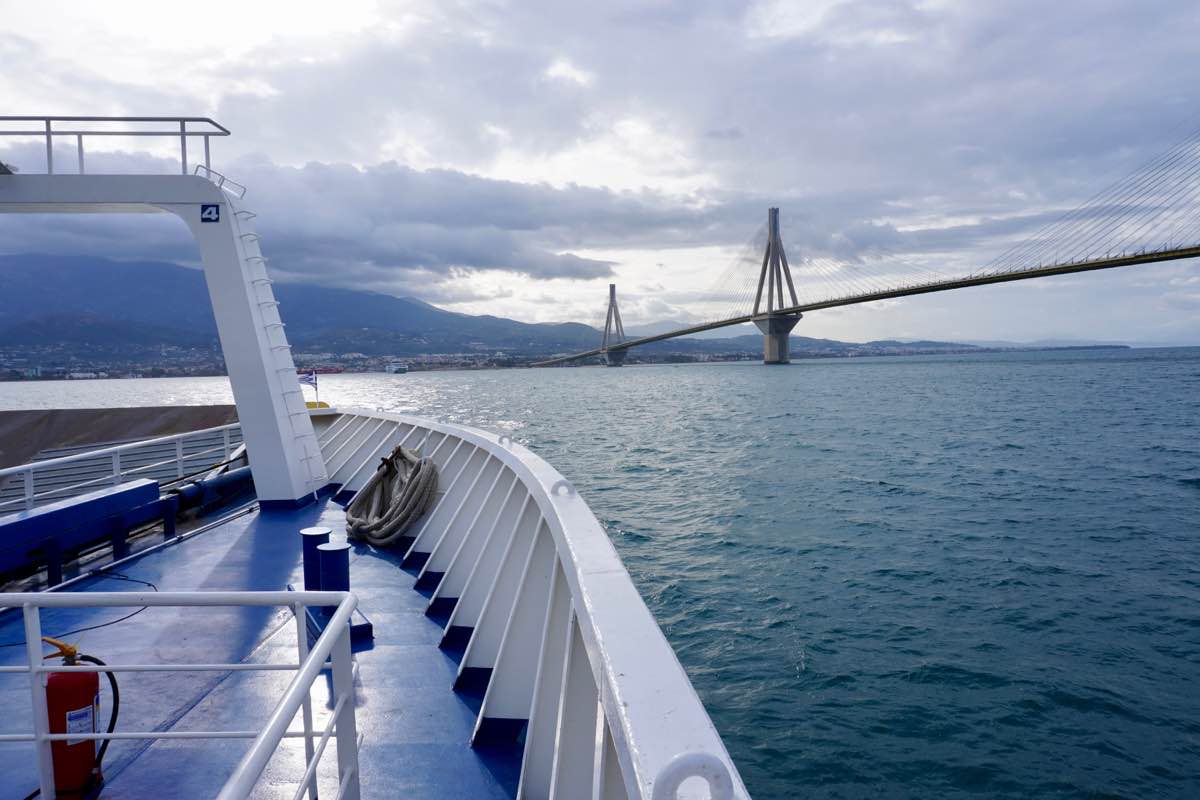 Unsere Schweizer Freunde Adelina und Philippe waren schon ein paar Tage vor uns nach Griechenland eingereist und ließen sich nicht von der schlechten Wetterprognose abhalten, die Meteoraklöster zu besuchen. Mit ihnen wollten wir uns aber auf jeden Fall wieder treffen. Am 26. Dezember abends war der Treffpunkt bei einer Brauerei in der Nähe von Patras, die wir auf Park4night ausfindig gemacht hatten. Die Beschreibung war sehr einladend. Mit den Worten: "Ihr seid unser Weihnachtsgeschenk" wurden wir von Adelina begrüßt. Und es war auch unser Weihnachtsgeschenk. Ein paar Tage hielten wir uns vor den geschlossenen Toren der Mikrobrauerei auf, trafen aber bereits  die beiden Inhaber Kostas und Nikos, die uns durch die Brauerei führten.
Bis zur Wiedereröffnung nach der Weihnachtspause, für die uns Porträts in Aussicht gestellt wurden, kehrten wir der Küste unseren Rücken zu und fuhren landeinwärts ein bisschen in die Berge. Auf dem Weg dorthin durch Patras unterstützte Philippe mich tatkräftig beim Kauf eines neuen Mobiltelefones. Mein altes löste sich auf und auch die Technik konnte nicht mehr upgedated werden. Philipp, ein wahrer Fachmann auf dem Gebiet von IT besorgte das von mir gewünschte Gerät während ich als ungeimpfte und ungetestete Person keinen Zutritt hatte. In das Einkaufszentrum nebenan durften wir dann auch ohne Ausweis, befand sich doch auch ein Lebensmittelgeschäft darin. 
Rasch noch ein Einkauf für eine Woche, sodass wir nicht verhungern und dann ging es auf 600 Meter hoch in die Gegend von Chalandritsa.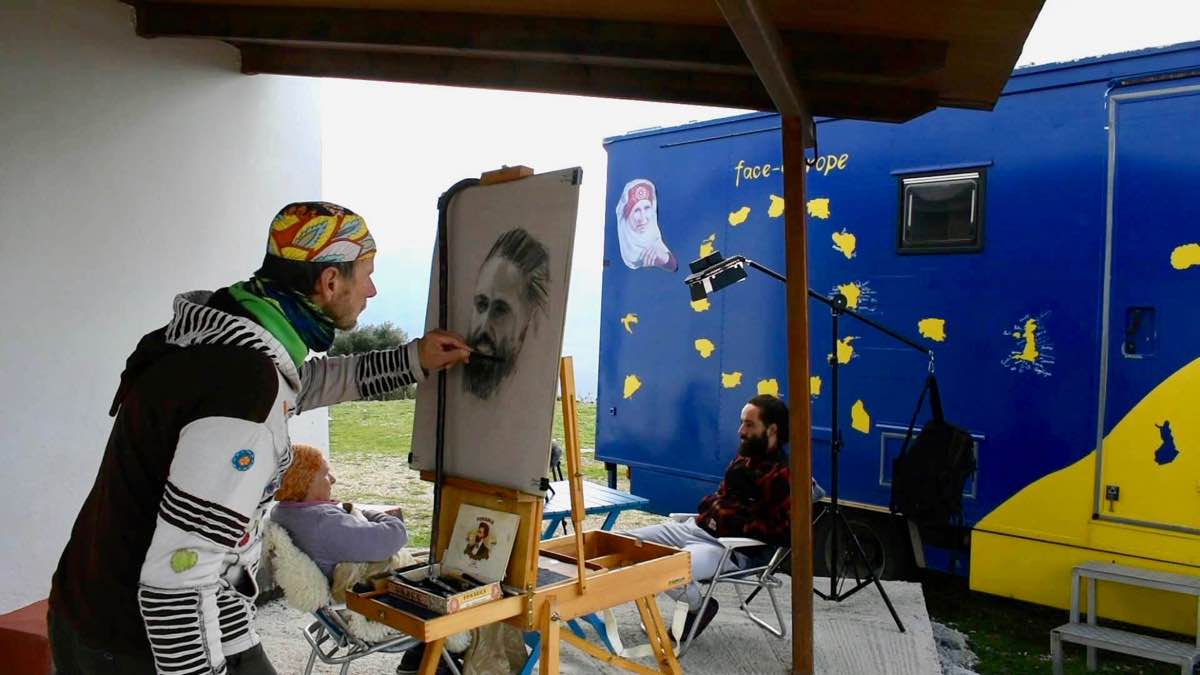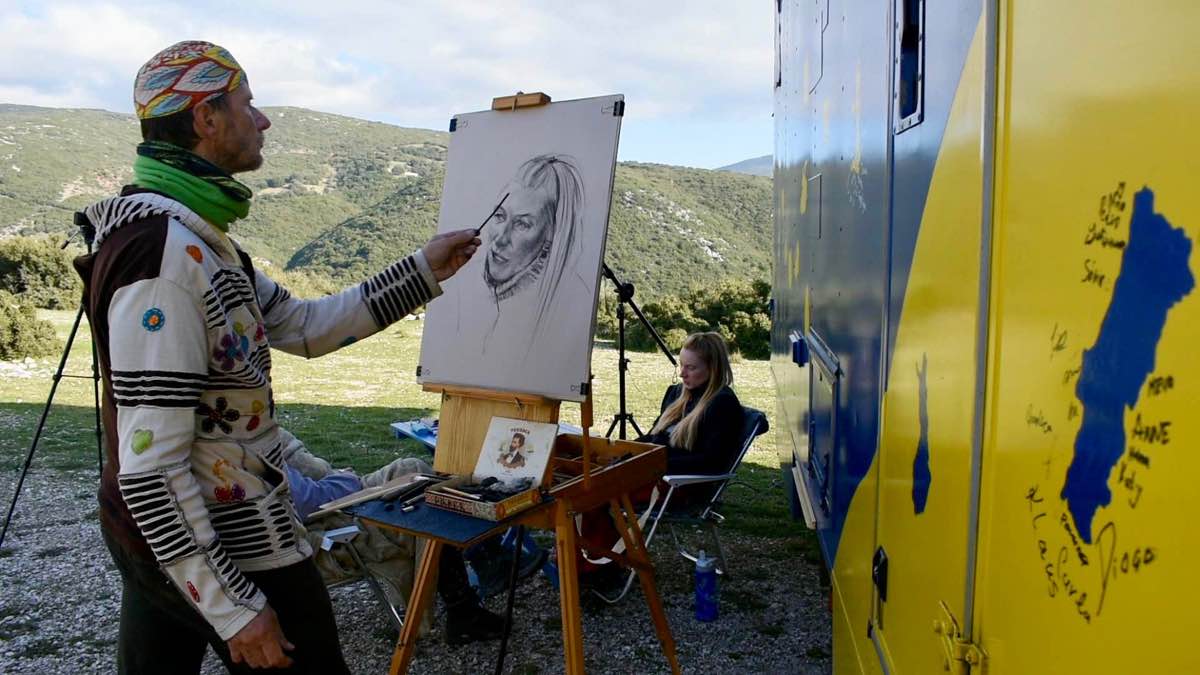 Gemeinsam mit Adelina und Philippe feierten wir den Jahreswechsel mit Wiener Schnitzel. Einige kleinere und größere Wanderungen durfte ich mit ihnen gemeinsam machen. Bei einem dieser Ausflüge begegnete uns ein armer dünner Straßenhund, der – nachdem wir unser Essen mit ihm geteilt hatten, nicht mehr von unserer Seite wich. Adelina und Philipp hatten sofort einen "Guten Draht" zu der Hündin. Sie sah furchtbar verhungert aus, hatte aber so ein feines Benehmen beim Füttern, dass wir annahmen, es hätte sie jemand gut erzogen. Ganz vorsichtig nahm sie das hart gekochte Ei in kleinen Bissen aus Adelina's Hand und auch meine Banane mundete ihr. Wahrscheinlich hätte sie alles gefressen, was sie bekam. Sie folgte uns. Legte sich unter Das Schweizer Auto und wich nicht mehr von deren Seite.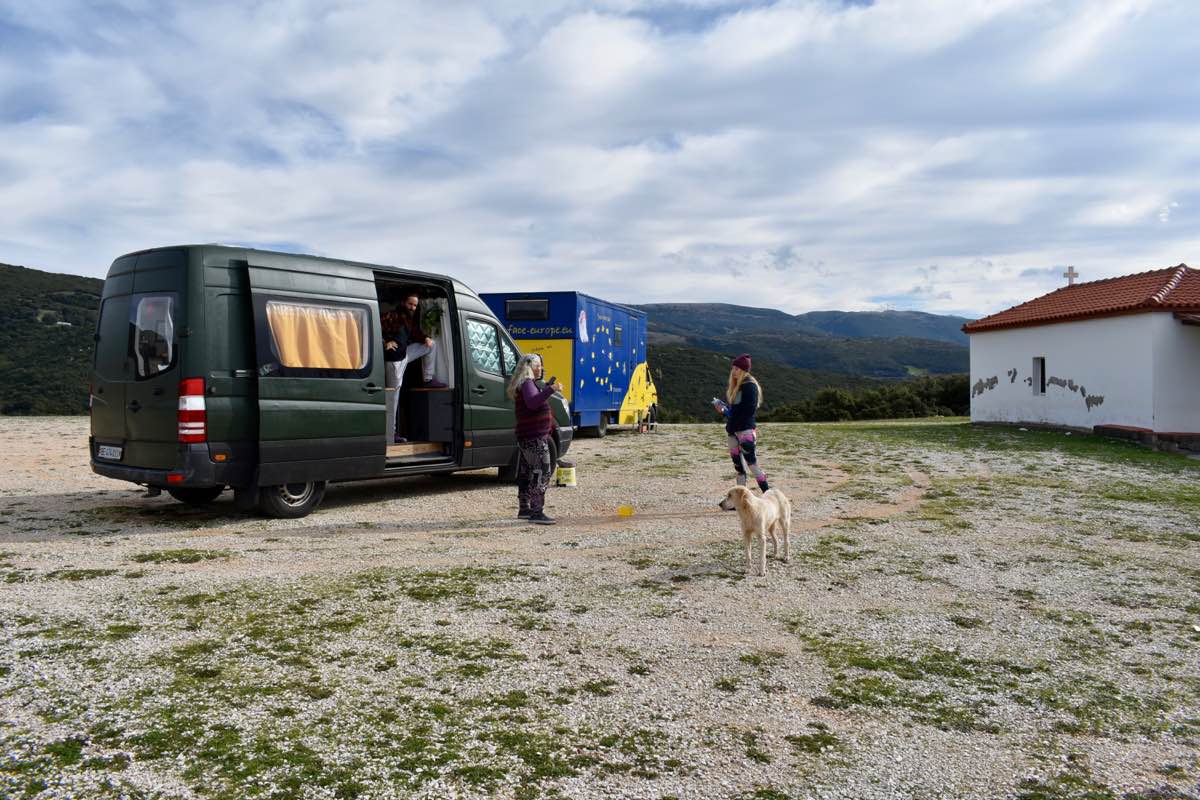 Es war eine  herzzerreißende Entscheidung die Hündin zurückzulassen für die beiden, die sich immer einen Hund gewünscht hatten. Und nachdem sie schon fast in Athen waren, kehrten sie um und holten "ihren Liebling" zu sich. Wie die Geschichte ausgeht, könnt ihr auf 
mitverfolgen. 
Wir mussten uns leider von Adelina und Philippe trennen, denn Kykao, die Brauerei zog uns mit ihrem Freitag Barbetrieb an. 
Kostas begrüßte uns wie alte Freunde und auch sein Bruder Vangelis war uns gleich zugetan.
Ich durfte ein wenig bei der Essenszubereitung helfen und wir konnten uns gleich ein wenig kennen lernen. Kostas und sein Freund Cristos zaubern jeden Freitag Abend ein ganz besonderes Essen für ihre Gäste. Chinesische Frühlingsrollen, indisches Lamm, immer sehr scharf gewürzt ist für Gäste gratis.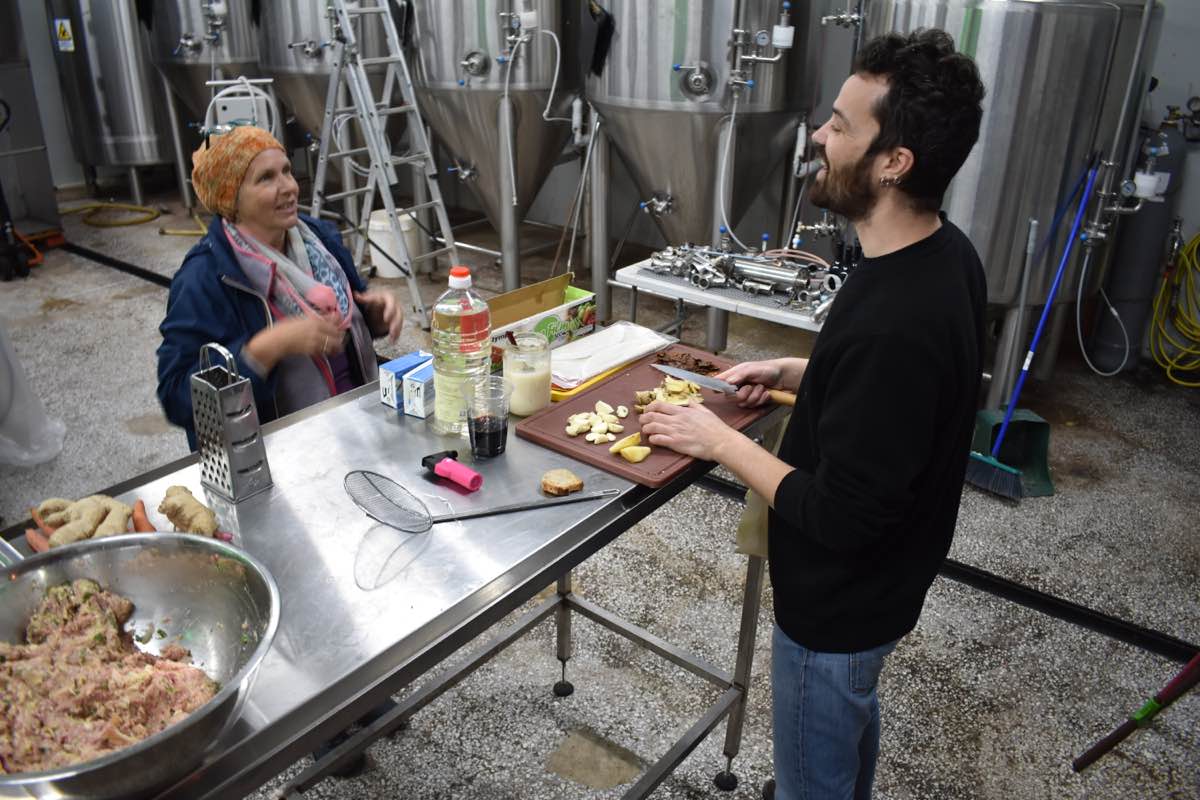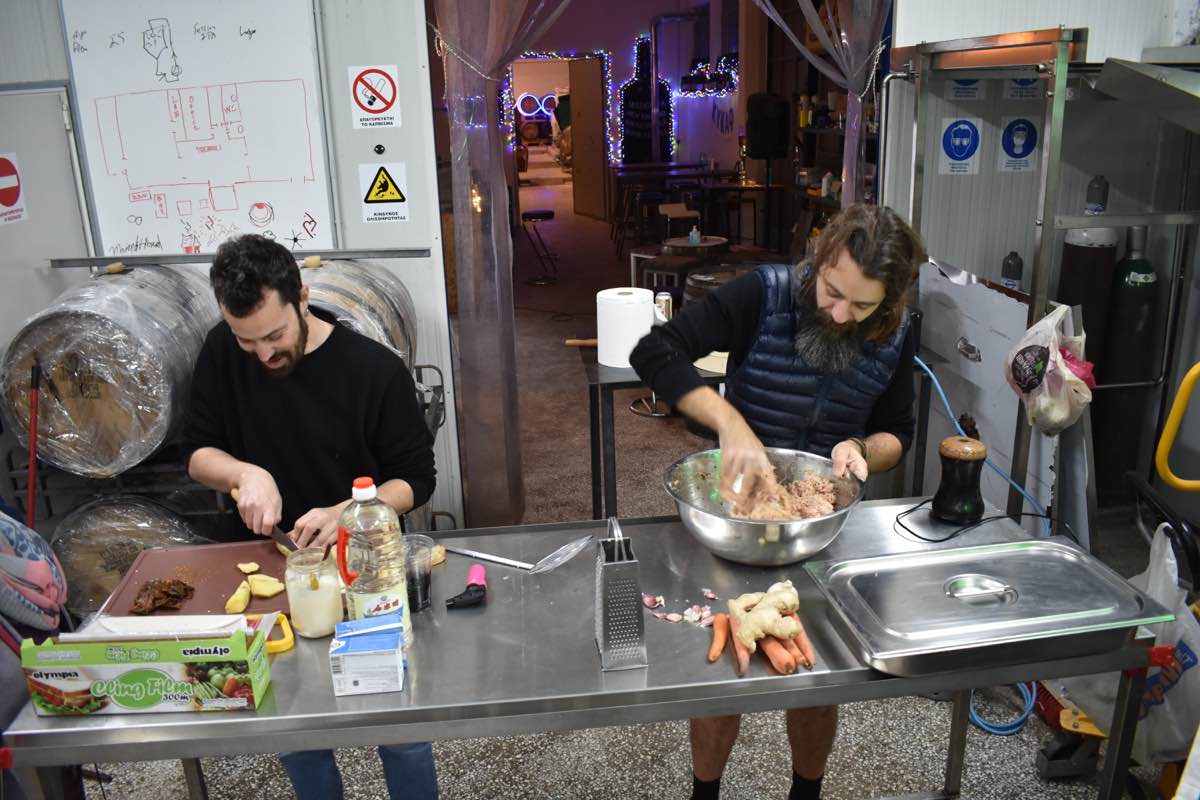 Es gibt jeden Freitag etwas Neues zum Kosten. Nur das Bier wird bezahlt. Das Publikum ist aufgeschlossen, jung, offen und durchwegs englisch sprechend. Jetzt geht Face Europe so richtig los und gleich am ersten Tag haben wir einen Schlüssel für die Brauerei bekommen und dürfen die Annehmlichkeiten jederzeit nutzen. So haben wir ein interessantes Ambiente während des Porträtierens und manchmal sogar Zuseher.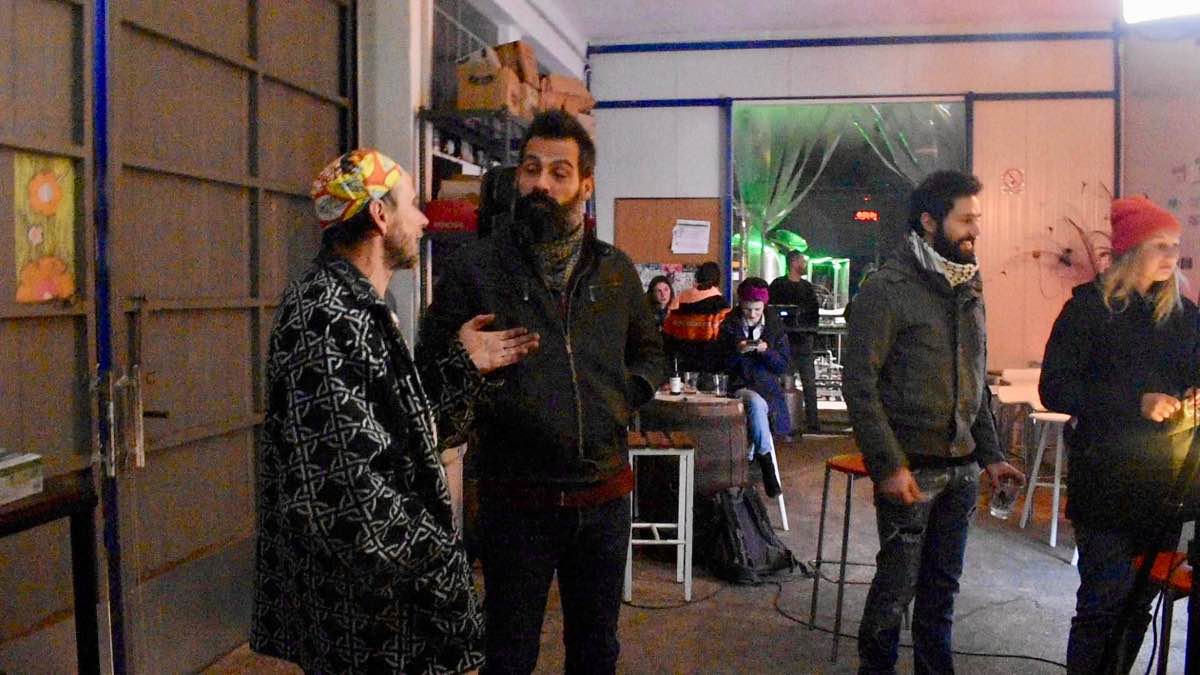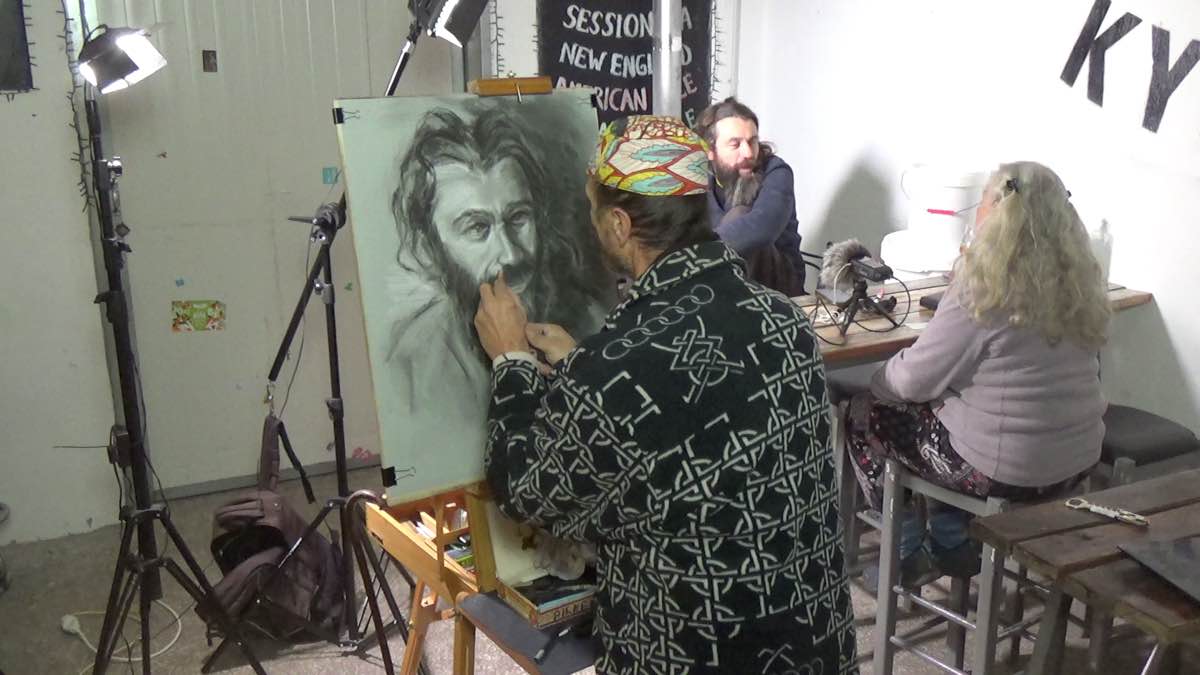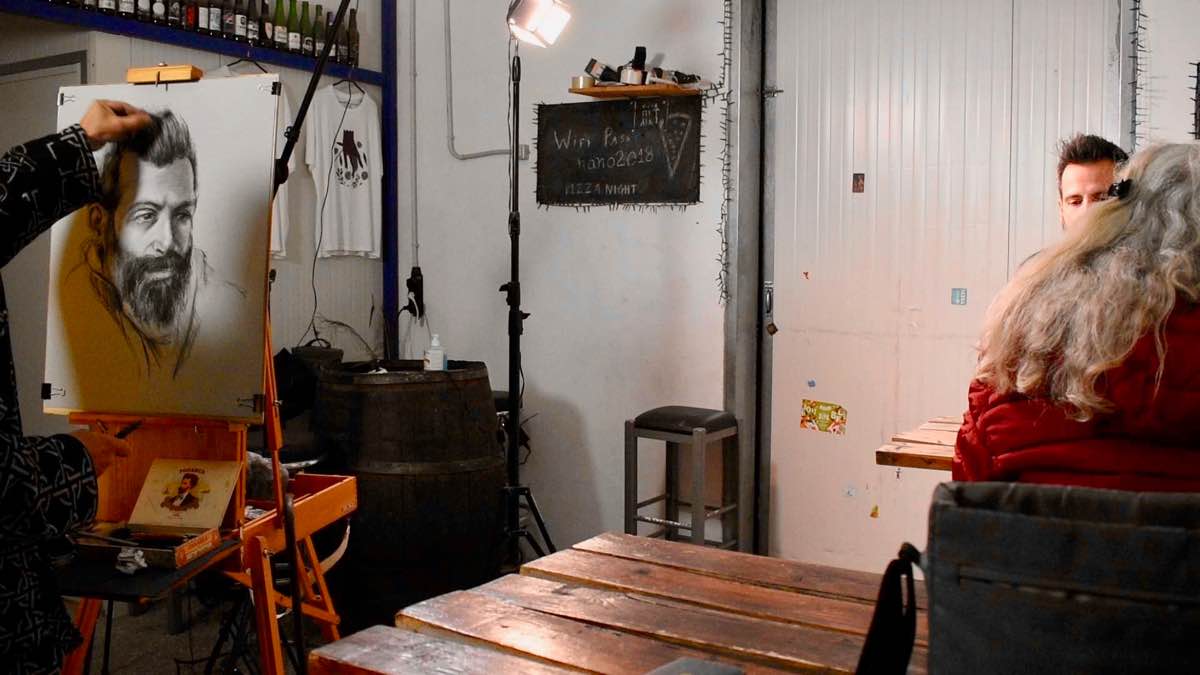 Die Barbetreiber – eine Gruppe von  Freunden – sind kooperativ und gleichberechtigt und hochmotiviert. 
Gestern kam auch noch Marilena auf der Durchreise hier vorbei, eine deutsche Studentin, die sich den erfolgreichen Masterabschluss mit einer 5 monatigen Reise belohnt hat. Spontan war sie auch zu einem Porträt bereit.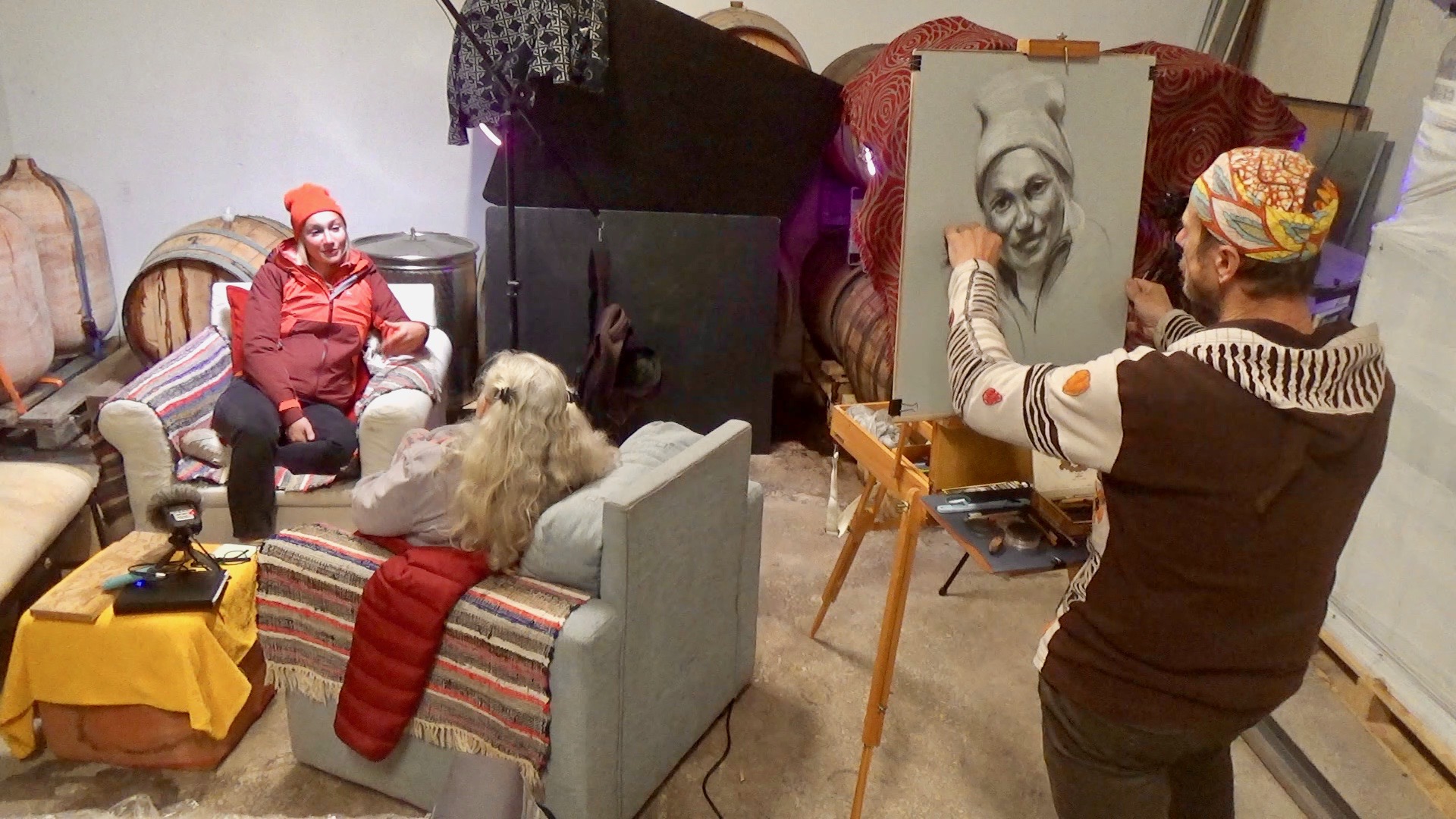 Ein französisches Studentenpaar aus der Nähe von Lyon ist auch ein Jahr auf Europareise und kommt nach ein paar Tagen hierher zurück, um in die Face Europe  Familie aufgenommen zu werden. Wir freuen uns Fanny und Benjamin aufzunehmen. [:en]Blog entry 16 January 2022
We dared to take the step on December 10th and approached Greece after all.
The rain in Albania somehow made us give up the idea of spending a relaxing winter in Albania.
So we approached the border insecurely with the vague fear that they would not let us in. This was unfounded, however, and re-entering the EU was also harmless. A tobacconist filled out our entry form and at the border we had to take a quick test for Corona. 
Then it was just off to the south. A few days in Menidi on the Ambracian Gulf were not productive for a Face Europe portrait. The village sank into hibernation and the few visitors or locals couldn't do anything with our Big Fredi either.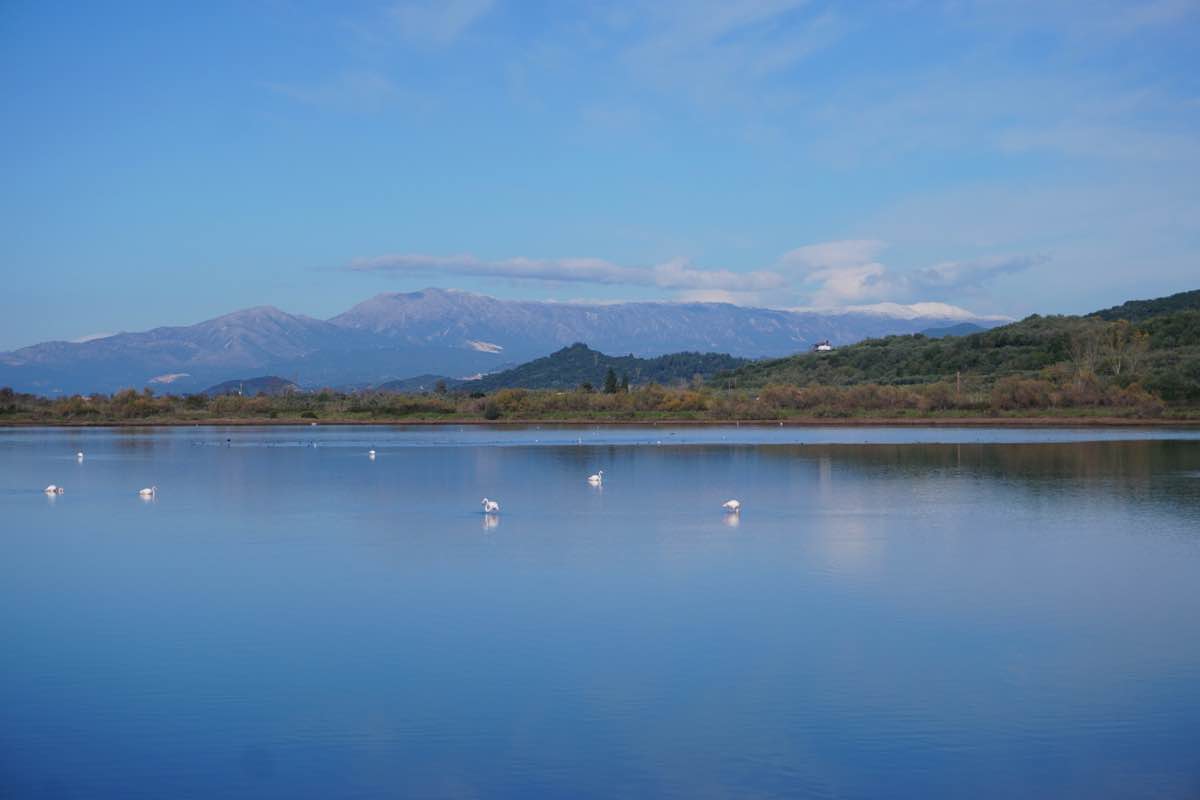 At Lake Trichonida we wanted to spend one night. But already on the way there a bad cough seized me. Fortunately I could convince myself with my brought Coronatests that it was not Corona.
That made me feel better right away. Nevertheless, I cured myself thoroughly and let Wilfried spoil me with tea and food. Before it was completely bad with my voice, the Belgian long-distance cyclists Cheyenne and François also arrived with us, who both spontaneously decided to take a portrait.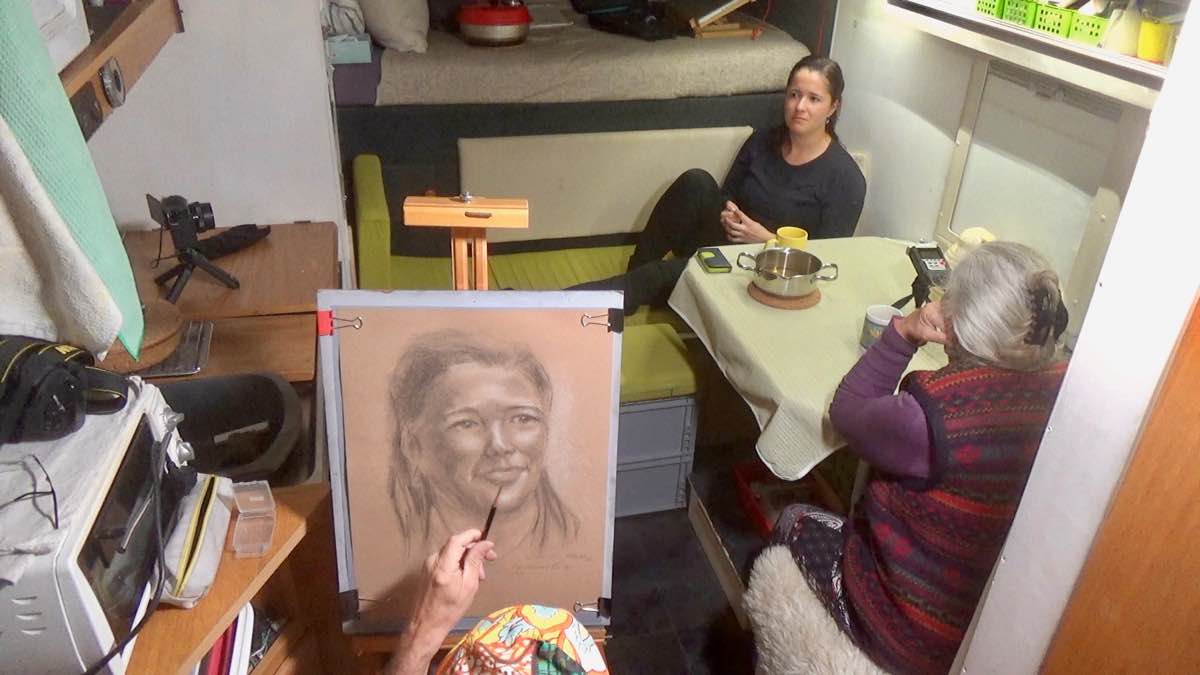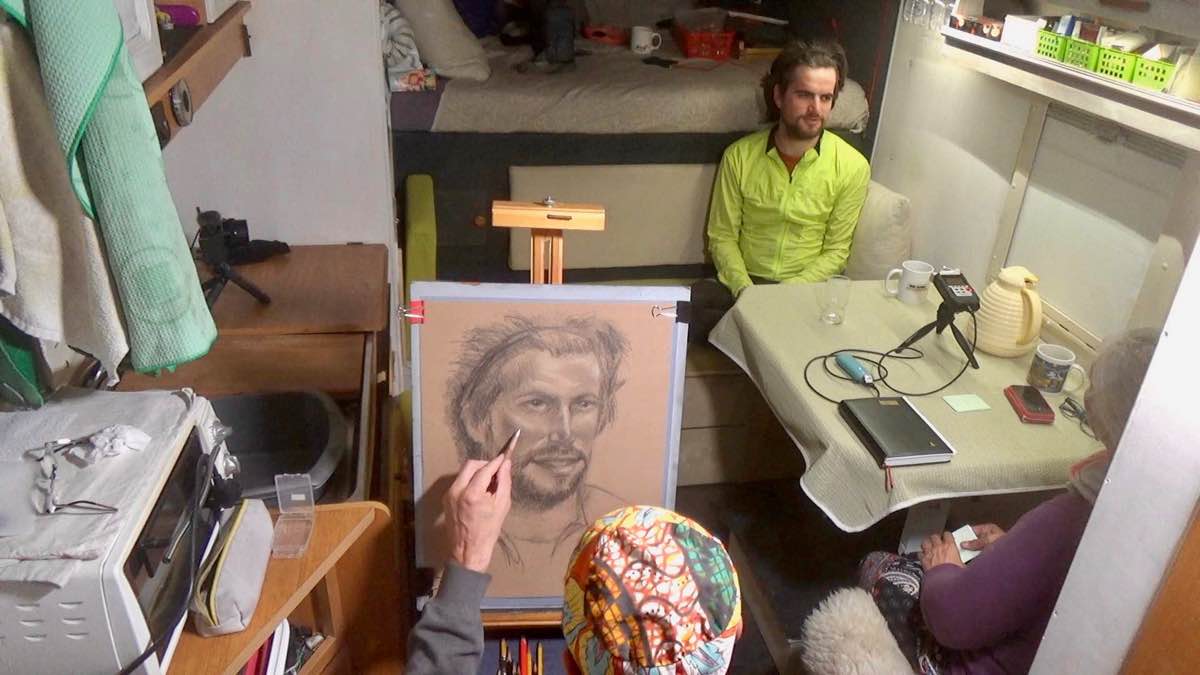 We spent Christmas in Nafpaktos, a pulsating small town with a castle on the mountain and we could already look over to our next destination.
In between, only the Gulf of Corinth separated us, which we crossed on a ferry in calm seas and bright sunshine. The toll over the bridge would have cost double and we would not have seen the bridge so beautifully. 
Our Swiss friends Adelina and Philippe had entered Greece a few days before us and did not let the bad weather forecast stop them from visiting the Meteora monasteries. With them, however, we wanted to meet again in any case. On the evening of December 26, the meeting place was at a brewery near Patras, which we had located on Park4night. The description was very inviting. With the words "You are our Christmas present" we were welcomed by Adelina. And it was our Christmas present too. For a few days we lingered outside the closed gates of the microbrewery, but already met two of the owners Kostas and Nikos, who showed us around the brewery.
Until the reopening after the Christmas break, for which we were promised portraits, we turned our backs from the coast and drove inland a bit into the mountains. On the way there through Patras, Philippe actively supported me in buying a new cell phone. My old one disintegrated and also the technology could not be updated anymore. Philippe, a true expert in the field of IT got the device I wanted while I as an unvaccinated and untested person had no access. We were allowed to go to the shopping center next door without an ID card, as there was also a grocery store in there. 
We quickly went shopping for a weeks' surviving so that we would not starve and then we went up to 600 meters into the area of Chalandritsa. Together with Adelina and Philippe we celebrated the turn of the year with Wiener Schnitzel. Some smaller and bigger hikes I was allowed to do together with them. During one of these excursions we met a poor skinny street dog, who – after we had shared our meal with it – did not leave our side. Adelina and Philipp immediately had a "good connection" with the dog. She looked terribly starved, but had such a fine demeanor while feeding that we assumed someone had trained her well. She carefully took the hard-boiled egg in small bites from Adelina's hand and she also liked my banana. Probably she would have eaten everything she got. She followed us. She lay down under the Swiss car and did not leave its side.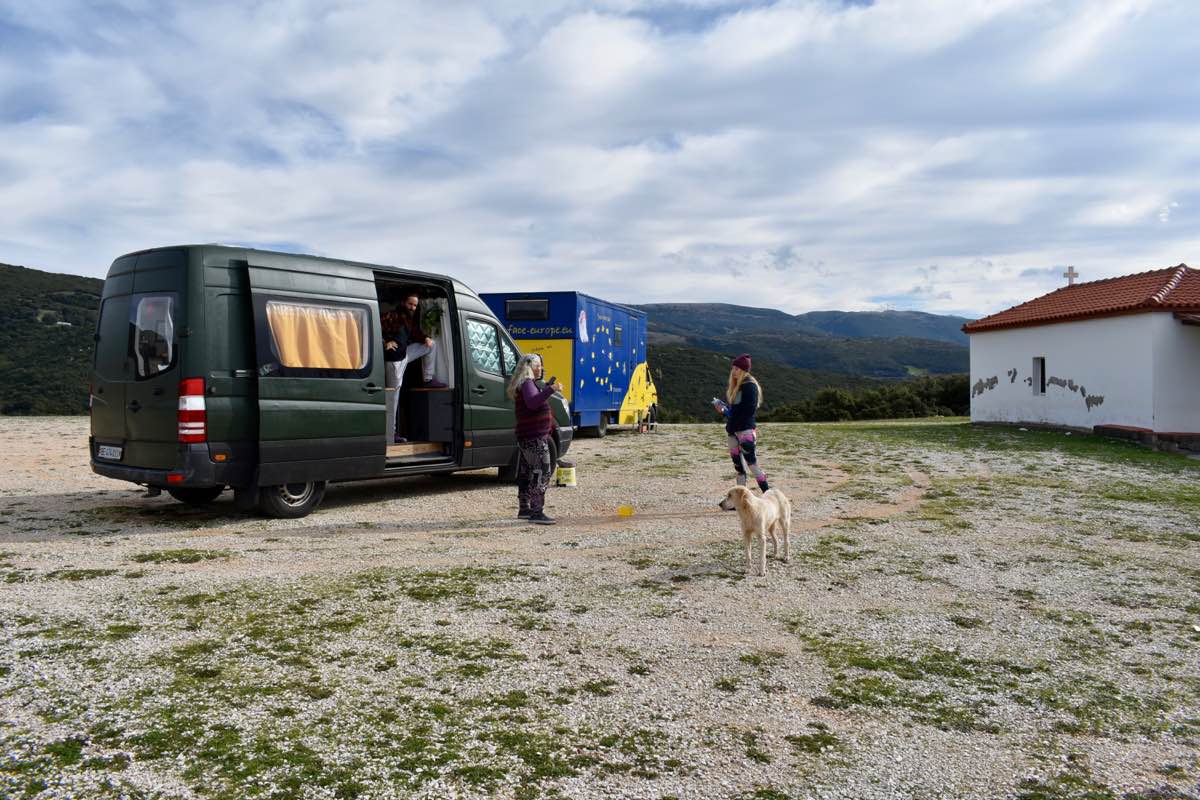 It was a heartbreaking decision to leave the dog behind for the two of them who had always wanted a dog. And after they were almost in Athens, they turned around and took "their darling" to them. How the story ends, you can see on 
and follow along. 
We unfortunately had to part with Adelina and Philippe, because Kykao, the brewery attracted us with its Friday bar.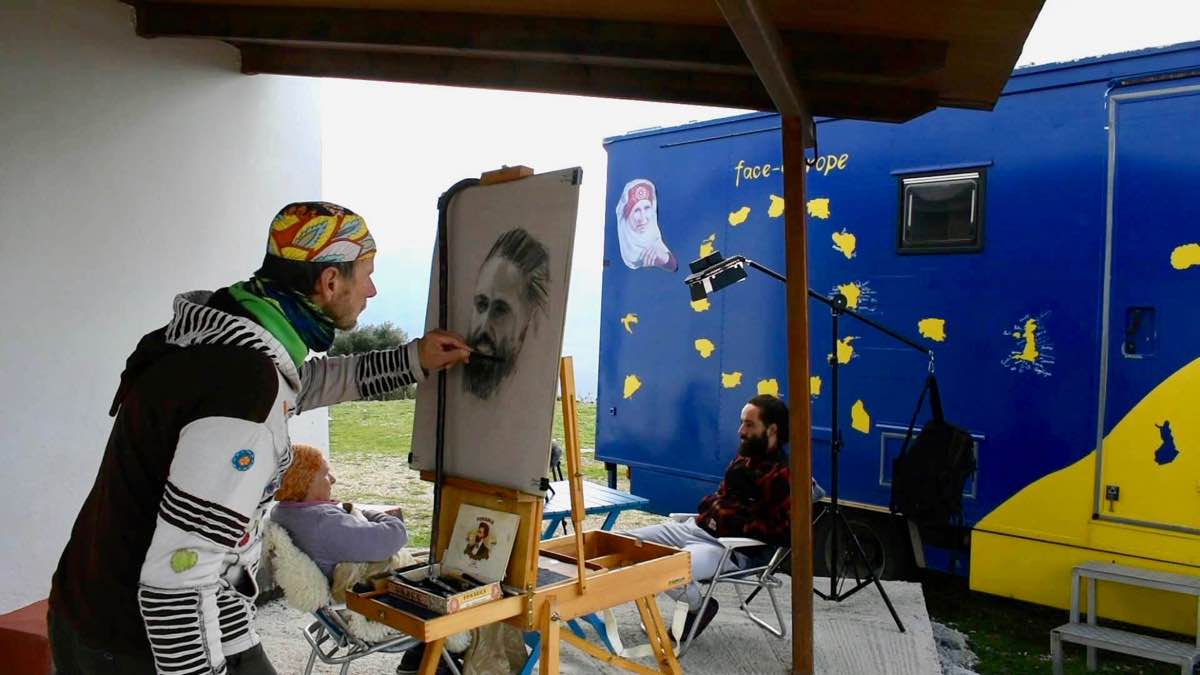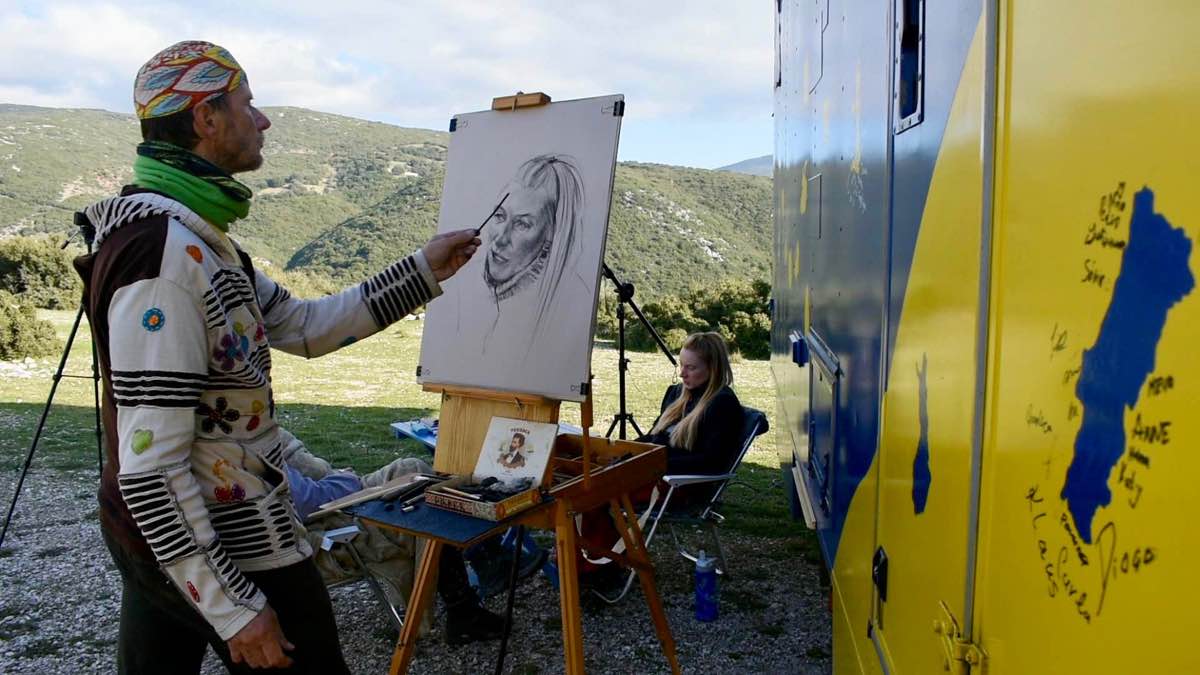 Kostas greeted us like old friends and also his brother Vangelis was immediately fond of us. I was allowed to help a little with the food preparation and we were able to get to know each other a little right away.
Kostas and his friend Cristos conjure up a very special meal for their guests every Friday night.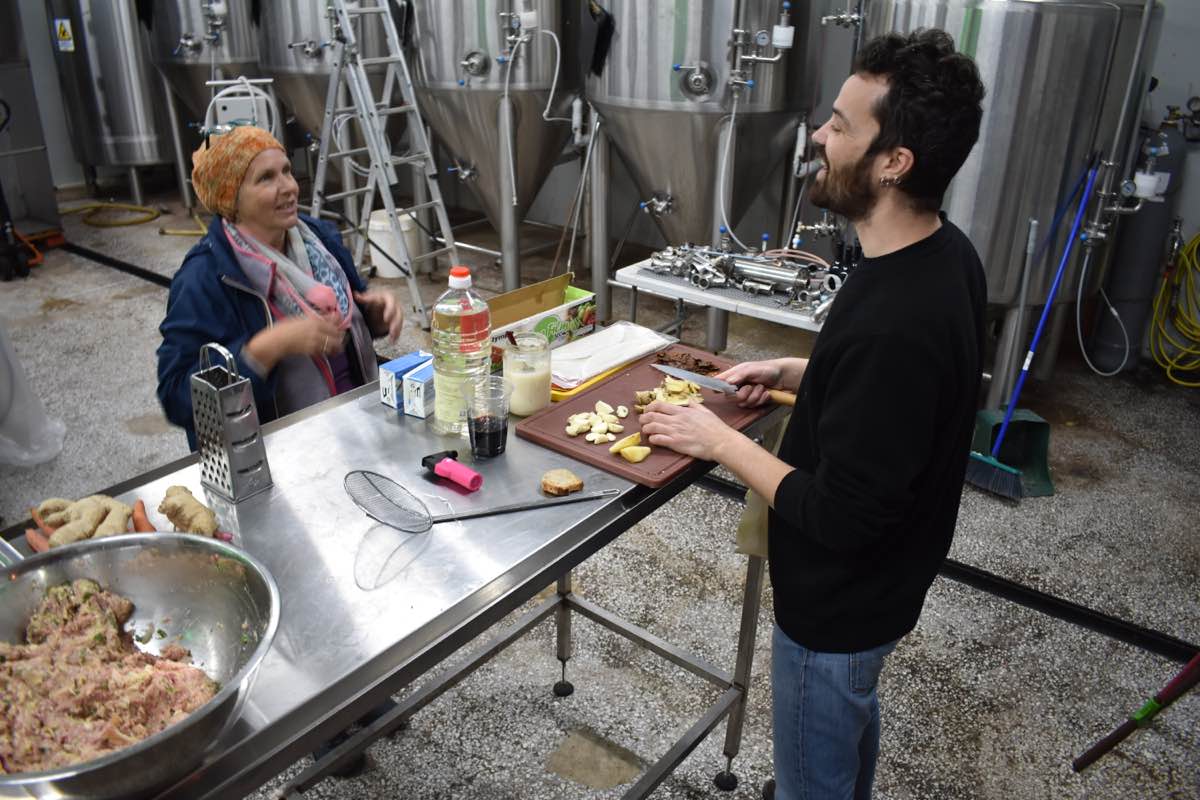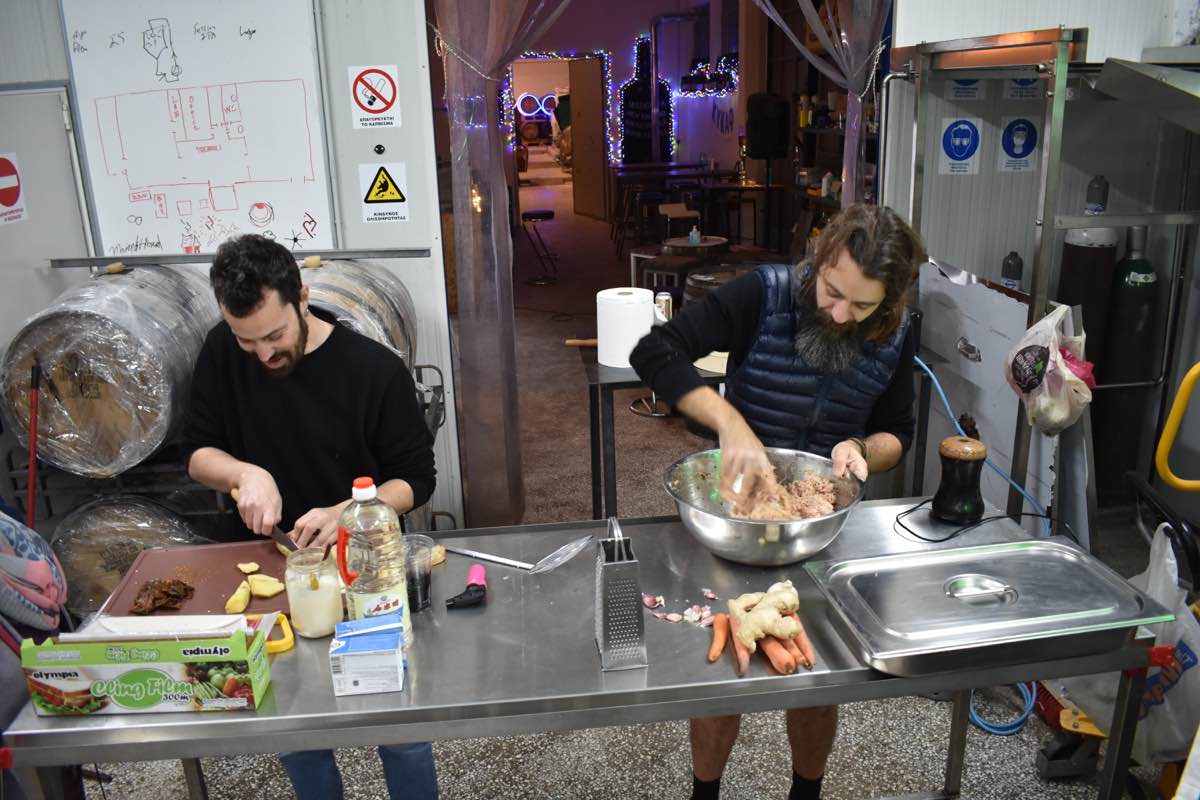 Chinese spring rolls, Indian lamb, always very spicy is free for guests. There is something new to taste every Friday. Only the beer is paid for. The crowd is open-minded, young, interested and English-speaking throughout.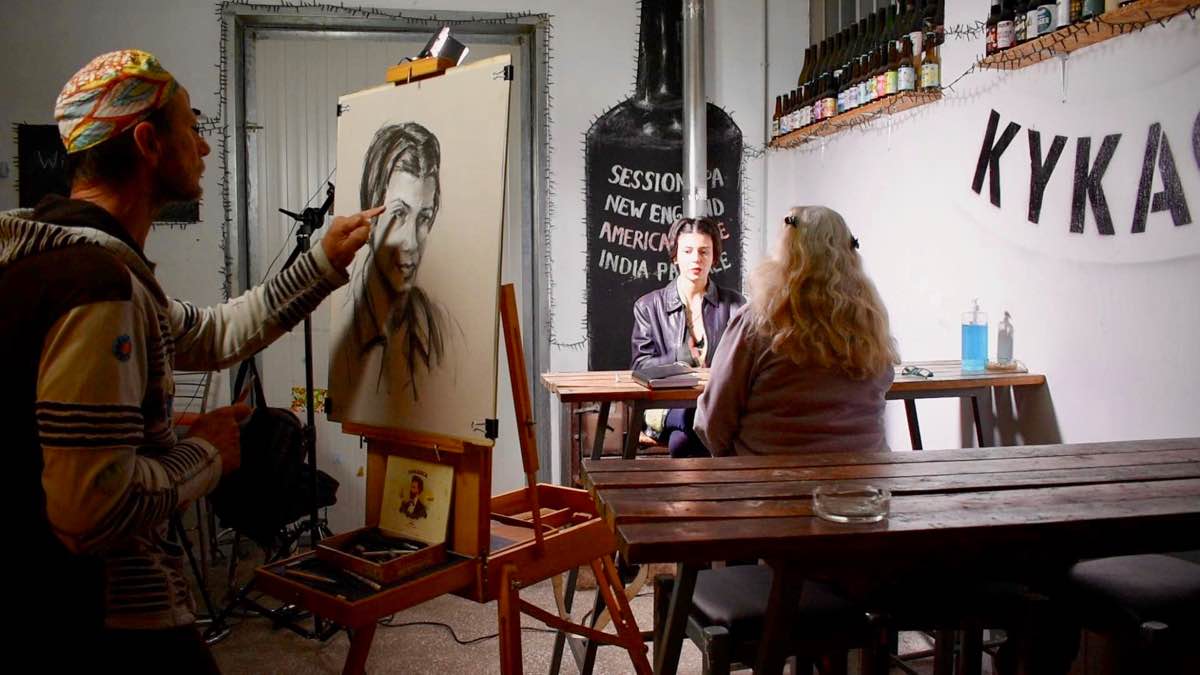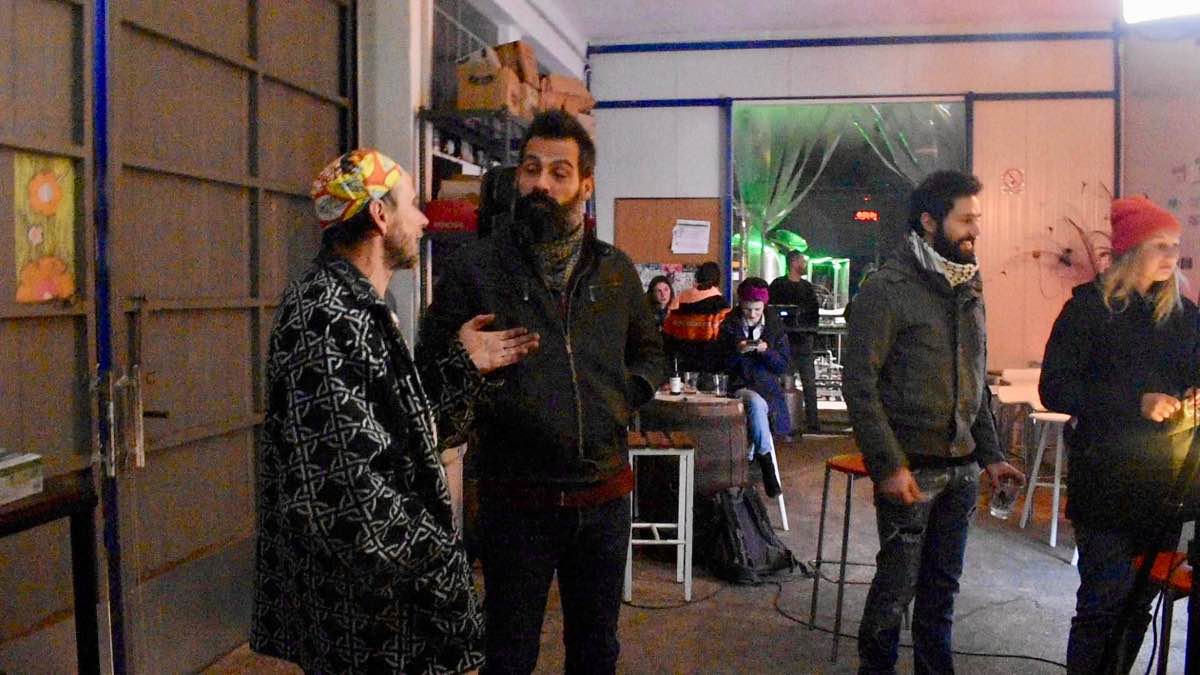 Now Face Europe really gets going and on the very first day we got a key to the brewery and are allowed to use the amenities at any time. So we have an interesting ambience while portraying and sometimes even onlookers.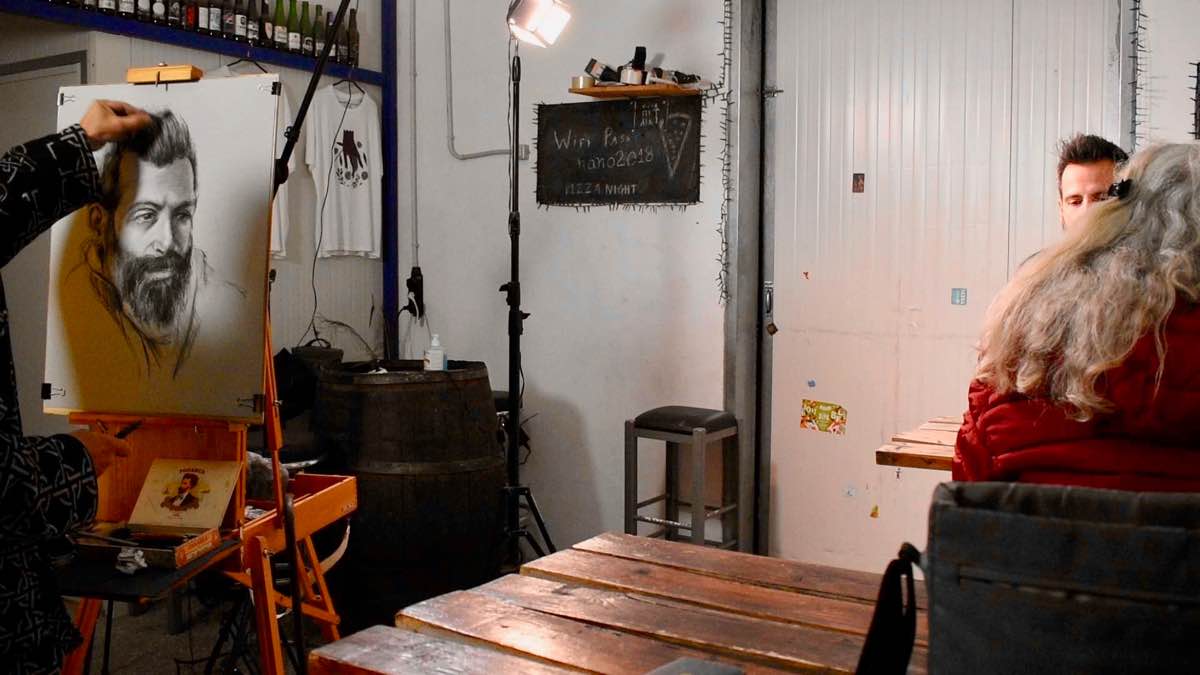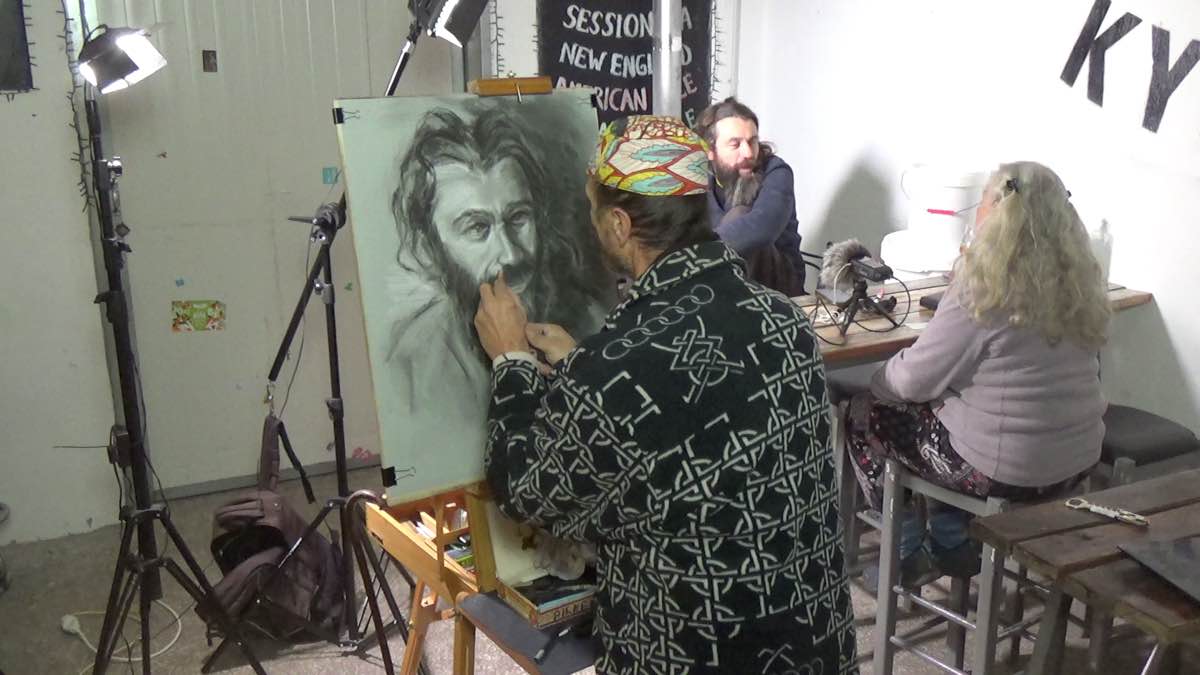 The bar operators – a group of  friends – are cooperative and equal and highly motivated. 
Yesterday Marilena also stopped by here on her way through, a German student who has rewarded her successful master's degree with a 5 month trip. Spontaneously she was also willing to do a portrait.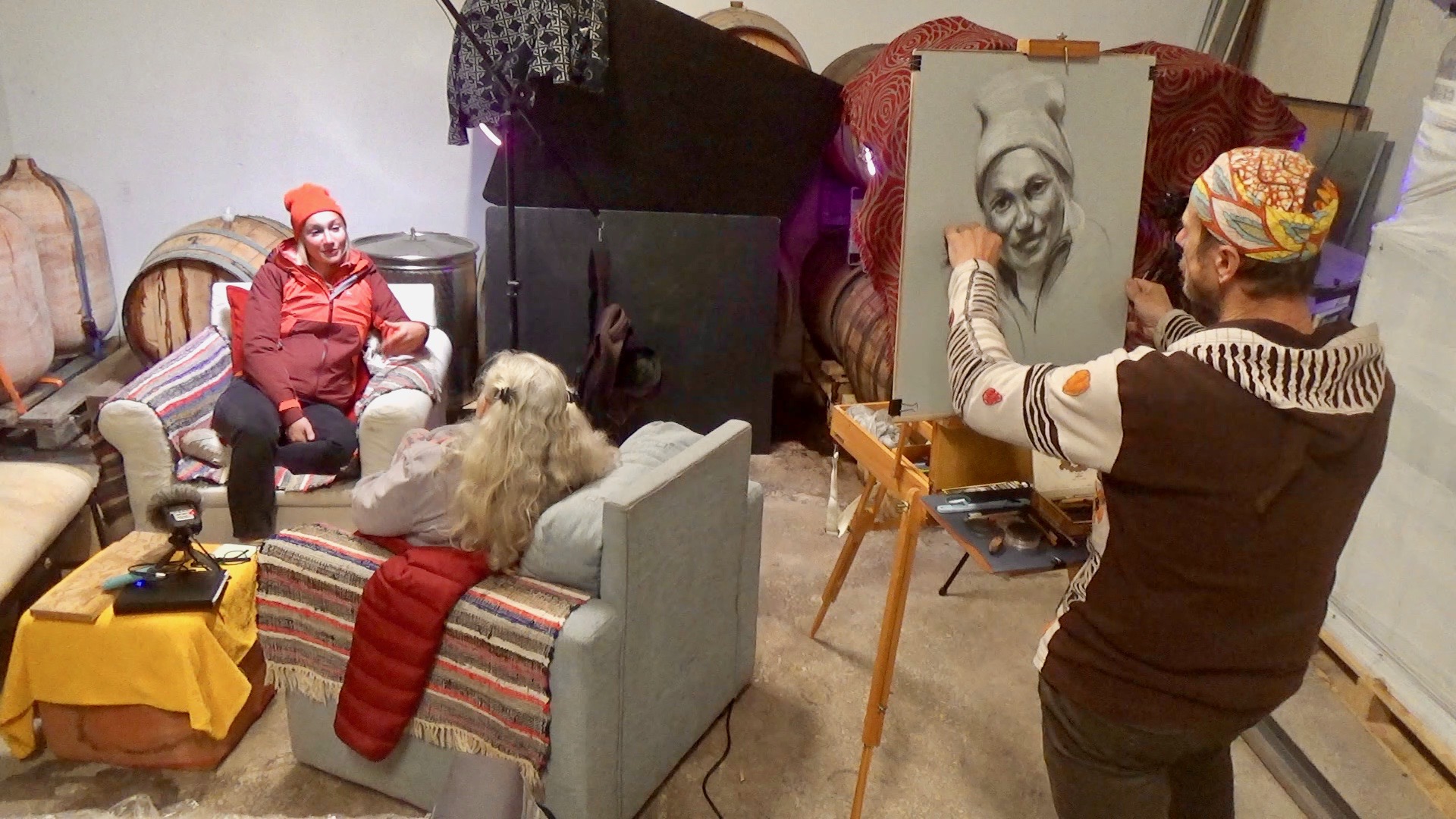 A French student couple from near Lyon is also on a year-long trip through Europe and will return here after a few days to be welcomed into the Face Europe family. We are happy to welcome Fanny and Benjamin.[:]