Blog entry 9 December 2021
On 10/11/2021, we did not expect to stand in Livadhi for such a long time (namely till 5/12/2021), in fact we were planning to stay for just one night. 
But it was a turbulent, entertaining and interesting time that lasted us so long. The fact that Big Fredi didn't really grow roots in the process is probably due to the fact that we moved it around a few times. Be it to stand closer to the bar, where a portrait was taken, be it due to wind and weather, or due to the fact that water only penetrates it when it is in a certain inclined position. 
We experienced all kinds of weather: Midsummer heat, clouds, storms and continuous rain and even snow on the mountains in sight. 
On 21.11 I went swimming for perhaps the last time this year. We walked to the aquarium bay and I could actually bring myself to dive into the water. Wilfried had been swimming in Livadhi several times before. It didn't appeal to me then. Although the turquoise water is very clear and clean, I did not yet feel completely cured of my cold.
Many acquaintances and friendships were made and deepened during this time in Livadhi Beach.
Adelina and Philipp from Switzerland stayed with us the longest. Hopefully we will meet them again soon in Greece. 
Albania and its inhabitants grew more and more dear to us during these almost 2 month. Petros, the son of the bar owner, i.e. the only open bar at that time, was accepted into the Face Europe Family.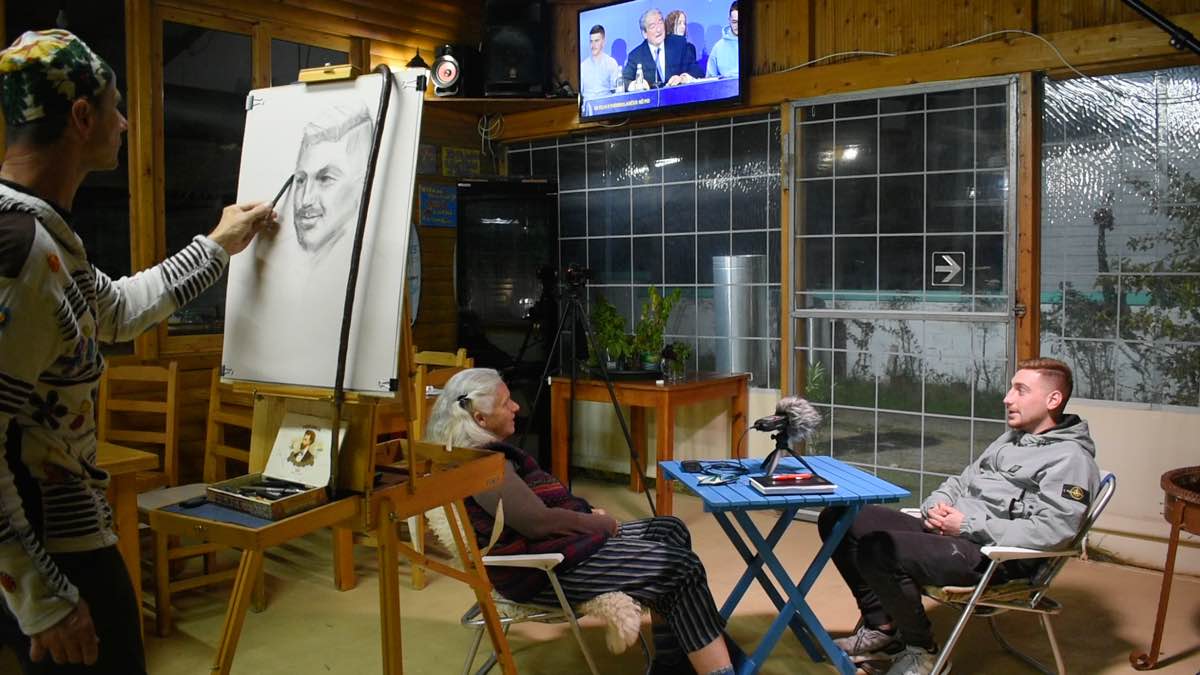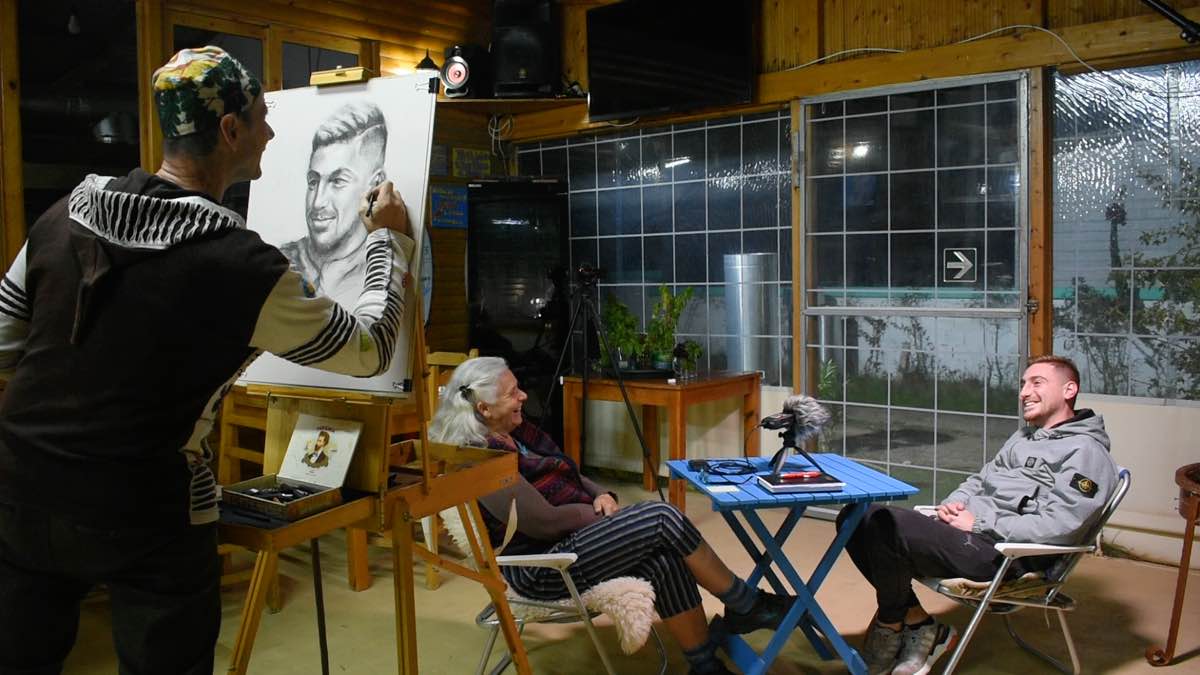 The 7 spectators who attended were also an enrichment for the conversation with Petros. It was quiet and everyone listened spellbound to what Petros shared with us.
As a Greek, he came to Livadhi at the age of 15 during the great Greek financial crisis, where his great-grandfather had a piece of land. Together with his family, they built the bar Nachos. He himself learned the trade of an electrician, which he practises for a few months every winter in Chios, his home island.
In general, the whole area is already very Greek. A large Greek minority sets the tone here. You notice this in the architectural style as well as in the language and the restaurants. We felt quite at home and quickly entered a comfort zone from which only the rain threw us out. It rained often, a lot and sometimes heavily. So heavily that even Big Fredi started to leak. 
During the breaks in the rain, I was allowed to help with the olive harvest for 3 days. It is a drudgery.
The trees only have fruit every second year. Large branches are also cut out and the rest has to be fetched from the tree with the ladder. This requires a lot of skill and is not without danger. I was proud when Petros gave me a bottle of olive oil and a big tub of pickled olives as a thank you. I had done it so gladly and without the expectation of payment. 
A second portrait was also taken in Livadhi. Emily from England, travelling alone, came to us and told us about her life.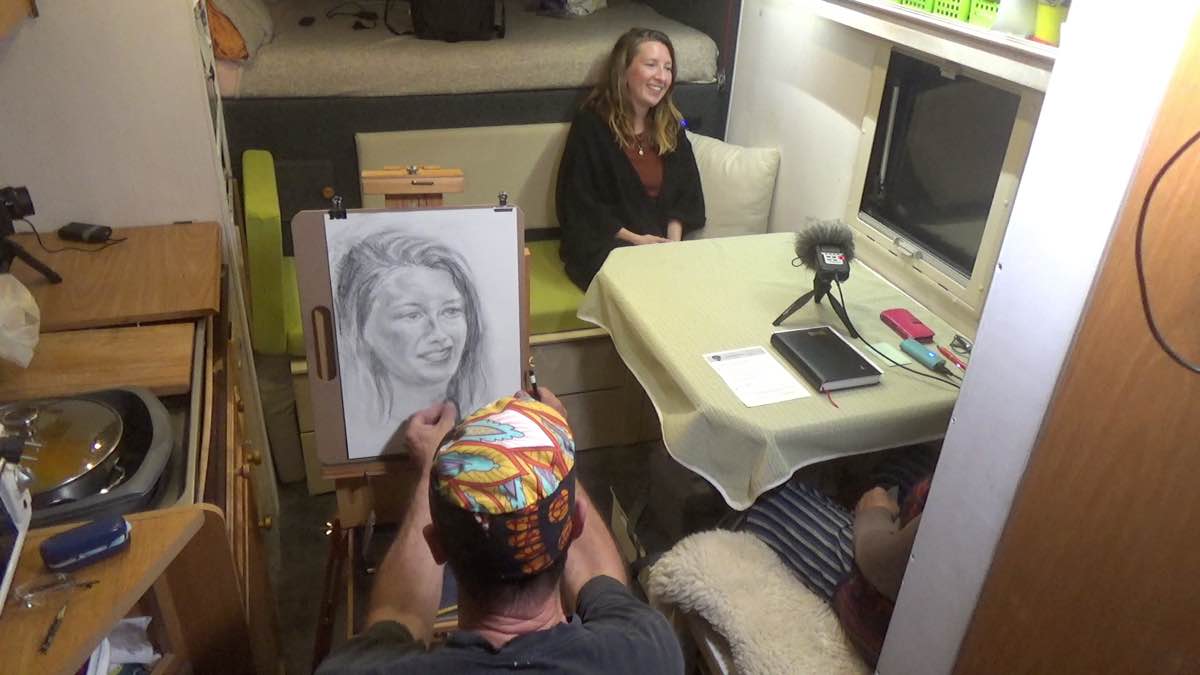 We met three young women travelling alone. It is no longer taboo to travel alone as a woman through the world in a camper van. It is nice to experience how safe it is to travel alone as a woman. The women have courage and are on the right track. I certainly wouldn't have dared to do that at that age. It was a very different time, political and technical conditions. 
Now we are close to the border with Greece, standing for the third night in the pampas without any infrastructure, and it is time to move on. We can look forward to the entry into Greece. Stay tuned, we'll be in touch again.