[:de]Blogeintrag 12. März 2022
 Ja, das haben wir!
Seit 7. Jänner 2022 waren wir schon so etwas wie Hausmeister in der Kykao Brauerei. Schon am 8. Jänner war das erste Porträt gemacht und das letzte wurde am 10. März gefertigt. Damit gab es in diesen 2 Monaten 27 Porträts (19 Griechen, 4 Franzosen und 4 Deutsche). Natürlich müsste ich jetzt gendern, also es waren natürlich Frauen und Männer. Und jede Woche hieß es: "eine Woche bleiben wir noch!"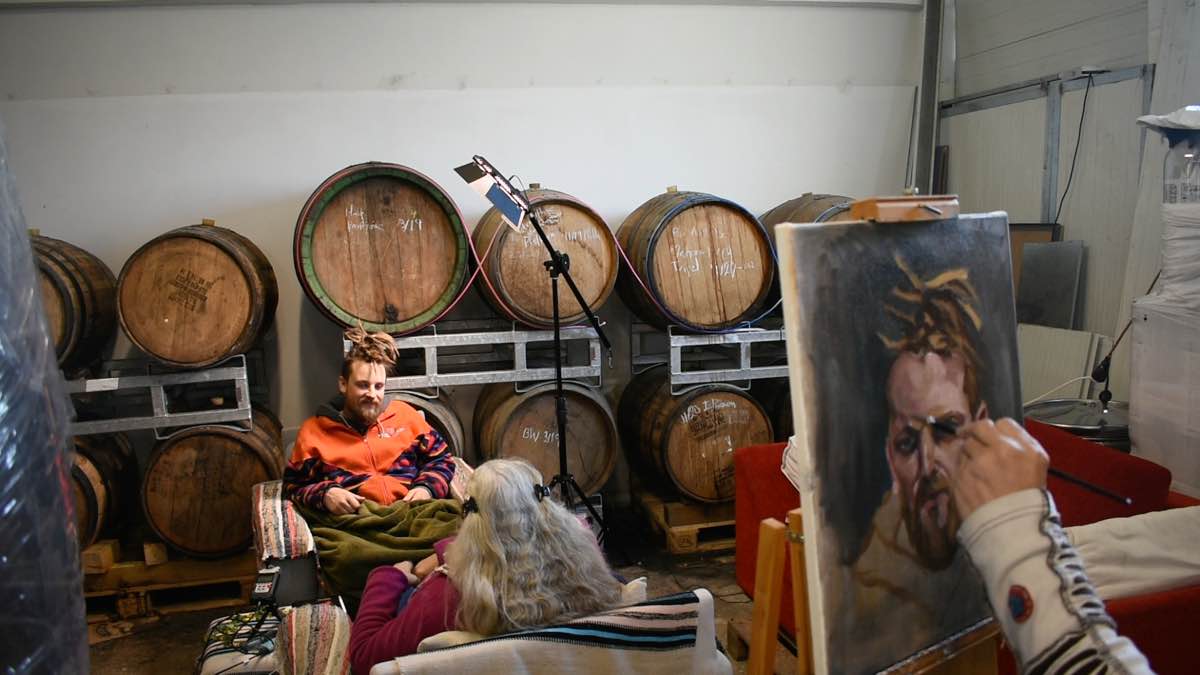 Als wir uns dann verabschiedeten, fragte Kostas, ob irgend etwas vorgefallen wäre, sodass wir weg fahren. So sehr waren alle schon unseren Anblick und unsere dauernde Anwesenheit gewohnt, dass wir irgendwie dazu gehörten. Da wir am 2. Abend auch den Schlüssel bekommen hatten und das Vertrauen der Brauereibesitzer hatten, war unser Abgang dann doch etwas ungewohnt. Traurig waren wir alle. Aber wir versprachen auf dem Retourweg unbedingt wieder zu kommen. 
Und es gab immer wieder neue Freundschaften zu pflegen, bei der Bierproduktion ein bisschen mitzuhelfen und gemeinsam dem strengen und eisigen Winter Paroli zu bieten. Seit 25 Jahren gab es keinen so strengen Winter in Patras wurde uns mehrfach versichert. Warum mussten wir gerade diesen erwischen? Keine Ahnung. 
Was uns aber wirklich zu Herzen ging war der tragische Lawinentod der 3 engen Freunde der Barbesitzer. Vangelis und seine Lebensgefährtin Natasa verfolgten die Nachrichten während der Suche und Bergung der Freunde. Es war schrecklich traurig, hatten wir doch einen der drei noch kurz kennen gelernt. So rasch kann das Leben zu Ende sein. Es waren alle drei Freunde erfahrene Bergsteiger. Sie wurden auf dem Weg zum Eisklettern von einer Lawine in den Abgrund in felsiges Gestein gestürzt. 
Nach den Begräbnisfeierlichkeiten lud Kostas alle Trauergäste in die Brauerei zu Essen und Bier ein. 
Heute ist noch einmal (ohne unser Beisein) eine weitere Feier in der Brauerei zum Abschluss der 40 tägigen Trauerzeit. Dabei werden Filme und Fotos präsentiert, die die gemeinsame Zeit der Freunde prägte. Sie waren allesamt sehr intensiv am Aufbau der Brauerei beteiligt und haben viele Stunden ihrer Freizeit unentgeltlich geholfen. Kostas ist ihnen zu ewigem Dank verpflichtet. Es war ihm sehr wichtig, dieses Fest zu feiern und seinen Dank damit zum Ausdruck zu bringen. 
Auch ansonsten durften wir im Jahreskreis der Griechen an so manchem Fest Teil nehmen. Es war ja Fasching und am Donnerstag, dem Rauchdonnerstag gibt es überall gegrilltes Fleisch. So auch in der Brauerei. Und es ist alles immer gratis. Zu mindest das Essen. Die Kinder verkleiden sich und zum Glück war es warm genug um im Freien zu feiern.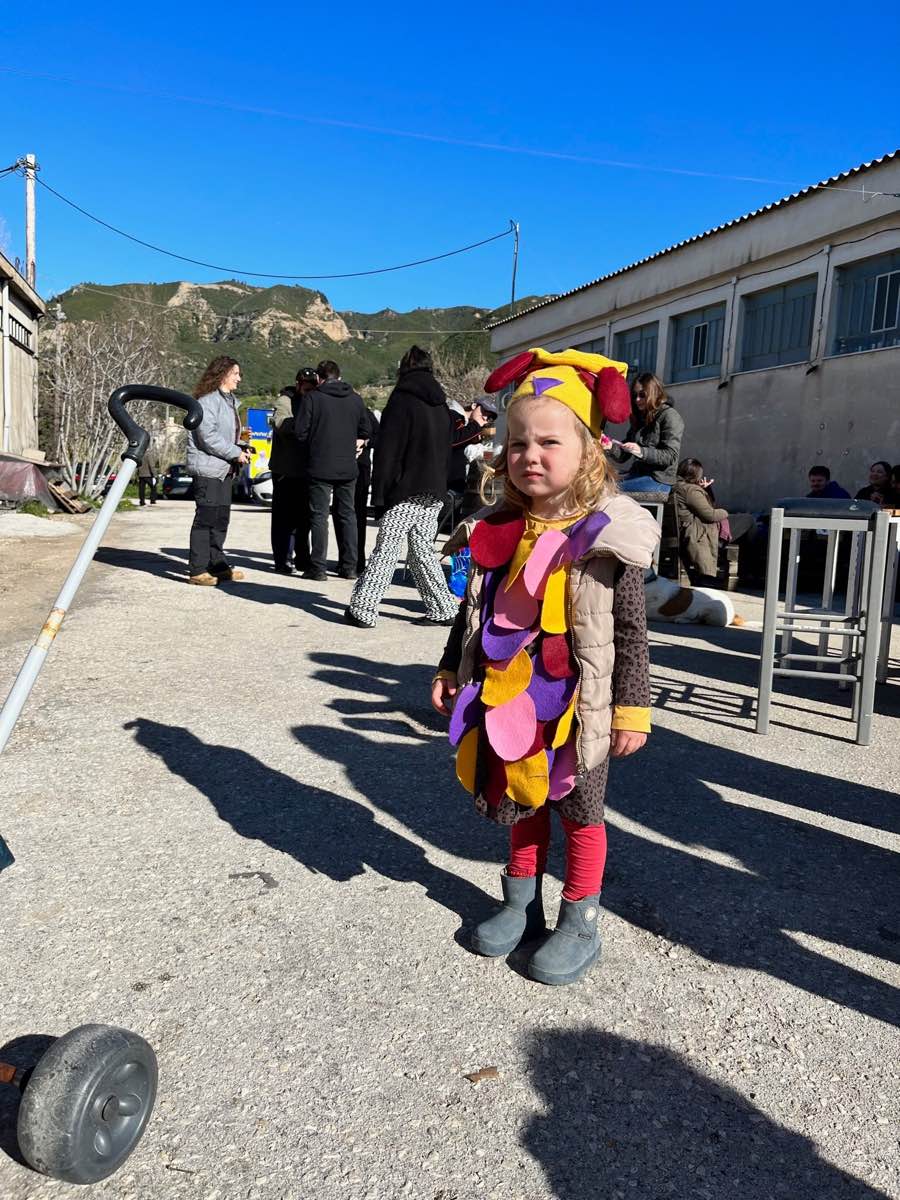 Dimitri bot uns an, uns nach Patras mit zu nehmen, damit wir auch einmal in der großen Stadt sehen, was los ist. Ein "alternatives" Kaffeehaus mit gutem Blick auf die Stadt wurde uns gezeigt. Daneben gab es eine Künstlerinitiative, die gerade an den Verkleidungen für den Fasching an großen Vögeln arbeitete. Leider wurde aus dem Termin mit einem der Künstler für ein Porträt nichts.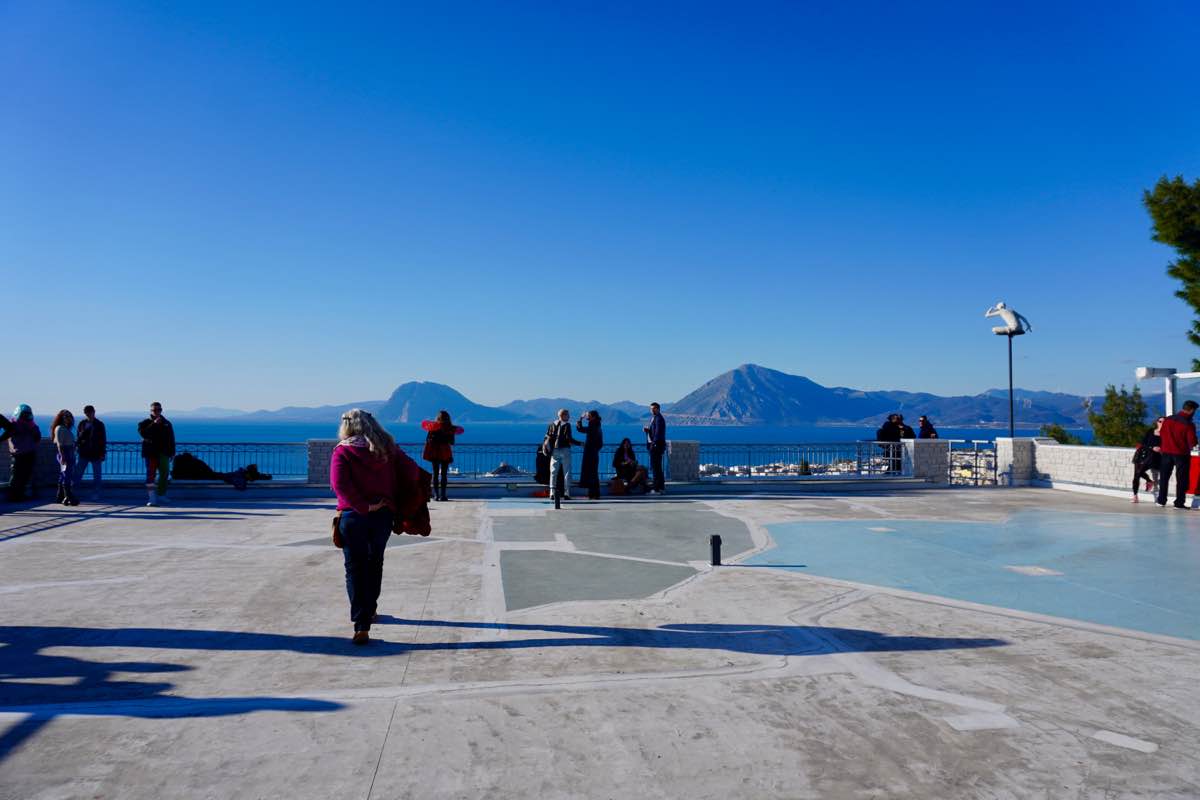 Laura, eine österreichische Künstlerin, die wir auch in der Brauerei kennen gelernt hatten, brachte uns wieder nach Hause. 
Eine Woche später wurde ein weiteres Familienfest am "Putzmontag" gefeiert. Drachen steigen, Kinder und Essen und Tanzen und Spielen. Die Griechen wissen, wie man feiert!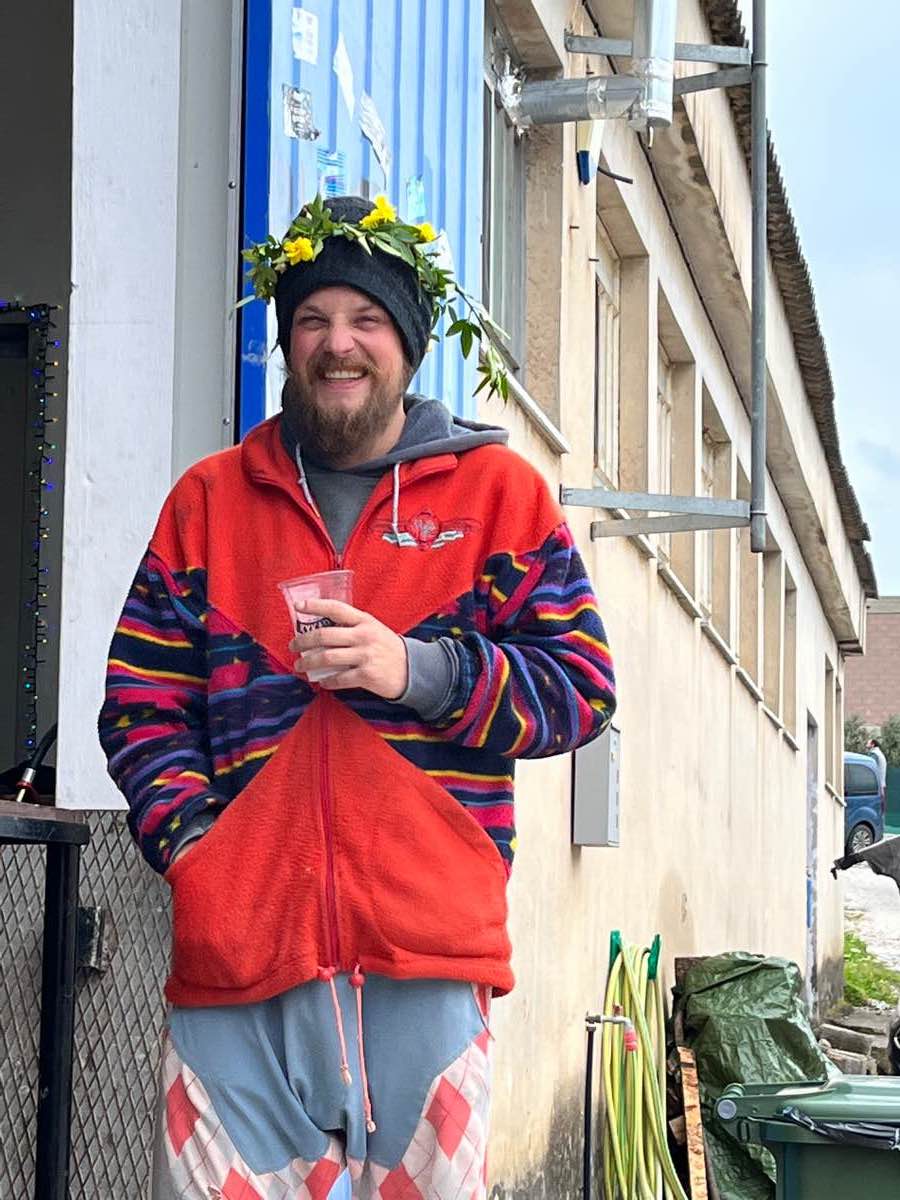 So viele Reisende aus vielen Ländern lernten wir kennen. Manche blieben nur kurz, andere, die schon länger auf Reise waren, verweilten doch einige Zeit mit uns: Frankreich, Schweiz, Deutschland, Polen, Niederlande, Tschechien waren dabei vertreten. Am Meisten natürlich wir immer war Deutschland vertreten. Gefühlt zu mindest. Na ja, Maxi und Stefan und Bene und Ella waren ja auch am längsten mit uns zusammen. 
Gestern, nachdem wir uns endlich schweren Herzens losgerissen hatten, wollten wir noch einmal so richtig Essen bunkern. Als wir zum Auto kamen,
Entsetzen und Sprachlosigkeit. Es wurde ins Auto eingebrochen. Vorerst sah es so aus, als wäre der Laptop und sämtliche Wechselfestplatten mit allen Speicherungen weg.
Dann fand Wilfried alles unversehrt am Fahrersitz. Da wo der Einbrecher eingestiegen war muss er wohl fluchtartig wieder ausgestiegen sein als wir kamen. Welch eine Erleichterung. Wie konnten wir nur so unvorsichtig werden? Immer geht nur einer von uns einkaufen. Die Tatsache, dass wir bei der Brauerei so sicher standen, nicht einmal in der Nacht die Türen verschließen mussten, hat uns wohl ein bisschen zu sicher gemacht. 
Also in Zukunft heißt es wieder: nur einer verlässt das Auto zum Einkaufen. 
Und wenn wir beide das Auto verlassen, wird der ganze Kram an Wertgegenständen mit geschleppt. Punkt. So muss es sein. Die ganze Arbeit von Monaten wäre umsonst gewesen. Unsere Erleichterung, als Wilfried die Laptoptasche mit dem unversehrten Inhalt fand war riesengroß. 
Große Sorgen macht uns das Kriegsgeschehen in der Ukraine. Es ist die gefährlichste Situation in meinem Leben seit Tschernobyl und Corona, in der wir uns momentan befinden. Was hat das für unser Leben, für unser Projekt und für die ganze Welt zu bedeuten?
Beten wir gemeinsam für den Frieden!
So nahe an einem 3. Weltkrieg habe ich mich noch nie gefühlt und ich nehme an es geht vielen Menschen so. [:en]Blog entry 12 March 2022
 Yes, we do!
Since 7 January 2022 we have been something like caretakers at Kykao Brewery. Already on 8 January the first portrait was made and the last one was done on 10 March. So in these 2 months there were 27 portraits (19 Greek, 4 French and 4 German). Of course, I would have to gender it now, so of course there were women and men. And every week we told to ourselves: "We're staying one more week!"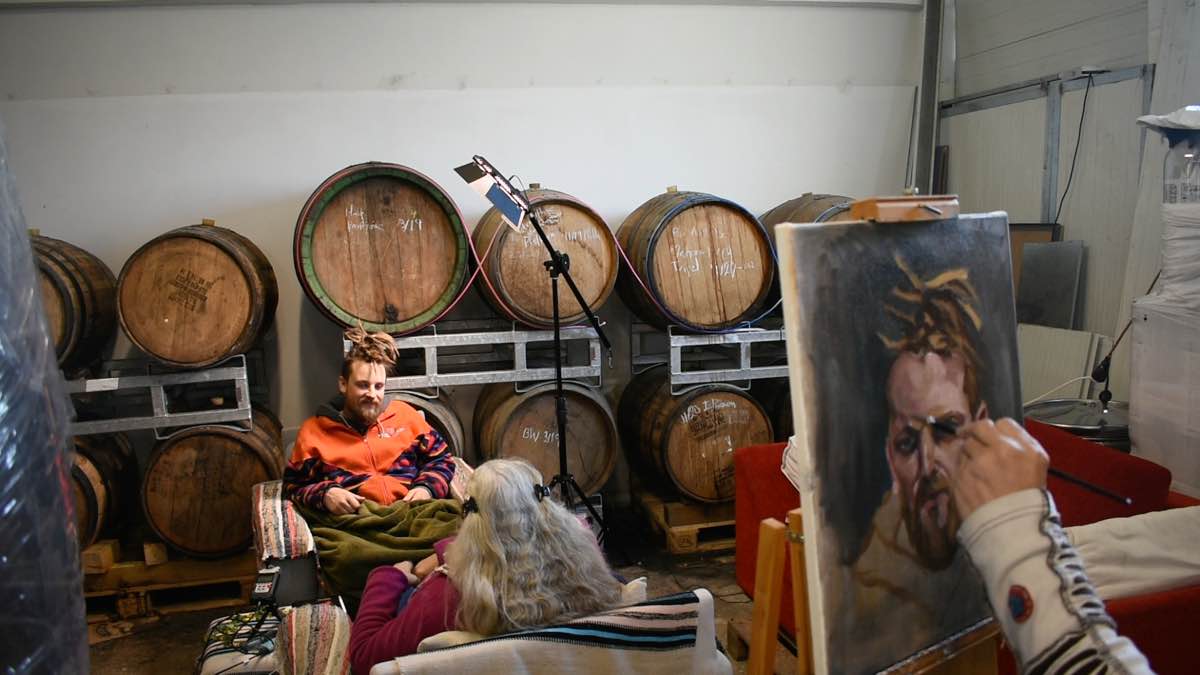 When we said goodbye, Kostas asked if anything had happened to make us leave. Everyone was so used to the sight of us and our constant presence that we somehow belonged to the brewery  scenery. Since we had also been given the keys on the second evening and had the trust of the brewery owners, our departure was somewhat unusual. We were all sad. But we promised to come back on the way back. 
And there were always new friendships to cultivate, a little help with the beer production and to stand up to the harsh and icy winter together. We were repeatedly assured that there hadn't been such a harsh winter in Patras for 25 years. Why did we have to catch this one in particular? No idea. 
But what really got to our hearts was the tragic avalanche death of the 3 close friends of the bar owners. Vangelis and his partner Natasa followed the news during the search and rescue of the friends. It was terribly sad, as we had known one of the three for a short time. Life can end so quickly. All three friends were experienced mountaineers. On their way to go ice climbing, they were plunged into rocky precipices by an avalanche. 
After the funeral services, Kostas invited all the mourners to the brewery for food and beer.
Today there is another celebration (without our presence) at the brewery to mark the end of the 40-day mourning period. Films and photos will be presented, which marked the time the friends spent together. They were all very intensively involved in the construction of the brewery and helped many hours of their free time without payment. Kostas is forever indebted to them. It was very important to him to celebrate this festival and express his gratitude. 
We were also able to take part in many other festivities during the Greek year. It was carnival and on Smoke Thursday, there is grilled meat everywhere. That's also the case at the brewery. And everything is always free. At least the food. The kids dress up and luckily it was warm enough to celebrate outside.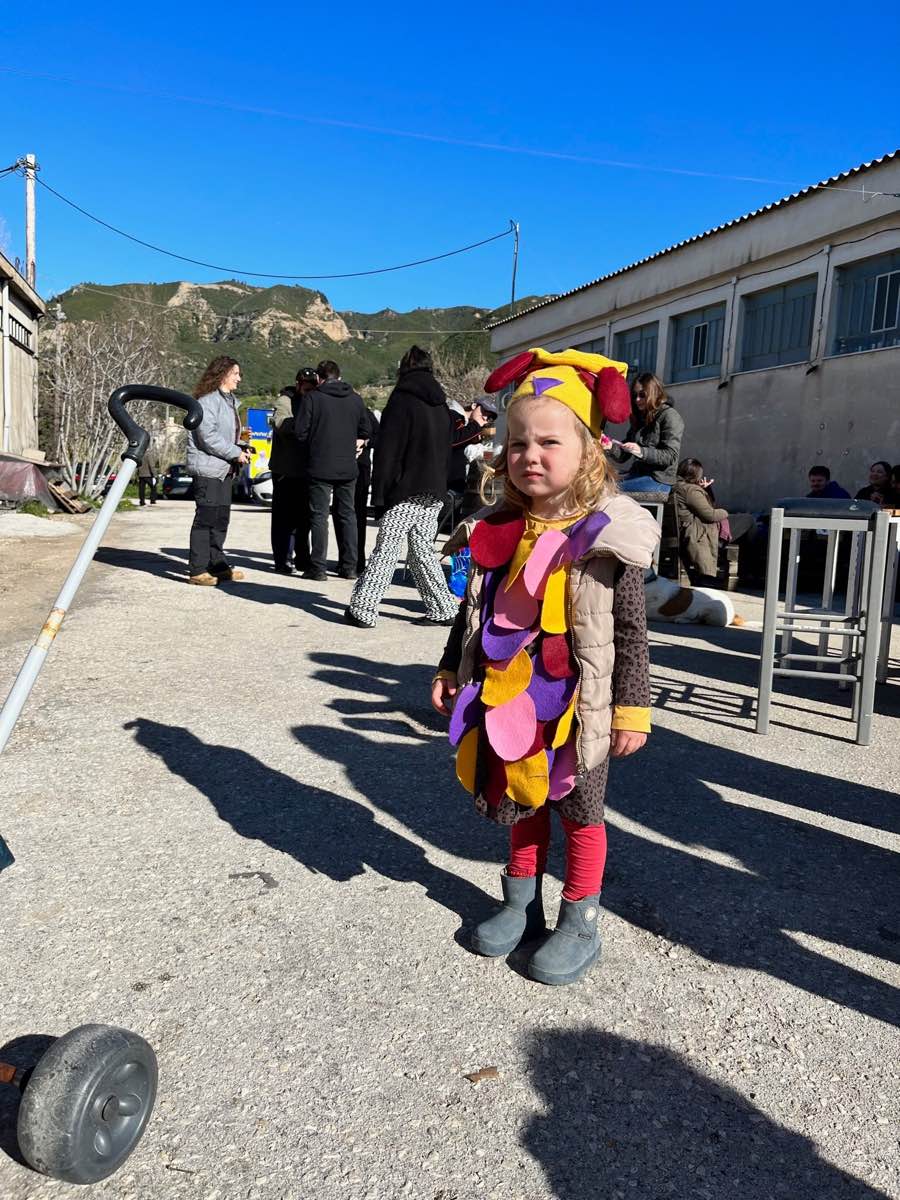 Dimitri offered to take us to Patras so we could see what's going on in the big city. We were shown an "alternative" coffee house with a good view of the city. Next to it, there was an artists' initiative that was working on the disguises for the carnival on big birds. Unfortunately, the appointment with one of the artists for a portrait did not materialise.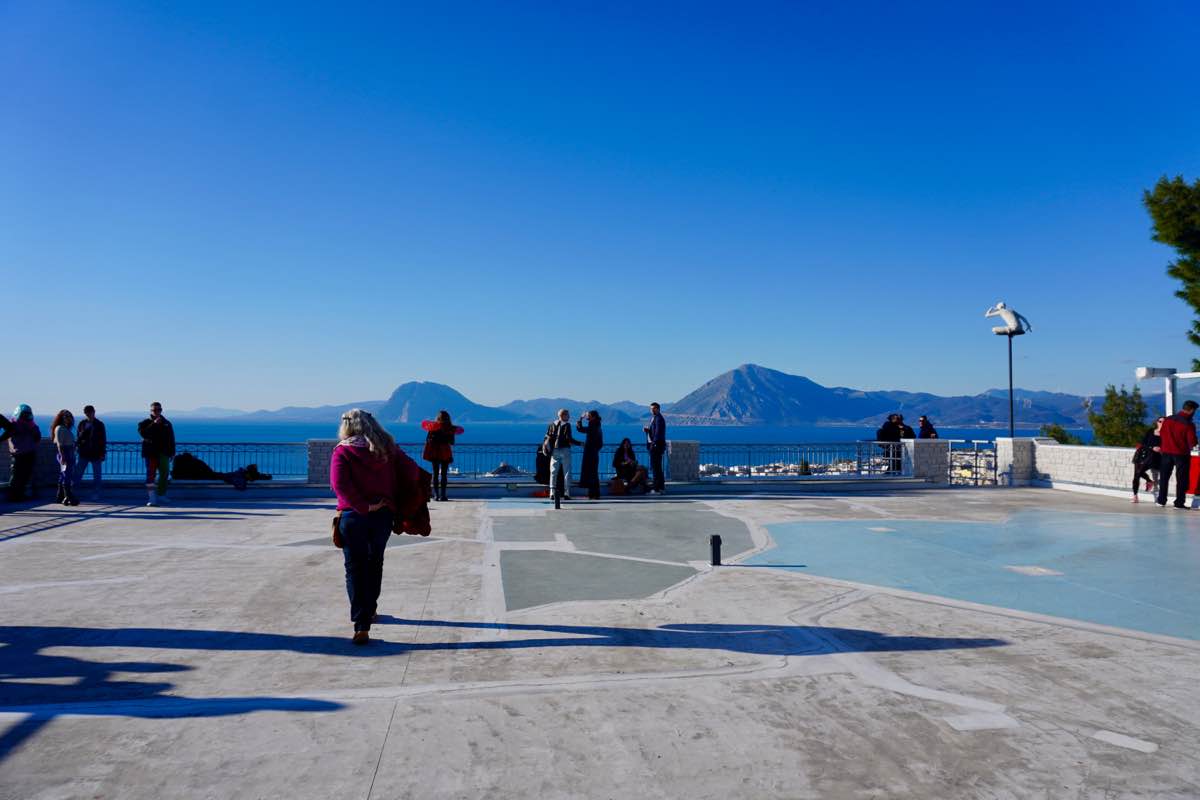 Laura, an Austrian artist whom we had also met in the brewery, took us home again. 
Another family feast on "Cleaning Monday" was celebrated one week later. Lyres and kids and food and dancing and playing. Greek people know how to celebrate!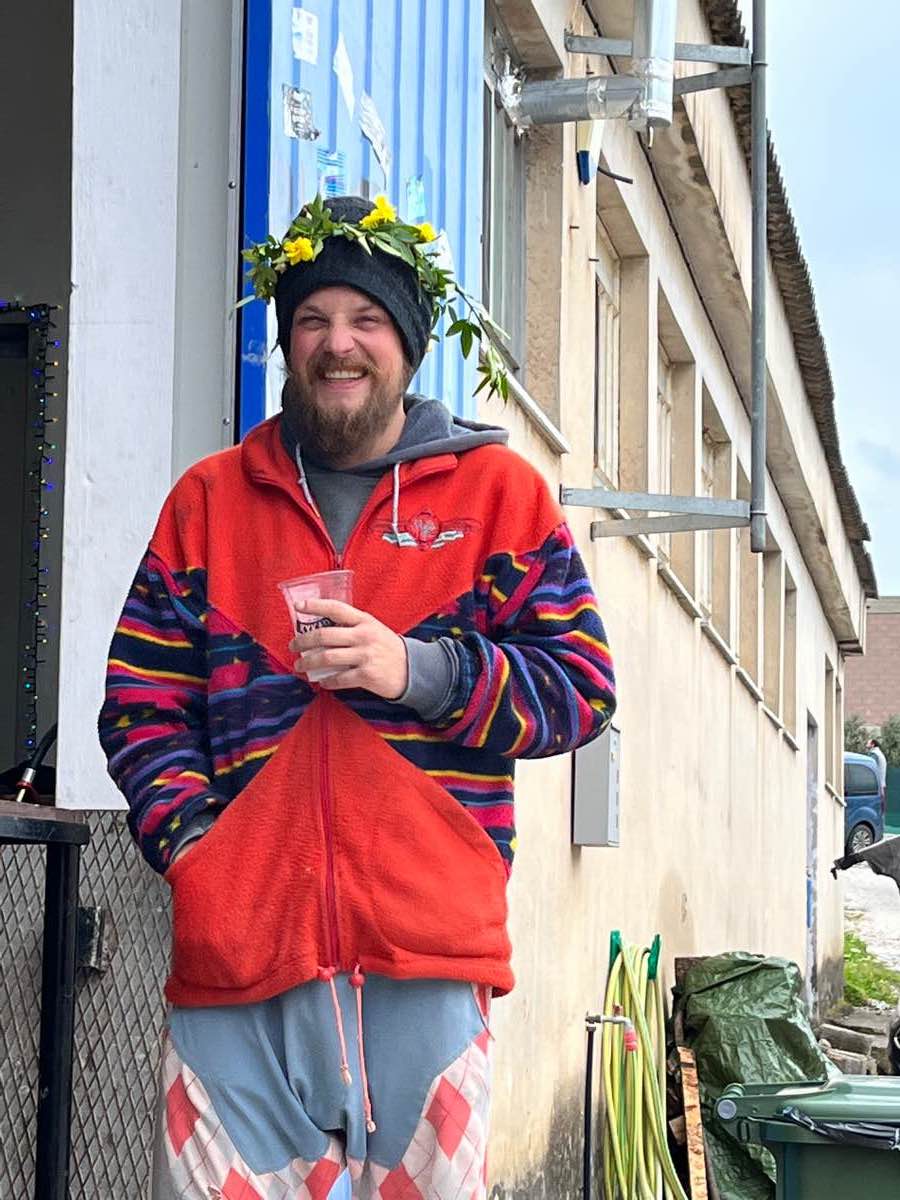 We met so many travellers from many countries. Some stayed only for a short time, others who had been travelling for a longer time stayed with us for some time: France, Switzerland, Germany, Poland, the Netherlands, the Czech Republic were represented. Of course, Germany was represented the most. At least that's what it felt like. Well, Maxi and Stefan and Bene and Ella were together with us the longest. 
Yesterday, after we had finally torn ourselves away with a heavy heart, we wanted to stock up on food. When we got to the car, we were horrified and speechless. The car had been broken into. At first it looked like the laptop and all the removable hard drives with all the memories were gone. Then Wilfried found everything intact in the driver's seat. The burglar must have got out of the car as soon as we arrived. What a relief. How could we have been so careless? Only one of us ever goes shopping. The fact that we were standing so safely at the brewery, not even having to lock the doors at night, probably made us a bit too safe.
So in future it's back to only one leaving the car to shop. 
And when we both leave the car, all the stuff of value gets dragged along. Full stop. That's the way it has to be. All the work of months would have been in vain. Our relief when Wilfried found the laptop bag with its contents intact was enormous. 
We are very concerned about the war in Ukraine. It is the most dangerous situation we are in at the moment since Chernobyl and Corona. What does this mean for our lives, for our project and for the whole world?
Let us pray together for peace!
I have never felt so close to a third world war and I assume many people feel the same.[:]