Blog entry 18 March 2022
The shock after breaking into our Big Fredi was still sitting in our bones.
We looked for a place by the sea that seemed safe but was still not far enough away from Patras so that we could enjoy a really relaxing night.
Looking at it the next morning, the place had been OK anyway. When you arrive at a sleeping place in the dark, it is sometimes difficult to assess how safe you are there. I was able to convince myself of the harmlessness of the surroundings during a walk in daylight and afterwards Wilfried strode off to take a few steps as well.  
The travel day was long and exhausting, but the landscape became more and more varied and untouched mountain scenery finally led us to the Methana peninsula. Fierce and icy winds whipped our faces in Methana,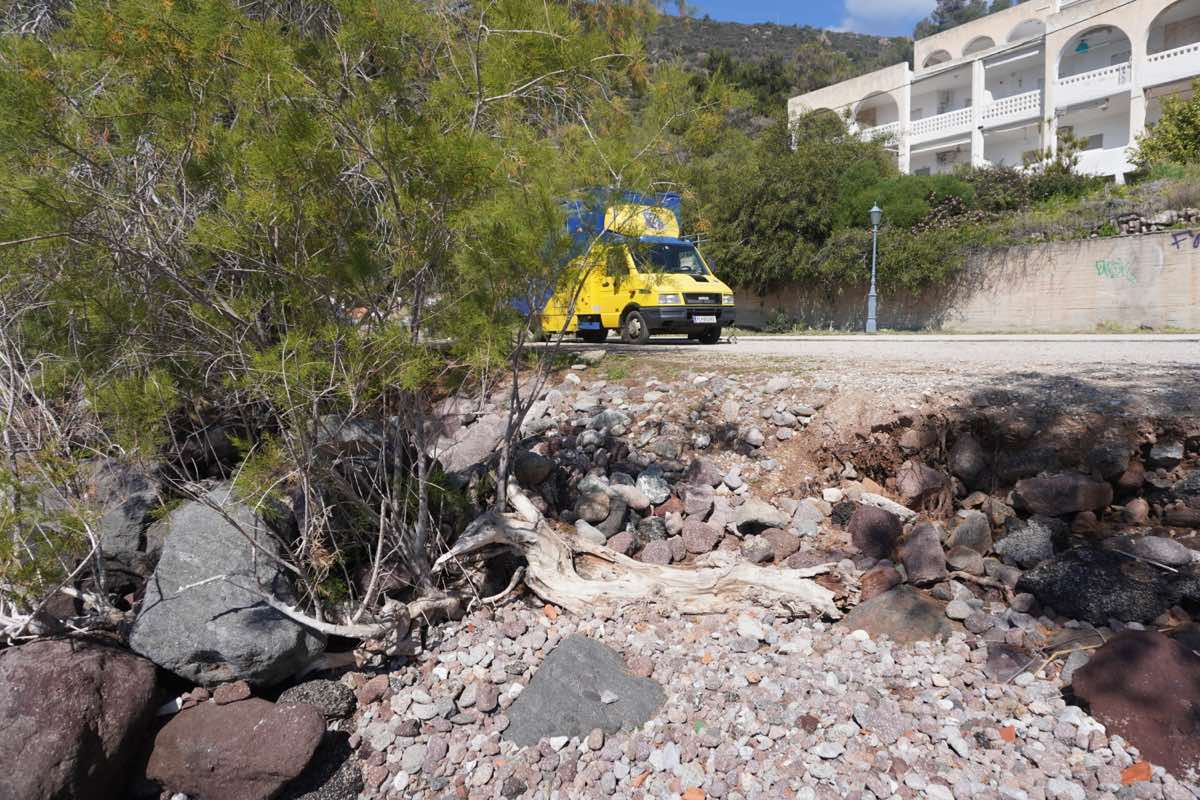 the place of the same name with a decaying and closed spa house. The strong smell of sulphur could be smelled from afar. At the end of the town, we found a spot directly on the beach that was super sheltered from the wind. A bay about 500 metres further from town at a closed night bar almost invited us to swim. But the wind was still icy. So it remained with a few taster excursions, because our actual destination on Methana was the bath of Pausanias. A tiled bathing pool for a maximum of 2 people, filled with body-warm thermal water at the push of a button. Free of charge, of course, and freely accessible. Everyone had raved about it. Of course we couldn't miss it.
The sun was already warming up a bit, and we stayed 2 nights again. 
Well-fed cats wanted to be fed. Only after a few filled milk bowls they comfortably layed down next to the car for a digestive sleep.
But we wanted to move on. Wilfried suddenly didn't like Nafplio any more. He just wanted to get away to the south. Our next stop was supposed to be in Kiveri. There we were to send greetings from Martin. Martin, a German-Greek with international stays and networks, whom we had met and portrayed in Spain, asked us to send wishes to his childhood friends.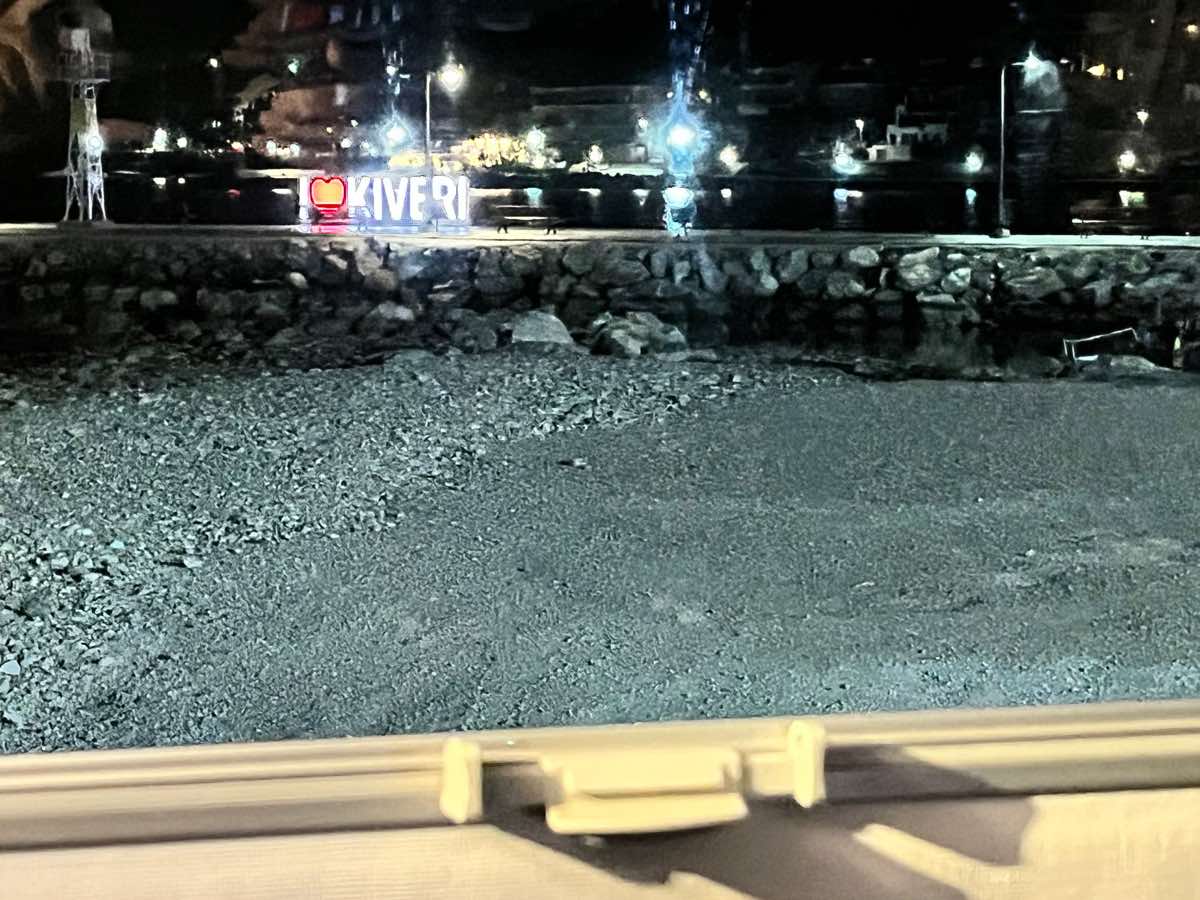 We didn't succeed because everything is still empty outside the season, but at least we met Katerina, who promised to forward the wishes to us. She knew the family and even Martin and would be very happy if we came again. Phone numbers and social contacts were quickly exchanged. A few locals had to wait in their cars until we were ready. "Oh, we are in a village," Katerina explained to us, "there is time!"
This slow pace works to our advantage. We are also travelling timelessly. Only I am still annoying with my questions about how our itinerary should go on. If we keep up this pace, we'll still be here in summer. Would that be so bad? Well, we don't even want to talk about summer. We were actually hoping for a nice spring or early summer for once. Instead, it's already getting colder again. 
Now we've landed at Rudolf's. A friend of a friend of my sister. We wanted to visit him last year, but Corona kept us away from Greece.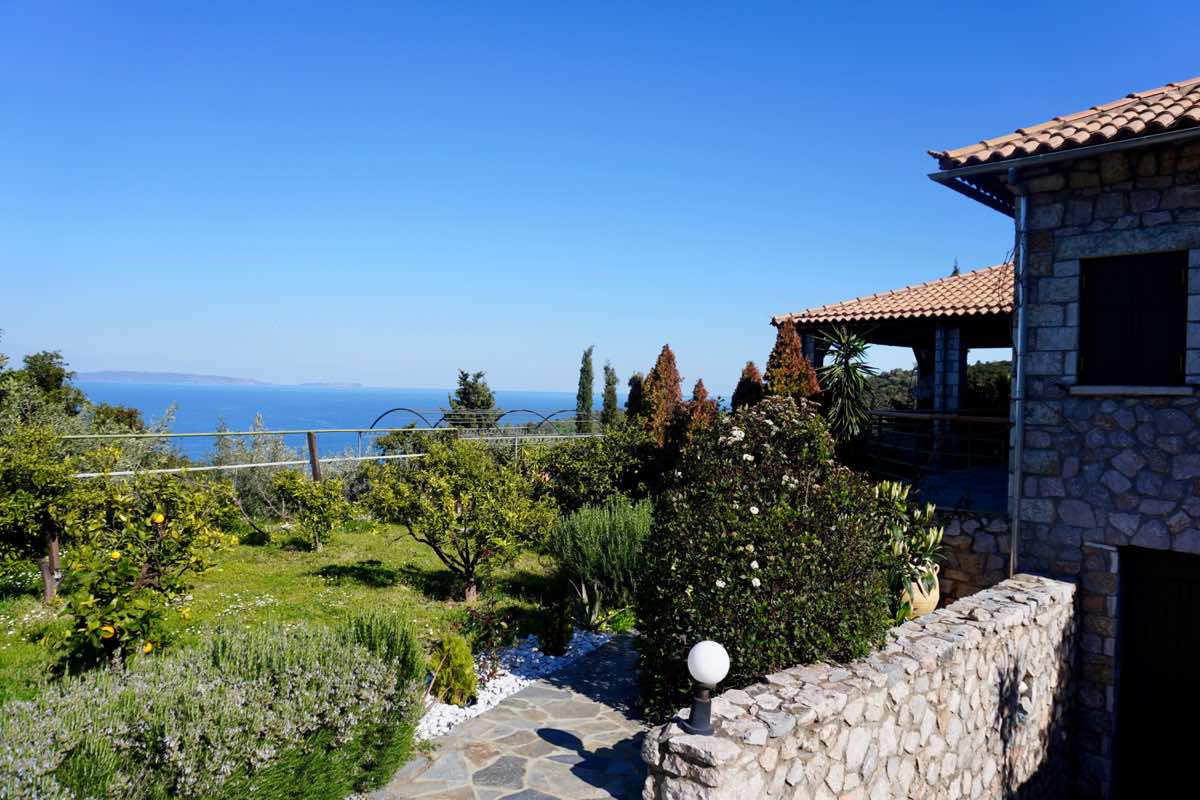 A short stop is not going to happen here either. There is too much to discover and through Rudolf we can learn even more about the Greek soul.