[:de]Sonntag, 22. Juli 2018
Leises Rascheln der Blätter
und die verschiedenen Rufe der Vögel sind das einzige vernehmbare Geräusch.
Seit gestern früh stehen wir nun allein auf dem schattigen Platz für Wohnmobile der "Bill Fen Marina" knapp außerhalb von Ramsey.
Aus einem 7 ha großen Kartoffelacker haben die Besitzer John und Lynn im Jahr 1991 begonnen einen Durchstich vom Kanal zu graben und einen Hafen für Hausboote anzulegen. Ein kleiner Damm trennt unseren Stellplatz von den Hausbooten, auf denen einige Menschen permanent wohnen.
Eine paradiesische Landschaft, nach und nach bepflanzt, ein Wäldchen, eine Brücke, Wiesen und Wanderwege. Alles sieht so aus, als ob es immer schon hier gewesen wäre. Ein typischer englischer Garten, der sich prächtig entwickelt. Hier fügen sich gepflegte Teile harmonisch in Wildbereiche ein.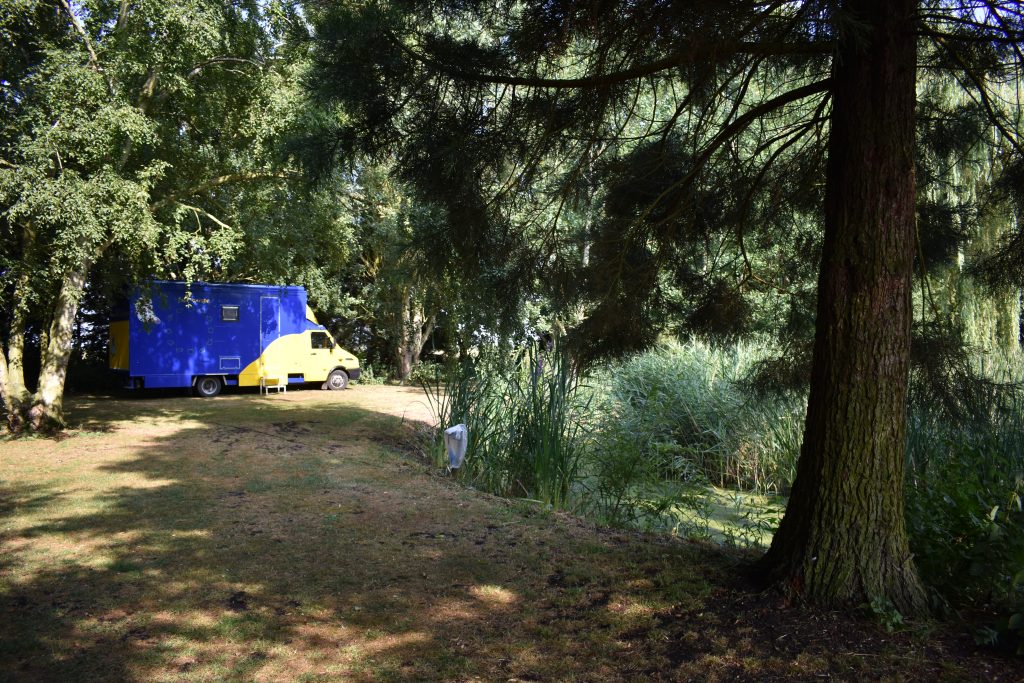 "Manchmal," erzählt uns Lynn "bringen Gäste ihre eigenen Bäumchen mit, pflanzen sie hier und freuen sich jedes Mal, wenn sie wiederkommen, als ob es ihre Kinder wären."
Es ist ein fruchtbarer Moorboden, vorbereitet von den Kartoffeln und liebevoll gepflegt und erweitert von den Besitzern.
Unaufdringlich fahren die Besitzer mit ihren Golfcarts mehrmals am Tag durch das Gelände, um nach dem Rechten zu sehen.
Als wir gestern hier ankamen, machten wir rasch Bekanntschaft mit Chris und Tony, einem entzückenden Paar, das seit 10 Jahren teilweise auf dem Hausboot lebt und vor 2 Jahren ihr Haus verkauft hat um auf ihrem – besser gesagt – ihren beiden Hausbooten zu leben. Es kommt sie billiger als ein Haus instand zu halten.
Chris  nützt eines der beiden Boote als Rückzugs- und Arbeitsboot. Sie fertigt wunderbare "Needlefelt" Kunstwerke, die sie in der Vorweihnachtszeit über Internet verkauft.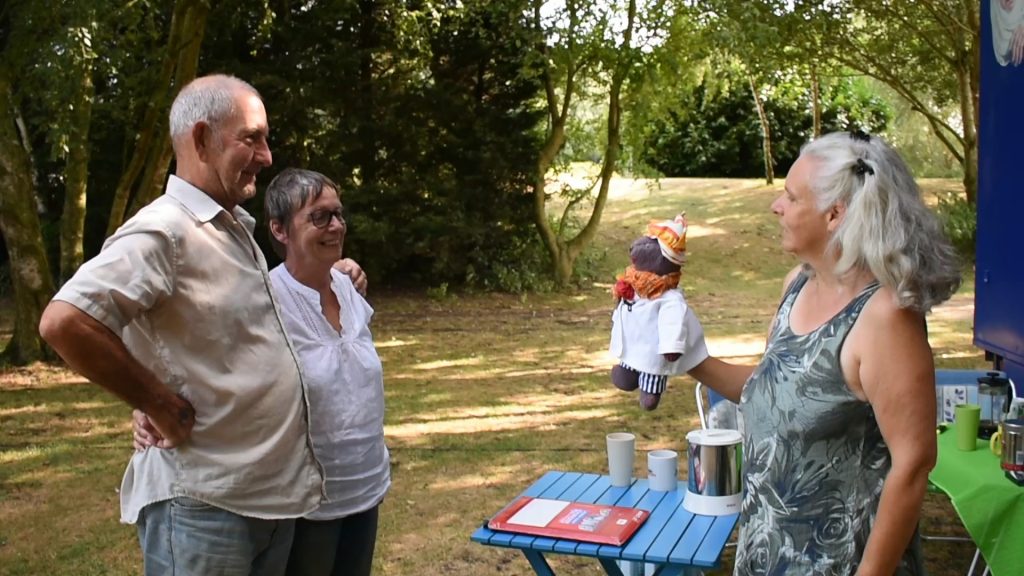 Chris und Tony sind ein wahrlich liebes Paar, das uns gleich herzlich empfangen hat.
Chris wird unser erstes Gesicht im Projekt "Face Europe" sein.
Wir freuen uns riesig darauf.
Donnerstag, 26. Juli 2018
Gestern war es dann endlich so weit: Chris nahm gerne Platz und erzählte aus ihrem Leben während Wilfried an ihrem Porträt arbeitete.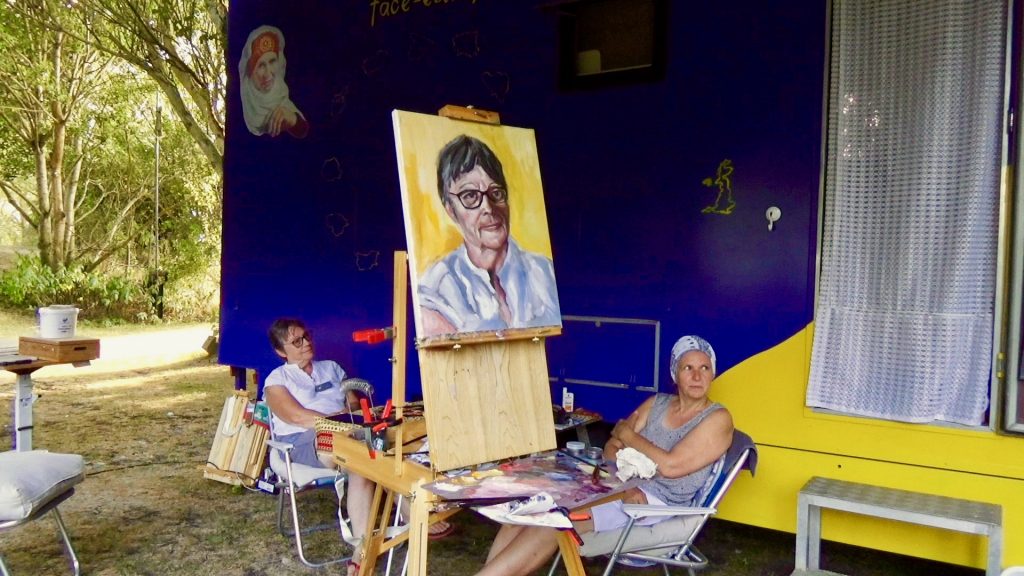 Mark und Lesley, die in der Zwischenzeit Nachbarn auf dem Campingplatz wurden, waren höchst interessiert und Mark – selbst Maler – sehr lernbegierig und voll der Bewunderung.
Es ist hier der heißeste Sommer seit den 60iger Jahren. Bis Mittag ist es meist noch erträglich. Die Nachmittage sind nur im Schatten auszuhalten.
Kleine, mit freiem Auge kaum sichtbare "Thunderflies", botanisch "Thrips" genannt sind lästige Begleiter der englischen Sommerhitze. Sie sind zwar keine Gefahr für die Gesundheit, krabbeln aber überall auf nackter Haut und kitzeln entsetzlich. Es sind so viele, dass es gar keinen Sinn hat, sich ihrer zu entledigen. Sie sind auch mit Vorliebe in den Haaren und machen einem das Leben schwer.[:en]Sonntag, 22. Juli 2018
Soft waving of the leaves
and the various calls of the birds are the only noise.
Since yesterday morning now we are alone in the shaded area for campers of "Bill Fen Marina" just outside Ramsey.
In 1991 John and Lynn have bought a 7-hectare potato field and  dug a puncture from the channel to create a marina for houseboats. A small dam separates our parking lot from the houseboats where some people live permanently.
A heavenly landscape, gradually planted, a forest, a bridge, meadows and hiking trails. Everything looks as if it had always been here. A typical English garden, which is thriving. Here neat parts fit perfectly into wild areas.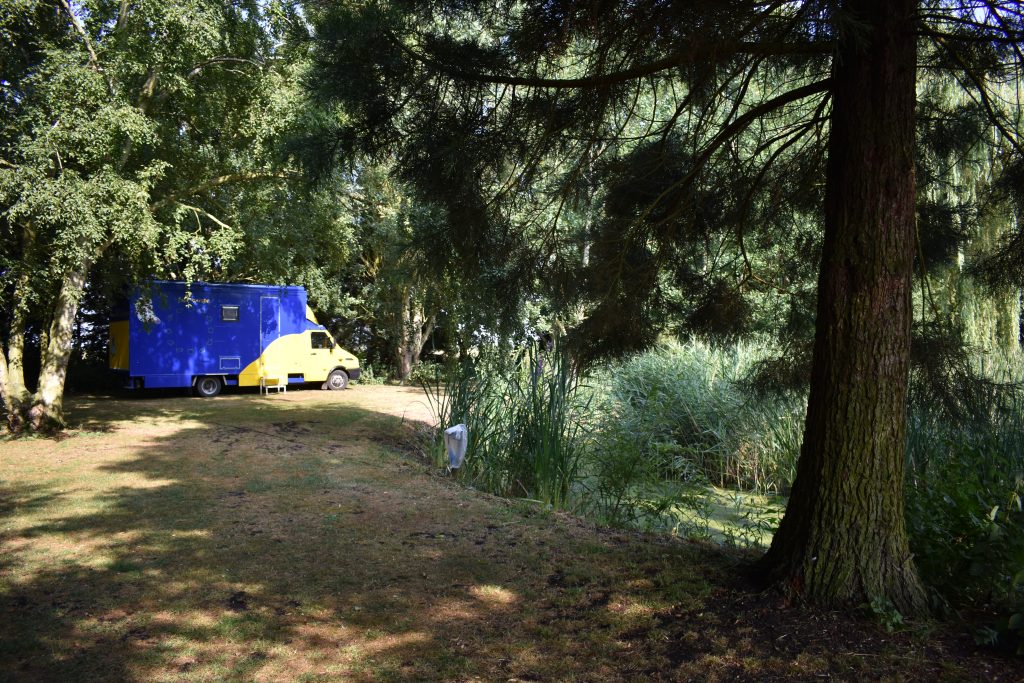 "Sometimes," Lynn tells us " guests bring their own little trees, plant them here and look forward to every time they come back as if they were their children."
It is a fertile moor prepared from potatoes and with love maintained and expanded by the owners.
Unobtrusively the owners drive with their golf carts several times a day through the area to check on things.
When we arrived here yesterday, we were quickly acquainted with Chris and Tony, a delightful couple who partly lived for 10 years in the houseboat. 2 years ago they  sold their house  to live on two houseboats.  They maintain it is is cheaper than keeping a house.
Chris uses one of the two boats as a retreat and workshop. She makes wonderful "needlefelt" artworks that she sells during the festive season over the internet.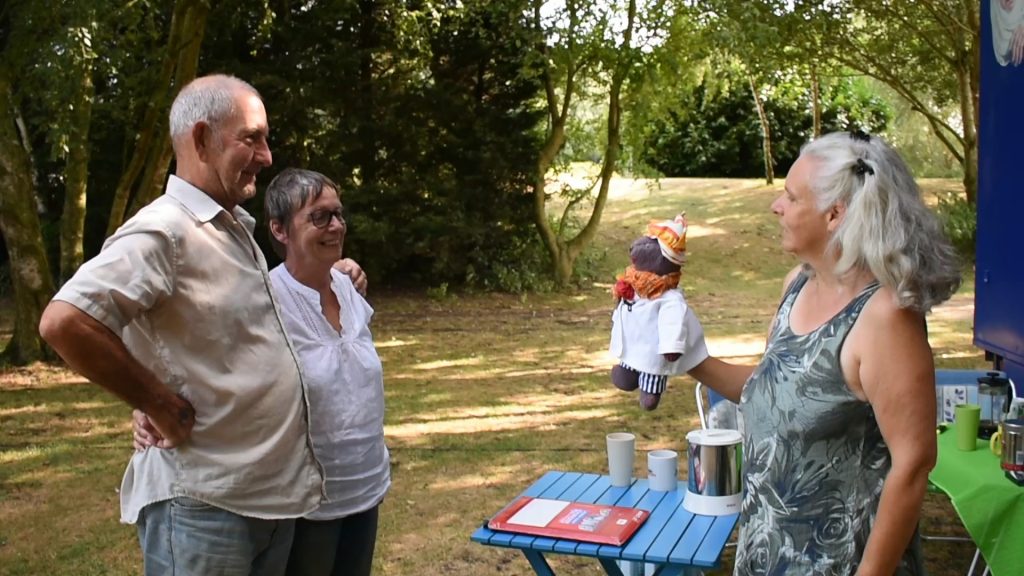 Chris and Tony are truly a dear couple who have welcomed us heartily.
Chris will be our first face in the project "Face Europe".
We are looking forward to it.
Thursday, July 26, 2018
Yesterday finally it was time for Chris to be painted. She took place and told stories of her life while Wilfried worked on her portrait.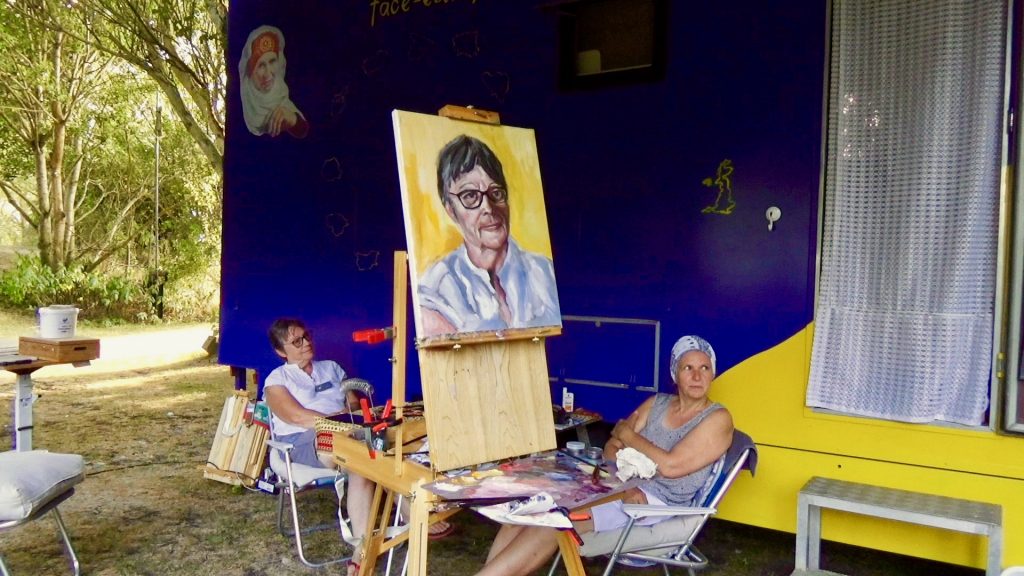 Mark and Lesley who were in the meantime neighbors at the campsite were extremely interested and Mark – a painter himself – very eager to learn and full of admiration.
It's the hottest summer since the 60s here. Up to noon it is usually tolerable. The afternoons are only bearable in the shade.
Small, barely visible to the naked eye "Thunder Flies", botanical called "Thrips" are annoying in the English summer heat. Although they are no threat to health, but crawling around on bare skin and tickle appalling. There are so many that it has no sense to discard them. They  also prefer your hair and make life difficult.[:]