Monday, 16 July 2018
Begins with a nice walk in the park

and ends just before the doors of the Ivecoservice. The roads in Belgium were already bumpy and full of unforeseen potholes, but English motorways beat it all. Then, suddenly, on a motorway construction site, a noise and a characteristic smell of burnt rubber. Fortunately the car could be pulled over to the rest area and then the long wait for the AA service begins. ÖAMTC (the Austrian AA service partner) promised to help and within 45 minutes. However, AA first claimed that they had not found us.
Finally at 19:45 the longed breakdown service arrived.

The man lies down right under the car and raises the engine with the help of two other men (Wilfried and friendly Irish) back into position. A piece of wood shall keep it in place till the Ivecoservice. We spend the night near the gate of the workshop. In the morning Francis, a very friendly service technician investigates and inspects the failure. Four bolts, which fix the engine, must be exchanged which takes 6 hours.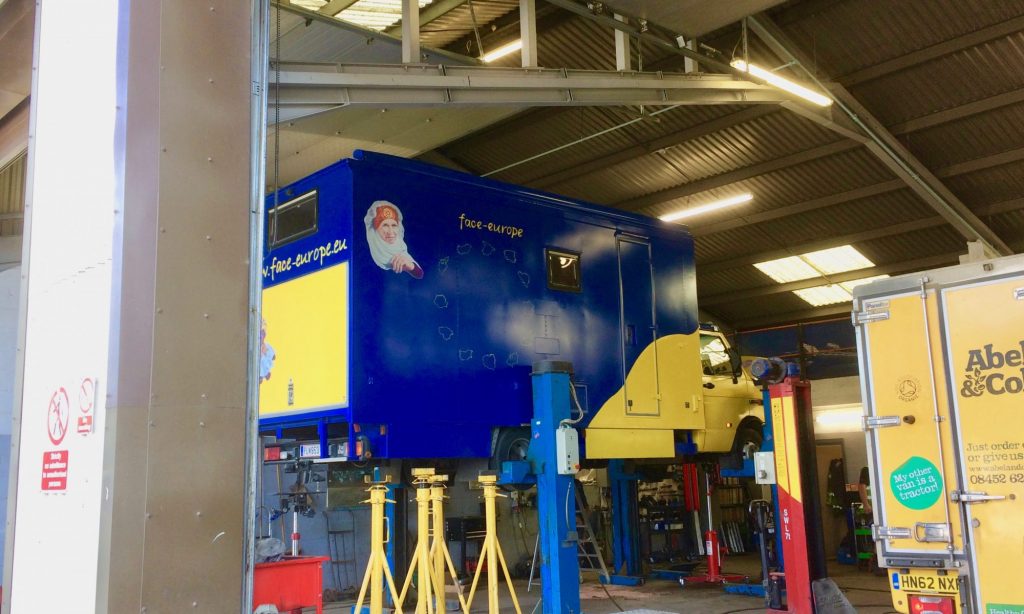 After the repair it turns out that the alternator is also broken. Another night in front of the gates of IVECO – hopefully the technical problems are solved tomorrow.
Wednesday, July 18, 2018
Already in the afternoon the next construction site in front of us: the laptop is finally over with. It is a device, which has been known for years that a system error damages the graphics card.
While we wait for the alternator and the installation, we learn from our nice technician Francis that there is a good dealer for secondhand equipment.
Thursday, July 19, 2018
In good hope we leave the premises, but unfortunately have to find out after the first few meters that Fredi does not spurt (an air hose was forgotten during assembly) and the right outside mirror is broken. So repair the third, again a few hours delay. The mirror was temporarily repaired to proceed, but you can not fold it now. A new mirror is delivered only in 3 days. Until then, we will devote ourselves to the laptop purchase and continue to Huntingdon, where we find a parking place for the night in our "smart book for parking over night". Unfortunately, the parking space is already closed. It is not seen if it was even open during the day. This is an RV dealer who is supposed to rent spaces for the night. We take the closest parking site opposite a few houses that are apparently still under construction and we hope that we not disturb the constructors or deliverers in the morning. On the other side there is a small stream. Few cars are on the road, other than a few dogs and constantly cooing pigeons there is nothing to hear.