[:de]Sonntag, 5. August
Ein wunderbarer, wieder einmal untypischer englischer Sommertag.
Es ist heiß, trocken und wolkenlos.
Wir sitzen am Stadtrand von Sheffield in einem Gastgarten der "Three Merry Lads", einem Pub mit großem Parkplatz, wo wir gegen die Konsumation eines Essens kostenlos Wasser und Strom tanken können.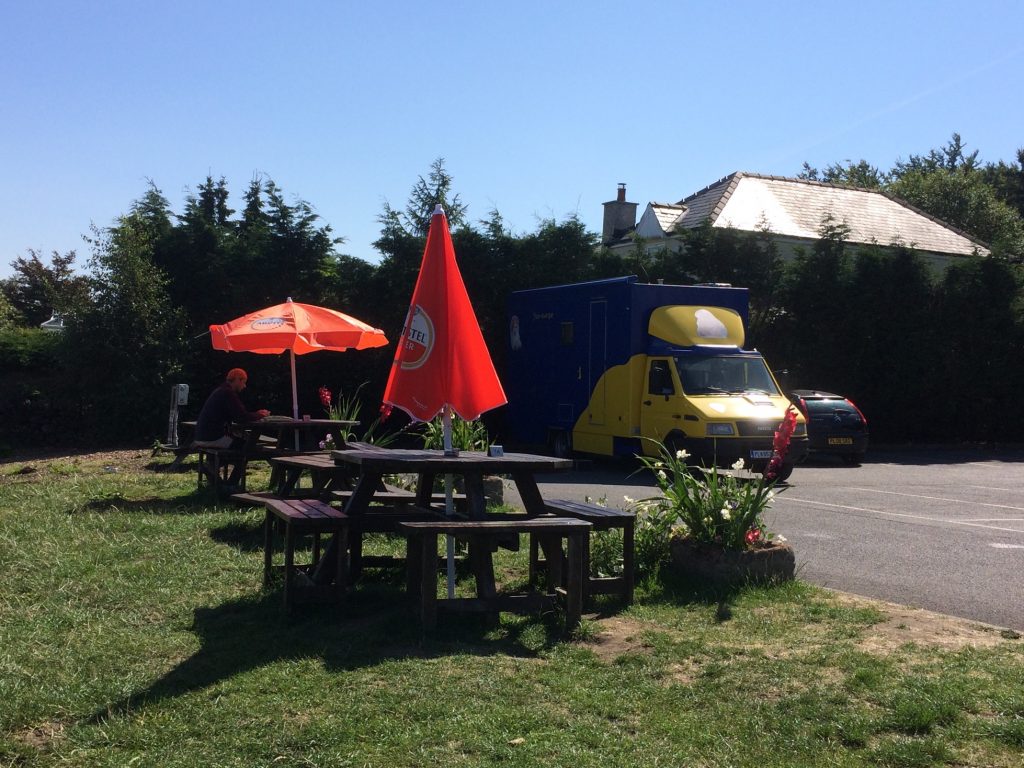 Wir freuen uns, wenn sich die herrlichen Gerüche aus der Küche demnächst in unseren Mägen materialisieren. Das erste englische Gasthausessen konsumieren wir demnächst. Darüber erfährt ihr in unserem nächsten Blog. 
Gestern konnten wir mit Caroline alle Details für das Face Europe Projekt von 25.-27. August als auch die beiden Workshops am 1. und 2. September  in Greenmangallery in Buxton besprechen. 
Jetzt heißt es die Details für die Aussendungen und das Poster an sie zu schicken. Wir vertrauen voll auf Caroline's Professionalität, Empathie und schriftstellerisches Geschick. 
Nach dem obligaten Bunkern von Lebensmitteln in Buxton ging es weiter nordwärts bis Sheffield. 
Ein komischer Parknachbar in seinem Auto ließ uns um Mitternacht den idyllischen Parkplatz verlassen:
Der Mann in seinem Auto verließ dieses stundenlang nicht, und als es dunkel wurde, konnte man sehen, dass er ein schummriges Licht scheinbar von einem Handy oder Laptop hatte. Immer wieder griff er zur Flasche, trank, rauchte eine Zigarette nach der anderen.
Als er dann – offensichtlich begann er zu frieren -seinen Motor anwarf und diesen eine Stunde lang nicht mehr abstellte, ergriffen wir die Flucht. 
Ein paar Kilometer weiter sollte ein weiterer Übernachtungsplatz im Wald an einem See sein. Da es bereits stockfinster war, verfehlten wir die Einfahrt und landeten in einer Sackgasse ohne Wendemöglichkeit. Ein junger Algerier, der sich wichtig machen wollte, stellte sich im Morgengrauen neben uns und behauptete er sei von der Security. Zum Glück hat unser Big Fredi einen Retourgang und wir schoben retour und fanden den Parkplatz, den wir eigentlich um Mitternacht gesucht hatten. 
Frühstück…..Wasser aus.
Daher sind wir nun 3 km weiter bei den "3 lustigen Kerlen" und wenn wir bald etwas zu essen bekommen, gibt es noch weitere Geschichten von unserer Reise… 
England wird immer kleiner:
als wir heute morgen auf den Parkplatz kamen, stand schon ein Wohnmobil da. Der Fahrer, Andrew, wohnt 3 Meilen von Desborough entfernt. Mark wohnt in Desborough. Ihn lernten wir in Ramsey beim ersten Face-Europe Porträt kennen und im September wird er ein Face-Europe Event in seiner Heimatstadt organisieren.  Andrew möchte sich gerne malen lassen. Wir tauschten e-Mail Adressen und sehen, ob er im September Zeit hat, sich in Desborough malen zu lassen. [:en]Sunday, August 5th
Again a
 

wonderful, uncharacteristic English summer day.
It is hot, dry and cloudless.
We sit on the outskirts of Sheffield in the garden of the "Three Merry Lads," a Pub with a large parking lot where we can load up water and electricity in return for a consumption of a meal.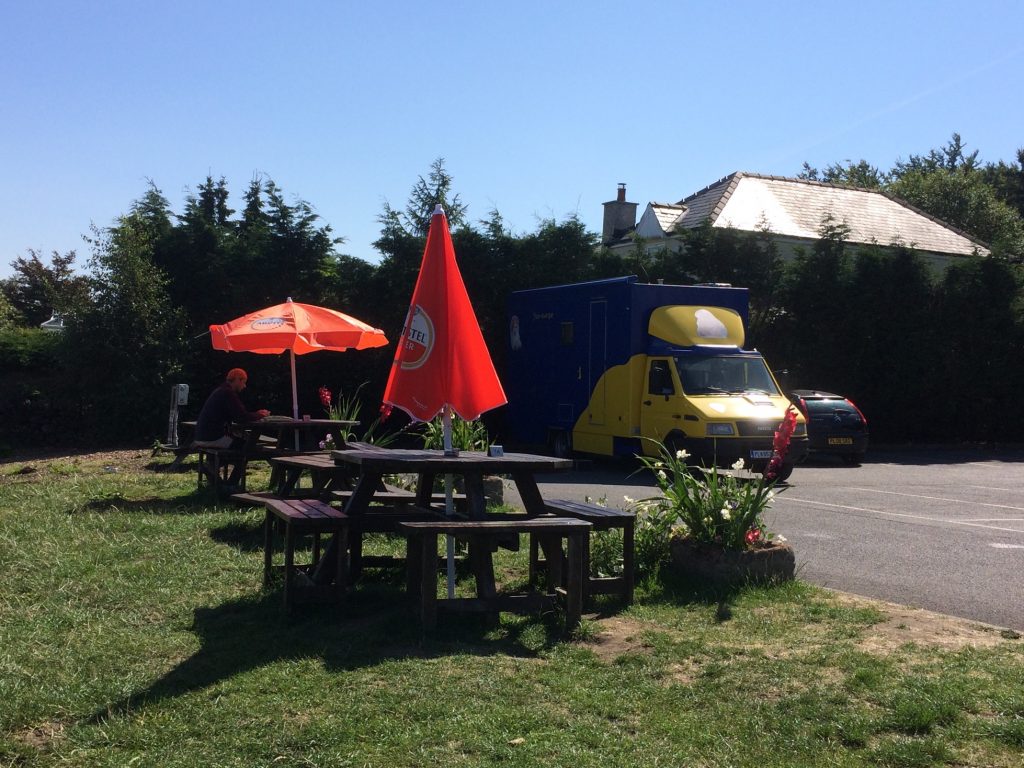 We will be happy when the wonderful smells coming from the kitchen will soon materialise in our stomachs. The first English pub food we will consume soon. Furthermore you will learn in our next blog… 
Yesterday we were finalising all the details for the Face-Europe project being held from 25th-27th August and the two workshops on 1st and 2nd September in Greenmangallery in Buxton.
Now it is our part to send the details of the project and the workshop for the poster and the online advertising Caroline does for us. We fully trust in Caroline's professionalism, empathy and literary skills. 
After the obligatory filling up the food storage in Buxton we continued north to Sheffield.
Because of a strange neighbour in his car next to us we left the idyllic parking place at midnight:
The man in his car never left his car for hours, and when it was dark, you could see that he had a dim light seemingly from a cell phone or laptop. Again and again he reached for a bottle, drinking, smoking one cigarette after the other. 
When he – obviously he began to freeze – started the motor of his car and left it running for an hour, we took flight. 
A few kilometers further, there was supposed to be another place for the night in the forest next to a lake. As it was already pitch dark, we missed the driveway and ended up in a dead end with no possibility to turn back. A young Algerian who wanted to build up himself, at dawn stood next to us and claimed he was from the Security. Fortunately, our Big Fredi has a reverse gear, and we pushed back and found the parking lot, we had actually looked for at midnight. 
Breakfast … no water in the tank any more.
Therefore, we are now 3 km away from the parking place in the woods at the pub "three merry lads" and if we soon get something to eat, there will be more stories of our trip…
England is getting smaller:
when we came into the parking lot of the pub this morning, there was a camper there already. The driver, Andrew, lives 3 miles from Desborough away. Mark lives in Desborough. We met him in Ramsey at the first face-Europe portrait and in September he will organise a face-Europe event in his hometown. Andrew would like to be painted. We exchanged e-mail addresses and see if he has time on September, 18 or 19 to be painted in Desborough. [:]