We are sitting in the Weston Library in Oxford and do the latest updates on the blog to load tose blog entries that have been written some time ago, but could not yet be put online because again the Internet is too slow or not available. 
Now we have a free Internet access in the cool and cold feeling auditorium of the library. 
What we've seen from Oxford, was rather disappointing. The city cannot decide if it puts its emphasis on its historical buildings in the center or wants to be very modern. The modern influences are rather bare and inappropriate. 
Perhaps we are spoiled by Cambridge, this city lives from its overall impression as a historical city. 
but we Nevertheless we were very fond of Old Marston where we may park for 2 days at the Red Lion pub. 
Old Marston, a suburb of Oxford, is half an hour's walk from Oxford centre. Good that we decided to take the "Scenic Way" through the parks, which led us directly to the city in glorious weather. 
Imagine how we have frozen a few days ago. Oxford people appear more relaxed than the people in Cambridge. There, we noticed how serious they met us on the streets. Many hurried pedestrians, runners and cyclists we have seen with their driven and hasty faces. Or maybe they just wanted to run away from the weather. Wind and rain have accompanied us in Cambridge, bright sunshine and "Greece weather" as called by a walker heated the minds of Oxford as well as the thousands of tourists. 
We let ourselves drift with the flow of tourists and students and ended up in the covered market of Oxford. On Greek souvlaki stand we talked to the owner who knows his business well. With charm and commitment, but also with a lot of empathy he listened to our project Face Europe. He would have liked to be a sitting model, but due to a working time of 7 days a week he has no time left. He promised to forward the information about Face Europe to all the stall owners. The market people are under enormous time pressure though. Nevertheless he was happy and in a very good mood which impressed us very much. Too bad that Wilfried could not paint him. 
For this, we found two amiable artists who had an exhibition in the Quakerchurch who are willing to model for Face Europe. We look forward to Monday and Wednesday to paint Michele and Karima. 
If these will are already be the last two models for this time in the UK? 
Who still wants to be be part of face Europe, please contact us as soon as possible!
We are now on the Thames bank in the forest of Cumnor, it is quiet and we are hoping for a quiet night.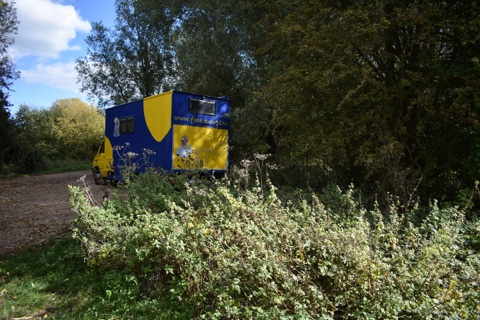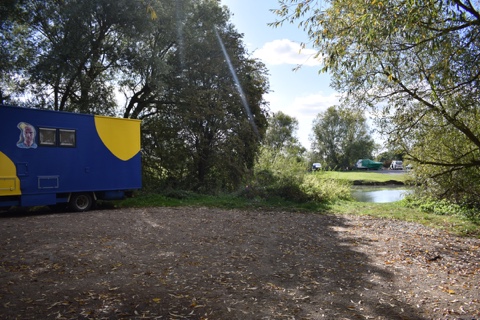 The walk along the Thames to the Farmoor reservoir was very relaxing. The other side of the river is lined with fixed mobile homes, at the river bank in front motorboats witness of not quite poor English people, who spend their free time there, or live there in the first place. We can only guess, because  we cannot cross the river here. The ferry is only by theory and also the ferry house on the other side of the river has probably just got the name.