[:de]Der Platz am Ende der Sackgasse war toll. Kein Laut zu hören. Nur die verschiedenen Vogelstimmen waren zu vernehmen. 
Wilfried fotografierte die morgentliche Nebelstimmung an der Themse und das Bild erinnerte ihn dabei an den Hitchcock Film "Die Vögel".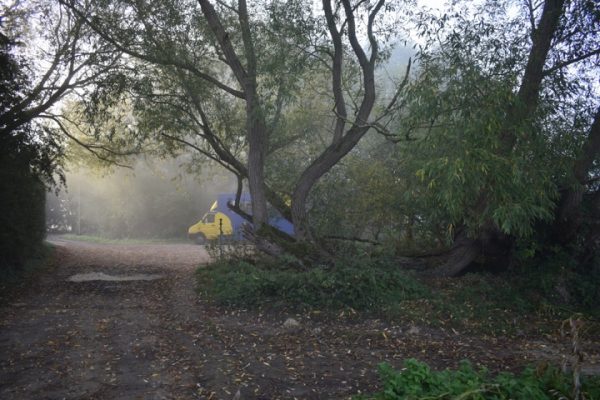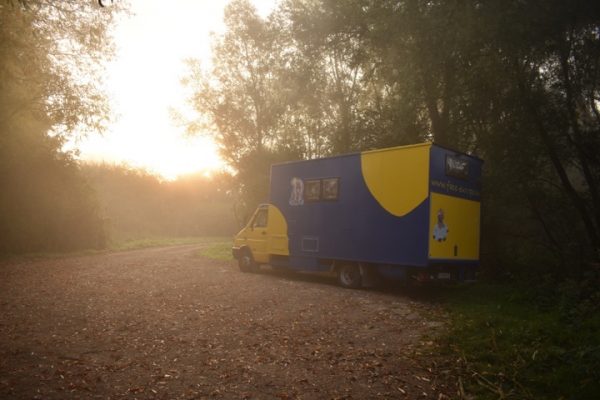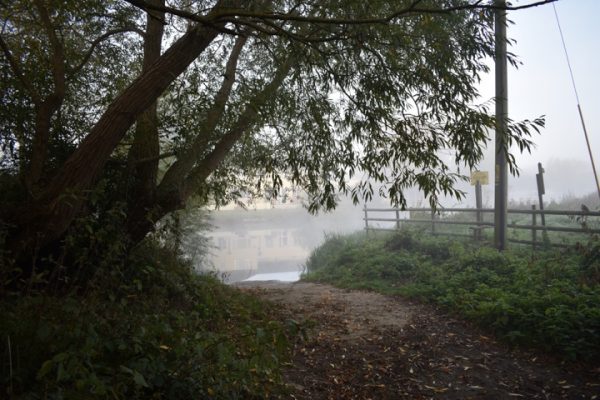 Danach unser Frühstück. 
Und dann plötzlich – wie aus dem Nichts – ein lautes Getrampel und um Big Fredi herum versammelte sich eine komplette Rinderherde. Einige der Kühe gelangten an die Themse, wo sie trinken konnten. Die anderen drängten sich auf engstem Raum dicht aneinander. Die Exkremente schossen auf den Boden und auf das nebenstehende Tier. Es war ein Muhen und ein Sch…., das möchte man nicht außerhalb des Autos inmitten der Herde erleben. 
Also irgendwie ein Safari Erlebnis.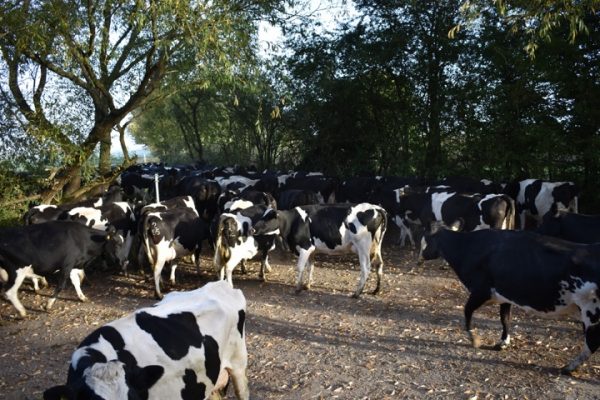 Der Boden am Parkplatz glich danach einer Riesentoilette. Nach einigen Minuten und gegenseitigem Anstarren zog die Herde geschlossen wieder ab und wir konnten getrost weiter frühstücken. Der Bauer kam ein paar Minuten später mit seinem Squad angeschossen, drehte eine Runde am Platz und fuhr wieder davon. Anscheinend wollte er sich überzeugen, dass keines seiner Tiere an Big Fredi einen Narren gefressen hatte und bei uns geblieben war. 
Einige Spaziergänge vom Parkplatz aus in verschiedene Richtungen waren dazu angetan Schlehen zu pflücken. Jetzt gibt es ein Kilo Schlehen im Tiefkühlfach. Sie werden demnächst in Schlehenlikör zum Ansatz gebracht. Gin ist bereits eingekauft worden. Ich freue mich auf das besondere Tröpferl. Wenn es angesetzt ist, muss es 45 Tage stehen und soll einmal am Tag geschüttelt werden. Das dürfte im Big Fredi nicht allzu schwer werden. 
Am Montag malte Wilfried Karima. Sie ist eine ganz liebe und interessante Person. Ihr Engagement für bedürftige Menschen, ob Immigranten oder Legastheniker hat sie ihr ganzes Leben ebenso begleitet wie ihr künstlerisches Schaffen und ihre Neugierde Neues zu lernen. 
Sie erschien extra für ihr Porträt mit blauem Haar, blauem Lidschatten und blau-türkisen Ohrringen und einer ebenso geschmackvollen Halskette. Es war ein kurzweiliger Nachmittag und Karima war mit dem Ergebnis sehr zufrieden. Mitte der Porträtsitzung kam Steve, Karimas Mann von der Arbeit heim. Er ist Leiter der Gärtner des Oxford Colleges. Vor einigen Jahren wurde auch er life porträtiert von Sullivan. Es war ein "Artist in Residence" Projekt, das sich über 18 Monate erstreckte und bei dem die Handwerker – von den Köchen bis zu den Gärtnern mit ihren Gebrauchsgegenständen als Gruppe lässig aufgestellt oder hingesetzt wurden. Ein großartiges Werk. Steve zeigte uns ein Foto davon. Das Original hängt im College, wo er es immer wieder betrachten kann.
Für eine weitere Nacht kehrten wir an unseren Waldplatz an der Themse zurück um am nächsten Morgen einzukaufen und den Diamond Campingplatz für eine Stromauffrischung und ein gutes Internet aufzusuchen. 
Heute, 3. Oktober: Micheles Portrait in Islip, einem Vorort von Oxford, könnte vorerst das letzte in England sein. 
Wer noch portraitiert werden möchte, bitte melde dich so rasch wie möglich bei uns! [:en]The place at the end of the road was great. No sound. Only the different bird sounds were heard. 
Wilfried photographed the fog over the Thames and the picture reminded him here to the Hitchcock movie "The Birds".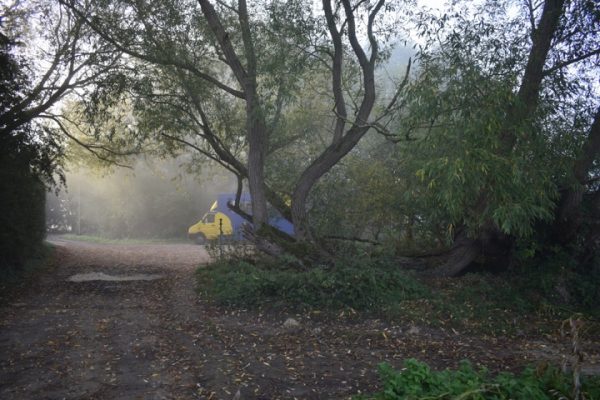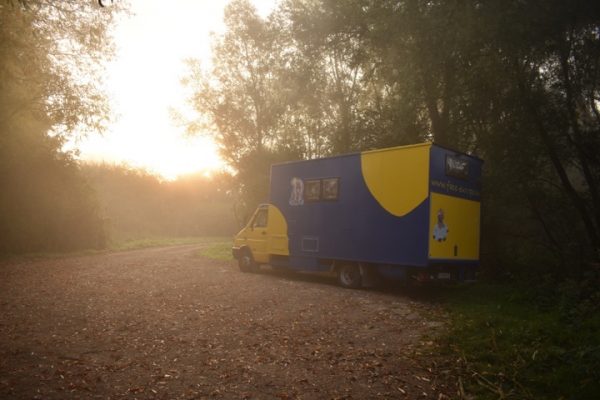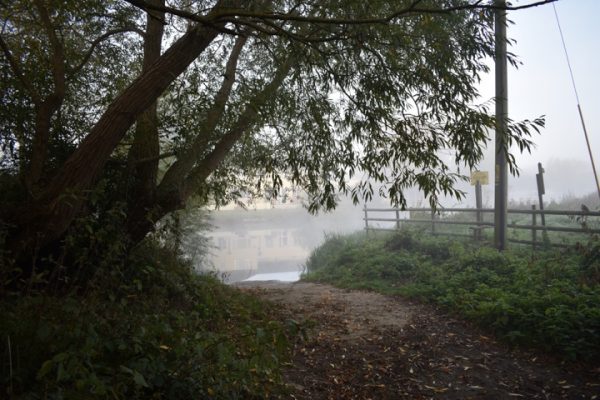 After that our breakfast began. 
And then suddenly – out of nowhere – a complete herd of a loud thumping herd of cows around Big Fredi appeared. Some of the cows got to the Thames, where they could drink. The others crowded close together in a confined space. The excrement shot on the floor and to the next standing animal. It was a mooing and sh …. You do not want to be outside of the car in the midst of the herd. 
So somehow a safari experience.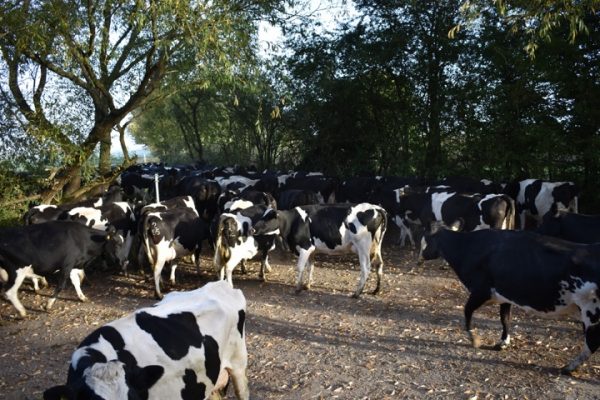 Look at that in the movie!
After that the ground in the parking area looked like a giant toilet. After a few minutes and mutual gaze at each other the herd closed again and we were able to have breakfast confidently. A few minutes later the farmer raced by on his squad, turned a loop and dissapeared again. Apparently, he wanted to be confident that none of his animals had stayed with Big Fredi. 
Some walks from the parking lot in different directions were rewarded with picking sloes. Now there is a full kilo of sloes in the freezer. They are going to be made into sloe gin this week. Gin has already been purchased. I look forward to the special drink. If it is set, it must stay in a closed jar for 45 days and should be shaken once a day. That should not be too hard in Big Fredi. 
On Monday Wilfried painted Karima. She is a very lovely and interesting person. Her commitment to help people in need, whether immigrants or dyslexic persons has also accompanied her life as well as her artistic work and she never stops learning new stuff out of curiosity. 
Especially for her portrait she appeared with blue hair, blue eye shadow and blue turquoise earrings and an equally tasteful necklace. It was an entertaining afternoon and Karima was very happy with the result. Mid portrait session Steve, Karima's husband, came home from work. He is head of the gardeners of the Oxford college. Several years ago, he was life portrayed by Sullivan. It was an "Artist in Residence" project, which had lasted for 18 months and in which the craftsmen – from the gardeners to the cooks were placed with their commodities casually in a group. A great work. Steve showed us a photo of it. The original hangs in the college where he can observe it every once in a while. 
One more night we spent in our preferred place in the wood next to the Thames. Next morning was used for shopping and then we got a pitch in Diamond camp to get our batteries reloaded and have fast Internet for a full day.
Today, October 3, 2018: Michele's portrait in Islip, a suburb of Oxford could be the last one in England for a while. Whoever wants to be portraited we kindly ask to get in contact with us.[:]