The place at the end of the road was great. No sound. Only the different bird sounds were heard. 
Wilfried photographed the fog over the Thames and the picture reminded him here to the Hitchcock movie "The Birds".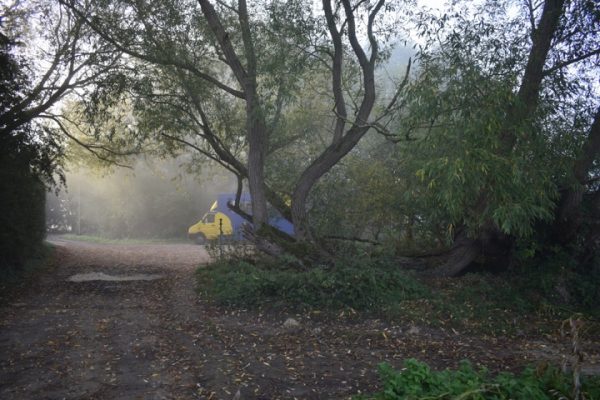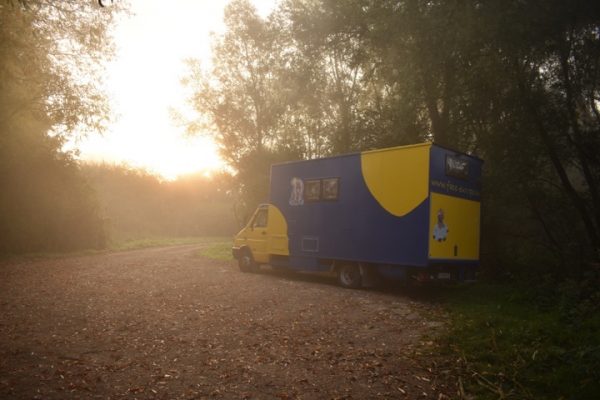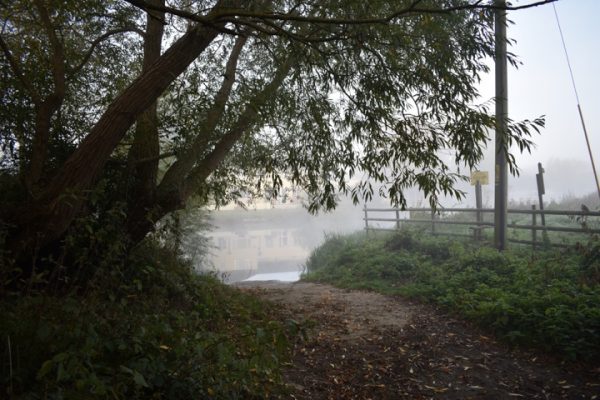 After that our breakfast began. 
And then suddenly – out of nowhere – a complete herd of a loud thumping herd of cows around Big Fredi appeared. Some of the cows got to the Thames, where they could drink. The others crowded close together in a confined space. The excrement shot on the floor and to the next standing animal. It was a mooing and sh …. You do not want to be outside of the car in the midst of the herd. 
So somehow a safari experience.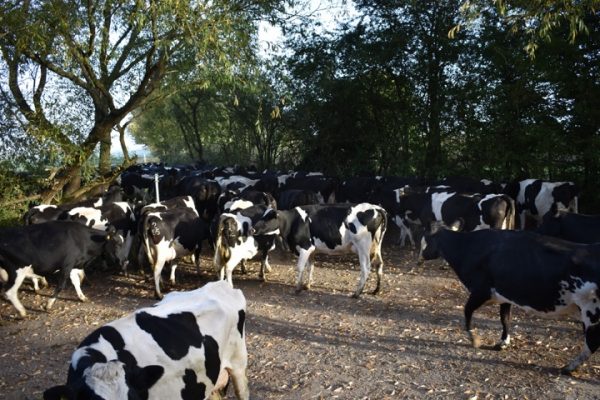 Look at that in the movie!
After that the ground in the parking area looked like a giant toilet. After a few minutes and mutual gaze at each other the herd closed again and we were able to have breakfast confidently. A few minutes later the farmer raced by on his squad, turned a loop and dissapeared again. Apparently, he wanted to be confident that none of his animals had stayed with Big Fredi. 
Some walks from the parking lot in different directions were rewarded with picking sloes. Now there is a full kilo of sloes in the freezer. They are going to be made into sloe gin this week. Gin has already been purchased. I look forward to the special drink. If it is set, it must stay in a closed jar for 45 days and should be shaken once a day. That should not be too hard in Big Fredi. 
On Monday Wilfried painted Karima. She is a very lovely and interesting person. Her commitment to help people in need, whether immigrants or dyslexic persons has also accompanied her life as well as her artistic work and she never stops learning new stuff out of curiosity. 
Especially for her portrait she appeared with blue hair, blue eye shadow and blue turquoise earrings and an equally tasteful necklace. It was an entertaining afternoon and Karima was very happy with the result. Mid portrait session Steve, Karima's husband, came home from work. He is head of the gardeners of the Oxford college. Several years ago, he was life portrayed by Sullivan. It was an "Artist in Residence" project, which had lasted for 18 months and in which the craftsmen – from the gardeners to the cooks were placed with their commodities casually in a group. A great work. Steve showed us a photo of it. The original hangs in the college where he can observe it every once in a while. 
One more night we spent in our preferred place in the wood next to the Thames. Next morning was used for shopping and then we got a pitch in Diamond camp to get our batteries reloaded and have fast Internet for a full day.
Today, October 3, 2018: Michele's portrait in Islip, a suburb of Oxford could be the last one in England for a while. Whoever wants to be portraited we kindly ask to get in contact with us.