[:de]
Ein sonniger Herbsttag geht zu Ende und wir haben ihn sehr genossen.
Eine spätsommerliche Fahrt nach Winchester nachdem gestern Michele gemalt wurde und wir ein köstliches 3 gängiges Nachtmahl genießen durften. Das geschichtsträchtige Haus – 250 Jahre hat es auf dem Buckel und kann viele Geschichten erzählen – so wie der köstliche Rotwein sorgten bei von Tony (Michele's Mann) kreiertem tollen Menü nach der Porträtsitzung für ausgezeichnete Stimmung.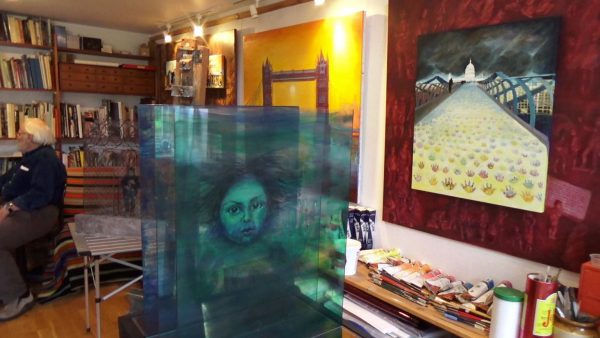 Wir hätten die ganze Nacht weiter reden können. Es gab so viel zu erzählen und von Michele und Tony zu hören.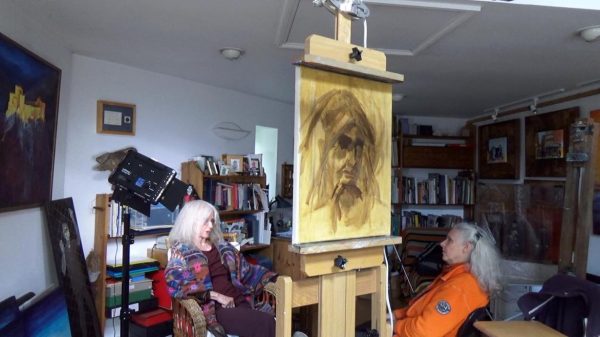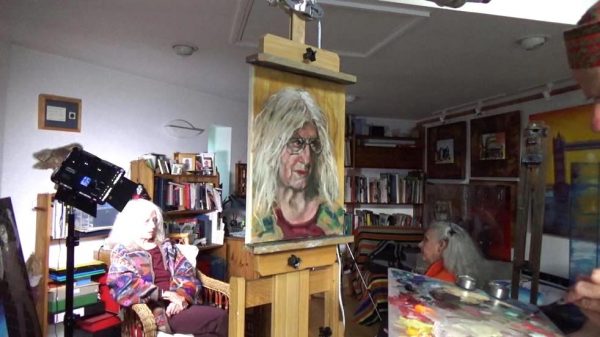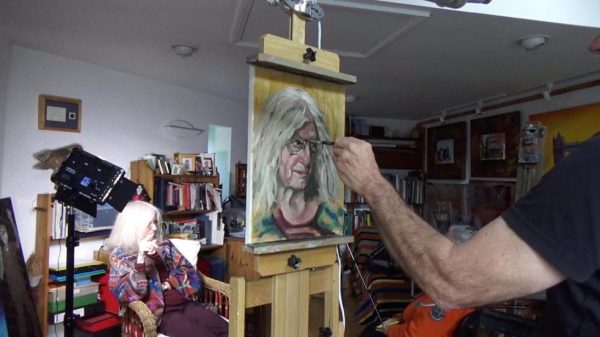 Wilfried ist mit dem Ergebnis des Porträts von Michele recht zufrieden, er nähert sich immer mehr seinen Vorstellungen, was ein life Porträt können sollte: es soll die Essenz eines Menschen darstellen.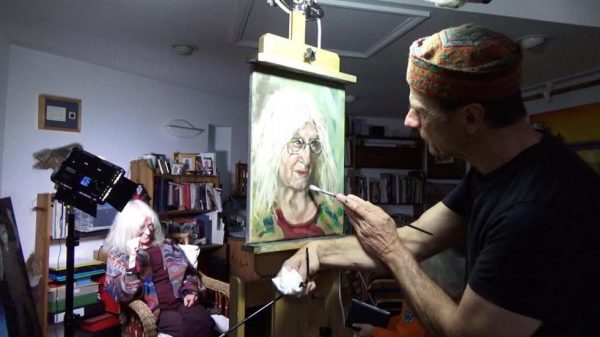 Wir hoffen auch bei Sohn Daniel, der in Spanien lebt Kontakt zu bekommen und dort Porträts sammeln zu können. Vorgewarnt ist Daniel jedenfalls und wir haben somit ein Ziel, das wir aufsuchen können zwischen Granada und Málaga. 
Wir durften vor dem Haus der beiden in Islip stehen und unsere Wassertanks auffüllen. 
Schweren Herzens verabschiedeten wir uns von den lieben Menschen, hoffen aber, dass wir uns in Spanien, Frankreich oder Österreich wieder sehen.  
Beim Aussteigen aus Big Fredi in Winchester machten wir eine schreckliche Entdeckung: der rechte Hinterreifen rauchte und das komplette Rad war schrecklich heiß, was einen Gestank nach verbranntem Gummi verbreitete. Jetzt kühlt Big Fredi sein heißes Bein und wir müssen morgen beobachten, wie es weitergeht. Auf der Autobahn sind wir einmal unabsichtlich in ein riesiges Loch gefahren, es tat einem in der Seele weh. Immer wieder sind auf den englischen Autobahnen völlig unvermittelt riesige Löcher, die man gar nicht rechtzeitig sieht um ihnen ausweichen zu können. Der Krach geht einem durch Mark und Bein. Und unserem alten Gesellen tun solche Streiche gar nicht gut. Da kann schon einmal eine Bremse kaputt gehen oder ein Lager seinen Geist aufgeben. 
Wir hoffen, dass es keine teure Reparatur braucht um Fredi heil nach Hause zu bringen. [:en]
A sunny autumn day comes to an end and we really enjoyed it.
A late-summer trip to Winchester after yesterday Michele was painted and we could enjoy a delicious three-course supper made by Tony and Michele. Their historical building – it is 250 years old and can tell many stories – as well as the delicious French red wine were responsible for the excellent mood.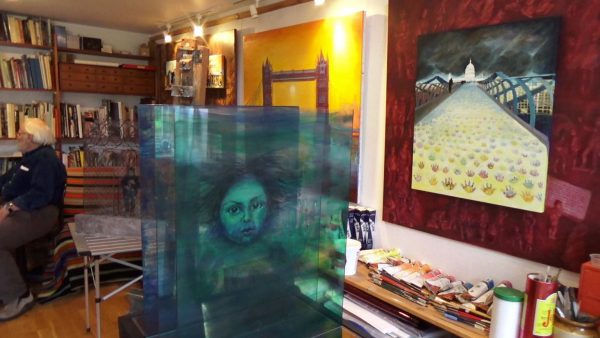 We could have gone on talking all night. There was so much to tell and to hear from Michele and Tony.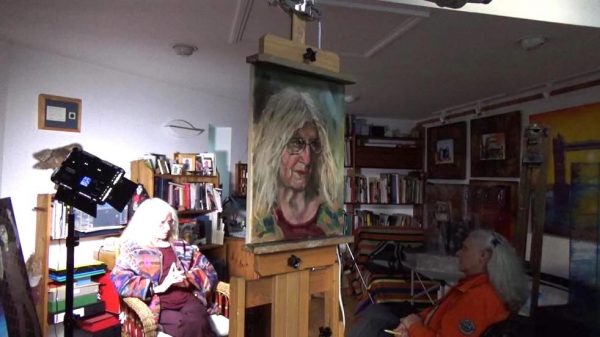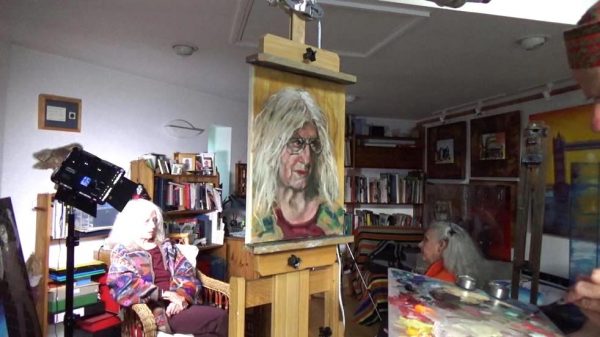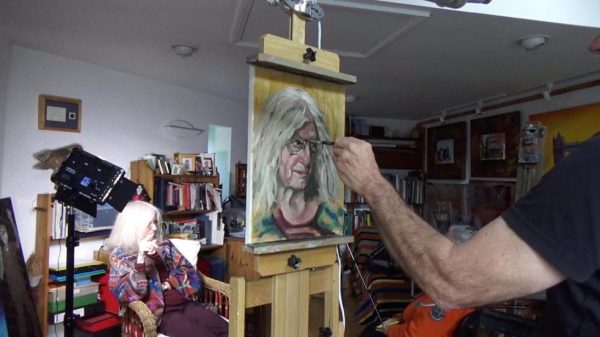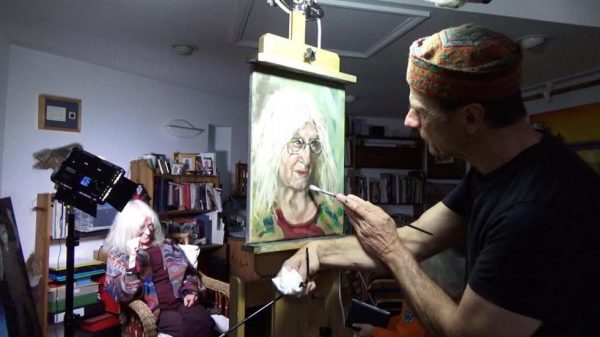 Wilfried is quite satisfied with the outcome of the portrait of Michele, it approaches more and more to his own ideas of what a life portrait should be able to: it is to represent the essence of a person. 
We hope to make contact and to collect portraits with son Daniel, who lives in Spain. Daniel is forewarned in any case, and so we have a goal that we can approach between Granada and Málaga. 
We could stay in front of the house in Islip and also fill our water tanks. 
We hugged each other goodbye, such lovely people, but we hope that we will meet again in Spain, France or Austria.  
When getting out of Big Fredi in Winchester we made a terrible discovery: the right rear tire was terribly hot, it even smoked, spread a smell of burning rubber. Now Big Fredi cools his hot leg and tomorrow we have to see how we can go on. On the highway, we have inadvertently hit a huge hole, its noise hurt in the soul. Again and again, totally unexpectedly huge holes that you cannot see in time to be able to avoid them appear on the English highways. And for our old fellow such tricks do no good. In this way a part of the car can be damaged easily. 
We hope that it does not need expensive repairs to bring Fredi home safely. [:]