[:de]
Big Fredi hat seinen heißen Fuß in Winchester rasch abgekühlt
und der Parkplatz inmitten der Stadt für Wohnmobile extra reserviert war genau das Richtige für eine gute Nachtruhe. Lisbeth wollte sich die Stadt ein wenig ansehen, schließlich war Winchester vor London noch Hauptstadt gewesen. Es liegt sehr schön eingebettet in Wälder und fruchtbare Felder. 
Mitten in der Stadt ein Park am Itchen River, sehr naturbelassen und wunderbar für Läufer und Spaziergänger.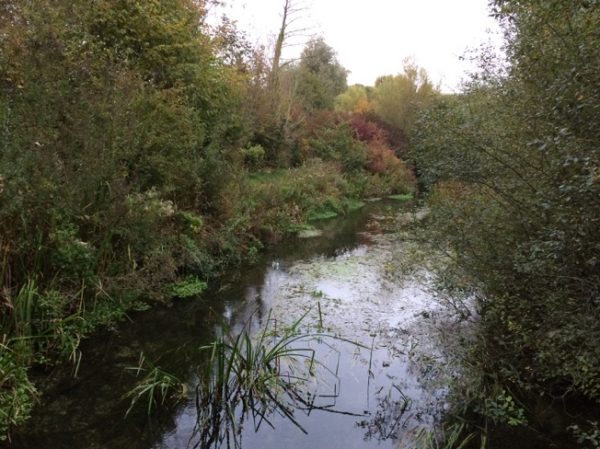 Dem Problem des heißen Reifens wollten wir uns am nächsten Morgen gleich annehmen und fragten bei der Tankstelle um die nächstgelegene Werkstatt. Die Auskunft war zu vage: dritte Straße links. Da war nix. Also wieder Mister Google befragen und dann begann eine Irrfahrt von Werkstadt zu Werkstatt. Jeder schickte uns zu jemand Anderem. Schließlich stellte ein Mechaniker fest, dass der inner Zwillingsreifen einen "Patschen" hat. Er verwies uns zu einer Werkstätte, die uns helfen sollte. Allerdings, dort angekommen, es war Freitag Mittag und die Arbeitsmotivation auf dem wöchentlichen Tiefpunkt angelangt, wurden wir zum Reifenhändler schräg gegenüber verwiesen. 
Als wir dort um einen neuen Reifen bzw. dessen Montage baten, mussten wir erfahren, dass Big Fredi zu groß ist und der Wagenheber nur 2,5 Tonnen heben kann. Wilfrieds Hilfe bei der Mintage wurde ausgeschlagen wegen "Sicherheitsrisikos". 
Man muss sich das vorstellen: man steht vor dem Reifenhändler und der sagt einem einfach, dass er keinen Reifen montieren kann. Dabei ist das sein laufendes Geschäft. 
Wir wussten nicht weiter und uns blieb nur mehr der ÖAMTC als Ausweg. Bereits eine Stunde später wechselte AA, der englische Pannendienst VOR der Reifenwerkstatt uns den Reifen. 
Der innere rechte Zwillingsreifen war komplett kaputt. Das hatte am vorderen gerieben und Hitze und Gestank erzeugt. Wir waren zufrieden, dass der Reifenhändler uns wenigstens einen Ersatzreifen verkaufte, sodass wir unseren Reservereifen nicht antasten mussten.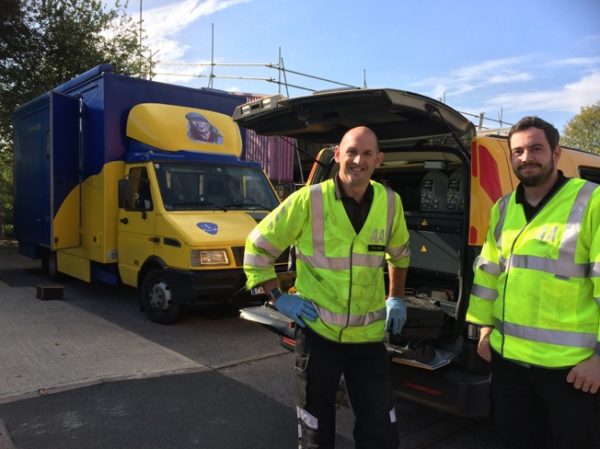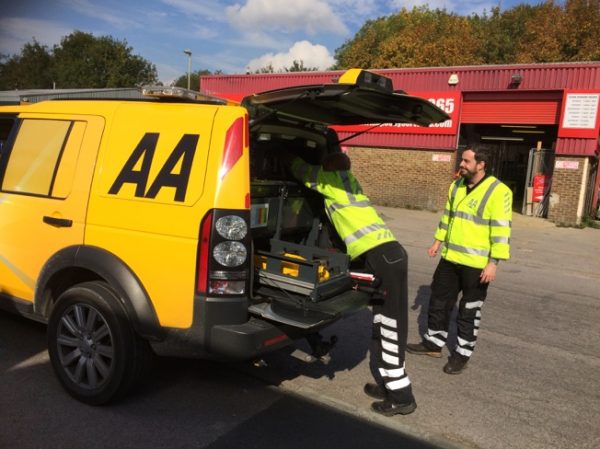 Die beiden freundlichen Techniker von AA verabschiedeten sich freundlich und wir waren guter Hoffnung, das Problem sei nun gelöst und wir könnten unsere Reise fortsetzen. 
Sofort merkte aber Wilfried, dass das Geräusch, das er schon eine Weile beim Fahren gehört hatte noch immer da war. Somit hatten wir zwar ein Problem gelöst, aber die Ursache nicht beheben können. 
Nach 2 km auf der Autobahn dann das totale "AUS". Gerade noch zur Parkbucht geschafft. Wieder ÖAMTC anrufen. Wieder warten. 
Knapp vor Einbruch der Dunkelheit kam dann der nächste AA Mitarbeiter gleich mit einem Abschleppwagen angebraust. Neuerliche Demontage der Reifen und festgestellt, Lager kaputt. Weiterfahren unmöglich. 
Wir erleichterten Fredi um seine kostbaren Wasservorräte, räumten alle schweren Sachen aus dem Auto, aber der Abschleppwagen hatte für so einen fetten Fredi keine Kraft. So wurde für den nächsten Morgen ein größerer Abschleppwagen bestellt. Alles immer mit ÖAMTC in Wien ausverhandelt.
Heute früh, wie vereinbart, tauchte der vermeintlich größere Wagen dann auf, der uns nur mehr zu der nächsten Werkstätte schleppen sollte.
Er unterschied sich vom Äußeren nicht von dem von gestern. Allerdings hatte er schließlich genug Power und auch eine bessere Hebevorrichtung, Big Fredi durfte selbst mit einem Auto mitfahren. Ich glaube es hat ihm ziemlich viel Vergnügen bereitet. In den engen Kreisverkehren hat er sich ziemlich in die Kurve gelegt und ist vor lauter Freude mitgetanzt. Lisbeth konnte im Rückspiegel seine Augen leuchten sehen. Ihr selbst wurde ganz schwindelig, aber der Fahrer meinte nur: "der ist fest angebunden!"
Nach dem Traum von Lisbeth, bei dem Fredi umkippte, war die Wirklichkeit nun schon fein.
Wir sind wohlbehalten bei der Werkstätte angekommen. Dahinter gibt es eine "Wiesn" und am Montag wird Fredi hoffentlich wieder hergestellt. 
Es hat heute seit dem Morgen geregnet, jetzt ist der Regen dem Sturm gewichen und ab morgen soll es wieder sonnig sein. 
Wir haben genug zu Essen gebunkert, Strom bekommen wir von der Werkstatt und dann schauen wir weiter, was passiert. 
Jedenfalls sind wir jetzt von Winchester nach Southampton geschleppt worden und stehen am Eingang zum "New Forst National Park". Zwischen Plaitford und Nomansland. Ja, das heißt wirklich so und es verspricht ein ruhiges Wochenende zu werden. [:en]
Big Fredi has cooled his hot foot quickly
in Winchester and the car park in the town center which was specially reserved for RVs gave a good night's sleep. Lisbeth, who wanted to see a little bit of the city Winchester – which after all was capital before London was. It is beautifully surrounded by forests and fertile fields. 
In the middle of the city a park is located at the River Itchen. It is very natural and wonderful for runners and walkers.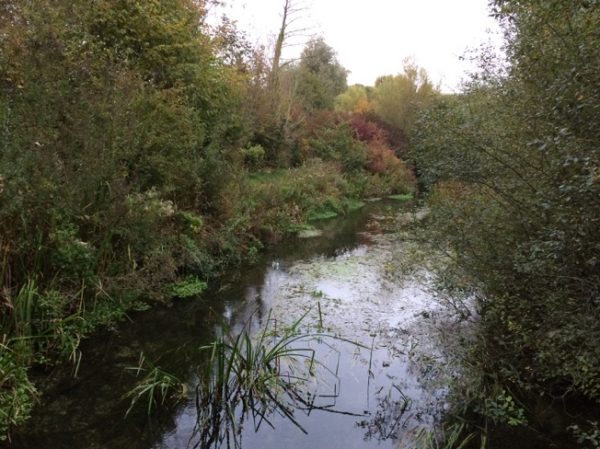 The next morning we wanted to solve the problem of the hot tire and asked at the gas station for the nearest workshop. The information was too vague: third road left. There was nothing. So again we asked Mr. Google and then began an odyssey from service station to service station. Each sent us to someone else. Finally, a mechanic noted that the rear dual wheel had a "flat tire". He referred us to a workshop, which should help us. However, arriviving there, it was Friday afternoon and the motivation at the workshop had arrived at the weekly low point, we were directed diagonally opposite to the tire dealer. 
When we asked for a new tire or its installation, we had to learn that Big Fredi was too large and the jack can only lift 2.5 tonnes. Wilfried's help for offer was knocked out because of "security risk". 
Just imagine this: you stand in front of the tire dealer and they tell you that they cannot mount tires. But this IS his actual business. Very weird.
From there we did not know what else to do and we ended up calling the ÖAMTC to get the problem solved. An hour later, AA, the English breakdown service changed the tire IN FRONT OF THE WIRE SHOP.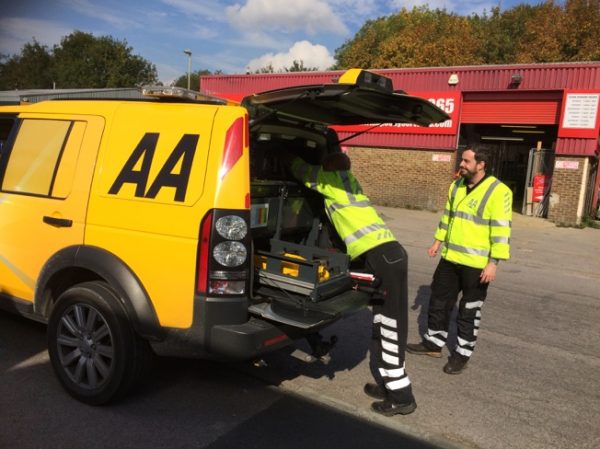 The inner right dual tire was completely broken. This had rubbed on the front wire and generated heat and stench. We were pleased that the tire dealer sold us at least a spare tire, which he all of a sudden did have on stock. So we did not have to touch our spare tire. 
The two friendly AA technicians posted for a friendly goodbye foto and we were full of hope that the problem would now be solved and we could continue our journey.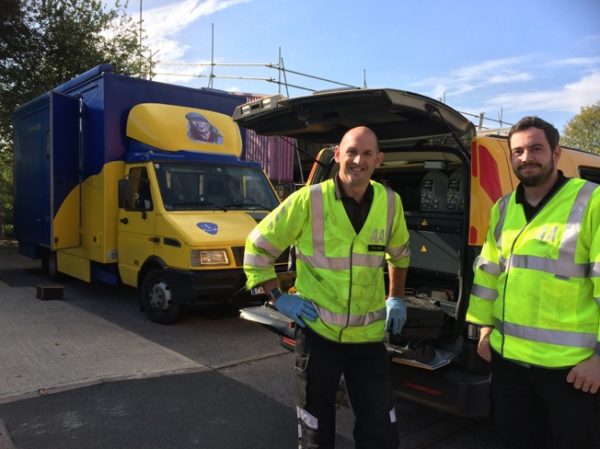 But immediately after we started Wilfried noticed the same sound he had heard a while ago before we had changed the tire. Thus, although we had solved a problem, we had not removed the cause. 
After 2 km on the highway: the total "OFF". Just made it to the parking bay. ÖAMTC had to be called again. Another waiting time began. 
Then, some hours later the next AA employee raced in the lay-by with a tow truck. In the meantime it was  just before nightfall. Once more disassembly of the tire had to be done and found out that the bearing was broken. Continuing impossible. 
We emptied Fredi's precious water resources, took out all heavy stuff from the car, but the tow truck had not enough strength for such a bold Fredi. So a larger tow truck was ordered for the next morning. Everything always negotiated with ÖAMTC in Vienna. 
On Saturday morning, as agreed, the supposedly bigger car appeared which should only tow us to the nearest garage.
From the outside it differed not from the one of the day before. However, he finally had enough power and a better lifter, Big Fredi could even ride on top of a car. I think it has given him a great deal of pleasure. In the narrow round about, he has pretty much leaned in the curve and danced for joy. Lisbeth could see his eyes light up in the rearview mirror. Herself was dizzy, but the driver only commented : " firmly connected"
After Lisbeth's last night dream where Fredi tipped over, the reality was now better. 
We arrived safely at the workshop. Behind there is a "big Wiesen" (we have October, and Wiesenfeste are even in Salisbury) and Fredi will be restored, hopefully on Monday. 
It rained all day today, now the rain has given way to the storm and from tomorrow on it will be sunny again.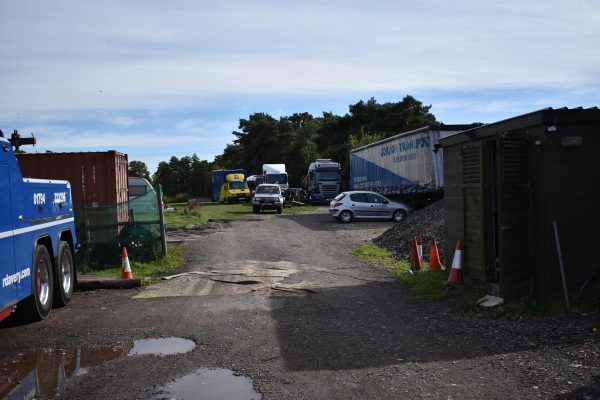 We have enough stock of food to eat, we get electricity from the workshop and then we'll see what happens on Monday. 
Anyway, we have now been towed from Winchester to Southampton and stand at the entrance to the "New Forest National Park." Between Plaitford and Nomansland. Yes, that's really the village's name, and it promises to be a quiet weekend. [:]