[:de]
27. November 2018
Nun, aus dem Gebirge sind wir wieder gut heraus gekommen.
Es wurde am Morgen nach einer frostigen Nacht ( innen hatten wir es kuschelig warm) und Eiskratzen auf der Scheibe eine immer schönere Fahrt durch das Gebirge bis wir in einem Nationalpark und bei Saint Julien du Verdon an einem Stausee angelangten.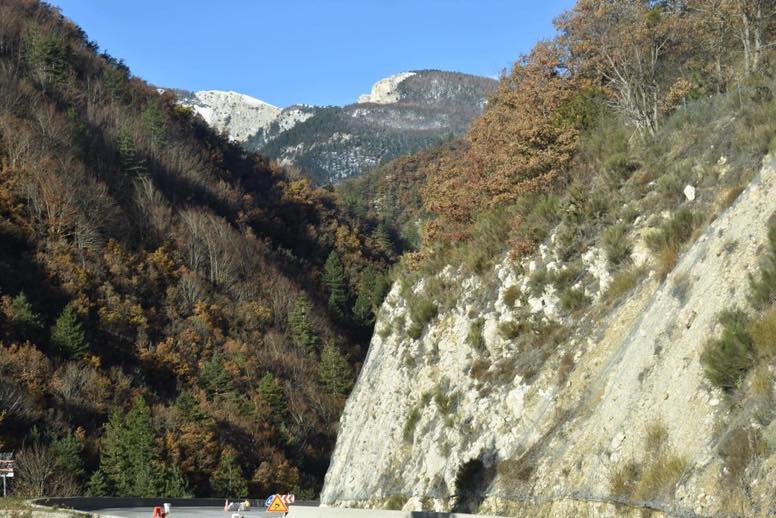 Über weitere, aber weit nicht mehr so lange Pässe führte uns das Navi auf eine wunderschöne Hochebene der Provence, einen weiteren Nationalpark von Verdon. Lavendelfelder weit und breit, Olivenhaine und Mandelplantagen so weit das Auge reicht. Die nette Verkäuferin im Lavendelladen wäre fast bereit gewesen, sich malen zu lassen. Na ja, bald werden wir in Spanien und Portugal die ersten Gesichter bekommen. 
Als nächste Stadt haben wir Arles ins Navi eingegeben. Dort hatten wir letztes Jahr bei unserer Spanienreise ein Erlebnis der besonderen Art: wir versuchten den in der "park4night" App angezeigten Stellplatz zu finden und kamen dabei auf ein unbewohntes und ziemlich verfallenes Bauernhaus direkt am Fluss. Ein Gewitter mit heftigem Sturm zog auf und die Bäume bogen sich und ächzten gefährlich. Die schrillsten Laute waren von allen Seiten zu hören und ich hatte Angst mich vom Wohnmobil zu entfernen um meine Blase zu entleeren. Welch ein Segen, dass wir in Big Fredi nun eine Toilette und eine Dusche haben!
Wir entschlossen uns heute nach dem erfolgreichen Bunkern von 100 Litern Wasser gleich in Sénas zu bleiben.
An der Wasserzapfsäule brauchte man Jetons, um den Automaten zu füllen. Diese hatten wir natürlich nicht. Auf meine Frage in einem Gebäude gleich neben dem Stellplatz, wo man diese bekommen könne, erfuhr ich, man müsse in die Trafik. Dann kam ein junger Mann, öffnete den Kasten mit den Jetons, übergab Wilfried einen davon und verschwand wieder. So konnten wir gratis 100 Liter Wasser bekommen. Ein kleiner Spaziergang in die Stadt begeisterte uns nicht sonderlich, reichte aber um köstliches Baguette und ein paar Kleinigkeiten einzukaufen. Am Nachmittag begann es schon ziemlich zu stürmen und auch jetzt tobt draußen ein ziemlicher Sturm. Unsere Verknüpfung mit Arles scheint der Sturm zu sein. 
[:en]
27. November 2018
Well, we got out well from the mountains. In the morning we had frost on the wind shield (inside we had it nice and warm).
Later we had a more and more beautiful ride between the mountains until we in got into a national park and at Saint Julien du Verdon we made some good pictures of a reservoir.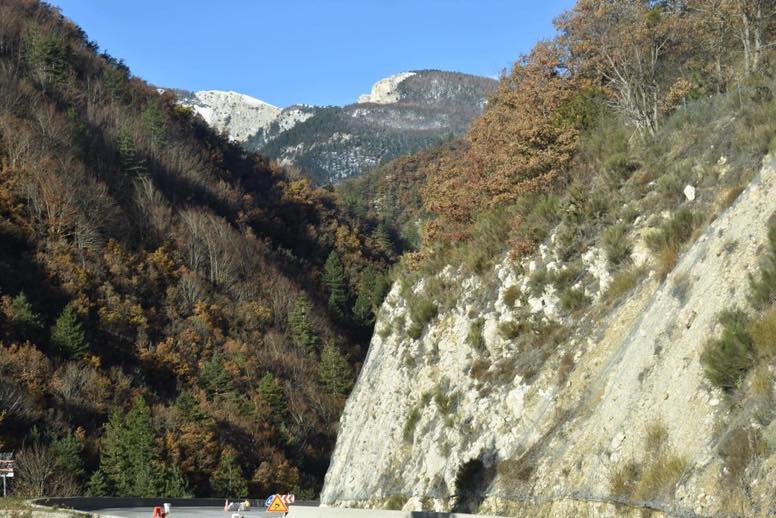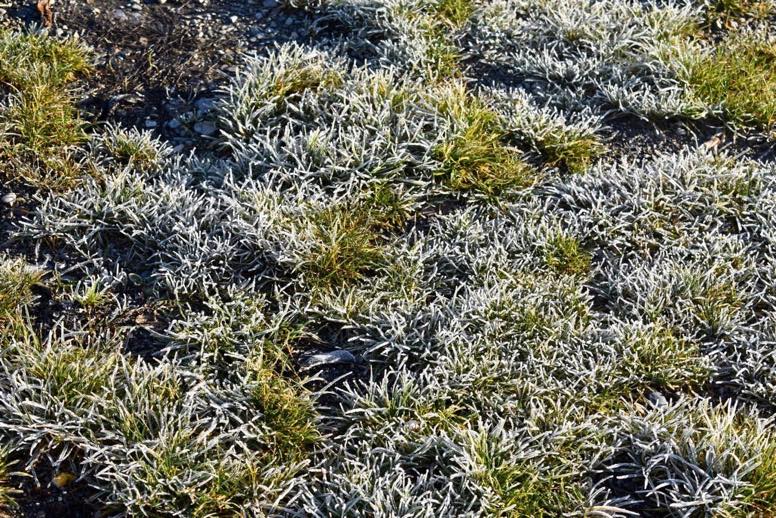 We travelled over more mountain passes, then the Navi led us on a beautiful plateau of the Provence and to another national park of Verdon. Lavender fields on each side of the road, olive groves and almond orchards as far as you can see. The nice saleswoman in the lavender shop would have been almost ready to be painted. Well, soon we will have the first faces in Spain and Portugal. 
The next town we entered into the Navi system is Arles. There at our last year's trip to Spain we had a special experience: we tried to find the parking space displayed in the "park4night" app and accidentally arrived on an uninhabited and rather dilapidated farmhouse right by the river. A thunderstorm with violent wind arose and the trees were bent and creaked dangerously. The craziest sounds could be heard from all sides and I was afraid to remove myself from the motor home to empty my bladder. What a blessing that we now have a toilet and a shower in Big Fredi!
We decided to stay in Sénas today after we successfully filled our water tank with 100 liters of water.
At the water pump chips were needed to fill the machine. These, of course, we did not have. When I asked in a building next to the parking lot where you can get these chips, I learned that one must buy them in the tobacco shop. Then a young man opened the box with the tokens, handed one of them to Wilfried and disappeared. We were able to get free 100 liters of water. A short walk into town did not inspire us particularly, but it was enough to purchase delicious baguette and a few small items. In the afternoon a storm already began. As we are moving closer it seems that for us Arles is connected to the storm. 
[:]