[:de]
29.11.2018
Besalú heißt die Kleinstadt, in der wir heute gelandet sind. 
Der gestrige Tag war wieder ein ganzer Tag auf Achse. Unser Navi gibt uns die Chance unbekannte Landschaften zu erkunden, so wie zum Beispiel den Naturpark Camarque. Wildpferde, Flamingos und brettelebener Sumpf rechts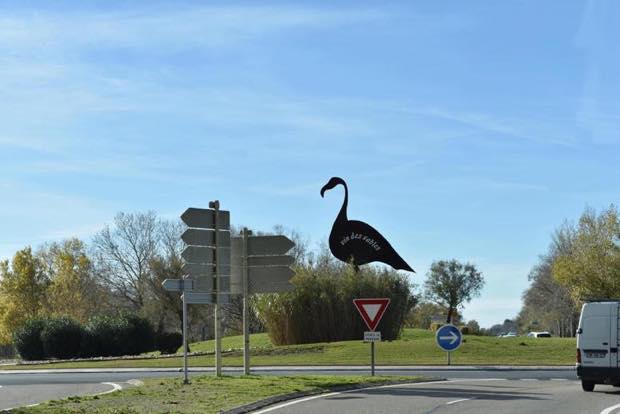 und links der Straße. Und dann taucht auf einmal aus dem Nichts La Grande Motte auf, mit Spielcasinos, tausenden Booten und einer total gepflegten
Parklandschaft. Man sieht, dass es sich hier die Reichen richten können. 
Südlich von Perpignan, nur mehr wenige Kilometer von der Grenze zu Spanien entfernt tanken wir noch einmal so wenig Sprit wie notwendig – die Franzosen protestieren zu recht gegen die hohen Spritpreise – und finden einen ruhigen Stellplatz ohne irgendwelche besondere Ausstattung. Es ist der Parkplatz des
Fussballplatzes und nachdem die letzten Spieler heim gegangen sind, ist es ein ruhiger Platz. Die Wölfe heulen zwar, dann kläffen die Hunde. Nachdem die Hunde die letzten waren, die man hören konnte, nahmen wir an, dass sie die Wölfe verspeist haben und legten uns entspannt zur Ruhe. Den Stadtbesuch ließen wir aus, denn eine Stadt mit einem so unausprechlichen Namen hat unseren Besuch nicht verdient: Banyuls-dels-Aspres. 
Heute morgen nahmen wir sehr gemütlich unser Frühstück ein, ich konnte sogar wieder einmal Porridge kochen und genießen und erst um 10 Uhr verließen wir den Stellplatz. Die schneebedeckten Berge, die gestern im
Abendlicht leuchteten, sahen in der Früh auch sehr einladend aus. Nur nicht zum dort sein, denn uns zieht es ja in die Wärme. Kälte haben wir daheim genug, vor der sind wir ja schließlich geflohen. 
Sehr unspektakulär erreichten wir die Grenze. Im Vergleich zum Vorjahr war hier rein gar nichts los. Keine Millionen von Touristen beim Weihnachtseinkauf. Absolut  tote Hose. Nach Figueras hielten wir uns gleich westlich und peilten die Kleinstadt Besalú an. Eine herrliche Altstadt aus dem Mittelalter ist sehr gut erhalten. Wir erkundeten sie zu Fuß und entdeckten das Miniaturmuseum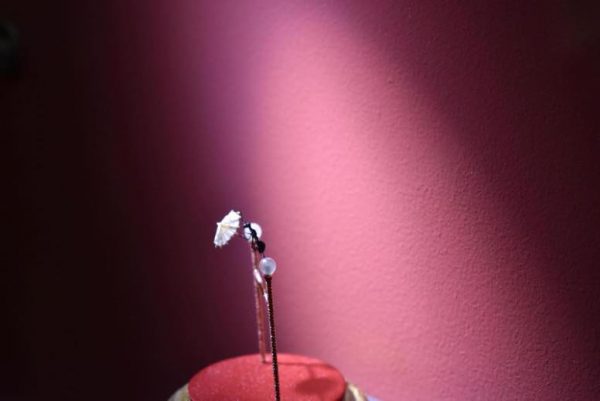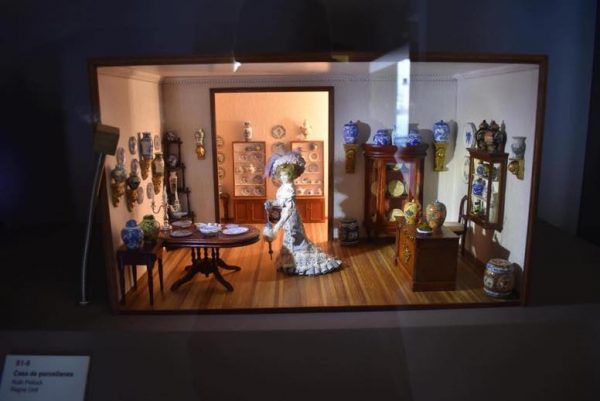 und auch die alte Brücke, die zum Weltkulturerbe gehören. Im Museum war eine weltweite Sammlung von Miniaturen in unterschiedlicher Größe zu bewundern: die Verkleinerung der Objekte ging von 1:12 bis 1:100.000. Letztere waren nur mehr unter dem Mikroskop zu erkennen. Die ganze Altstadt ist sehr gediegen. Auf der Brücke im Bogen des Einfahrttores saß Jordi und spielte auf seiner Handpan eine gemütliche Melodie.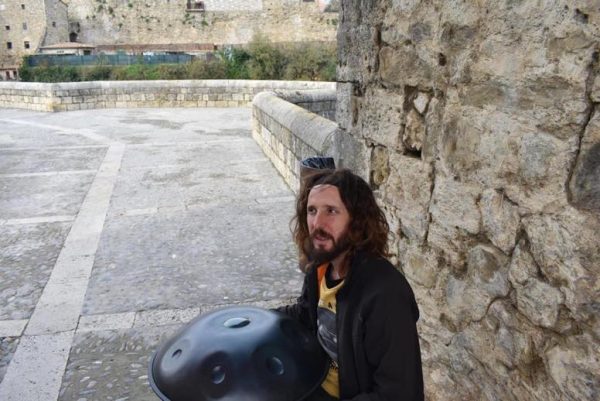 Die Akustik auf der Brücke ist phänomenal. Man hört die Klänge bis in die Stadt. Morgen wird Wilfried ihn zeichnen, während er spielt. 
Bleibt dran, morgen gibt es hoffentlich das erste spanische Porträt. 
¡Olé![:en]
29.11.2018
Besalú is the name of the small town where we ended up today. 
Yesterday was another full day on the road. Our navigation system gives us the chance to explore unknown landscapes, such as, for example, the natural park Camargue. Wild horses, flamingos and flat swamp areas right and left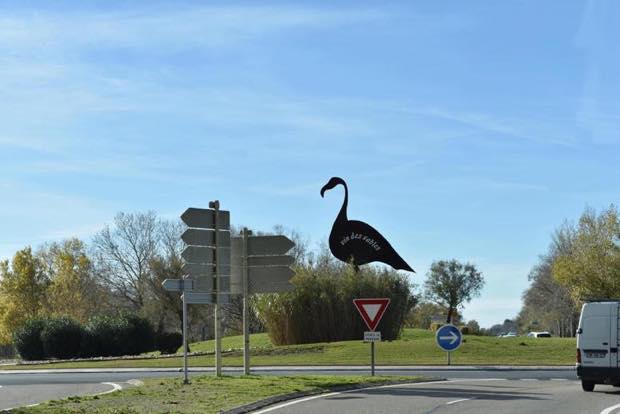 from the road. And then out o nowhere La Grande Motte arises, with casinos, thousands of boats and a totally manicured park land scape. We see that it addresses the rich here. 
South of Perpignan, only a few kilometres from the border with Spain we fill up as little fuel as necessary – we can understand the French protest against too high fuel prices – and find a quiet Pitch without any special equipment. It is the parking lot of the football field, and after the last players have gone home, it is a quiet place.
Although first the wolves howl, then dogs bark. Since the dogs were the last ones that could be heard, we assumed that they had eaten the wolves and we relax to sleep. The visit to the city we left out, because a city with such unpronounceable name does not deserve our visit: Banyuls-dels-Aspres. 
This morning we took time for our breakfast, I could even cook porridge, and about 10 o'clock we left the parking lot. The snowy mountains that shone in the evening light yesterday, in the morning also looked very inviting.
Not so inviting for staying there because the reason we came to the south was the beginning of freezing weather at home.
Very unspectacular we reached the border. Compared to last year there was absolutely nothing going on here. No millions of tourists during the Christmas shopping. Absolutely dead and dull. We drove through Figueras and headed west towards the small town of Besalú. A magnificent old town from the Medieval Ages is very well preserved. We explored it by foot and discovered the miniature museum and the old bridge, which are UNESCO World Heritage Sites. In the museum we admired a worldwide collection of miniatures in various sizes: the proportions went from 1:12 to 1: 100,000. The latter could be seen only under a microscope.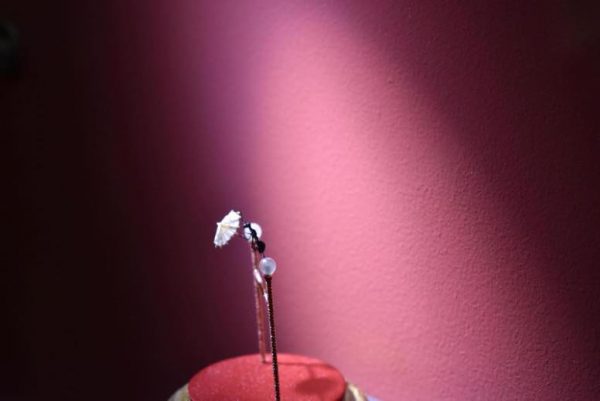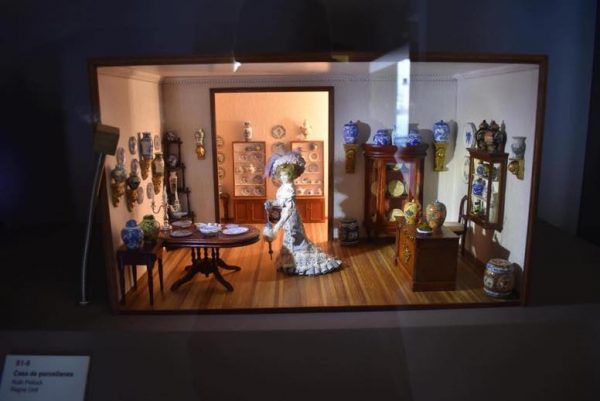 The entire old town is very tasteful. On the bridge in the arch of the entrance gate we saw Jordi who played a cozy melody on his HandPan. The acoustics on the bridge are phenomenal. You can hear the sounds into the city. Wilfried will be drawing him while he plays his music tomorrow.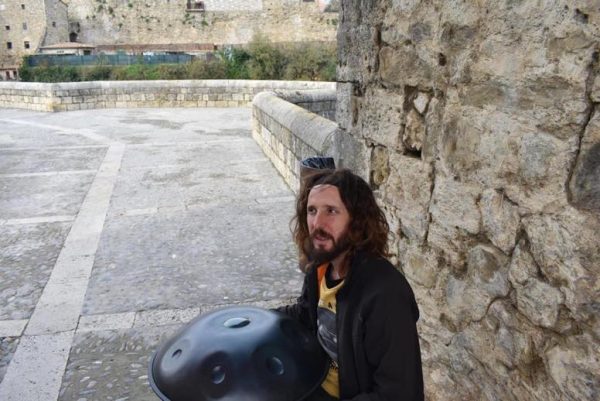 Stay tuned, tomorrow hopefully there will be the first Spanish portrait. 
¡Olé![:]