1. Dezember 2018
The first portrait in Spain is done!
Jordi, the Handpan player really showed up. Two men with freezing fingers: one (Jordi) played his music while the other one (Wilfried) was drawing him.
When the work was done, suddenly the sun came out and an entire school class listened to Jordi's music and admired Wilfried's finished drawing. You cannot imagine how many tourists are here in Besalú. Many Jews but also Muslims are clearly recognisable. 
To warm up, we decided to eat pizza and when we entered the restaurant, whom did we see sitting there? Jordi bent over a hot cup of tea and invited us immediately to his table. We continued our conversation together  with Google Dictionary and the waiter who spoke excellent English. The pizza brand "frozen pizza" fits the tourist image. Rip off everywhere.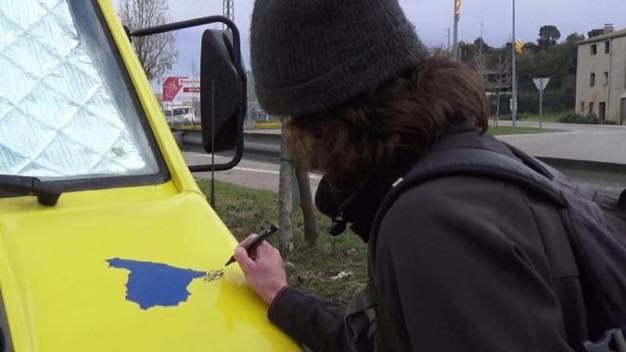 Jordi says goodbye to us and gives us the hint to walk on the banks along the El fluvià. We follow his advice and enjoy the peaceful walk. 
This morning we were already looking forward to the market day, which was announced to be very special by the tourist office. 
So we walked into the city at about 10:00 am. 
One tasteful shop stands out positively from all other typical gift shops. Unfortunately, those beautiful things are much too expensive for us. 
We try our luck in a Market for food, the choice is not overwhelming. A bunch of bananas for 0,99 € per kilo, orange juice and a packaged sausage wander into our shopping bag. 
Then we strolled back to the old town, Lisbeth led Wilfried to the bakery she already knew from yesterday. 
For lunch we cooked potatoes and lentils Asia-Austrian mixed variaty: Indian spices, potatoes and bacon. Tasted delicious, saturated outstanding. 
Then we wanted to finally find out if the propagated Anis-liqueur-market had begun only to findout that the  market stalls which were already established on Friday in the town were still without people selling their goods. 
We went with our wonderful "Seduschkas" (in Kaliningrad purchased warm seat pads) to the next bench in the warming sun and enjoyed the southern sun while we talked on the phone to Mama who told us about the snowy landscape and the frost at home. 
On the way back on the Medieval bridge there we discovered the same painter we had already seen at noon but did not want to interfere. Wilfried liked his work very well and to the obviously English-speaking men who stood next by he praised the work. It turned out that the painter was Norman Teeling: a fairly well-known and very good Irish painter, he had been hired by Warner Bros in Hollywood, but already worked in many countries worldwide. Now he's just visiting two Irish friends who enable him to paint outdoors by staying with him and they take him to the most beautiful places. 
One of them had known our blog and maintained that we are already famous!
The other was very happy as Wilfried offered him to paint him. He felt honored. Unfortunately we have no names of the two, but are convinced that the time and place for further information will be given on e-mail. We are very excited about his life story and hope to get more details from him soon. 
He lives on the coast at the beginning of the Costa Brava. 
It would be great to paint the first Irishman in Spain, while we did not get to Ireland this summer!
More details to follow! Stay tuned!