Blog post 5 December 2018
Some tight days in Besalú are already behind us.
Time flies by. Since Saturday we enjoy the Spanish heat during the day and the nights are OK even without heating. 
Monday, December 3, Wilfried decided to do an oil painting of the city of Besalú viewing from the bridge. It was a colourful image and he had a lot of fun. 
The accordion player who played on the bridge since days, nodded approvingly when he saw the result. When asked if he wants to get his portrait painted he nodded enthusiastically, and actually the next day at the appointed time he was on the bridge again.
A couple walked past without saying a word to us, but somehow they struck me. The woman had such an open mind and a joyful appearance. 
When we were back to Fredi in the evening, exactly these people very friendly asked us in German where our license plate would from. 
We invited them spontaneously for a cup of coffee. Their mobile home is the four-wheel truck that arrived the same morning on the pitch. It was a fun and long coffee chat with Dieter and Petra, which lasted until 23:00 and was going on to supper seamlessly. None had noticed how late it was.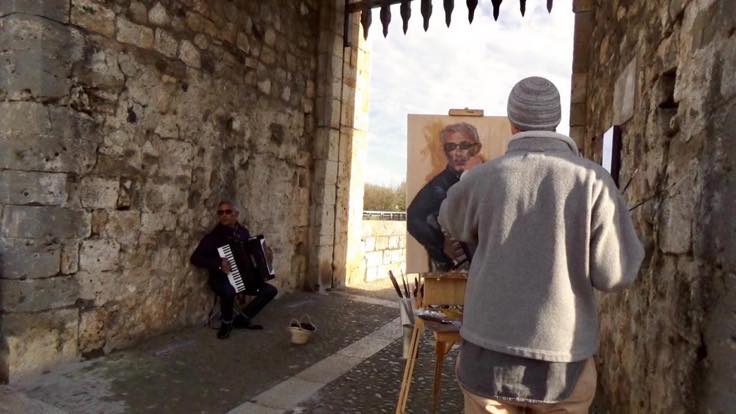 Next day, it was Tuesday, and the accordion player was to be painted, but before this time the two women Petra and Lisbeth decided to walk for a while. It turned out to be an almost three hours lasting walk with gymnastics in between on the park benches, the marvel of an old mill, the walk on wobbly bridges until we also discovered the weekly market by chance, where we even bought vegetables and cheese at the last minute. 
Dieter and Peter accompanied us to the portrait painting of Dorian, the harmonica player. 
The conversation with Dorian was not very successful for both parties. So Dorian let his music talk while Wilfried did an oil painting in just over an hour. It turned out great. All pedestrians walking by were amazed and gesticulated appreciatively. 
Today it was Petra's turn for the 20. Face Europe portrait and the first for Germany.
Petra told us a lot about her life. Soon it will be possible to see some videos of the individual portrait sessions on YouTube. For this we need more sun entry into our solar system. At the moment there is just not enough power for cutting movies.
The Irish teacher has not got in contact with us yet so we are now determined to go quickly into the warmer south. On the one hand, the climate is fundamentally warmer and supposedly it will be cold in the north from Wednesday on. We do not desire cold weather at all.