[:de]
Blogeintrag 6. Dezember 2018
40 Jahre Republik Spanien und ein richtiger Feiertag.
Der Parkplatz ist gesteckt voll und Petra und Dieter, die eigentlich vor hatten weiter zu fahren, haben sich spontan entschlossen zu bleiben, weil sie die Befürchtung hatten, im Vulkangebiet wäre touristisch noch mehr los als hier und es gibt auch in Besalú noch genug zu entdecken. Wir sind außerdem mit Ihnen überein gekommen unsere Reise gemeinsam fort zu setzen solange es uns allen Spaß macht und für alle passt.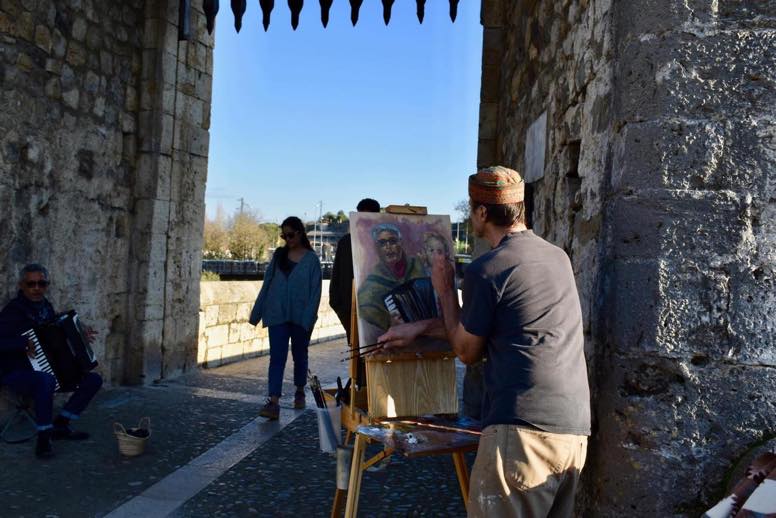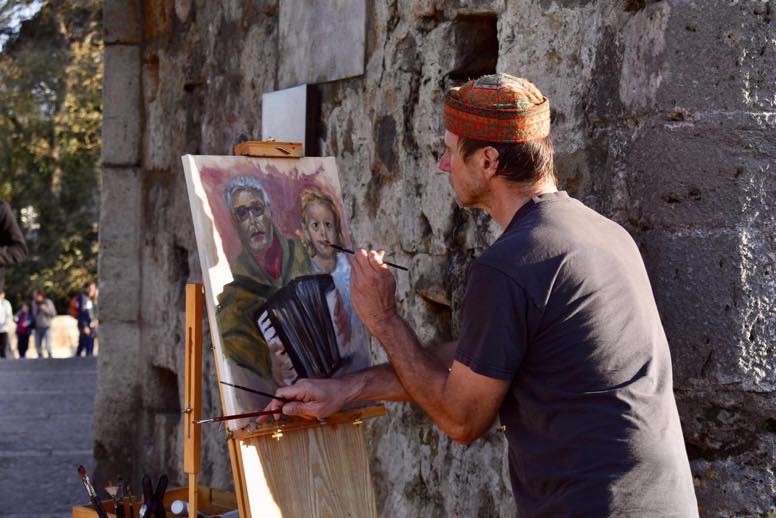 Wilfried wurde gestern von Dorian, dem Akkordeonspieler ersucht, sich und die kleine Maja auf einem weiteren Bild zu malen. Von Maja gab er uns eine Fotografie und Wilfried willigte ein. Dorian konnte – da er wieder auf der Brücke spielte, life gemalt werden, das kleine Mädchen kam vom Foto dazu. 
Während Wilfried mit dem Malen beschäftigt war, schlenderten Dieter, Petra und Lisbeth durch die Stadt und taten es der Unzahl von Touristen gleich. Dieter probierte ein Grillhühnchen und seine Begeisterung stiftete auch Lisbeth an, ein solches als spätes Mittagessen einzukaufen. 
Den Nachmittag und Abend verbrachten wir mit Tätigkeiten wie dem Lesen, Stricken, Filme herunterladen und gemütlichem Faulenzen. [:en]
Blog post on Dec. 6, 2018
40 years Republic of Spain is a real holiday.
Parking lot is fully occupied and Petra and Dieter, who had initially planned to continue to the volcanic area nearby now decided to remain here in Besalú, because they were worried that the volcanic area would be even more crowded and in Besalú there is still enough to see. We also decided that we could as well continue our trip together as long as it is fun for all of us. 
Yesterday Wilfried was asked by Dorian, the accordion player, to paint him together with little Maja on another image. From Maja he gave us a photograph and Wilfried agreed. Dorian was painted life again – as he played on the bridge, the little girl was added from the photo.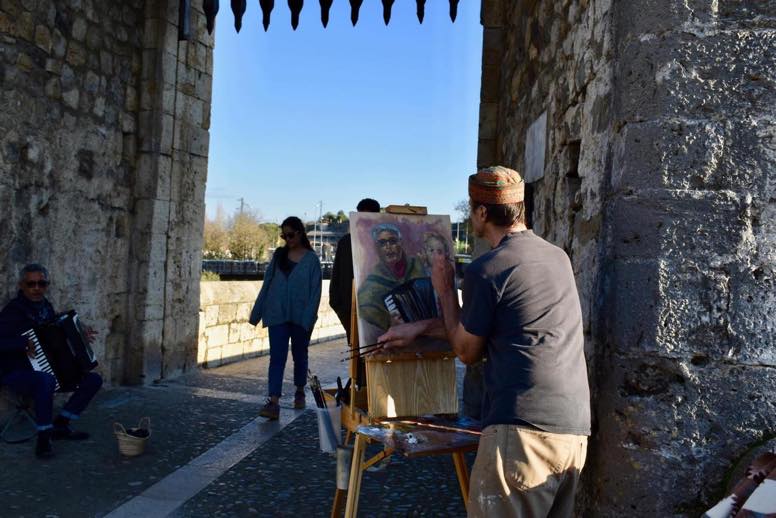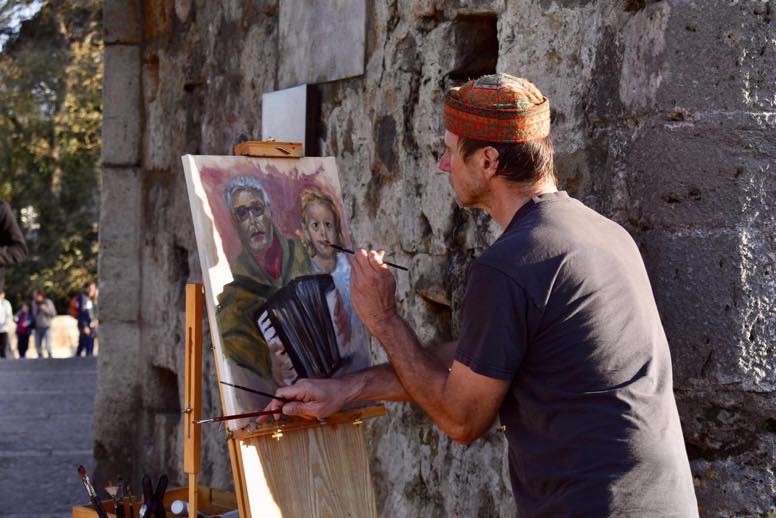 While Wilfried was engaged in painting, Dieter, Petra and Lisbeth strolled through the city and joined the thousands of tourists. Dieter tried a Barbecue Chicken and his enthusiasm also infected Lisbeth to purchase such one for a late lunch for Wilfried and herself. 
The afternoon and evening we spent with activities such as reading, knitting, downloading movies and just relaxing.[:]