[:de]
Blogeintrag 8. Dezember 2018
Jetzt wissen wir endlich, warum Wilfried hier in Besalú so erfolgreich ist:
Er war schon einmal hier im 9. Jahrhundert als "König Wilfried der Haarige"!
Dazu aus Wikipedia:
Wilfried der Haarige und das erste unabhängige Katalonien der Geschichte
Dabei begann Wilfried ganz unten. Naja, so weit unten man als gehobener Adeliger eben beginnen kann. Im Jahr 870 ernannte ihn Karl der Kahle zum Graf zweier kleiner Länder in Nordkatalonien, womit Wilfrieds Blitzkarriere begann. Acht Jahre später kamen dann mehrere Besitztümer in der sogenannten Spanischen Mark dazu, einem Gebiet, das als Militärgrenze gegen die Muslime des Emirats von Cordoba diente. Kein allzu beliebtes Stück Land, kann man sich denken. Dort wurden immerhin ständig militärische Scharmützel ausgetragen und die Bevölkerung war schon lange in Massen abgehauen. 
Das muss wohl der Grund sein, warum Wilfried sich hier in Katalanien so wohl fühlt und so erfolgreich ist. 
Immerhin hat er heute das 5. Porträt innerhalb von 9 Tagen für Face Europe gemacht und 2 weitere Werke auf der Brücke von Besalú angefertigt: ein Landschaftsbild von der Stadt und ein Auftragswerk. 
Heute war Daniel an der Reihe. Der Inhaber einer kleinen privaten Bierbrauerei inmitten von  Besalú, der uns sein spannendes Leben erzählte. Seine Freundin Ingrid möge ihm verzeihen, dass es heute länger gedauert hat, dass er nach Hause gekommen ist.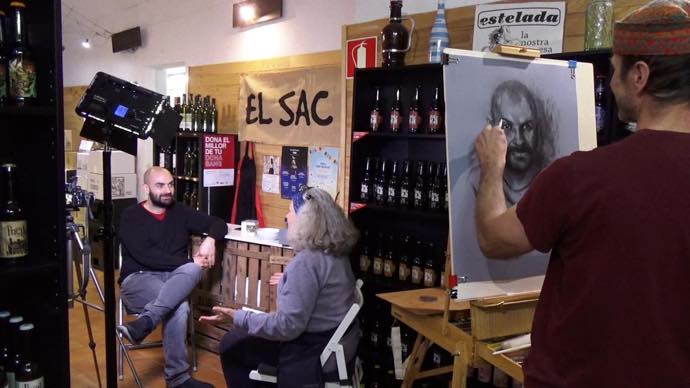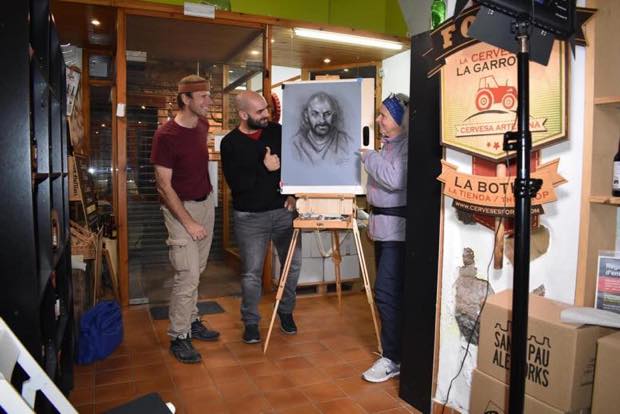 Wir danken auch seinen liebenswürdigen Familien!
Bepackt mit Wurst – von seiner Freundin und deren Familie fabriziert, und mit Wein von Besalú kamen wir spät abends wieder in Fredi an. Danke für die wunderbaren Geschenke![:en]
Blogeintrag 8. Dezember 2018
Now we finally know why Wilfried is so successful here in Besalú:
He had been here in the 9th century as the "King Wilfred the Hairy!"
For this from Wikipedia:
"Wilfred the Hairy and the first independent Catalonia history:
Here Wilfried started at the bottom. He just started out as fine nobleman. In 870 Charles the Bald appointed him to the Count of two small countries in Northern Catalonia, which Wilfried's meteoric career began. Eight years later, more possessions then were added in the so-called Spanish Mark, an area that served as a military frontier against the Muslims of the Emirate of Cordoba. Not a very popular piece of land, one can think of. There, military skirmishes were fought after all the time and the people were cut off for a long time in masses."
That must be the reason why Wilfried feels so comfortable here in Catalonia and is so successful. 
After all, he has now made the fifth portrait within 9 days for Face Europe, and two other works made at the Bridge of Besalú: a landscape of the city and one commissioned work. 
Today it was my turn to find Daniel. The owner of a small private brewery in the midst of  Besalú, who told us his exciting life while he was drawn. His girlfriend Ingrid will hopefully forgive him that it took longer today for him to come home!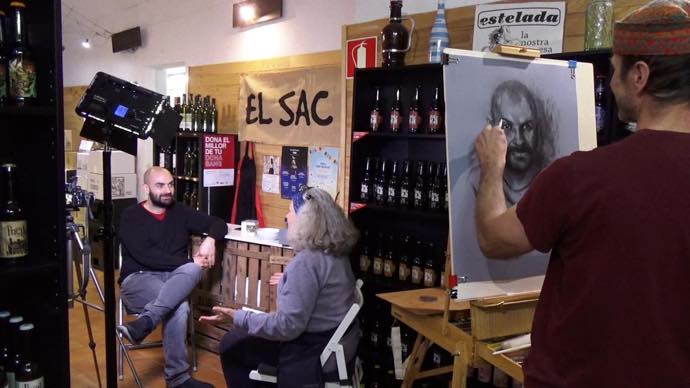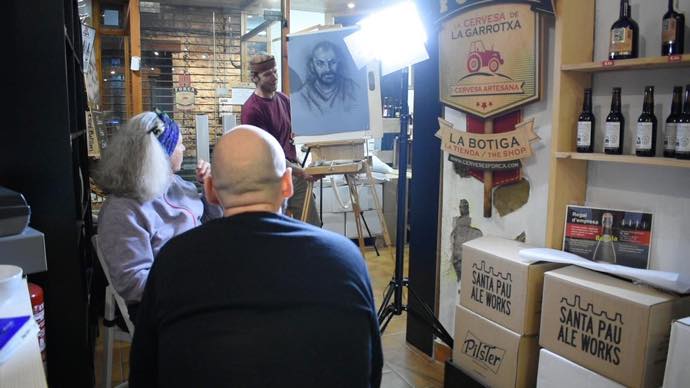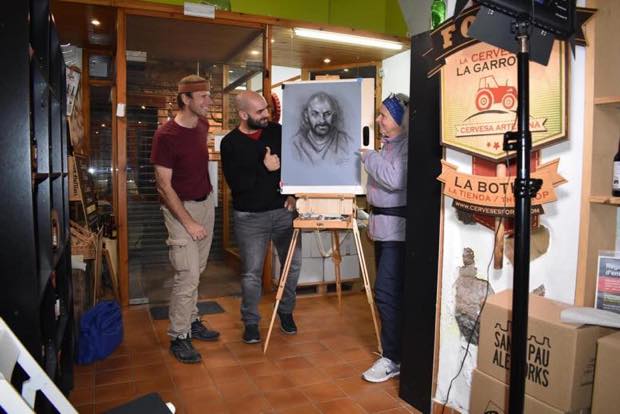 We also thank his amiable family![:]