Has it already been so many days since we have arrived here in Alboraya?
Blog post December 19, 2018
The days fly by. It's so comfortable here, we are doing so incredibly well that we do not notice how fast time goes by.
On Saturday we met with Bettina's family. She is the daughter of my longtime girlfriend Helga in Austria, who has moved to Spain many years ago and now has started a family with two daughters (4 and 6 years old).
Since her husband Sven is Danish he talks Danish with the girls, she talks German, and the kids talk Danish, German and Spanish, and they also participate in an English course. They reconcile all that, or rather it all goes into their brain: simply admirable. We enjoyed a little trip with the girls into the park and then we could be spectators and helpers preparing the Argentinean shrimps and a squid and another fish which name I don't remember, but it tasted delicious. The girls got a kick out of the the tentacles of Oktopusses and made them swim in their hands in the sink. As adults, we have far too many resentments against such a game. But Bettina is an admirable mother and patient with her children. I do not worry about our future as long as there are  kids growing up like them.
After the delicious dinner we had the opportunity to walk back to our Fredis in a half-hour walk, which was very pleasant.
We evensurvived an unlighted bicycle road and also to the gypsy shacks.
Sunday, December 16 was dedicated mainly to waving goodbye to Dieter and Petra and getting to know our neighbors.
Petra and Dieter moved on to their friends who stay 150 km south of Valencia. Thery are very well there as they posted in the meantime.
Our direct neighbours in front of us are young Spaniards. He cannot speak English at all, she does a bit. Daily they borrow our bottle opener and always smile at us very friendly. Unfortunately so far we have not had contact with them. Our request to turn down the volume of the radio a little bit because we were filming resulted into an immediate shut off of the radio.
The neighbors behind us are Kai and Ayu (Laura). Kai is from Germany, Ayu is Spanish. She also speaks very good German, has lived in Germany for 3 years. Actually, they wanted to start a music band here in Spain together with a second couple, but just now they are in the process that they can or have to leave their partners as they seem to not be reliable. Kai is a trained educator and has also conducted music education with children. As Bettina is looking for a care for her two children at Christmas time and Kai and Ayu will stay here for longer, there is a great opportunity for child care and music lessons. I hope that's suitable for all of them.
Behind Kais car there is a French car (called Betsy), but whose inhabitants are New Zealanders: Ruth and Alan. Alan has an Irish passport and therefore Wilfried has painted him on Monday as the 23 portrait of Face Europe. He could sign on Big Fredi next to Ireland. It is the first signature for Ireland.
The car was bought in Italy, converted into a camper in France and has big letters in front saying "New Zealand". Since about 1.5 years they have been travelling through Europe. Their experiences can be found on their blog: www.travel-cook-eat.com
or on Facebook: travelcookeat.
From the title already, you can tell what they like to do the most!
Ruth is very helpful as a blogger with tips on how we can improve our project.
Yesterday, Tuesday,
Miguel was guest of Face Europe, and told us about his career as a trade unionist in the tobacco factory and now as a gardener and lessor of his country. Ayu has translated simultaneously.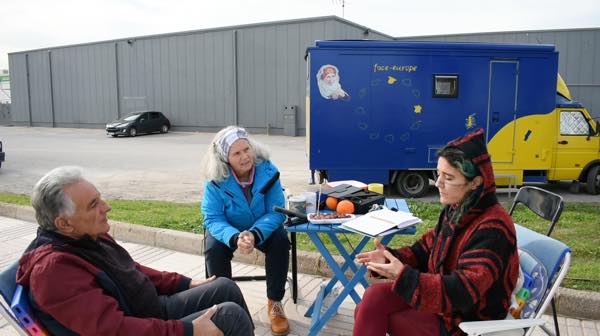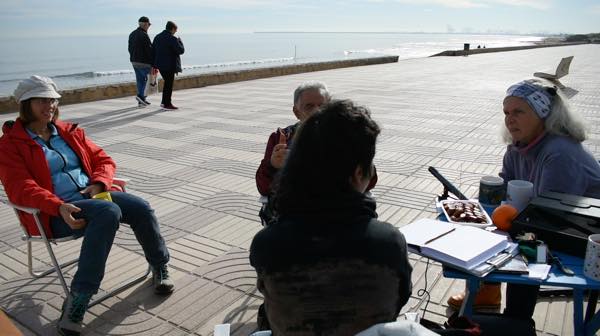 While she is translating into German what she just heard she can listen to Miguel and translate again. An extraordinary talent! Thanks Ayu for your great help!
Today was a quiet day. Bettina picked me up and we went shopping to Aldi. Then a shower and hair wash had to be done before we shared lunch at the Chinese restaurant with Ruth and Allen.
Apart from the uprising wind during the day today it was the warmest day since our trip. In the morning we already had 14 degrees and it felt like a foehn.
In the evening we sat together with the "Kiwis" in their car Betsy and shared the fried sweet pumpkin Bettina had brought to for dessert.