Blog entry 16/01/2019
The drawing, Wilfried did of
 

Freya, did not satisfy him.

 

Freya seems to be too old on the portrait. He has just looked a little into the future!

He also met her typical facial expression. As Freya was focused more on the story read by her mother Bettina during the session, it was extremely unsatisfactory for Wilfried and it was also exhausting. It was also getting cold outdoors and somehow it soon became uncomfortable. Wilfried would like to create a better portrait at one of our next visits. 

On Monday, a Spaniard should come, which unfortunately also did not show up. It is cumbersome  when people first show great interest, but then do not come. 

Paul's friend Sebastian saved us again and sat portrait and told us about his life.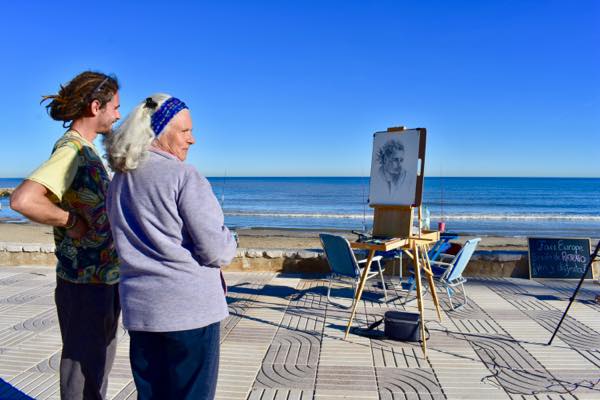 Yesterday we asked Paul to repeat the session – in the hope that the camera works this time. And it did. The portrait and the recording worked out fine this time. 
Then we wanted to wash our clothes in the laundry of the nearby gas station and afterwards get fresh drinking water from the campsite. When we were finished with the laundry, it was already getting dark. The water was denied to us this time. Obviously, it was too dark. Other campsites were not interested in us to sell drinking water either. 
So we chugged 15 km back without water. Then, when even the power supply of the lap top crashed, the mood was once on the bottom. But that can not destroy a the wedding anniversary. New day – New luck! And so it was: instead of 80 € for a new power supply, and a wasted day at Media Markt, we bought a soldering iron and solder at the hardware store next door and with great skill and teamwork (Wilfried and Lisbeth) we managed to repair the broken cable, an obvious normal breaking point of Apple devices. 
And also the adapter which we bought for the water line at the gas station next door fit the faucet and we were able to fill in 80 liters of water. What a pleasure it was to wash the hair and take a shower!
Elena, the Spaniard again did not appear today. Hopefully Brigitte has the decency to appear tomorrow, she is from France.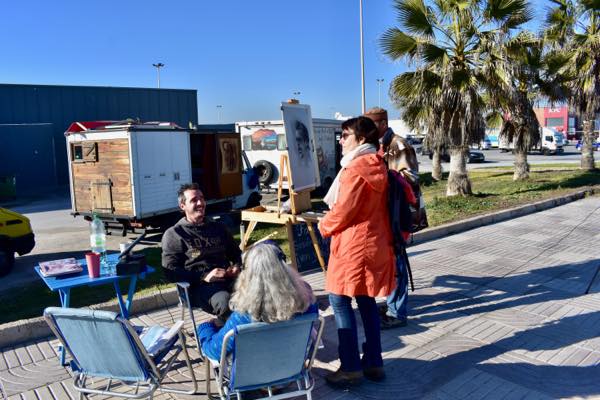 Paul has impressed her that she must come to represent their country well, because the Spaniards are unreliable. 
We just had Fritattensuppe and pancakes. Delicious! Easy and good! 
We probably get hungry soon today, but for this occasion there is always enough cheese in the refrigerator.