[:de]Blogeintrag 16.1.2019
Die Zeichnung, die Wilfried von Freya anfertigte, befriedigte ihn selber gar nicht. Freya wirkte ihm zu alt.
Dabei hat er doch nur schon ein wenig in die Zukunft gesehen!
Außerdem hat er ihren typischen Gesichtsausdruck hervorragend getroffen. Da Freya sich mehr auf die Geschichte konzentrierte, die ihre Mutter Bettina während der Sitzung vorlas, war es für Wilfried äußerst unbefriedigend und anstrengend. Es wurde auch rasch kalt im Freien und irgendwie wurde es bald ungemütlich. Wilfried möchte noch ein besseres Porträt erschaffen bei einem unserer nächsten Besuche. 
Am Montag sollte ein Spanier kommen, der sich leider auch nicht blicken ließ. Es ist schon immer wieder mühsam, wenn die Leute großes Interesse heucheln, aber dann nicht kommen. 
Pauls Freund Sebastian rettete uns erneut und saß stattdessen Porträt und erzählte uns aus seinem Leben.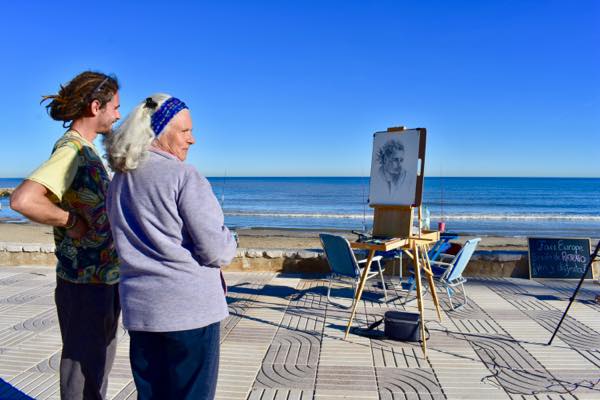 Gestern baten wir Paul, die Sitzung zu wiederholen – in der Hoffnung, dass die Kamera diesmal funktioniert. Und das tat sie auch. Das Porträt und die Aufnahme gelangen. 
Anschließend wollten wir zum Wäsche waschen in den Waschsalon der nahegelegenen Tankstelle fahren und danach frisches Trinkwasser vom Campingplatz holen. Als
wir mit dem Wäsche waschen fertig waren, wurde es bereits dunkel. Das Wasser wurde uns dieses Mal aber verwehrt. Offensichtlich war es zu finster. Auch andere Campingplätze waren nicht daran interessiert uns Trinkwasser zu verkaufen. 
Wir tuckerten also 15 km unverrichteter Dinge wieder retour. Als dann im "Office" bei der abendlichen Arbeit am Laptop auch noch der Netzteil seinen Geist aufgab, war die Stimmung erst einmal auf dem Tiefpunkt. Aber das kann einem den Hochzeitstag auch nicht zerstören. Neuer Tag, neues Glück! Und so war es dann auch: anstatt um 80 € ein neues Netzteil zu kaufen, also einen Tag bei Mediamarkt zu vertrödeln, kauften wir einen Lötkolben und Lötzinn im Baumarkt nebenan und mit viel Geschick und im Teamwork (Wilfried und Lisbeth) schafften wir die Reparatur des geknickten Kabels, eine durchaus übliche Sollbruchstelle bei Apple. 
Auch der Adapter für die Wasserleitung bei der Tankstelle nebenan hielt dem Abzapfversuch stand und wir konnten so zu sagen vor Ort zumindest ca. 80 Liter Wasser tanken. Mehr gab der Wasserhahn nicht preis. War das Haare waschen und Duschen ein Vergnügen danach! 
Elena, die Spanierin tauchte heute wieder einmal nicht auf und wir packten die Sachen unverrichteter Dinge wieder ein. Hoffentlich hat Brigitte aus Frankreich so viel Anstand morgen zu erscheinen.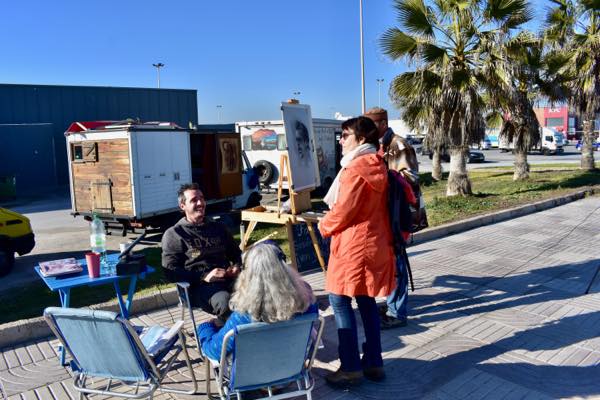 Paul hat ihr eingeschärft, dass sie kommen "muss", um ihr Land gut zu repräsentieren, denn die Spanier sind unzuverlässig. 
Es gab heute Fritattensuppe und Palatschinken. Lecker! Einfach und gut! 
Wahrscheinlich bekommen wir noch einmal heute Heißhunger, aber für diesen Fall ist immer mit Käse gesorgt. [:en]Blog entry 16/01/2019
The drawing, Wilfried did of
 

Freya, did not satisfy him.

 

Freya seems to be too old on the portrait. He has just looked a little into the future!

He also met her typical facial expression. As Freya was focused more on the story read by her mother Bettina during the session, it was extremely unsatisfactory for Wilfried and it was also exhausting. It was also getting cold outdoors and somehow it soon became uncomfortable. Wilfried would like to create a better portrait at one of our next visits. 

On Monday, a Spaniard should come, which unfortunately also did not show up. It is cumbersome  when people first show great interest, but then do not come. 

Paul's friend Sebastian saved us again and sat portrait and told us about his life.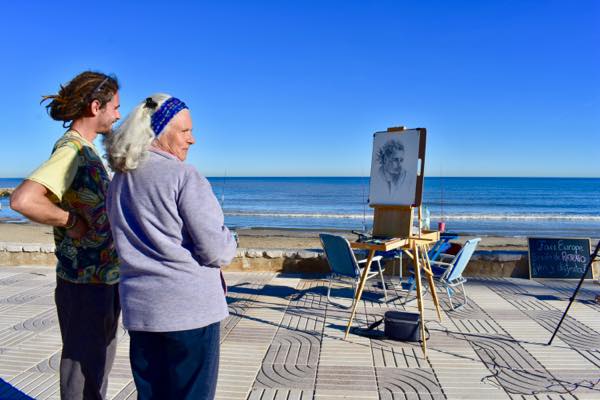 Yesterday we asked Paul to repeat the session – in the hope that the camera works this time. And it did. The portrait and the recording worked out fine this time. 
Then we wanted to wash our clothes in the laundry of the nearby gas station and afterwards get fresh drinking water from the campsite. When we were finished with the laundry, it was already getting dark. The water was denied to us this time. Obviously, it was too dark. Other campsites were not interested in us to sell drinking water either. 
So we chugged 15 km back without water. Then, when even the power supply of the lap top crashed, the mood was once on the bottom. But that can not destroy a the wedding anniversary. New day – New luck! And so it was: instead of 80 € for a new power supply, and a wasted day at Media Markt, we bought a soldering iron and solder at the hardware store next door and with great skill and teamwork (Wilfried and Lisbeth) we managed to repair the broken cable, an obvious normal breaking point of Apple devices. 
And also the adapter which we bought for the water line at the gas station next door fit the faucet and we were able to fill in 80 liters of water. What a pleasure it was to wash the hair and take a shower!
Elena, the Spaniard again did not appear today. Hopefully Brigitte has the decency to appear tomorrow, she is from France.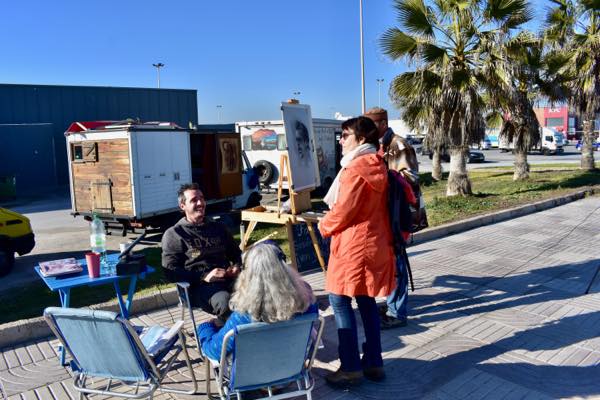 Paul has impressed her that she must come to represent their country well, because the Spaniards are unreliable. 
We just had Fritattensuppe and pancakes. Delicious! Easy and good! 
We probably get hungry soon today, but for this occasion there is always enough cheese in the refrigerator. [:]