[:de]Blogeintrag 21.1.2019
Heute ist schon wieder Montag und wir sind noch immer in Alboraya.
Am Donnerstag war Brigitte bei uns in Big Fredi und wurde als 37. Face in die große Familie von Face Europe aufgenommen.
Ihr Freund Jean Jaques war auch bei uns, sein Englisch war nicht so sattelfest, sodass er knapp vor Ende der Session einkaufen ging.
Die beiden sind Franzosen und haben sich hier fix nieder gelassen. Brigitte war sehr offen und einsichtig, was ihre eigenen Fehler in der Kindererziehung anbetrifft. Als Kindergärtnerin liebte sie ihren Job und das Begleiten der Kinder beim Erlernen von Fähigkeiten. 
Gleich für den Tag danach wurden wir von Brigitte in ihr neues Apartment eingeladen, das seit einem Monat ihr stolzer Besitz ist. Dafür verkaufte sie ihr Haus in Frankreich und jetzt versucht sie hier Wurzeln zu schlagen und das Apartment ganz nach ihrem Geschmack zu adaptieren. 
Es wird sicher wunderschön. Nach einem gemeinsamen Mittagessen führte uns Brigitte in ihrer Gegend in 2 Museen. Ersteres war mit religiösen Prozessionsaltären angefüllt und zeigte die Verkleidungen und Rituale der Osterprozessionen in den umliegenden Kirchen. Das zweite war das Reismuseum, das Brigitte uns eigentlich zeigen wollte.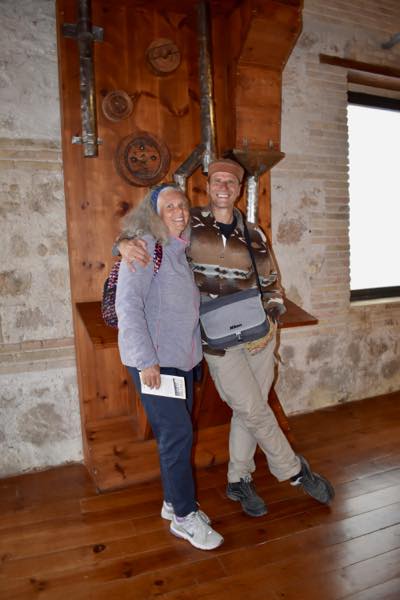 Irrtümlich gelangten wir davor in das daneben liegende katholische Museum und wir schauten uns alle dabei befremdlich an. Das Reismuseum war wesentlich interessanter. Wir konnten uns den Staub und den Lärm während des normalen Betriebes dieser stillgelegten Fabrik gut vorstellen. 
Anschließend tranken wir noch Kaffee in einem Pub. Für 3 Getränke waren unter 5 € zu bezahlen. Das ist echt unschlagbar.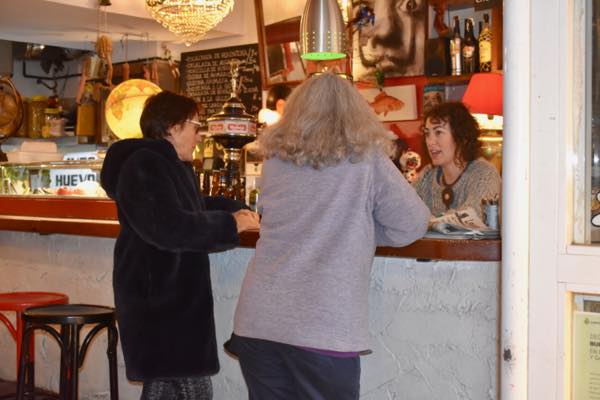 Wilfried packte in dem Lokal derart der Schlaf an, dass wir gleich im Anschluss an den Kaffeegenuss die Heimreise im Bus Nr. 19 antraten. Der war uns ja schon ein alter Bekannter und kam auch schnell daher. 
Am Samstag war ein Putz- und Aufräumetag, nichts Besonderes zu berichten. Die "Neuen aus Österreich", Kurt und Laura aus Weiz gesellten sich noch in 2. Spur neben uns und blieben bis gestern früh unsere neuen netten Nachbarn. Wir saßen abends mit Ihnen und Kai und Ayu so wie mit Philippe und Pauline in Big Fredi zusammen. Jetzt ist er auch schon für acht Personen erprobt. Nur während der Rauchpausen entsteht ein wenig Bewegung, wenn die Raucher raus müssen. 
Gestern morgen (Sonntag) regnete es ein wenig und die Stimmung sank bei allen gleich einmal. Was soll denn das? Regen? Kein blauer Himmel? Keine Sonne? Doch, bald zeigte sie sich wieder, zu mindest für kurze Zeit. Abends luden wir noch Zbignev und Sylvia ein und verbrachten den Abend bis 22:00 Uhr. Dann ging bei Zbignev ein Alarm los und die beiden verabschiedeten sich rasch. 
Danach schaute noch Enrico herein und lud uns auf einen kleinen Spaziergang in die besonders warme vollmondklare Abendluft ein.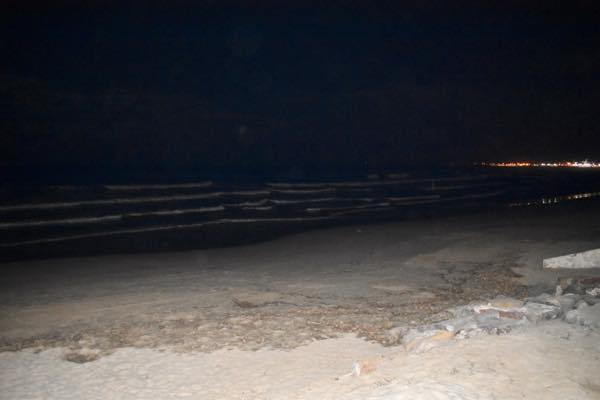 Wilfried musste 2 mal gebeten werden, kam aber dann doch mit. Wir "fanden" einen Zitronenbaum, dessen ungeernteten Zitronen dem Verderb ausgeliefert gewesen wären und Enrico rettete ihn vor allzu großer Last. Dass das Haus, in dessen Garten der Baum steht, schon lange leer steht und zum Verkauf angeboten wird, weiß er, weil er es selbst schon kaufen wollte. Es liegt zwischen Autobahn und Eisenbahn und wird so überteuert angeboten, dass es sicher nicht so rasch einen Käufer findet.
Es wird wohl noch einiger Rettungsmanöver für den Zitronenbaum bedürfen in nächster Zeit. Wir tranken danach gemeinsam mit Enrico bei uns "daheim" in Big Fredi köstliche Zitronenlimonade aus frisch geernteten Zitronen, Honig und heißem Wasser, um unsere Abwehrkräfte zu stärken. [:en]Blog entry 21/01/2019
Today is Monday again and we are still in Alboraya.
On Thursday Brigitte was drawn  in Big Fredi as 37. face in the large family of Face Europe.
Her friend Jean Jaques was also with us, his English was not so well versed, so he went shopping just before the end of the session.
The two are French and have decided to move to Spain permanently. Brigitte was very open and talked about her own mistakes in raising children. As a kindergarten teacher she loved her job, especially accompanying children during their learning of skills.
The next day we were invited by Brigitte into her new apartment, which she possesses since a month. She sold her house in France and now she tries to grow roots here and to adapt the apartment according to her personal taste.
It is certainly beautiful. After lunch Brigitte took us in the area around into two museums. The first one was filled with religious procession altars and showed the linings and rituals of Easter processions in the surrounding churches. The second was the Rice Museum, which Brigitte wanted to show us initially.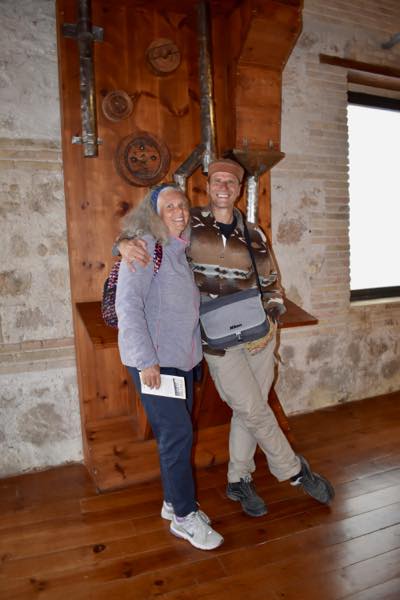 Mistakenly, we arrived in Catholic museum first and we all looked at each other in a strange way. The Rice Museum was much more interesting. We could well imagine the dust and noise during former operation of this abandoned factory.
Then we drank coffee in a pub. For three drinks I was paying under 5 €. This is really unbeatable.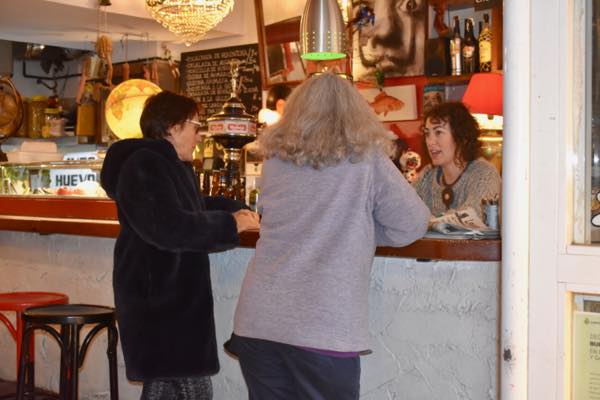 Wilfried got so sleepy in the pub that we started right after the coffee with our trip home using bus no. 19. That was already familiar for us and we came home quickly.
On Saturday was a cleaning day, nothing else to report, nothing special. The "New ones from Austria", Kurt and Laura from Weiz joined us in the second lane next to us and were our new friendly neighbors until yesterday morning. We sat together  in Big Fredi with them in the evening, also with Kai, Ayu, Philippe and Pauline. Now Big Fredi  has been already used for eight people inside sitting at the table. Only during smoking breaks a little movement starts when the smokers must get out.
Yesterday morning (Sunday) it was raining a little bit and the mood sank immediately. What's this? Rain? No blue sky? No sun? But soon the sun turned out again at least for a short time. In the evening we invited Zbignev and Sylvia, the Polish couple, and spent the evening until 22:00. Then, an alarm went off at Zbignev's phone and the two said good bye immediately.
Later that night – I was doing the dishes – Enrico knocked at the door and invited us for a walk in the particularly warm full moon clear evening air.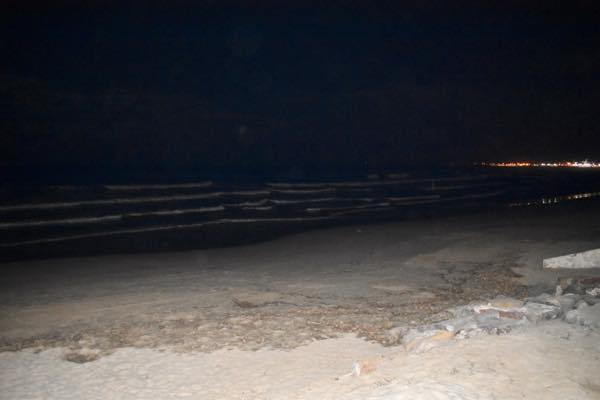 Wilfried had to be asked two times, but finally he come with us. We "found" a lemon tree whose unharvested lemons would have been spoiled unharvested and Enrico saved some of them from being too great a burden for the tree. The house has been empty for a long time and is offered for sale, he knows because he was about to buy it himself. It is located between highway and railway and is offered so overpriced that it certainly does not find a buyer very quickly. It probably still needs some emergency maneuvers for the lemon tree in the near future. 
Later in the night we decided to try out the lemonade with the freshly harvested wonderful smelling lemons.
Enrico came with us in Big Fredi where we prepared the delicious lemonade with honey and hot water in order to strengthen our health.[:]