Blog entry 13/01/2019
The last few days were pretty cool, 12-14 degrees only during the day and in the night the temperature fell then to just above zero.
So 2 days ago we woke up with 2 degrees in the morning in Big Fredi and the next morning with three, and today it had 4 degrees. With the first sun beems the temperature then goes up fast and today we will get 18 degrees again. 
The Spanish are dressed like in winter, with thick jackets, fur collars and woollen scarfs. We walk the few meters to the supermarket with sweatshirt jackets, and without hats. We enjoy and are more hardened and not sick. But even for experienced travelers in Spain, the temperature is extremely low here at the moment. Even Kai, our German neighbor has gone to the warm woolen socks two days ago, which I gave him. Until then, he was only seen in slippers without footwear.
Our Polish neighbors (Zbignev and Sylvia) heat their homes all the time – for Kai this is Sauna temperature and Sylvia is the only one who is sick. She's already feeling better though. The salty sea air contributes to the rapid healing of the cold. 
We are very economic with our gas consumption, but never cold, and now are still working with our gas cylinder since 12 December. How long it will last, we do not know. The end always comes very abruptly and at the worst possible time, so in the middle of cooking or when it's dark and cold outside. Since Wilfried must then climb into the rear garage to swap the bottles to the Austrian one, which is always a little complicated. Then we need to connect a full Spanish gas cylinder as soon as possible so that we have the Austrian bottle as a reserve for driving home.
It is now 10:30, the sun radiates the slightly cloudy sky and it has 10 degrees.
Friday was a pure "Office-day" and yesterday Saturday one Spaniard should appear for face Europe.
Either he has not taken it seriously last Saturday or he got cold feet, or simply had different plans. How lucky that our new French neighbour, Paul, decided to substitute spontaneously to be portrait no. 35 and the first Frenchman of Face Europe.
His country is already prominent in the EU flag painted on Big Fredi and his signature is now the first one of France.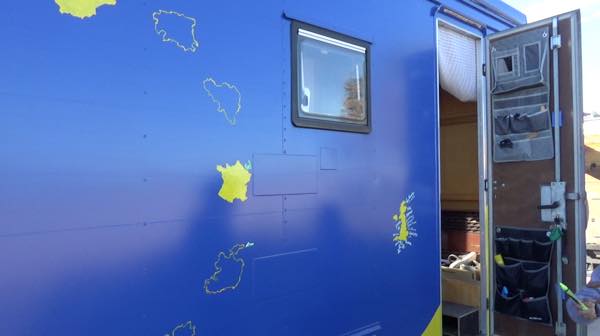 Unfortunately, our camera went on strike and there is no records of today. Something was wrong with the memory card. Unfortunately you could not see this during filming. It is terribly shame because Paul had a lot to tell. His approaches to EU I found very exciting.
In the evening, Marlon joined from Germany with his family and changed one of his tires. Wilfried noticed it and offered his help, but he was already finished. 
Today we expect Bettina and her family, because Freya, the elder daughter wants to be drawn by Wilfried.
It is a quiet Sunday, a few anglers, walkers, runners and dog owners are just on the go.
Yesterday Zbignev told us his extraordinary adventure he had: He went so his way as he met a rider. The horse was shocked when it saw him and did not move. The woman cried out to him, he should say something, the horse thinks otherwise, he is a monster. Now you have to know that Zbignev is not too great a man, modest and unobtrusive.
Monster is the last feature that would fit him. So Zbignev spoke a few words in English, the horse came out of its fear and both could go their way. Wilfried could not keep from laughing and continues the story in his mind.