[:de] Blogeintrag 10. Jänner 2019
Am 9. Jänner kam Teresa pünktlich und das erste Mal hatten wir die Szene des Malens umgedreht, sodass im Hintergrund das Meer zu sehen ist und nicht Big Fredi.
Teresa schwärmte von ihrem 6 jährigen Aufenthalt in Norwegen und ihrer immer größer werdenden Liebe für das Land und deren Menschen.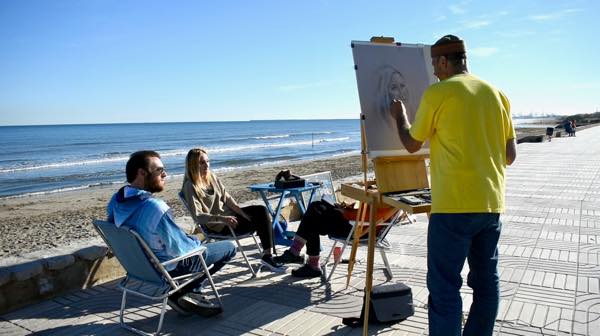 Sie ist voller Lebenslust und ihre nächste Reise führt sie in die Philippinen, wo sie ein Praktikum macht und anschließend reist.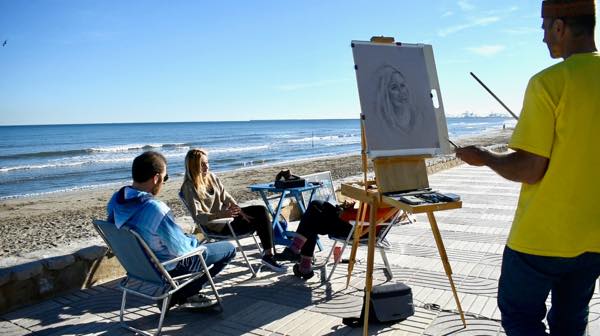 So kalt fühlte es sich heute morgen gar nicht an, obwohl es gar nur mehr 6 Grad hatte. Der übliche Wind kam auch wie immer erst am Nachmittag und frischte am Meer wieder recht auf.
Ich packte heute Vormittag meine Badesachen und machte mich zu Fuß zum Schwimmbad auf. Der Weg ist nicht zu weit und obendrein gut bekannt, nur einen Häuserblock von Bettina entfernt. Beim Pool angekommen, wollte man mir das Schwimmen verwehren, da ich kein so ein Gummizeug auf meinem Kopf trug, das sich Badehaube nennt. Vor 50 Jahren hatten wir das in Österreich Gott sei Dank abgeschafft, dass es noch ein Land gibt, das solch ein grausliches Unikum vorschreibt, hätte ich nicht gedacht. Ich argumentierte mit dem Bademeister, dass ich mein Geld zurück haben möchte, wenn ich hier nicht schwimmen darf. Daraufhin verschwand er kurzerhand in seinem Kämmerchen und kehrte mit einer Leihbadehaube wieder zurück. So konnte ich doch noch meine Längen in der brav in Bahnen unterteilten Bade-Landschaft absolvieren. Auch hier waren die Bahnen strikte getrennt durch Schnüre von Plastikkugeln, wie bei einem Tournier. Da lob ich mir unsere Bäder, wo jeder schwimmen kann, wie er möchte und nicht in Bahnen eingekastelt ist. Würden sie die Schnüre beseitigen, hätte jeder viel mehr Platz, denn die Schnüre nehmen selbst schon so viel Platz zum Schwimmen weg. Na ja, andere Völker, andere Sitten. Wir wollen ja wissen, wie es wo anders genau ist und verlassen gerne die Touristenpfade. Das SUMA Bad ist sehr begehrt und von den Einheimischen gut besucht. Es hätte auch eine Aqua Gymnastik Gruppe gegeben, das hat mich aber wenig gereizt. Mit Wonne konnte ich mir dann – nach Rückgabe des Gummihäubchens – auch wieder meine Haare waschen. Welch eine Wohltat, dies zu tun, ohne massiv Wasser sparen zu müssen, wie in Big Fredi. Im Anschluss an meine Badeexpedition ging ich zu Bettina, die mich mit reichlich frischem – heute geerntetem Gemüse beschenkte und anschließend sogar im Auto nach Hause brachte.
Wilfried war in der Zwischenzeit wieder fleißig beim Filme schneiden. Es sind wieder 2 neue Filme online:
time lapse Video von Bill's Portrait
und
time lapse Video von Stuart's Portrait
Sie sind zwar noch von England, aber gut Ding braucht Weile. Und wir haben ja nicht oft Strom so wie hier. Außerdem war die Externe Festplatte ausschlaggebend für den Start des Film Schneidens und Speicherns. Jetzt läuft es wieder großartig dank dem super "Office", wir wir es nennen. Im Eingangsbereich des Shopping-Centers befinden sich Sofas und etliche Steckdosen zum Laden sämtlicher Geräte. Das ist für jedermann und -frau gratis zu nützen.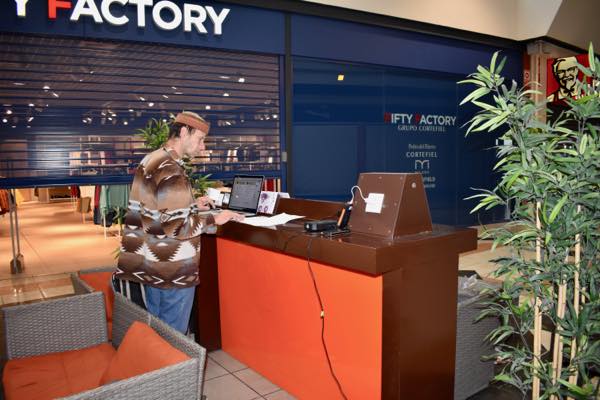 Außerdem stellt das Einkaufszentrum auch noch gratis Internet zur Verfügung. Die ebenfalls im Einkaufszentrum befindliche Toilette soll hier nicht unerwähnt bleiben, schont sie doch die Befüllung in Big Fredi. Da ist es keine Frage, dass wir alle unsere Lebensmittel hier einkaufen, schließlich genießen wir ja auch die komplette Infrastruktur. Das Zentrum ist von 9 bis 22 Uhr geöffnet und auch von allen anderen hier stationierten Womo Besitzern regelmäßig besucht. So trifft man sich auch gerne abends bei der Büroarbeit noch auf einen Tratsch, wenn es draußen zum Sitzen schon zu kühl geworden ist. [:en]Blog post January 10, 2019
January 9 Teresa arrived on time and for the first time we had changed the scene of painting, so that in the background the sea can be seen and not Big Fredi.
Teresa gushed from her six-year stay in Norway and her growing love for the country and its people.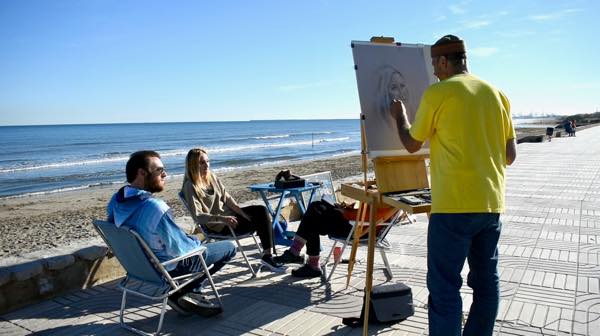 She is full of life and her next journey leads her to the Philippines, where she joins an internship and after that she will be traveling.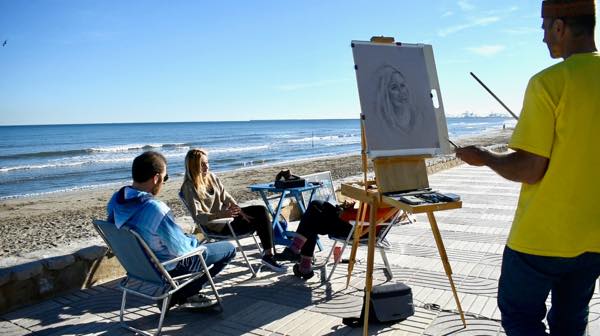 This morning it did not really feel so cold, although it only had 6 degrees. The usual wind, as every day, only came up in the afternoon and was felt at the seaside.
Today in the morning I packed my swimming gadgets and went by foot to the public swimming pool. The path is not too far and on top of that well known, just one block from Bettina's home. Arriving at the pool, they wanted to forbid swimming, since I was not wearing such a rubber stuff on my head, scolding itself "bathing cap". 50 years ago they were abolished in Austria. I did not expect that there is a country still prescribing such a terrible thing. I argued with the lifeguard that I want to have my money back if I cannot swim here. He then abruptly disappeared into his little room and returned back with a loaner. So I could swim my lengths in the well into tracks divided bathing landscape. The Pool is strictly separated by strings of plastic balls, as in a tournament. I like our pools where everyone can swim, as he wants and is not boxed in. Would they eliminate the cords, everyone would have a lot more space, because the cords themselves take so much space to swim. Well, other peoples, other customs. We want to know the differences between the countries and what exactly is different and we also like to leave the tourist path indeed. The SUMA Fitness Club Patacona is very popular and well attended by the locals. There would have also been a water aerobics group, which I did not attend. With joy I could then – after returning the rubberhat – wash my hair. What a blessing to do this without having to massively save water, as in Big Fredi. Following my bathing expedition I went to Bettina, who gave me plenty of fresh – today harvested – vegetables and then even brought me home in her car.
Wilfried was busy again in the meantime cutting films. There are now two new films on-line:
time lapse video of Bill's portrait
and
time lapse video of Stuart's portrait
Although they are still about England, but good things take time. And yes, we do not often have such a convenient place like this. In addition, the external hard drive was necessary for the start of the film cutting and storing. Now it works great again thanks to the super "office", we call it.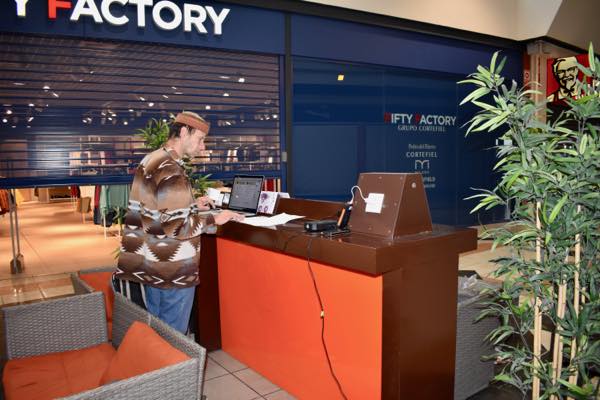 In the entrance of the shopping center there are sofas and a number of electrical outlets for charging all devices. This is free available for everyone. In addition, the mall also offers free Internet. The toilet – also located in the shopping center – should also be mentioned here, it protects the filling in Big Fredi. Therefore it is no question to buy all our food here, after all we enjoy the entire infrastructure. The center is open from 9 am to 10 pm also regularly visited by all other stationed RV owners. So you can still meet people in the evening during the "office work" for a chat if it has already become too cold to sit outside. [:]