Blog post January 10, 2019
January 9 Teresa arrived on time and for the first time we had changed the scene of painting, so that in the background the sea can be seen and not Big Fredi.
Teresa gushed from her six-year stay in Norway and her growing love for the country and its people.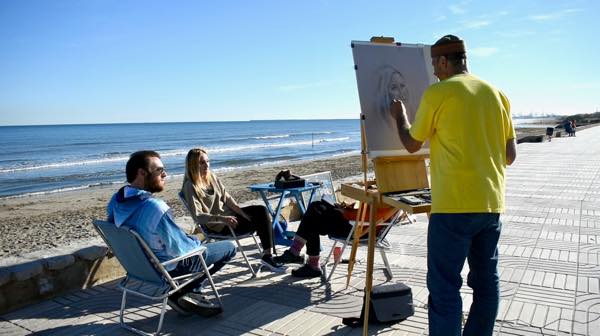 She is full of life and her next journey leads her to the Philippines, where she joins an internship and after that she will be traveling.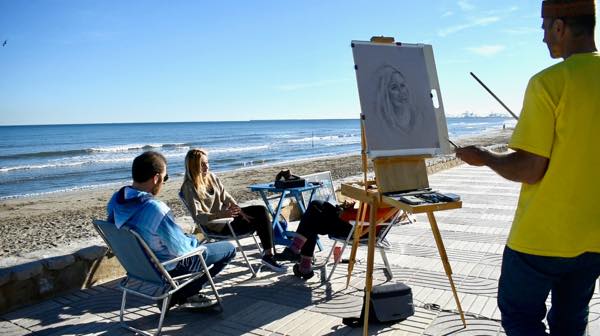 This morning it did not really feel so cold, although it only had 6 degrees. The usual wind, as every day, only came up in the afternoon and was felt at the seaside.
Today in the morning I packed my swimming gadgets and went by foot to the public swimming pool. The path is not too far and on top of that well known, just one block from Bettina's home. Arriving at the pool, they wanted to forbid swimming, since I was not wearing such a rubber stuff on my head, scolding itself "bathing cap". 50 years ago they were abolished in Austria. I did not expect that there is a country still prescribing such a terrible thing. I argued with the lifeguard that I want to have my money back if I cannot swim here. He then abruptly disappeared into his little room and returned back with a loaner. So I could swim my lengths in the well into tracks divided bathing landscape. The Pool is strictly separated by strings of plastic balls, as in a tournament. I like our pools where everyone can swim, as he wants and is not boxed in. Would they eliminate the cords, everyone would have a lot more space, because the cords themselves take so much space to swim. Well, other peoples, other customs. We want to know the differences between the countries and what exactly is different and we also like to leave the tourist path indeed. The SUMA Fitness Club Patacona is very popular and well attended by the locals. There would have also been a water aerobics group, which I did not attend. With joy I could then – after returning the rubberhat – wash my hair. What a blessing to do this without having to massively save water, as in Big Fredi. Following my bathing expedition I went to Bettina, who gave me plenty of fresh – today harvested – vegetables and then even brought me home in her car.
Wilfried was busy again in the meantime cutting films. There are now two new films on-line:
time lapse video of Bill's portrait
and
time lapse video of Stuart's portrait
Although they are still about England, but good things take time. And yes, we do not often have such a convenient place like this. In addition, the external hard drive was necessary for the start of the film cutting and storing. Now it works great again thanks to the super "office", we call it.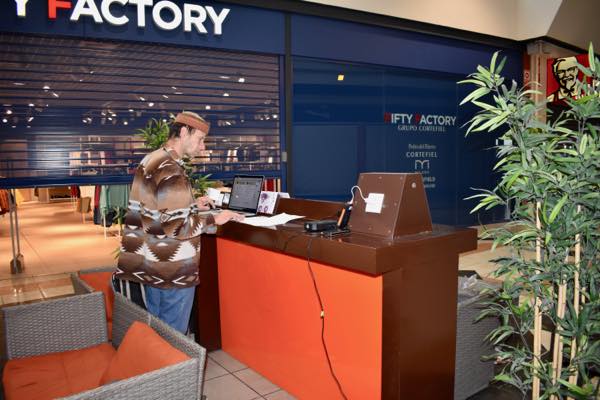 In the entrance of the shopping center there are sofas and a number of electrical outlets for charging all devices. This is free available for everyone. In addition, the mall also offers free Internet. The toilet – also located in the shopping center – should also be mentioned here, it protects the filling in Big Fredi. Therefore it is no question to buy all our food here, after all we enjoy the entire infrastructure. The center is open from 9 am to 10 pm also regularly visited by all other stationed RV owners. So you can still meet people in the evening during the "office work" for a chat if it has already become too cold to sit outside.