[:de]Blogeintrag 19.2.2019
Wir verließen gegen 10 Uhr den Parkplatz inmitten der Stadt Guadix und peilten Granadas Stellplatz an.
Dieser Parkplatz neben der Schule gefiel niemandem von uns um dort zu übernachten.
Irgendwie war auch niemandem von uns nach Sightseeing in Granada zumute. Für eine Führung durch die Alhambra muss man sich erst im Internet voranmelden. Das wollten wir nicht. Zahlen für eine Führung stand auch nicht zur Debatte. Aber der Standort des Parkplatzes war 5 Minuten zu Fuß vom Einkaufszentrum "Nevada" entfernt. Petra unterstützte mich beim Kauf von 2 Hosen. Ohne sie hätte ich mich in diese Schicki-Micki Läden niemals hinein getraut. Da aber Totalabverkauf war, erstand ich gleich 2 Jeans, eine um 6 und eine um 8 €.  Super Qualität, man fragt sich wer da was verdient oder draufzahlt. Eigentlich weiß man es ohnehin: der oder die Arbeiterin zahlt immer drauf. Hätte ich nicht eine so große Freude mit den beiden endlich passenden Hosen, müsste ich mich eigentlich schämen, dieses System der Ausbeutung unterstützt zu haben. 
Wir setzten unsere Reise noch bis La Malaha fort, wo angeblich heiße Quellen sein sollten. Es war aber nur ein geschlossenes Bad und davor ein absolut stiller Stellplatz, den wir nun für uns alleine haben.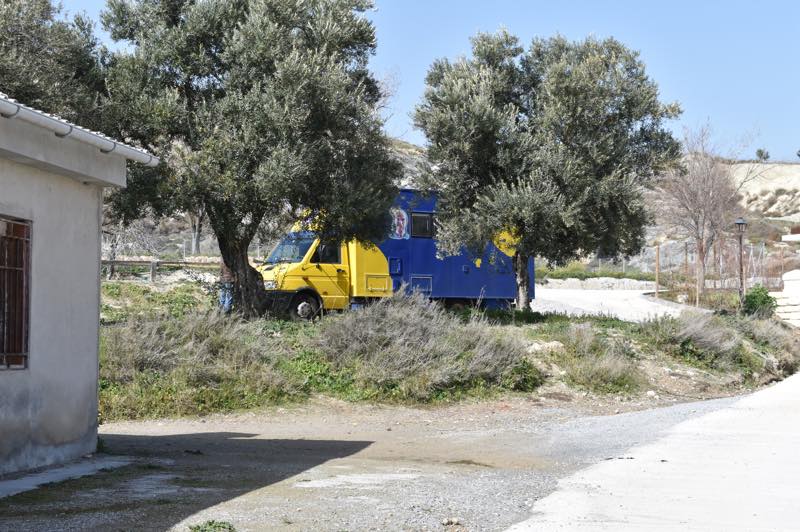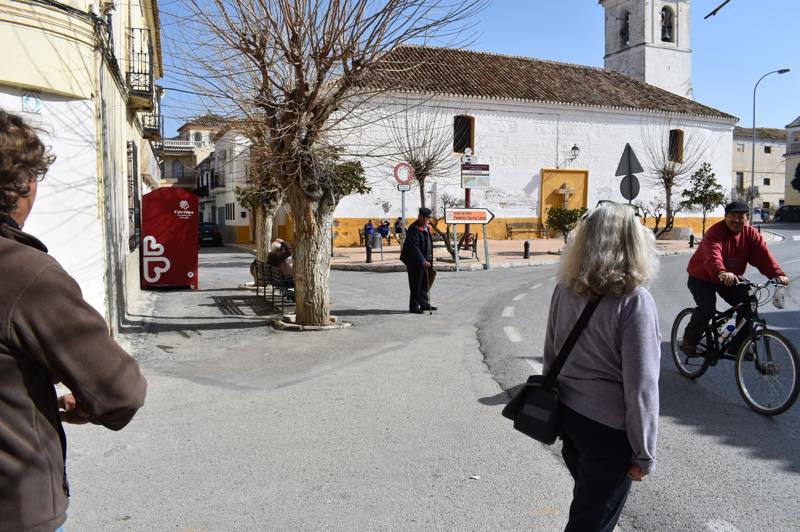 Morgen startet ein neuer Versuch, wirklich zu den heißen Quellen zu kommen und vielleicht doch noch im schwefeligen Heilwasser eintauchen zu können. [:en]Blog entry 19/02/2019
We left the parking lot within the city Guadix around 10 am and headed towards Granada's parking space.
This car park next to a school nimrod us liked at all and we could not imagine spending a night there.
Somehow none of us felt like sightseeing in Granada. For a tour of the Alhambra you have to pre-register only on the Internet. We did not want that. Pay for a guided tour was also out of question. But the location of the parking lot was 5 minutes walk from the shopping center "Nevada". Petra supported me with buying 2 pants. Without her I would never have dared to shop in this jet-setter stores. There was total sales, I bought 2 jeans, one for 6 and one for 8 €.  Super quality, one wonders who can earn anything for this price. Actually, you know it anyway: the worker never earns enough.  If I would not have such a great pleasure with the two finally matching trousers, I would be ashamed actually to have supported this system of exploitation. 
We continued our journey until La Malaha, where supposedly hot springs should be, but it was only a closed swimming pool and in front that is an absolutely quiet pitch, which we now have to ourselves.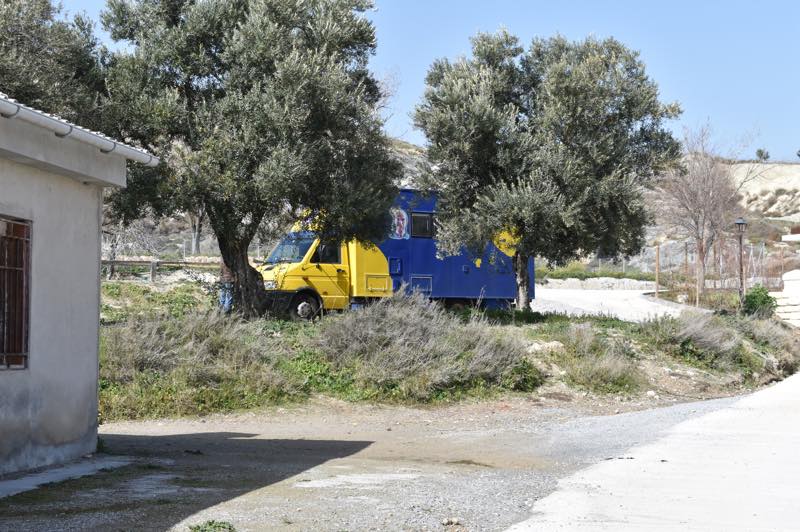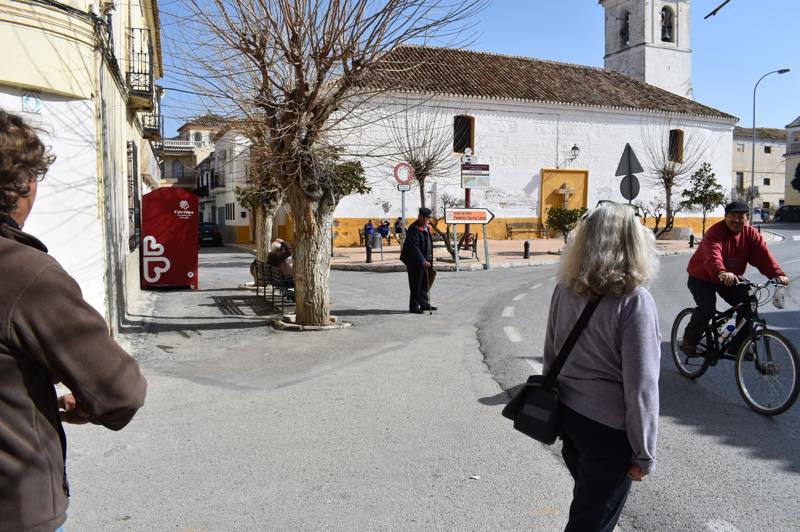 Tomorrow starts a new attempt really to the hot springs and maybe we will be able to swim in the sulphurous medicinal waters. [:]