[:de]Blogeintrag 18.2.2019
Da wir nun mit Petra und Dieter wieder vereint sind, werden wir unsere Reise bis auf weiteres wieder gemeinsam fortsetzen.
Gestern spazierte ich mit Petra einen Teil des Rundweges, den sie Dieter tags zuvor zur Gänze angetan hatte. Da dauerte der Rundweg mit Pausen fast 4 Stunden. Wir drehten nach einer halben Stunde schon um, damit mein Knie nicht wieder akut wurde. Immerhin war unser Ausblick auf den See grandios und die Strecke Betrug auch – laut Handy 4,5 km.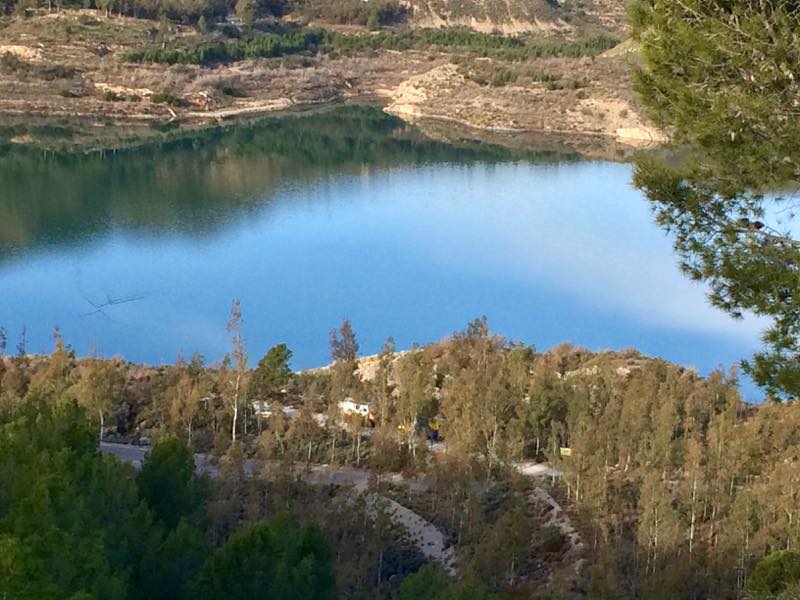 Wir genossen die grandiose Ruhe. Sehr selten fuhr einmal ein Auto vorbei. 
Einer der Ranger, der alle paar Stunden den Schranken zum Stausee prüfte, blieb am Nachmittag stehen und lud Dieter ein, mit ihm zu fahren. Er zeigte ihm eine Wasserquelle, die herrliches köstliches kühles Quellwasser hat. Leider sprudelt es derzeit nicht sehr sondern tröpfelt eher und wir hatten alle unsere Wasserbehälter voll, sodass wir nur die eine Flasche, die Dieter befüllt mitbrachte, verkosteten. 
Ansonsten war eigentlich nix los. Besprechung, wie es weitergehen sollte fand am Abend dann bei uns statt. Petra versucht sich im Socken Stricken Lernen, was in einem Muskelkater endete. 
Heute nach dem Frühstück und Zusammenpacken fuhren wir im Konvoi durch die Sierra Nevada. 
Die Straße ist zum Großteil einspurig. Ausweichstellen sind rar gesät, es fährt aber ohnehin kaum ein Auto.
Bis auf 2.000 Höhenmeter sind wir geklettert, bevor es wieder auf 915 Höhenmeter in Guadix bergab ging. 
Auf der höchsten Stelle sahen wir noch einige Schnee- und Eisflecken am Fahrbahnrand.
Die Fahrbahn war trocken, Hinweise auf Kühe und deren Exkremente auf der Straße ließen auf Rindviecher schließen, gesehen haben wir keine. 
Die Gegend von Guadix ist bekannt für seine Wohnhöhlen. Dabei sollte es eigentlich für seine Bäckerei berühmt sein. Wir gönnten uns in Alcudia de Guadix in der köstlichsten Panderia Kaffee und 5 Stück Kuchen, die wir in je 4 Teile schnitten und bezahlten dafür 9,40€.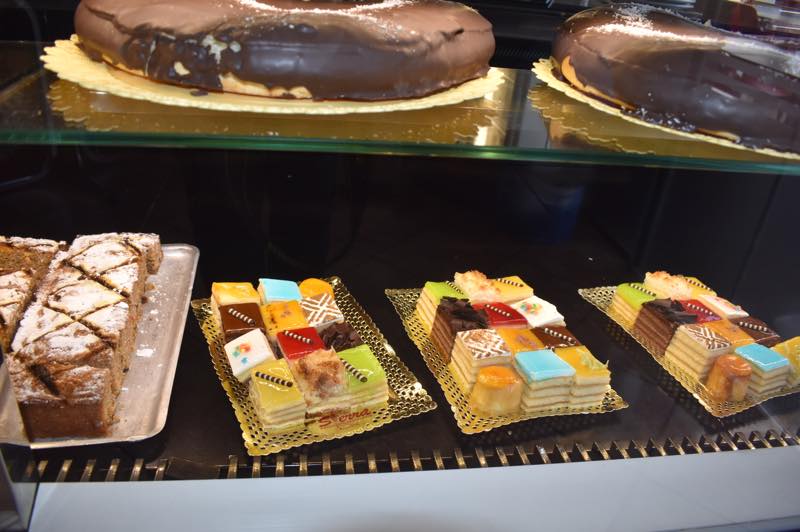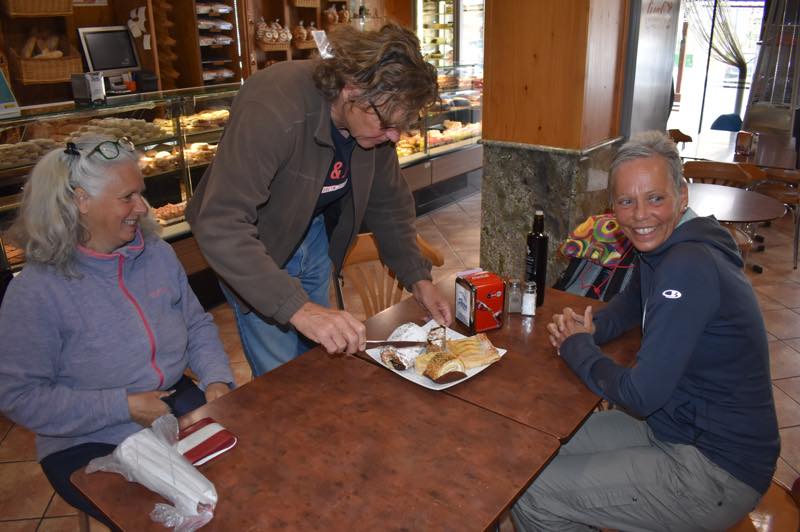 Ein unschlagbarer Preis für unschlagbaren Kuchen. Wir nahmen noch ein kleines Blech Kuchen mit und machten uns dann das kurze Stück zum Parkplatz für Wohnmobile in Guadix auf. 
Wir schlenderten wie richtige Touristen ohne Plan aber mit Ziel auf die Wohnhöhlen zu. Wilfried zeigte, wo er das Zentrum vermutete und alle folgten ihm. Dann vermutete ich die Höhlen am Berg, also stiegen wir bergauf. Einige ärmlich aussehende Wohnhöhlen entdeckten wir. Manche wären auch zum Verkauf angeboten gewesen, aber das kann man nicht einmal mehr mit "mit Potential" beschreiben. Überall davor liegt haufenweise Gerümpel und Müll herum. Möbel werden einfach vor der Tür entsorgt. 
Schließlich holte Dieter das Tablet heraus und entdeckte ein Museum. 
Wir irrten noch eine Weile herum, ohne dem Museum auch nur annähernd näher zu kommen. Schlussendlich peilten wir den Parkplatz an, den wir ohne weiteres wieder fanden. Erschöpft von den fast 5 km bergauf und bergab ließen wir uns in unseren Autos nieder um den Tag Revue passieren zu lassen, zu essen und auszuruhen.
Morgen geht es Richtung Granada. Ich bin schon gespannt, ob sie dort Granada spielen![:en]Blog entry 18/02/2019
Since we are now reunited with Petra and Dieter, we will continue our journey together.
Yesterday I walked with Petra part of the trail, she had done with Dieter the day before. Since the trail took with breaks almost 4 hours we turned after half an hour to save my knee . After all, our view over the lake was terrific and the route was even – according to my mobile phone app – 4.5 km away.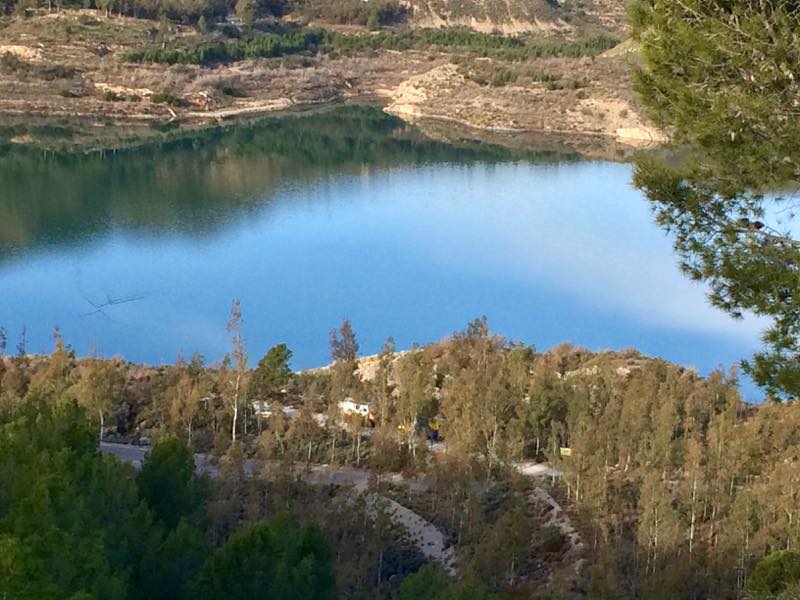 We enjoyed the great rest. Very rarely a car drove by. 
One of the rangers who tested the barriers to the reservoir every few hours, stopped in the afternoon and invited Dieter to go with him. He showed him a spring of fresh and good water. Unfortunately it is not very powerful at the moment and we had all our water tanks full, so we tasted only a bottle that Dieter brought back with him. 
Otherwise nothing was actually going on. A meeting, how we should go on was held in Big Fredi. Petra started to learn how to knit socks which ended in a soar muscles. 
Today after breakfast and packing we drove in convoy through the Sierra Nevada. 
The road is one lane for the most part. Passing places are few and far between, but we did not pass a car anyway.
Up to 2,000 meters of altitude we climbed before it went downhill to 915 meters in altitude in Guadix. 
At the highest point, we saw some snow and patches of ice at the side of the road.
The road was dry, evidence of cows and their excrements in the street pointed out the possibility of beef herds, we have seen none. 
The area of Guadix is known for its caves. It should instead be famous for its bakery. We stepped into Alcudia de Guadix's most delicious coffee shop and had coffee for each of us and 5 pieces of cake, which we cut into 4 parts and paid 9.40 € altogether.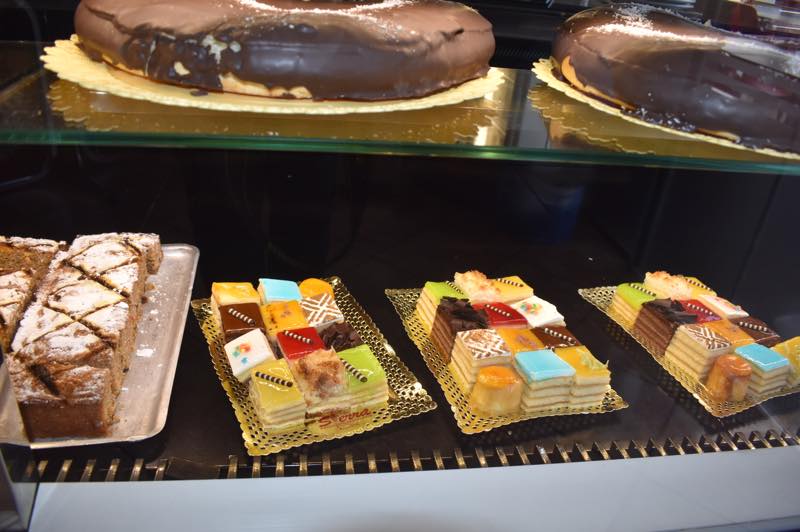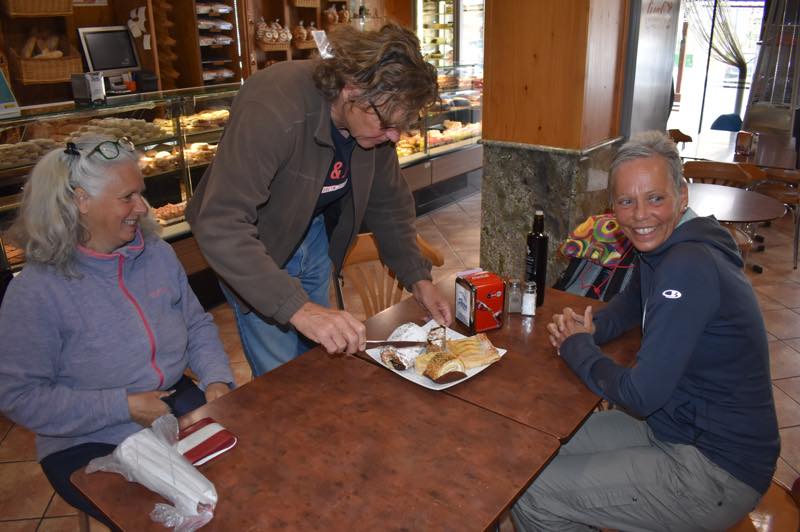 An unbeatable price for unbeatable cake. We even bought a small cake and then headed to the parking lot for campers in Guadix. 
We strolled like real tourists without a plan but with destination to the caves. Wilfried showed where he suspected the center and all followed him. Then I suspected the caves on the mountain, so we went uphill. Some poor-looking caves we discovered. Some would also have been offered for sale, but that can not even be described as "with potential".
Everywhere in front there is heaps of rubbish and garbage. Furniture simply gets disposed outside the door. 
Finally, Dieter took out the tablet and discovered a museum. 
We wandered around for a while, without the museum getting any closer. We finally gave up the Museum and headed towards the parking lot, which we found easily.
Exhausted by the nearly 5 km uphill and downhill we settled down in our cars to reminisce, to eat and rest. Tomorrow we want to go on towards Granada. I'm curious if they play Granada there![:]