Blog entry 23/02/2019
The hot springs of Santa Fe.
An area of several hectares of hills at the edge of a pine tree forest. Immersed in olive groves with views of the snow-capped Sierra Nevada.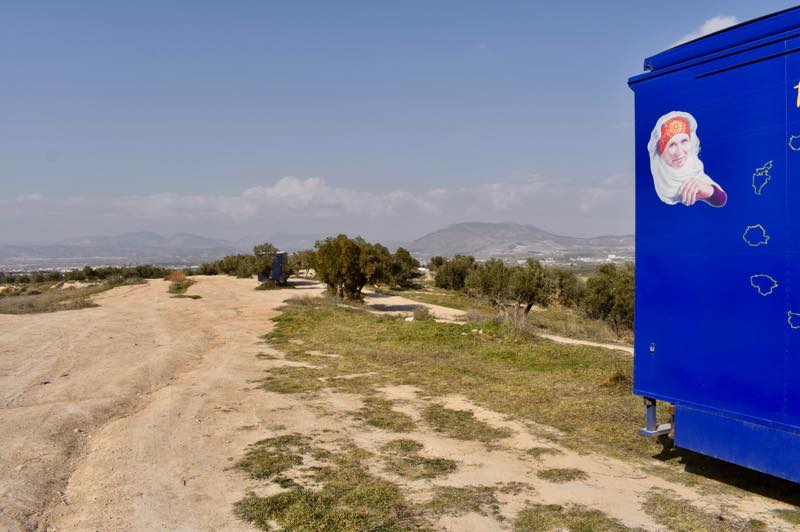 A good place, if it would not be for the many strange people that inhabit the place. Everywhere around there is lots of garbage . Free running dogs rummage in all garbage bags which are put out in front of the tents or campers overnight.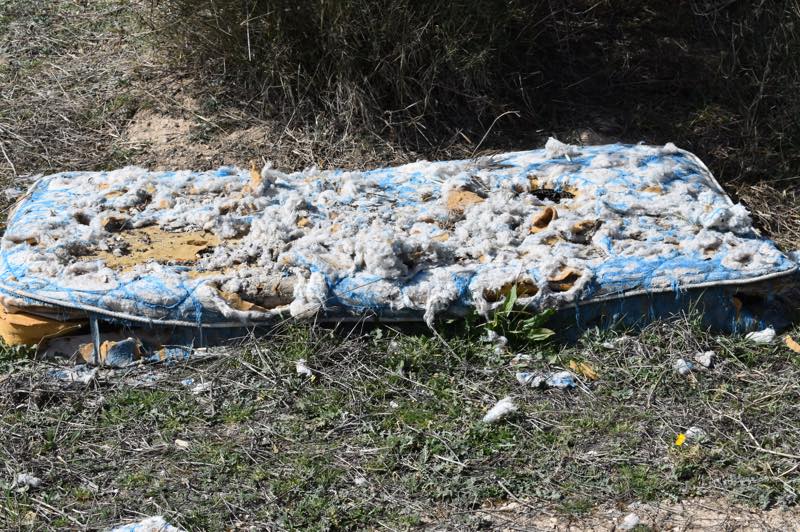 Solely Eddi (born in a van in Minsk, growing up in England with Lithuanian passport) and Olli care on their own for the cleanliness of the place.
They have turned a burnt VW bus into "Rusty Bar" and urge visitors to separate garbage and take care of it. Then they carry the garbage by foot to the village and bring drinks and food which they sell in the bar.
So they earn a little and they are somehow the guardians of the square. 
The hot springs that are the main attraction here are freely accessible and can be reached from our parking space in a 5 minutes walk. 
I walked this morning 1.5 hours in the pine forest, which is recognized as a UNESCO World Heritage Site. It was a beautiful and varied walk up and down hills with lots of good smells of the forest and moss. 
In the afternoon, a van shot into excessive pace first uphill, then downhill past us and stopped abruptly near us. From the passenger side, a young man rushed out, which felt very bad obviously. He staggered towards us and came right next to Big Fredi to a fall. The driver came running towards us as well. We provided first aid, as best as we could. Apparently, the young man had too much or a bad kind of drugs (Speed snorted). His heart was racing. He was terrified. Our task was mainly to reassure him to drink water, cover him with a blanket (he also got chills) and his companion tried to get medical help. When this did not succeed, because apparently all rescue cars were used somewhere else, we supported both with patience and reassurance until the condition of the young man of whom we learned that his name is Miguel, had so far improved that he was fit enough to be brought to a doctor. He complained that he felt his arms and legs as if they were asleep. Thanks God he survived the attack and it was reasonably good when he left. 
However we were also quite nervous and we had to "calm down" ourselves after this experience.
Later that afternoon Peter, an acquaintance of Petra and Dieter arrived, and brought with him some edible stuff for grilling. 
However, the quiet and fine evening ended in a disaster:
Party Life in Hot Springs Santa Fe. All booms. 
You cannot sleep. We are almost next to the stage. If we had known, we would have left in the evening while it was still day-light. Now we had to stand through it. It was played all night "music" of the highest volume. One wonders who can afford the expensive boxes. I wish it were you out of juice. Unfortunately, the guys have a power generator with enough fuel.