[:de]Blogeintrag 25.2.2019
Wir sind am 23.2.2019, also Samstag früh fluchtartig von den Quellen aufgebrochen
als der Technolärm noch voll im Gange war. Das ging dann auch das ganze Wochenende durch. Dieter schickte uns die Geodaten von einem Stellplatz knapp vor Sevilla, den wir auch direkt anpeilten. Leider war dort kein Stellplatz mehr frei. Es wäre auch zu schön gewesen: Dusche, WC, Strom gratis von der Gemeinde zur Verfügung gestellt. So nützten wir nur die Toiletten und Duschen und entsorgten unsere Toilette und füllten frisches Wasser nach. Um die Ecke fanden wir außerhalb des Stellplatzes einen Parkplatz, wo wir ruhig schlafen konnten. Wie überall lag zwar Müll herum, aber es war wenigstens gut, um zu schlafen nach der vergangenen durchwachten Nacht.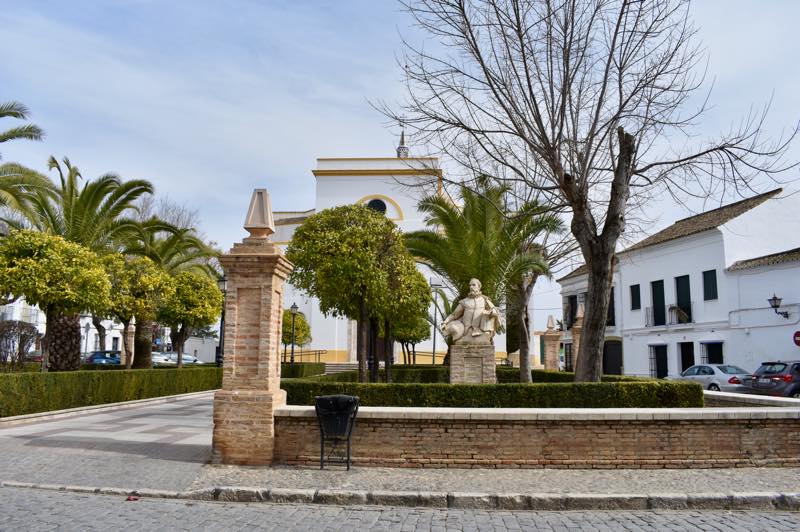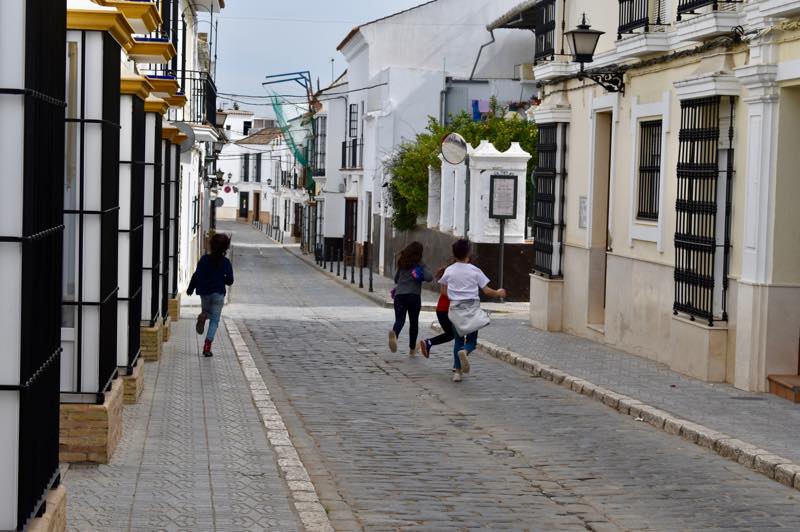 Wir hatten uns den Ort La Puebla de Casalla mittags angesehen und dort gegessen. Das war das mit Abstand schlechteste Essen, das wir jemals in Spanien gegessen hatten. Eine Eierspeise mit sämtlichen Fleisch und Wurstresten der vergangenen Tage, total versalzen. Immerhin wenigstens sättigend. 
Gestern früh ging es dann recht zügig nach Niebla weiter an einen Stellplatz am Ufer des Rio Tinto. 
Welch atemberaubende Flusslandschaft: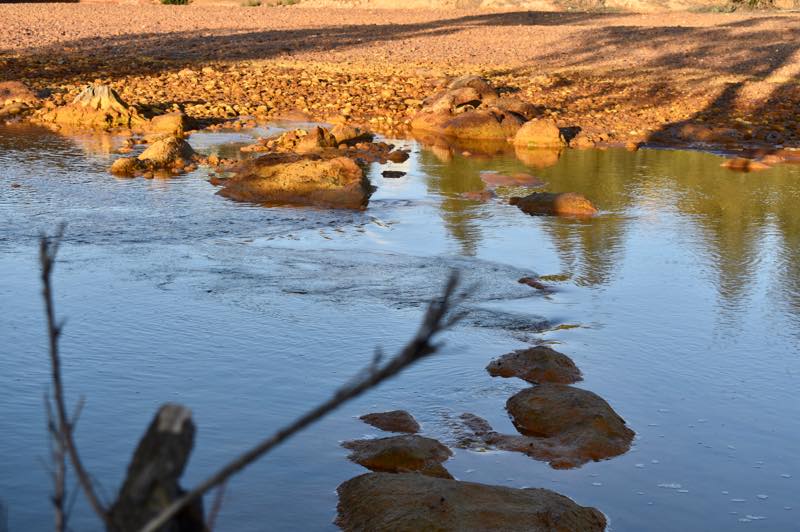 Goldfarbige Felsen, die einen Wasserfall formen und grünes Wasser als Kontrast dazu. Wenn ein Künstler diese Farben für eine Flusslandschaft wählt, würde man es künstlerische Freiheit nennen. Eine riesige Burg sitzt mitten in der Stadt und hat angeblich die längste europäische Stadtmauer. 
An vielen Lichtleitungsmasten und auf den Rauchfängen der Burg haben sich schon die Störche eingefunden und ihre Nester in Besitz genommen. 
Dieter und Petra kamen erst Stunden nach uns an. Da hatten wir in der Zwischenzeit schon Besuch von einer Schafherde gehabt.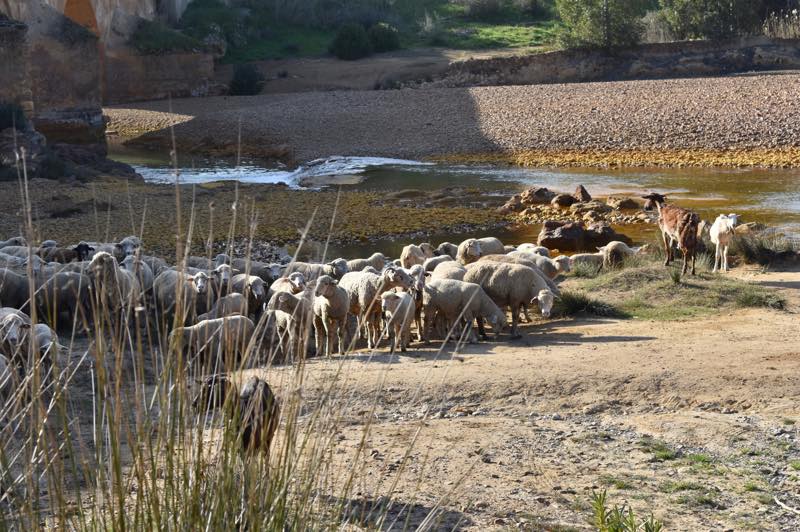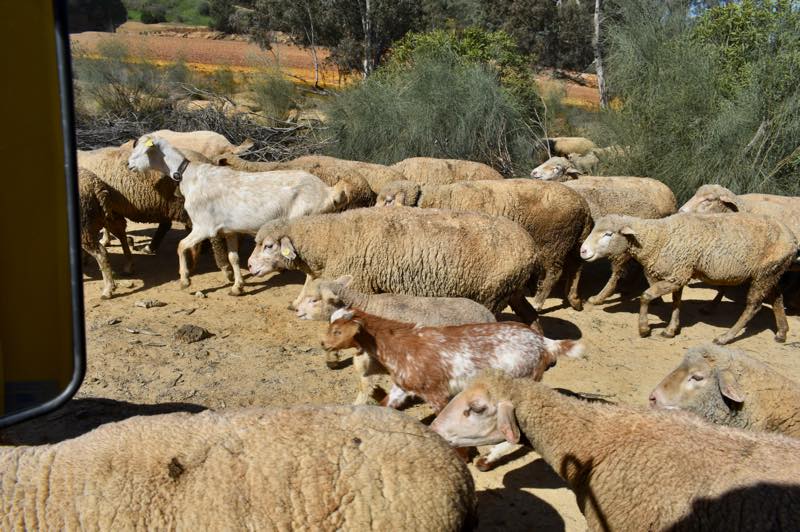 Unser Wiedersehen wurde mit Kaffee und Kuchen gefeiert. Als wir dann am Abend in die Stadt in das Restaurant Ramos essen gehen wollten, gab es nichts zu essen.
Einheimische klärten uns auf, dass es Abendessen erst ab frühestens 20 Uhr gibt. Mittagessen ist in Spanien ab 14 Uhr. Wenn wir selbst kochen, richten wir uns immer nach unserem Hunger. Beim Essen in den Restaurants muss man sich nach den Gegebenheiten des Landes richten. In Portugal wird sich wieder alles ändern. Da gibt es abends ab 20 Uhr nichts mehr zu essen. [:en]Blog entry 25/02/2019
In Saturday morning (23.2.2019) we hastily set off from the sources of techno noise
which was still in full swing. This obviously went on the whole weekend. Dieter sent us the geo data from a parking space shortly before Seville. Unfortunately, there was not any parking space left. It would have been too good: shower, toilet, electricity provided by the municipality free of charge. So we took advantage of only the toilets and showers and disposed our toilet and filled fresh water. Around the corner we found a spot where we could sleep peacefully outside the parking space. Although garbage lying around like everywhere, but at least it was good to sleep after the last sleepless night. 
We had strolled through the La Puebla de Casalla at noon and ate there at a restaurant.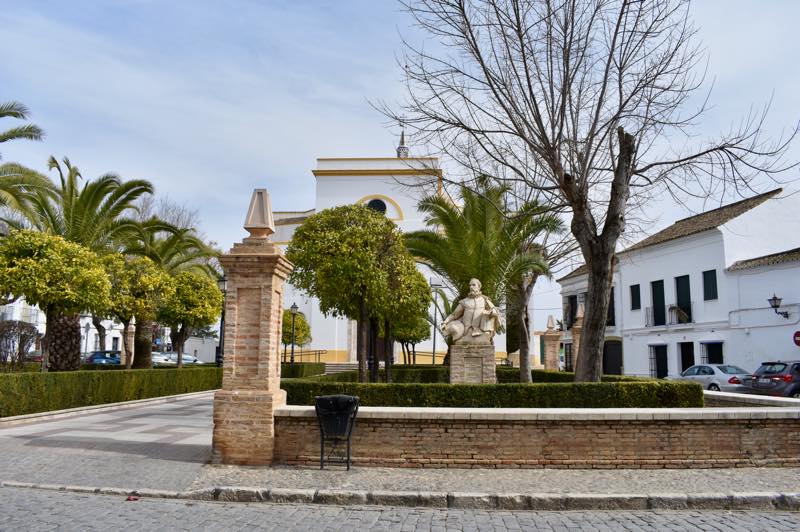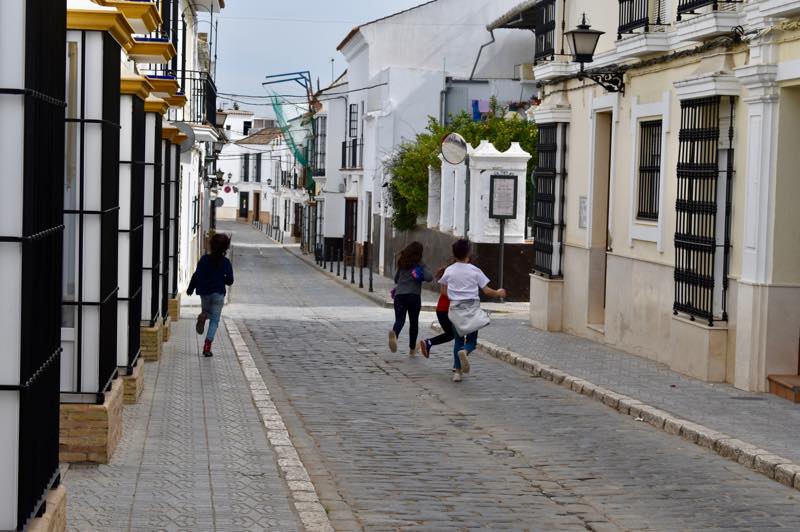 This was by far the worst food we had ever eaten in Spain. An oversalted egg dish with all meat and sausage remnants of the past days. After all, at least it filled our stomach. 
Next morning we took off rather quickly to Niebla. There was a parking space on the banks of the Rio Tinto. 
What a stunning river landscape: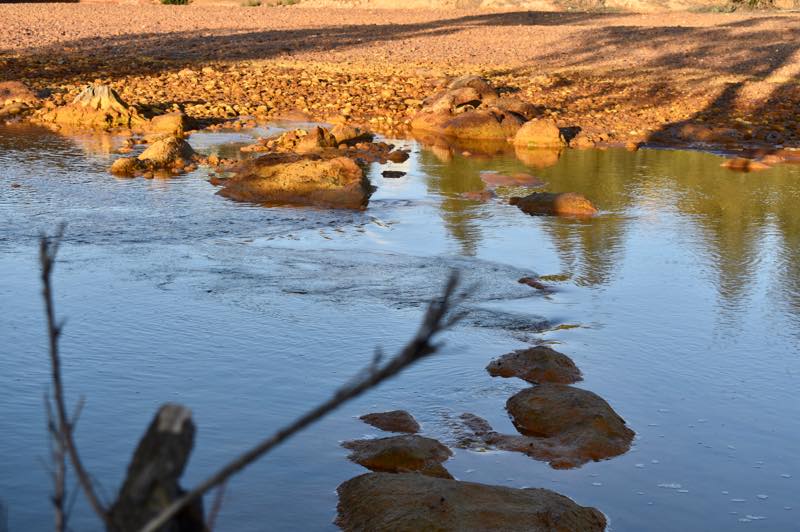 Gold-colored rocks, which form a waterfall and its green water for a contrast. When an artist chooses these colors for a river landscape, one would call it artistic freedom. A huge castle sits in the middle of the city which is allegedly the longest European city wall. 
Many electricity poles and chimneys of the castle are used by storks gathering and making their nests. 
Dieter and Petra came some hours later and also liked the place. We had already been visited by a flock of sheep in the meantime.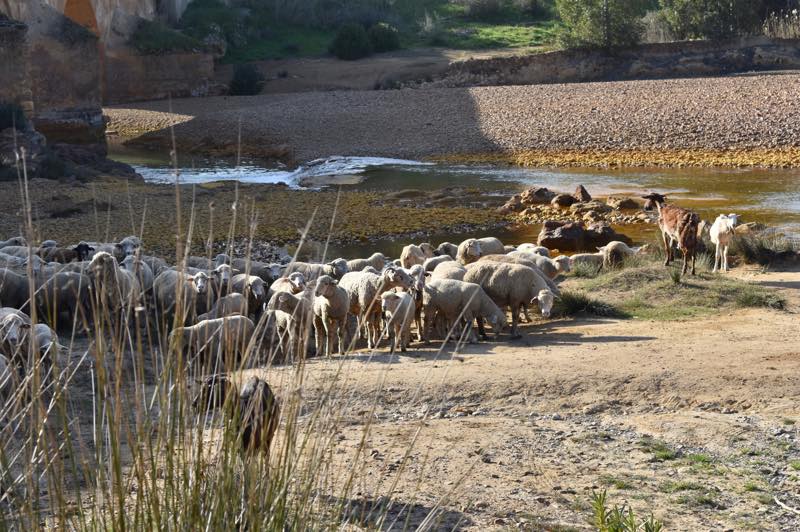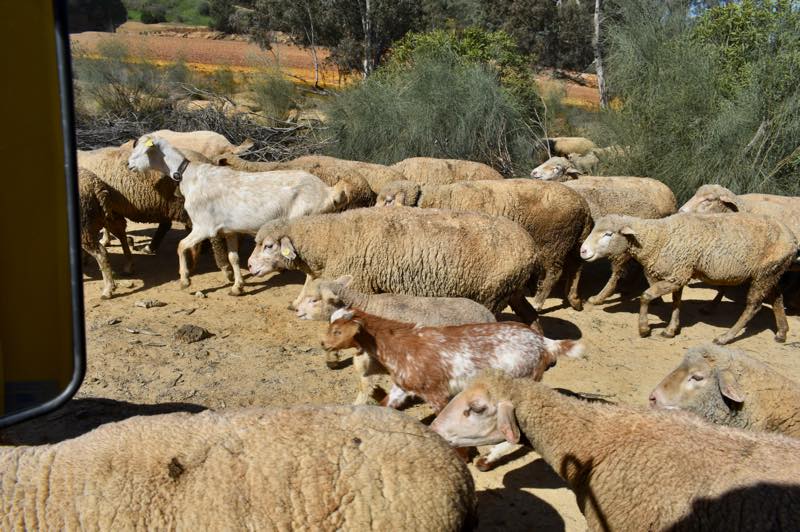 Our reunion was celebrated with coffee and cake. When we wanted to eat at the restaurant Ramos into town in the evening, there was nothing to eat.
Locals clarified to us that their dinner starts no earlier than 20 PM. Lunch is in Spain from 14 o'clock. When we cook ourselves in our car, we are always guided by our hunger. When eating in the restaurants you have to depend on the circumstances of the country. In Portugal, everything will change again. Since they serve food in the evening no longer than 20:00 o'clock. [:]