Blog entry 17/03/2019
The old idiot! Deeper and deeper he tried to hide in the sand.
But nothing helped. Wilfried undermined the wheels from the sand and out of the many driftwood, which can be found on the beach, he built a wattle out of bamboo wood behind the rear wheels. Several attempts, the additional attachment of rubber mats and even our security chain, which we usually use for closing the cab doors and finally the thrust of Ludolf and I were needed until Big Fredi's tires had contact with solid ground again. 
We looked for a safe place and asked the Portuguese who arrived at the same time with us to leave us the bigger square, because we were just pinned up in the sand and he parked his car near us in the meadow. 
It turned out that Ricardo wanted to spend the weekend with his wife Brouna and his 5 year old son Martin here. 
It was an entertaining day. While Wilfried drew Kristaps from Latvia inside Big Fredi, Ricardo took lively share in the drawing process.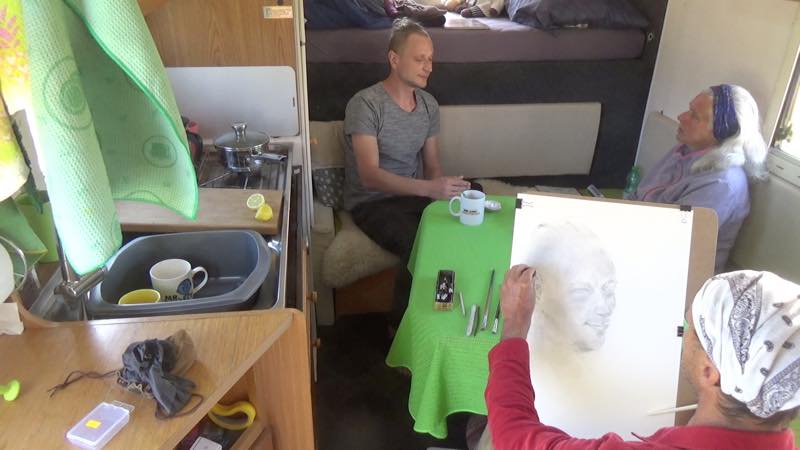 After that we prepared our supper together, and we could even eat outdoors. The wind had died down and the last sunbeams were just about warm enough for outdoor use. Then we took refuge on wine and chat inside the car, where Ricardo until shortly before midnight shared many stories from his life and his views on Portugal and the EU.