[:de]Blogeintrag 17.3.2019
Der alte Trottel! Immer tiefer versuchte er, sich im Sand zu verstecken.
Aber da half gar nichts. Wilfried grub die Räder aus dem Sand und aus dem vielen Treibholz, das am Strand zu finden ist, baute er hinter die Hinterräder ein Flechtwerk aus den Bambushölzern. Mehrere Versuche, das zusätzliche Anbringen von Gummimatten und sogar unserer Sicherheitskette, die wir sonst zum Verzurren der Fahrerhaustüren verwenden und schließlich noch die Schubkraft von Ludolf und mir benötigte es, bis Big Fredis Reifen wieder festen Bodenkontakt hatten. 
Wir suchten uns einen sicheren Platz und baten den zur gleichen Zeit ankommenden Portugiesen uns den großen Platz zu überlassen, weil wir gerade eben im Sand festgesteckt waren und er stellte sich in unserer Nähe in die Wiese. 
Es stellte sich heraus, dass Ricardo mit seiner Frau Brouna und seinem 5 jährigen Sohn Martin hier das Wochenende verbringen wollten. 
Es wurde ein kurzweiliger Tag. Während Wilfried Kristaps aus Lettland herinnen im Big Fredi zeichnete, nahm Ricardo lebhaft Anteil am Zeichenprozess.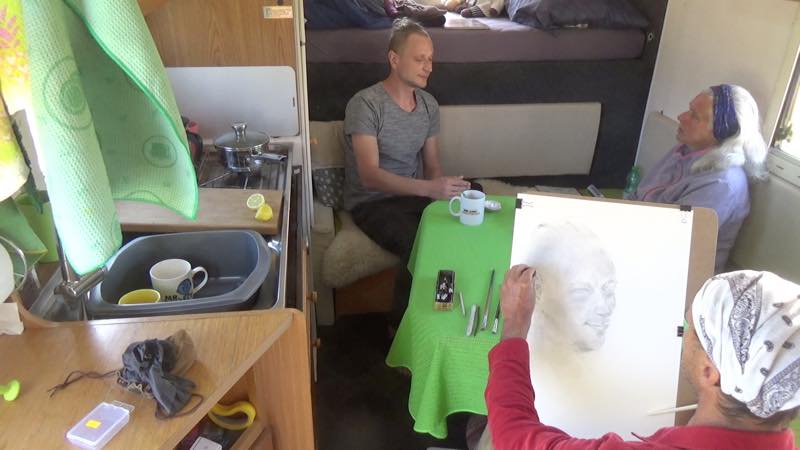 Danach bereiteten wir gemeinsam Nachtmahl zu, es wurde sogar noch im Freien gegessen. Der Wind hatte sich gelegt und die letzten Sonnenstrahlen waren gerade noch warm genug für draußen. Danach flüchteten wir uns zu Wein und Plauderei noch zu uns ins Wageninnere, wo Ricardo bis kurz vor Mitternacht noch so manche Geschichte aus seinem Leben und seine Ansichten über Portugal und die EU Preis gab. [:en]Blog entry 17/03/2019
The old idiot! Deeper and deeper he tried to hide in the sand.
But nothing helped. Wilfried undermined the wheels from the sand and out of the many driftwood, which can be found on the beach, he built a wattle out of bamboo wood behind the rear wheels. Several attempts, the additional attachment of rubber mats and even our security chain, which we usually use for closing the cab doors and finally the thrust of Ludolf and I were needed until Big Fredi's tires had contact with solid ground again. 
We looked for a safe place and asked the Portuguese who arrived at the same time with us to leave us the bigger square, because we were just pinned up in the sand and he parked his car near us in the meadow. 
It turned out that Ricardo wanted to spend the weekend with his wife Brouna and his 5 year old son Martin here. 
It was an entertaining day. While Wilfried drew Kristaps from Latvia inside Big Fredi, Ricardo took lively share in the drawing process.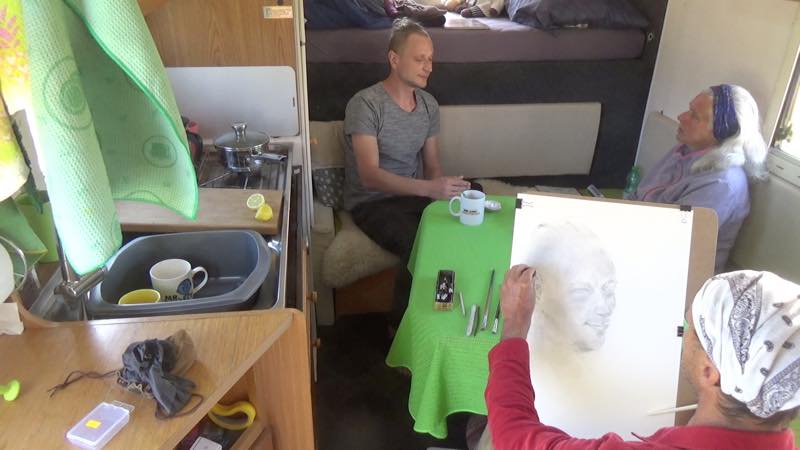 After that we prepared our supper together, and we could even eat outdoors. The wind had died down and the last sunbeams were just about warm enough for outdoor use. Then we took refuge on wine and chat inside the car, where Ricardo until shortly before midnight shared many stories from his life and his views on Portugal and the EU. [:]