Blog entry 15/03/2019
Late at night two more guests arrived in their VW bus,
caught right in the wet sand. These are Nicola and Stefan from the area around Pforzheim. Her 12-year-old dog Robert is also with them. They wanted to try to get the car out of the sand in daylight the next morning. 
This step proceeded with the help of Behnam and Philip. 
Breakfast was done in stages in front of Big Fredi. Gradually the neighbors wobbled with us and enjoyed the tables in the slipstream and with such a nice community. Everyone brought his breakfast. 
That's how it should be. The selection of community is there and who wants to join it can use it. 
Behnam moved on soon. That was even easier for him after Leo had attacked Nicola's dog and bitten him. Apparently, Robert (also  called Roby) had played himself in the foreground by always asking for games what Leo led to this attack of jealousy. The owners separated the two contrahends. Apparently, Leo was still in shock when he was attacked and also bitten by another dog three days before.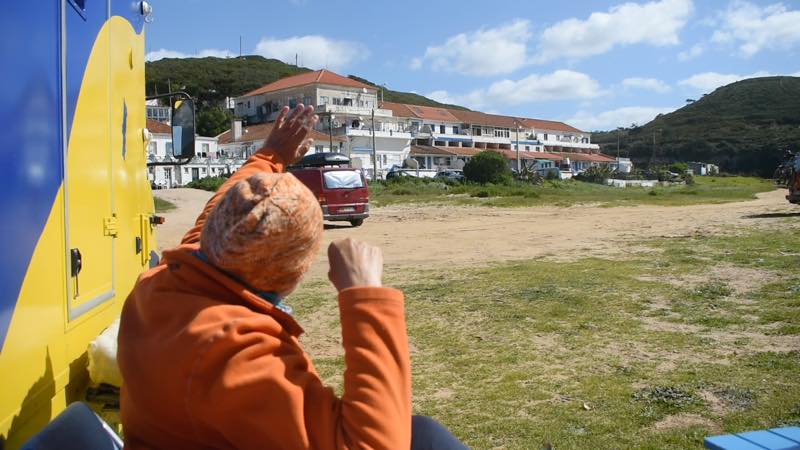 We are glad we do not have a dog on board. It's not easy to travel with a dog, especially when there are dogs in every other camper. Since there is always the possibility for disputes between the four-legged friends. Here on this beach, there are also many visitors who walk their dogs. 
In the morning, we saw many young people on the beach, gathering up the flotsam.
It was evidently a school event. Some were there with zeal and so I went to the teacher and could learn with the support of a good English-speaking girl that the school is around here and taking part in a worldwide project to clean the beaches and US collected utensils produces artifacts. In a similar grouping: http://www.skeletonsea.com/ we were already aware.
We invited the students to watch in portraying what some then assumed even for a few minutes. 
Stefan spontaneously decided to attend Face Europe. On March/14/2019 Wilfried painted for the first time after exactly one month. 
It was difficult to see Stefan's contours well due to the already high-sun. Moreover Wilfried dazzled the sun so that he had difficulty in mixing the colors. An extension of the awning had not been possible due to the strong wind. To stay in the slipstream, we therefore had to cope with the sun. 
Wilfried realized after 2 hours that he did not get along, and therefore he began with a drawing from scratch.
Through our intensive discussions beforehand with Stefan we had a good picture of him and so the conversation was rather sluggish. I saved myself with the questions that we incorporate into every interview until somehow it seemed as if all had been said. Only when I started talking about my own life, the conversation went on very easily and was noticeably looser. 
To interview a whole new person seems to be easier than when you know each other already. 
Today it was finally time for the first Portuguese portrait: It was painted by Wilfried and the conversation ran quite informal.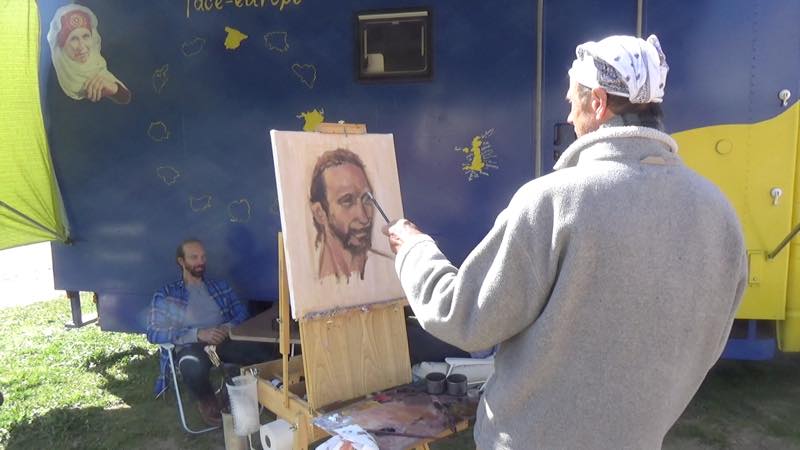 Rui is a versatile artist and reflected man who, although having traveled extensively in the world, appreciates his home.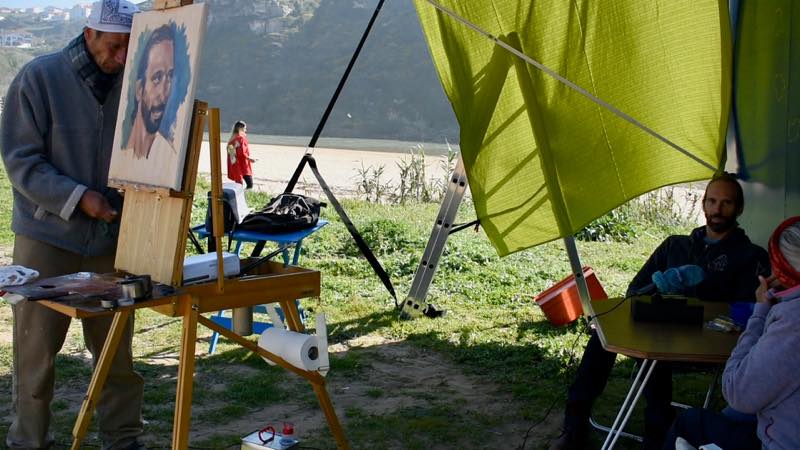 We thank the two men Stefan and Rui and look forward to Kristaps from Latvia who will be drawn tomorrow. 
Today we were also able to invite Sonia for a portrait on Sunday. 
After the oil painting by Rui everything was stowed in Big Fredi and we went to a community-owned parking lot, which offered free water and disposal of our wastewater. Then a fast shopping at Lidl and back to the Rio Lisandro beach. But ups there were already four cars. Wilfried did not want to squeeze in between but on the way to the next place the tires dug firmly in the sand. 
Tomorrow morning we will certainly get out of there with the help of the other campers.