[:de]Blogeintrag 15.3.2019
Spät abends kamen noch 2 weitere Gäste in ihrem VW Bus an,
steckten gleich bei der Einfahrt auf den Platz im Nassen Sand fest. Es sind dies Nicola und Stefan aus dem Raum Pforzheim. Ihr 12 jähriger Hund Robert ist auch mit dabei. Sie wollten am nächsten Morgen bei Tageslicht versuchen, den Wagen wieder aus dem Sand zu holen. 
Das gelang dann auch mit Hilfe von Behnam und Philipp. 
Das Frühstück wurde in Etappen vor Big Fredi eingenommen. Nach und nach trudelten die Nachbarn bei uns ein und genossen die Tische im Windschatten und die Gemeinschaft. Jeder brachte sein Frühstück mit. 
So soll es sein. Das Angebot zu Gemeinschaft ist da und wer will, kann es nützen. 
Behnam zog bald weiter. Das fiel ihm gleich noch einmal so leicht, nachdem Leo den Hund von Nicola angefallen und gebissen hatte. Offenbar hatte sich Robert (Nicolas Hund, auch Roby gerufen) zu sehr in den Vordergrund gedrängt, was Leo zu dieser Eifersuchtsattacke veranlasste. Die Besitzer trennten die beiden Streithähne. Anscheinend war Leo doch unter Schock, da er doch 3 Tage davor selbst attackiert und gebissen wurde.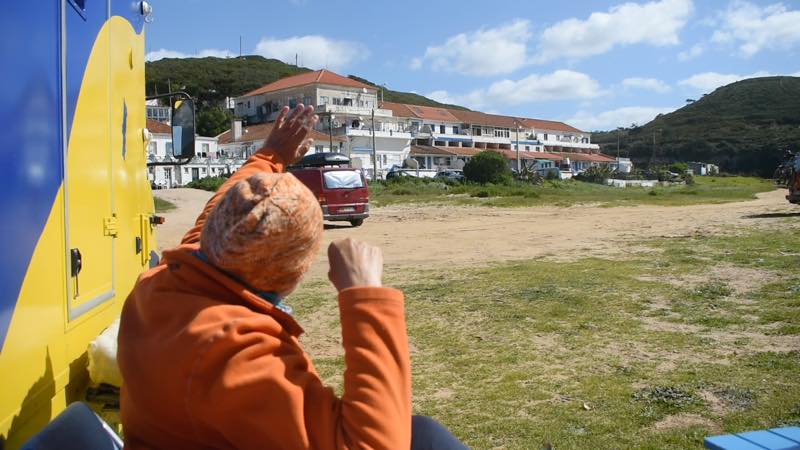 Wir sind froh, dass wir keinen Hund an Bord haben. Es ist nicht einfach mit einem Hund zu reisen, noch dazu, wo in jedem zweiten Wohnmobil Hunde dabei sind. Da kommt es schon immer wieder zu Streitigkeiten zwischen den Vierbeinern. Hier an diesem Strand gibt es auch zusätzlich noch viele Ausflügler, die mit ihren Hunden spazieren gehen. 
Am Vormittag konnten wir viele Jugendliche am Strand beobachten, die Treibgut aufsammelten.
Es war augenscheinlich eine Schulveranstaltung. Einige waren mit Eifer dabei und so ging ich zu der Lehrerin hin und konnte mit Unterstützung eines gut englisch sprechenden Mädchens erfahren, dass die Schule hier in der Nähe ist und an einem weltweiten Projekt zur Reinigung der Strände teilnimmt und aus den gesammelten Utensilien Kunstgegenstände herstellt.
Auf eine ähnliche Gruppierung: http://www.skeletonsea.com/ wurden wir bereits aufmerksam. Wir luden die Schüler ein, beim Porträtieren zuzuschauen, was einige dann auch für ein paar Minuten annahmen. 
Stefan entschloss sich spontan, bei Face Europe dabei zu sein. Am 14.3.2019 malte Wilfried nach exakt einem Monat wieder das erste Mal. 
Es war schwierig auf Grund der bereits hoch stehenden Sonne die Konturen bei Stefan gut zu erkennen. Außerdem blendete Wilfried die Sonne derart, dass er Schwierigkeiten beim Mischen der Farben hatte. Ein Ausfahren der Markise war durch den starken Wind nicht möglich. Um im Windschatten zu bleiben, mussten wir daher die Sonne in Kauf nehmen. 
Als Wilfried nach 2 Stunden erkannte, dass er nicht zurecht kam, fing er mit einer Zeichnung von vorne an. Durch unsere intensiven Gespräche vorab mit Stefan hatten wir schon ein gutes Bild von ihm und so war die Konversation auch eher schleppend. Ich rettete mich mit den Fragen, die wir in jedes Interview einfließen lassen, bis irgendwie alles gesagt schien. Erst als ich begann auch aus meinem Leben zu erzählen, ging das Gespräch ganz leicht und wurde zusehends lockerer. 
Einen ganz neuen Menschen zu interviewen fällt sichtlich leichter, als wenn man sich schon kennt. 
Heute war es dann endlich so weit: der erste Portugiese wurde von Wilfried gemalt und auch die Unterhaltung lief wieder recht zwanglos. Rui ist ein vielseitiger Künstler und reflektierter Mensch, der zwar schon viel in der Welt herumgekommen ist, aber seine Heimat sehr schätzt.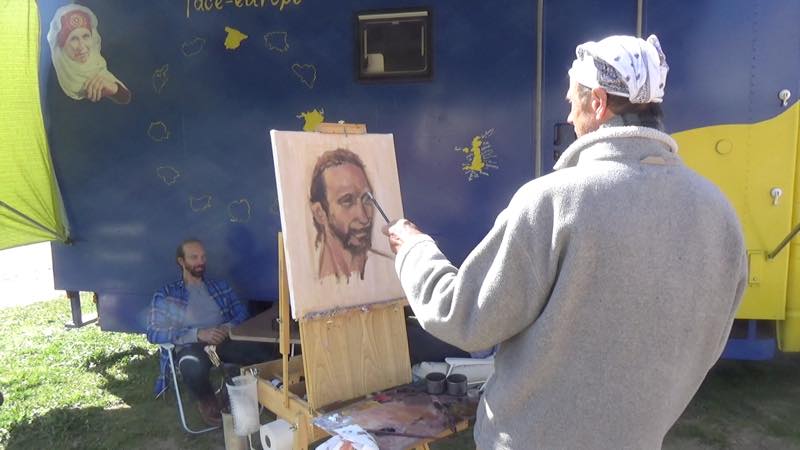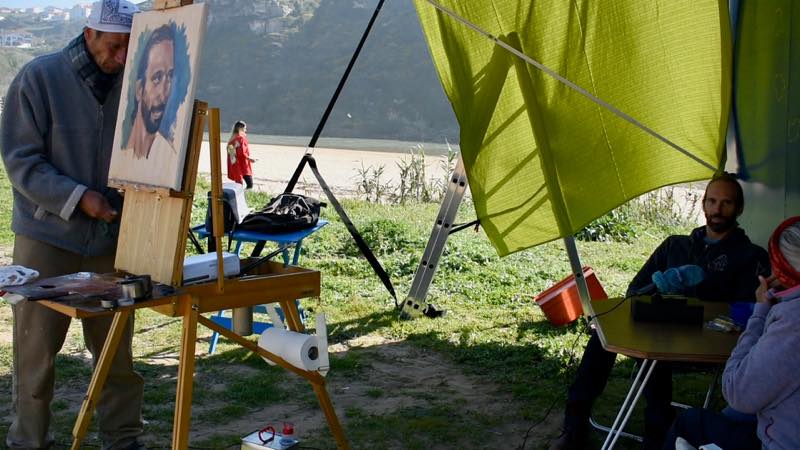 Wir danken den beiden Männern Stefan und Rui und freuen uns auf morgen, wo Kristaps aus Lettland gezeichnet wird. 
Heute konnten wir auch noch Sonia für ein Porträt am Sonntag gewinnen. 
Nach dem Ölbild von Rui wurde wieder alles rütteltest in Big Fredi verstaut und wir fuhren zu einem gemeindeeigenen Stellplatz, der gratis Wasser anbot und bei dem wir unsere Abwässer los wurden. Dann schnell noch zu Lidl und bereits im Dunklen zurück zum Strand des Rio Lisandro. Aber ups, da waren schon 4 Autos da. Wilfried wollte sich nicht dazwischen stellen aber auf dem Weg zum nächsten Platz gruben sich die Reifen im Sand fest. 
Morgen früh werden wir mit Hilfe der anderen Camper Big Fredi sicher wieder flott bekommen. [:en]Blog entry 15/03/2019
Late at night two more guests arrived in their VW bus,
caught right in the wet sand. These are Nicola and Stefan from the area around Pforzheim. Her 12-year-old dog Robert is also with them. They wanted to try to get the car out of the sand in daylight the next morning. 
This step proceeded with the help of Behnam and Philip. 
Breakfast was done in stages in front of Big Fredi. Gradually the neighbors wobbled with us and enjoyed the tables in the slipstream and with such a nice community. Everyone brought his breakfast. 
That's how it should be. The selection of community is there and who wants to join it can use it. 
Behnam moved on soon. That was even easier for him after Leo had attacked Nicola's dog and bitten him. Apparently, Robert (also  called Roby) had played himself in the foreground by always asking for games what Leo led to this attack of jealousy. The owners separated the two contrahends. Apparently, Leo was still in shock when he was attacked and also bitten by another dog three days before.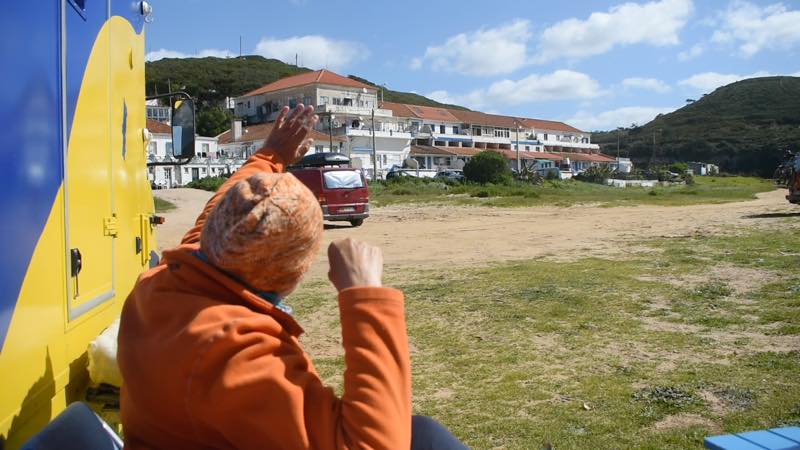 We are glad we do not have a dog on board. It's not easy to travel with a dog, especially when there are dogs in every other camper. Since there is always the possibility for disputes between the four-legged friends. Here on this beach, there are also many visitors who walk their dogs. 
In the morning, we saw many young people on the beach, gathering up the flotsam.
It was evidently a school event. Some were there with zeal and so I went to the teacher and could learn with the support of a good English-speaking girl that the school is around here and taking part in a worldwide project to clean the beaches and US collected utensils produces artifacts. In a similar grouping: http://www.skeletonsea.com/ we were already aware.
We invited the students to watch in portraying what some then assumed even for a few minutes. 
Stefan spontaneously decided to attend Face Europe. On March/14/2019 Wilfried painted for the first time after exactly one month. 
It was difficult to see Stefan's contours well due to the already high-sun. Moreover Wilfried dazzled the sun so that he had difficulty in mixing the colors. An extension of the awning had not been possible due to the strong wind. To stay in the slipstream, we therefore had to cope with the sun. 
Wilfried realized after 2 hours that he did not get along, and therefore he began with a drawing from scratch.
Through our intensive discussions beforehand with Stefan we had a good picture of him and so the conversation was rather sluggish. I saved myself with the questions that we incorporate into every interview until somehow it seemed as if all had been said. Only when I started talking about my own life, the conversation went on very easily and was noticeably looser. 
To interview a whole new person seems to be easier than when you know each other already. 
Today it was finally time for the first Portuguese portrait: It was painted by Wilfried and the conversation ran quite informal.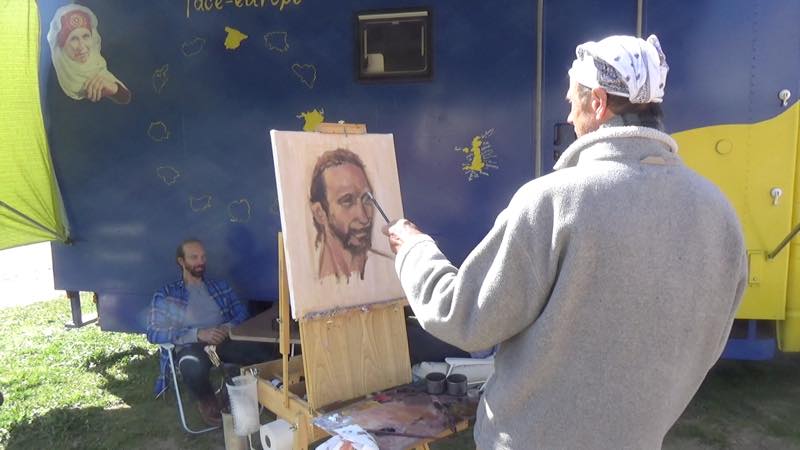 Rui is a versatile artist and reflected man who, although having traveled extensively in the world, appreciates his home.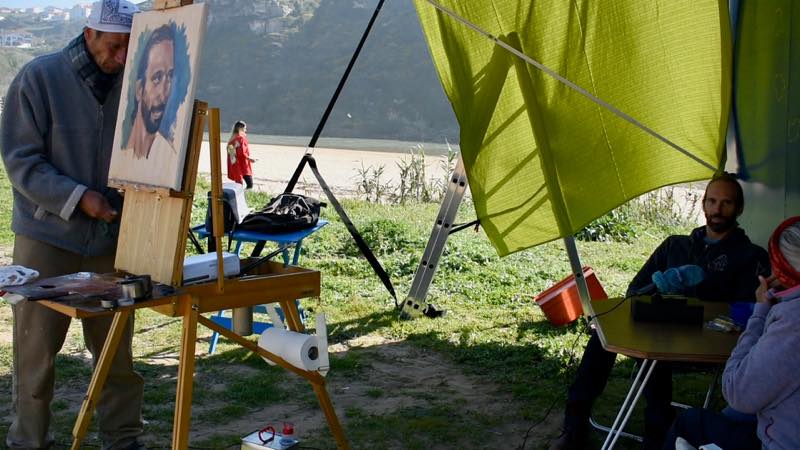 We thank the two men Stefan and Rui and look forward to Kristaps from Latvia who will be drawn tomorrow. 
Today we were also able to invite Sonia for a portrait on Sunday. 
After the oil painting by Rui everything was stowed in Big Fredi and we went to a community-owned parking lot, which offered free water and disposal of our wastewater. Then a fast shopping at Lidl and back to the Rio Lisandro beach. But ups there were already four cars. Wilfried did not want to squeeze in between but on the way to the next place the tires dug firmly in the sand. 
Tomorrow morning we will certainly get out of there with the help of the other campers. [:]