Blog entry 19/03/2019
Yesterday's day began unspectucular and ended spectacular.
Wilfried had just taken a shower and I wanted to go to the bathroom when Sónia told us that her morning appointment was postponed to the afternoon and that she could come at half past eleven a.m. instead of  2 p.m. We spontaneously changed our schedule and were ready at half past eleven. Due to the strong sunlight and the constant wind, it is currently only possible to draw inside the car. 
Sónia is a very warm and confident woman.
She is currently unemployed, but this does not mean that she does not work. She lives with her 13 year old son as a single mother in a phase of reorientation. She has got several "irons in the fire", but only decides if she knows exactly what she really wants. 
The interview with her was very exciting and we learned a lot from her straight life.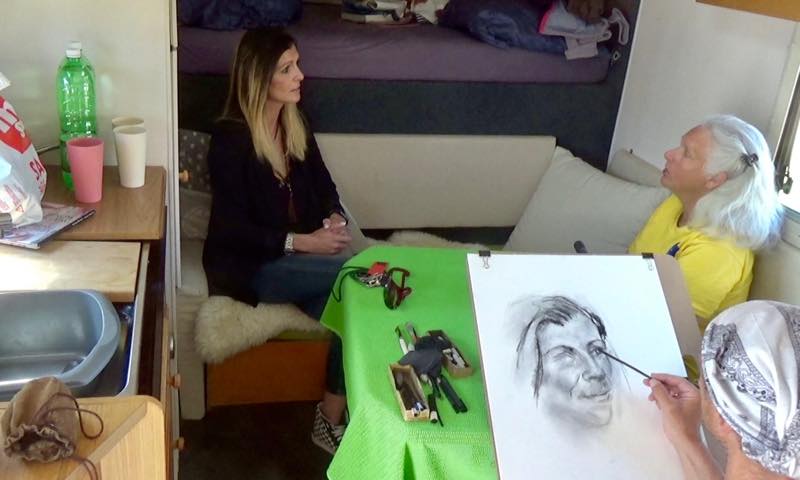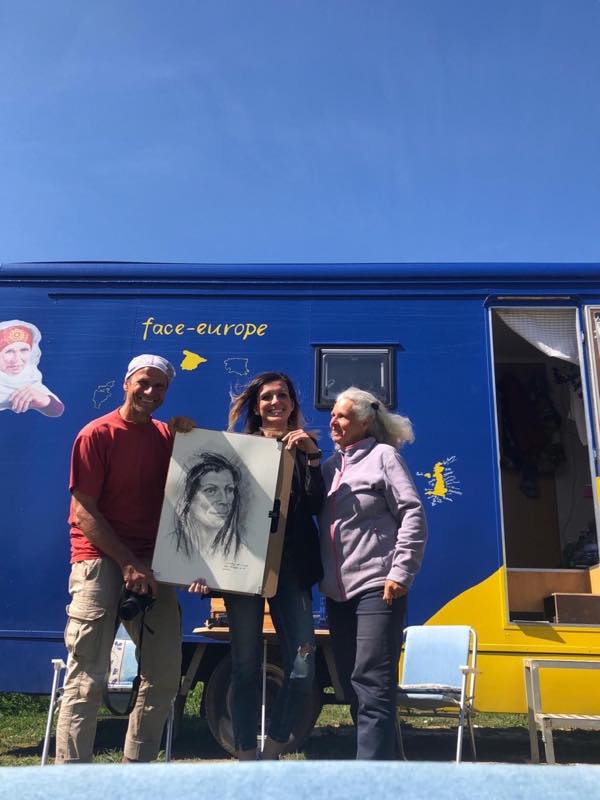 In the morning Wilfried watched how a motorhome driver tried to pull his car out of the sand. He refused help from us at first, because a friend wanted to come up with an SUV and pull it out. 
After our Face Europe meeting the SUV was then gone, but the motorhome still stuck in the sand. So Wilfried went out with a shovel, rubber mats and our chain to help Juãn Miguel – the hairdresser from the neighboring village – out of his trouble. 
Finally, we woke up Jochen (Belgian) and together with Ludolf (who had helped us two days before) finally we got the vehicle uphill out of the sand. I would like to mention that my rubber transfer was a good resource. Whenever the tire had run over the rubber mat and threatened to spin, I put the mat again in front of the tire. It got grip and so the recovery finally succeeded with united European forces. Juan Miguel danced with joy and shouted, "so it should always be it, that's Little Europe: Portugal, Germany, Belgium and Austria! Together we are strong. He thanked profusely and promised to come back in the evening with 2 new rubber mats because our two mats got broken. 
It was already dark when Juãn Miguel came not only with two great new rubber mats but also with luscious barbecued chicken, baguettes, chips and beer and invited all helpers to eat together. Ludolf had already eaten, and wanted to got his ratio wrapped up and given to for the next day. Jochen missed the evening with us, because he had shortly gone away with his car. 
So we ate and drank together until midnight. 
Again and again Juãn Miguel stressed out, how important our help was for him. For us, such a help is self-evident. Here you can see how hospitable and accommodating the Portuguese are. We are thrilled and we like it better and better. So far we have only learned to know lovable Portuguese.