[:de]Blogeintrag 19.3.2019
Der gestrige Tag begann unspektakulär und endete spektakulär.
Wilfried hatte gerade geduscht und ich wollte ins Bad, als uns Sónia mitteilte, ihr Vormittagstermin sei auf Nachmittag verschoben worden und sie könnte um halb zwölf Uhr kommen statt um 14 Uhr. Wir warfen kurzerhand unseren Zeitplan über den Haufen und waren um halb zwölf bereit. Durch die starke Sonneneinstrahlung und den dauernden Wind ist es derzeit nur möglich im Wageninneren zu zeichnen. 
Sónia ist eine ganz herzliche und selbstbewusste Frau.
Sie ist derzeit arbeitslos, was aber nicht bedeutet, dass sie nicht arbeitet. Sie lebt mit ihrem 13 jährigen Sohn als alleinerziehende Mutter in einer Phase der Umorientierung. Sie hat einige heiße Eisen im Feuer, entscheidet sich aber erst, wenn sie genau weiß, was sie wirklich will.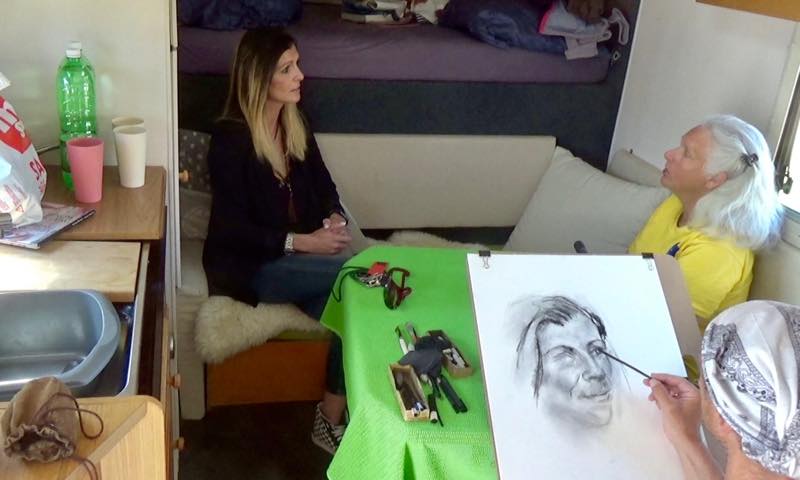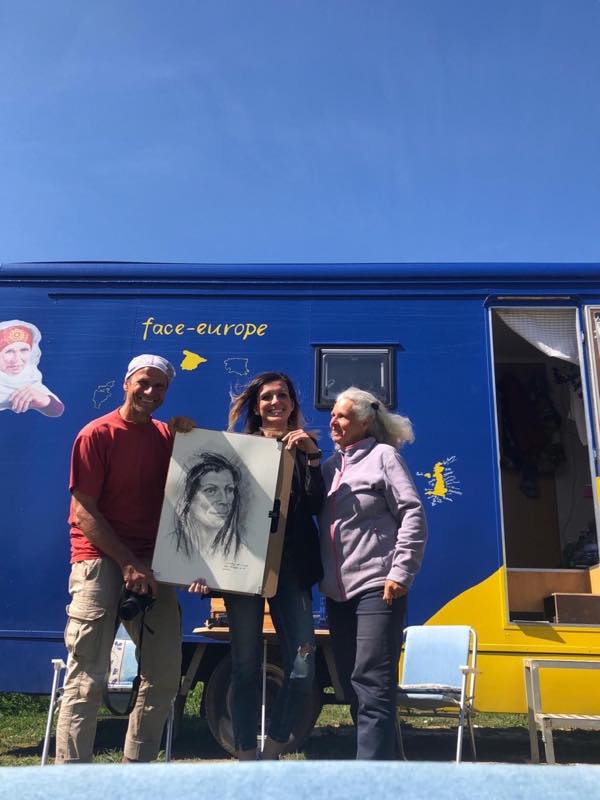 Das Interview mit ihr war äußerst spannend und auch wir haben viel von ihrer geradlinigen Lebensart gelernt. 
Bereits am Vormittag beobachtete Wilfried, wie ein Wohnmobilfahrer versuchte, seinen Wagen aus dem Sand zu befreien. Er lehnte Hilfe von uns ab, denn ein Freund wollte mit einem Geländewagen kommen und ihn herausziehen. 
Nach der Face Europe Sitzung war dann der Geländewagen weg, aber das Wohnmobil steckte immer noch im Sand. Also zog Wilfried mit Schaufel, Gummimatten und Kette los, um Juãn Miguel, den Friseur aus dem Nachbardorf, aus der Patsche zu helfen. 
Schließlich weckten wir auch noch Jochen (Belgier) und auch Ludolf (der uns 2 Tage davor geholfen hatte) schoben schließlich das Gefährt bergauf aus dem Sand. Ich möchte nicht unerwähnt lassen, dass auch mein Gummimattentransfer ein gutes Hilfsmittel war. Immer wenn der Reifen die Gummimatte überfahren hatte und drohte durchzudrehen, legte ich die Matte wieder vor den Reifen. Er bekam Grip und so gelang die Bergung schließlich mit vereinten europäischen Kräften. Juãn Miguel tanzte vor Freude und rief: " so soll es sein, das ist Little Europe: Portugal, Deutschland, Belgien und Österreich! Gemeinsam sind wir stark. Er bedankte sich überschwänglich und versprach abends mit 2 neuen Gummimatten wieder zu kommen, da 2 unserer Matten kaputt gegangen waren. 
Es war bereits dunkel. Da kam Juãn Miguel nicht nur mit 2 neuen tollen Gummimatten sondern auch noch mit super köstlichen Brathendln, Baguettes, Chips und Bier und lud alle zum gemeinsamen Essen ein. Ludolf hatte schon gegessen, und er bekam seine Ration eingepackt und mitgegeben. Auch Jochen verpasste den Abend bei uns, denn er war kurz weg gefahren. 
So aßen und tranken wir gemeinsam bis Mitternacht. 
Immer wieder betonte Juãn Miguel, wie wichtig ihm unsere Hilfe war. Für uns ist so etwas so selbstverständlich. Hier sieht man wie gastfreundlich und zuvorkommend die Portugiesen sind. Wir sind total begeistert und es gefällt uns immer besser. Wir haben bis jetzt nur liebenswerte Portugiesen kennen gelernt. [:en]Blog entry 19/03/2019
Yesterday's day began unspectucular and ended spectacular.
Wilfried had just taken a shower and I wanted to go to the bathroom when Sónia told us that her morning appointment was postponed to the afternoon and that she could come at half past eleven a.m. instead of  2 p.m. We spontaneously changed our schedule and were ready at half past eleven. Due to the strong sunlight and the constant wind, it is currently only possible to draw inside the car. 
Sónia is a very warm and confident woman.
She is currently unemployed, but this does not mean that she does not work. She lives with her 13 year old son as a single mother in a phase of reorientation. She has got several "irons in the fire", but only decides if she knows exactly what she really wants. 
The interview with her was very exciting and we learned a lot from her straight life.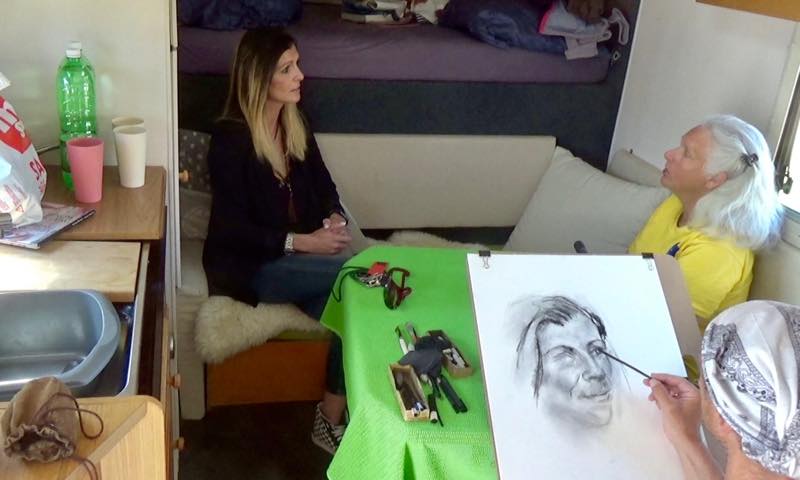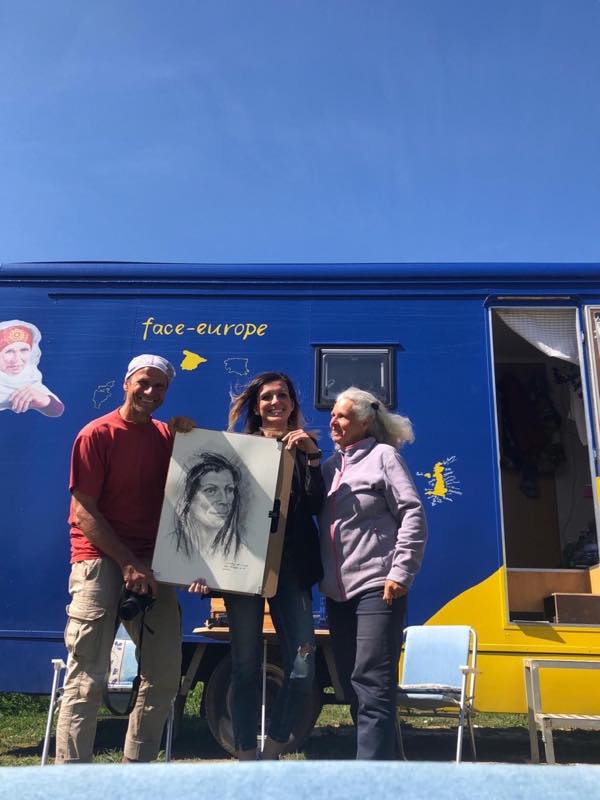 In the morning Wilfried watched how a motorhome driver tried to pull his car out of the sand. He refused help from us at first, because a friend wanted to come up with an SUV and pull it out. 
After our Face Europe meeting the SUV was then gone, but the motorhome still stuck in the sand. So Wilfried went out with a shovel, rubber mats and our chain to help Juãn Miguel – the hairdresser from the neighboring village – out of his trouble. 
Finally, we woke up Jochen (Belgian) and together with Ludolf (who had helped us two days before) finally we got the vehicle uphill out of the sand. I would like to mention that my rubber transfer was a good resource. Whenever the tire had run over the rubber mat and threatened to spin, I put the mat again in front of the tire. It got grip and so the recovery finally succeeded with united European forces. Juan Miguel danced with joy and shouted, "so it should always be it, that's Little Europe: Portugal, Germany, Belgium and Austria! Together we are strong. He thanked profusely and promised to come back in the evening with 2 new rubber mats because our two mats got broken. 
It was already dark when Juãn Miguel came not only with two great new rubber mats but also with luscious barbecued chicken, baguettes, chips and beer and invited all helpers to eat together. Ludolf had already eaten, and wanted to got his ratio wrapped up and given to for the next day. Jochen missed the evening with us, because he had shortly gone away with his car. 
So we ate and drank together until midnight. 
Again and again Juãn Miguel stressed out, how important our help was for him. For us, such a help is self-evident. Here you can see how hospitable and accommodating the Portuguese are. We are thrilled and we like it better and better. So far we have only learned to know lovable Portuguese. [:]