[:de]Blogeintrag 6.3.2019
Wir begannen unsere Tage am Pego do Altar mit dem Restaurantbesuch.
Allerdings war das Essen sehr gewöhnungsbedürftig. Wilfrieds Hühnerstew mit Reis war eine Hühner Suppe mit eingekochtem Reis. Die Hühnerteile waren von den Füßen über sämtliche Innereien und Flügel alle "billigen und sonst nicht verwertbaren Teile" und der Geschmack nach Essig, die Farbe: braun. Wirklich nicht appetitlich. Ich genoss ein Schweinesteak, von einem Steak weit entfernt und hart, die Pommes Frites waren lasch. Mit den Getränken gemeinsam zahlten wir 23 €. 
Auch im Supermarkt ist das Essen nicht gerade günstig.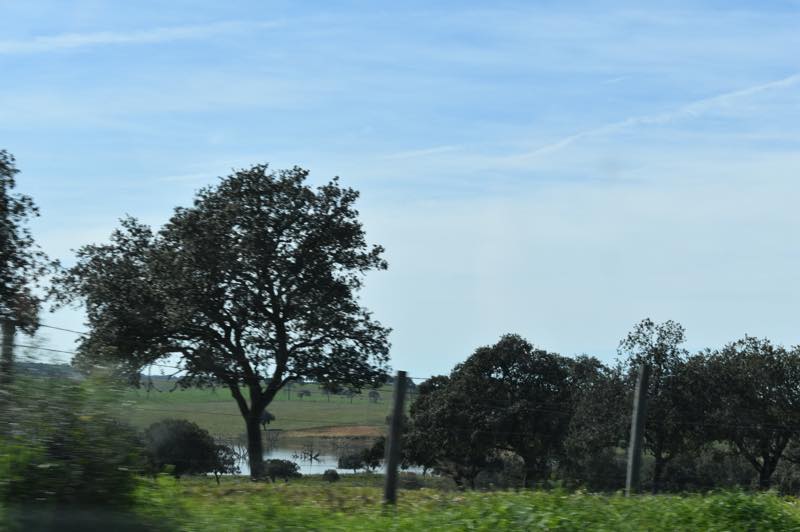 Wir verließen gestern den See, der landschaftlich sehr schön ist (kleine wilde Schwertlilien in Schneeglöckchengröße haben mich besonders begeistert)
und fuhren stundenlang über ruppige Bundesstraßen und teilweise durch Landschaft wie im Waldviertel bis an die Küste von Cascais.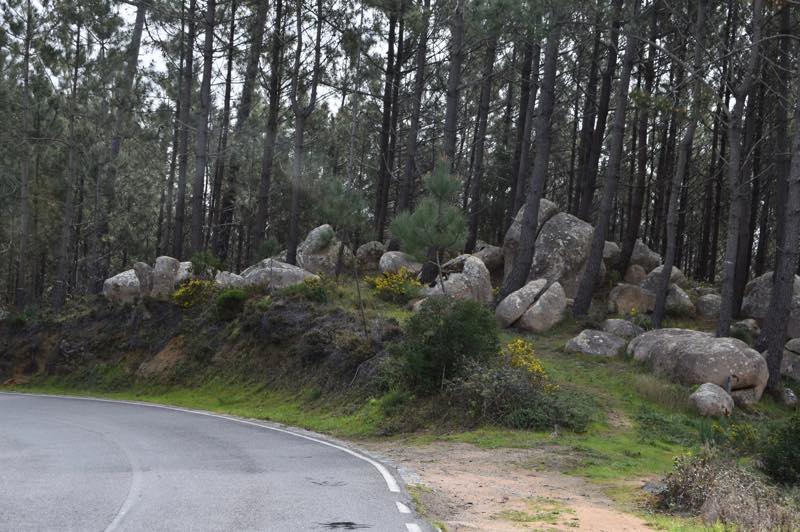 Dort lockte ein Stellplatz in der Natur. Schon in der Einfahrt hieß es, dass der Parkplatz nicht für Wohnmobile und Anhänger erlaubt ist. Da wir dem Navi Gehör schenkten und unser Platz ja kein Parkplatz sei, wagten wir trotzdem die Einfahrt. Als die letzten Häuser vorüber waren, gab es nur mehr eine einspurige, ausgewaschene Schotterstraße. Dauernd kamen uns PKWs entgegen und wir mussten uns an ihnen vorbeiquetschen. Zentimeterarbeit. Die Portugiesen waren eher ungehalten und unfreundlich. Wir bereuten unsere Entscheidung endgültig, als die letzte Abzweigung von einem riesigen Stein verbarrikadiert war. Ein paar Meter weiter konnten wir auf einem Parkplatz wenden und die Rückfahrt antreten.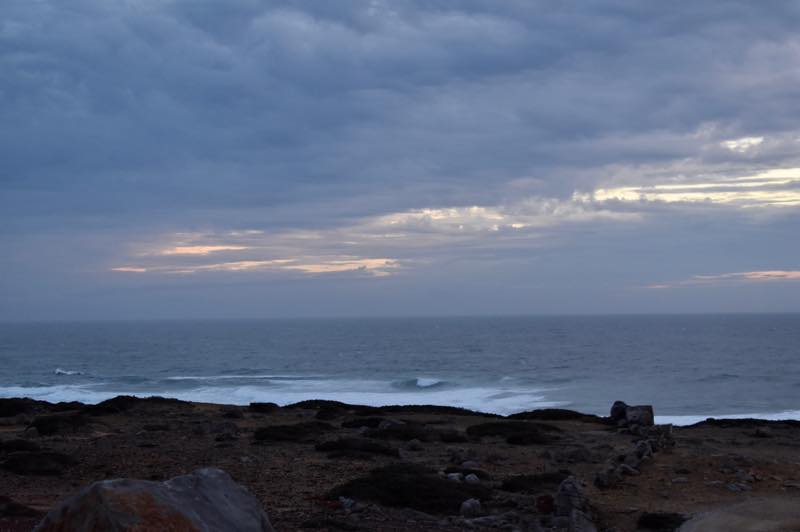 Big Fredi berührte einige Male die Sandstraße mit seinen Riesenkisten, aber zurück hatten wir wenigstens keinen Gegenverkehr. Mittlerweile war es finster geworden und wir nahmen den erstbesten Parkplatz an der Straße nach Cascais.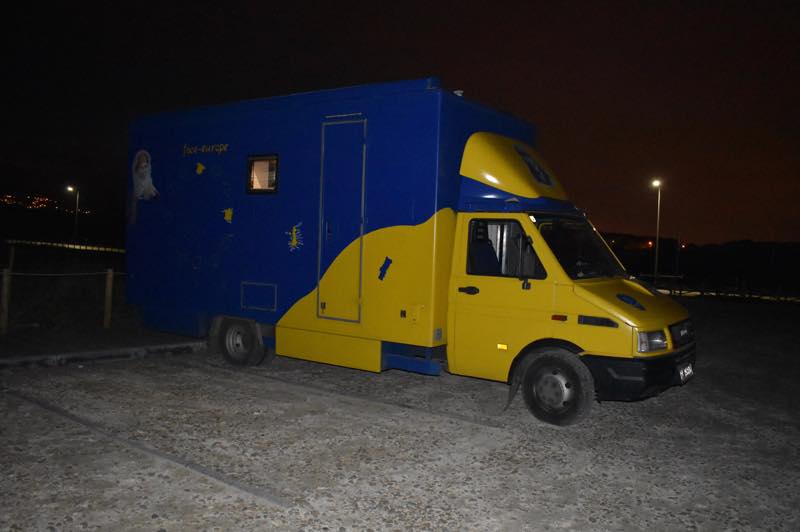 Heftiger Sturm tobte in der Nacht und plötzliche schwere Regengüsse unterstrichen die Windböen. 
Nach dem Frühstück wechselten wir den Stellplatz zu einem Fußballfeld, wo es einigermaßen windgeschützt ist und sogar zeitweise die Sonne zu sehen ist. 
[:en]Blog entry 03/06/2019
We started our day at Pego do Altar with the restaurant visit.
However, the food was much unusual for us. Wilfried's chickenstew with rice was a chicken soup with rice. The chicken pieces were "cheap and elsewhere unusable parts (even the feet and all giblets and wings) Over all it tasted like vinegar, it's color was brown. Really not appetizing. I enjoyed a pork steak, which was far away from a steak and it was not soft, the fries were lax. With the drinks together we paid 23 €. 
Even the supermarket food is not cheap. 
Yesterday we left the lake,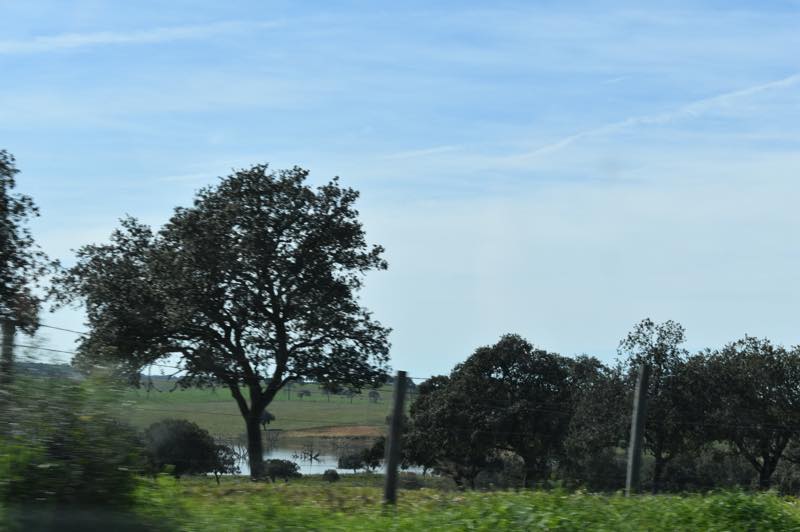 which was very scenic (small wild irises in size of snowdrops excited me particularly).
We drove for hours over gruff federal roads through landscape that reminds me of our "Waldviertel" until we come to the coast of Cascais.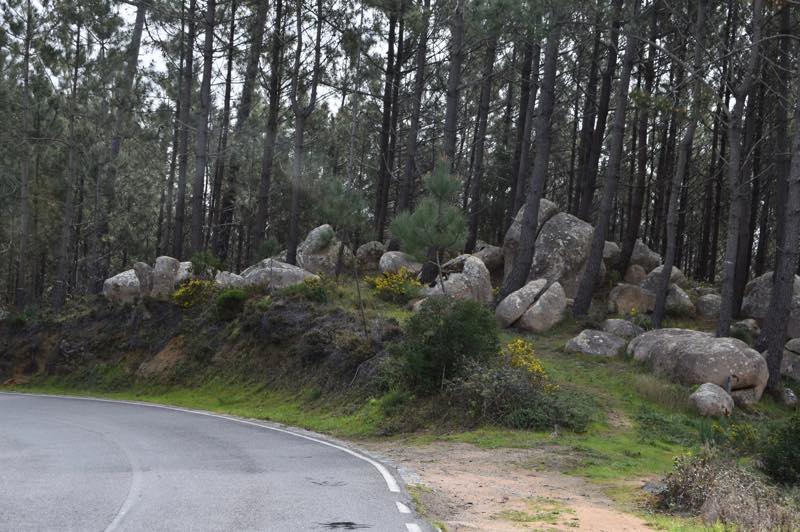 There lured a parking space in nature. Already in the beginning of the road there was a sign that the car park is not allowed for campers and trailers. Since our App told us that this was the correct road we continued on this road. When we had passed the last houses, there was only a single lane gravel road. Permanently cars came towards us and we had to squeeze past them. Precision work. The Portuguese were rather annoyed and unfriendly. We regretted our decision, when the last part of the road was barricaded by a huge stone. A few meters away we could pull in a parking lot of o closed restaurant and start the journey back.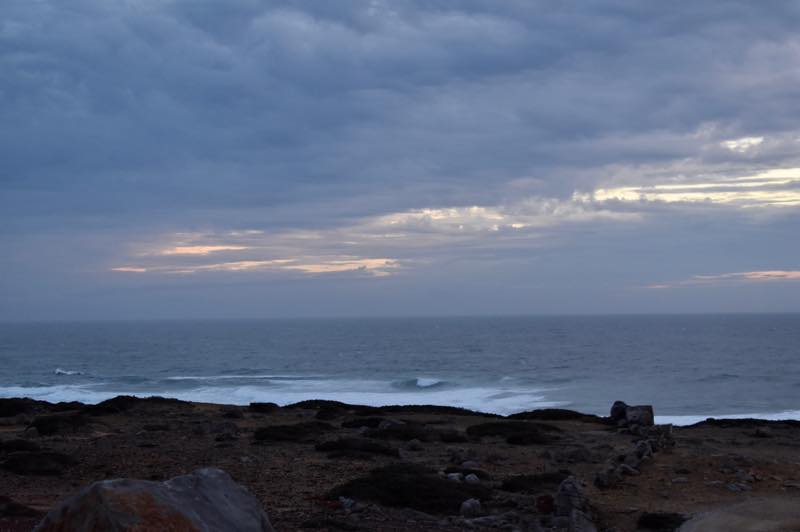 Big Fredi touched several times the sandy road with the bottom, but on our way back at least we had no oncoming traffic. Meanwhile, it was dark and we took the first available parking on the road to Cascais.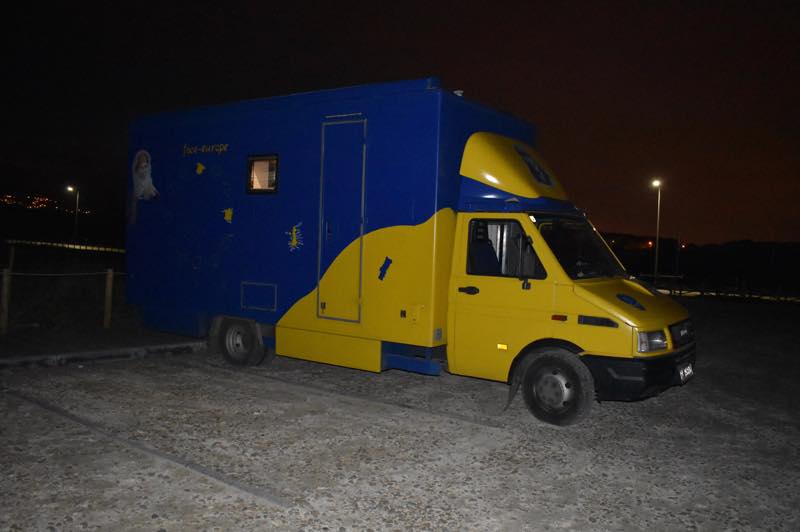 Violent storm raged at night and sudden heavy downpours underscored the wind gusts. 
After breakfast we changed the pitch to a parking lot of a football field, where it is reasonably protected from the wind and even at times the sun can be seen. 
[:]