[:de]Blogeintrag 4. 3. 2019
Wir sind in Portugal.
Vom Rio Tinto in Niebla aus traten wir die Reise gemeinsam mit Dieter und Petra nach Aracena an. Dort erwarteten wir Die Höhlen der Wunder: "Grutas de las Maravillas" zu sehen und es lockte auch noch das Schinkenmuseum. 
Nach ein paar Minuten fiel uns allerdings auf, dass es eigenartig nach Benzin roch. Zuerst glaubten wir der Geruch käme von draußen, dann von einem Stück Küchenrolle aus dem Mistkübel, mit dem der Ölmessstab abgewischt worden war. Bei einer roten Ampel stieg ich rasch aus und schrie: Alarm, bei uns sprudelt der Diesel auf die Straße. Ich informierte rasch Petra im Auto vor uns, die auch noch bei rot an der Ampel standen und gleich nach der Ampel stellte Wilfried Big Fredi ab und die Männer suchten die Ursache des Dieselsprudels.
Es war eine kaputte Dichtung am Dieselfilter, die dafür verantwortlich war. Während Wilfried gemeinsam mit Dieter eine behelfsmäßige Reparatur durchführte, lief ich 300 Meter retour zu einer Werkstätte und erbettelte mir eine Dichtung, die annähernd passen wird. Da das Provisorium so gute Dienste leistete, wurde meine Dichtung auf Lager genommen und für das nächste Mal aufgehoben. 
Ohne weitere Pannen, vorbei an Tagabbauminen des Rio Tinto erreichten wir Aracena. 
Diese Stadt ist ganz anders als alle anderen spanischen Orte, die wir bis dahin kennen gelernt hatten. Absolut sauber, kein Müll auf der Straße oder neben den Mülleimern, so wie sonst überall.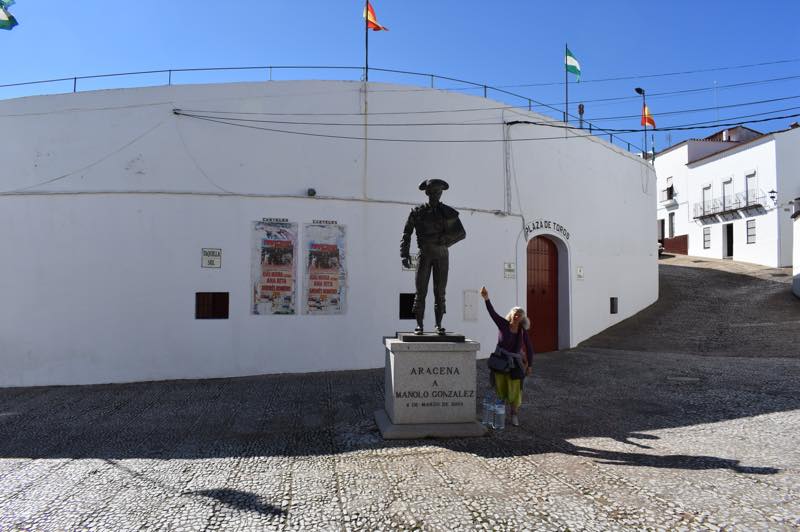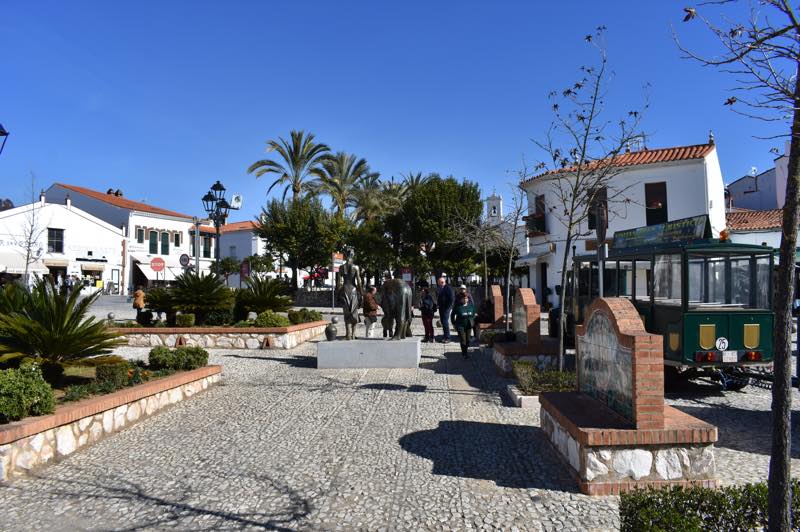 Ein Freilichtmuseum mit tollen Skulpturen durchzieht das Stadtbild.
Wir ließen die Grotte aus Kostengründen und weil wir schon zu viele Grotten in unseren Leben gesehen hatten, einfach aus und schlenderten durch die Stadt, bis das Schinkenmuseum nach der Siesta wieder öffnete. Hier erfuhren wir für einen kleinen Beitrag von 3 € pro Person alles über den Jarmon. Der echte iberische Schinken – von mit Eicheln gefütterten Schweinen – ist sogar gesund und sein Fett angeblich cholesterinsenkend.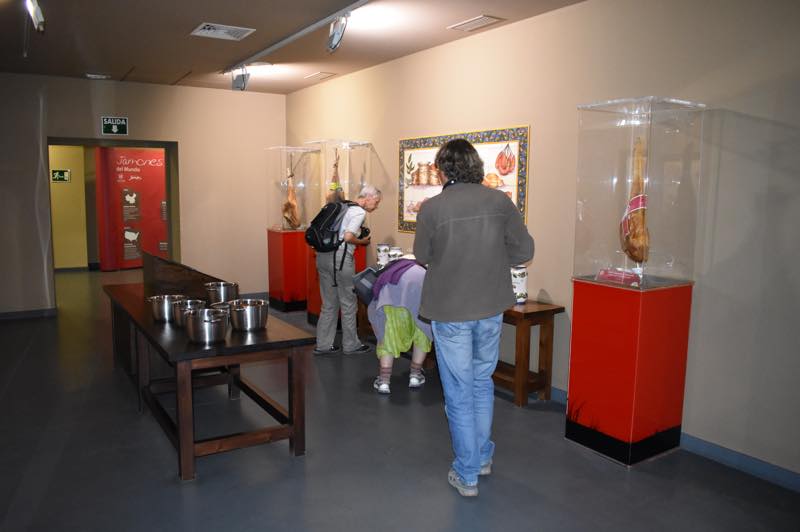 Die wertvollsten Schinken stammen von reinrassigen iberischen Schweinen, die 100% von Eicheln leben. Dann gibt es noch Mischformen der Ernährung und Züchtung. Die Zubereitung und Lagerung dauert 2 Jahre und ist eine wahre Kunst. 
Dieter und Petra verabschiedeten sich am nächsten Morgen (es war Feiertag in Andalusien) und brachen Richtung Portugal auf. 
Wir wollten noch nach spanischen Modellen Ausschau halten und blieben noch in Aracena. 
Wilfried rückte mit Zeichenblock und Stiften aus und wollte zeichnen. 
Da entdeckten wir eine "lebendige Skulptur". Es war eine nachgebildete Gestalt des Schweinehirten,  perfekt wie in Bronze gegossen. Manche Leute erschraken derart, wenn sie registrierten, dass die Figur lebendig war, dass sie laut aufschrieen oder zur Seite sprangen.
Wilfried zeichnete den Schweinehirten 2 Mal während ich filmte.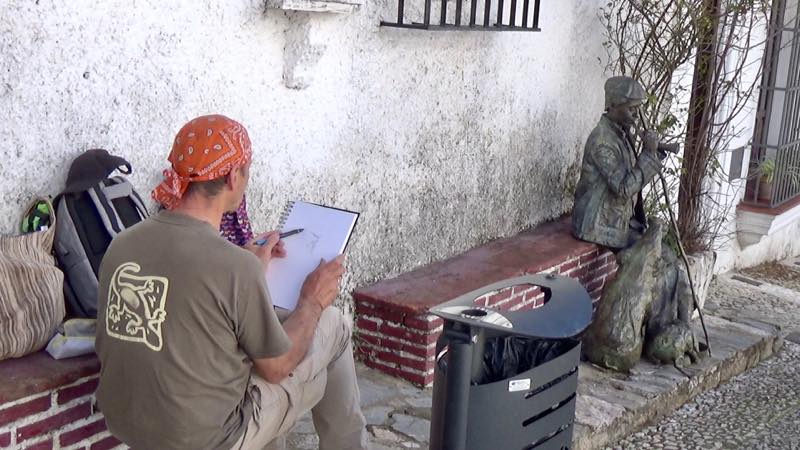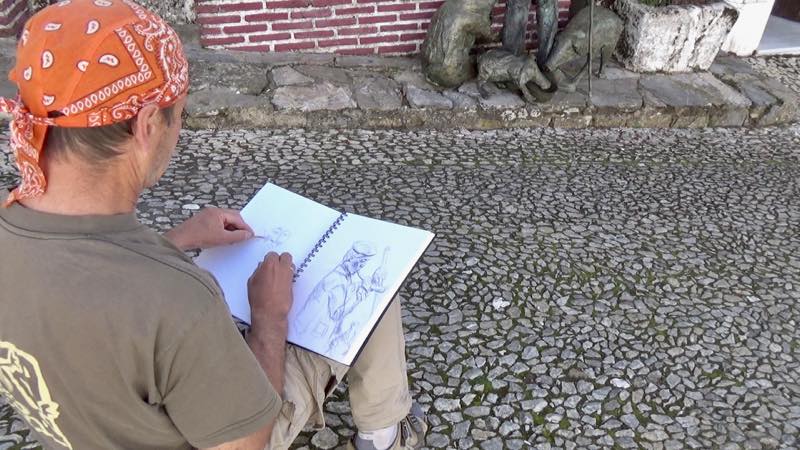 Es waren Massen von Menschen unterwegs, aber nur wenige nahmen Notiz von Wilfried. Es waren hauptsächlich Kinder, die aufmerksam wurden. Deren Eltern waren aber zu sehr mit sich selbst beschäftigt, als dass sie uns beachteten. 
Danach entschlossen wir uns dann doch recht kurzfristig, Aracena und Spanien zu verlassen und nach Portugal weiter zu ziehen. 
Die in der Landkarte grün eingezeichnete N433 führte uns auf gut ausgebauten Straßen nach Portugal. 
Kaum hatten wir die Grenze überquert, war die Natur scheinbar gerade explodiert. Plötzlich war alles grün. Die Sträucher und Bäume zeigten ihre ersten zarten grünen Blätter und die Wiesen waren satt grün oder übersät mit gelben und weißen Blüten. 
Petra hatte uns von einem Stausee geschrieben, an dem sie gestanden waren, und an dem es so schön gewesen war. Vorher hatten sie noch Wäsche gewaschen bei Intermarché während sie einkauften. Das passte für uns gerade ebenso, also peilten wir denselben Punkt an. Nur mehr 15 km entfernt davon lag dann auch der schöne Stellplatz am Stausee von Alqueva.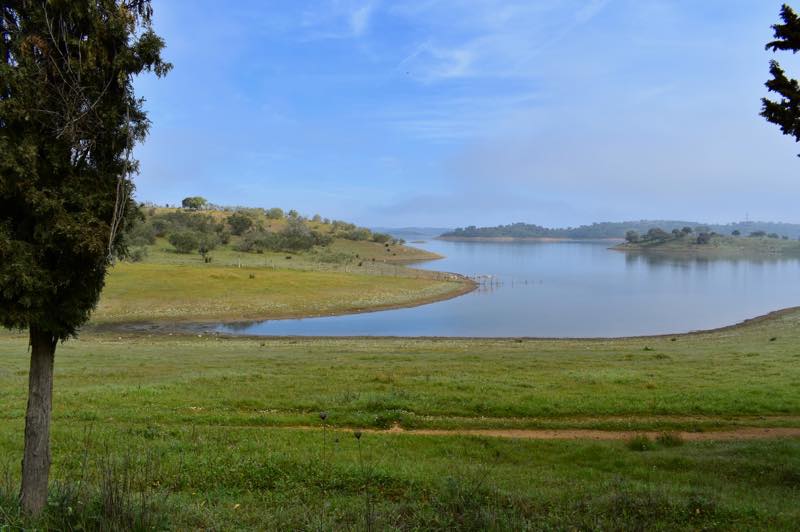 Und – wen sehen wir dort? Schon wieder, bzw. noch – das Auto von Dieter und Petra. Welch eine Wiedersehensfreude! Nächsten Morgen verabschiedeten wir uns dann zum letzten Mal von ihnen, denn sie müssen jetzt zügig nach Hause fahren. 
Wir blieben noch, genossen die sommerlichen Temperaturen und lernen Ines und ihre beiden Freundinnen kennen. Ines, eine Psychologiestudentin, wollte am nächsten Tag bei Face Europe dabei sein.
Aber leider, wie schon öfters, warteten wir vergeblich. Wilfried zeichnete stattdessen mich, während ich eine Socke strickte. Später erhielten wir eine Entschuldigung von Ines, aus persönlichen Gründen war ihr Kommen nicht möglich. Schade. 
Gestern, Sonntag, machten wir noch einen kleinen Spaziergang durch den angrenzenden Wald am Ufer des Stausees entlang und brachen gegen Mittag von Portugals größtem Stausee zu einem kleineren, genannt "Barragem do Pego do Altar" auf. 
Im Gasthaus bediente uns Ines, ein äußerst hübsches junges Mädchen, das gut englisch sprach und Wilfried gerne gemalt hätte. Leider erlaubte ihr Vater es nicht. Sie müsste ihre Ferien dazu nützen, für einen Test zu lernen und zu servieren im elterlichen Betrieb.
So verging wieder ein Tag ohne Face Europe Aktion. Der Parkplatz ist sehr international und gut besucht. [:en]Blog entry 4. 3. 2019
We are in Portugal.
From Rio Tinto in Niebla, we began our journey together with Dieter and Petra to Aracena. There we expected the caves of wonder: "Grutas de las Maravillas" and it also attracted us with the ham Museum. 
After a few minutes, however, we noticed that it had a strange smell of gasoline. At first we thought the smell was coming from outside, then from a piece of paper towel from the dustbin to which the dipstick had been wiped off. At a stoplight I quickly rose and shouted alert as of diesel running onto the street. I quickly informed Petra in the car who also had to wait for the light to turn and just after the traffic light turned Wilfried parked Big Fredi, and the Wilfried and Dieter searched for the leek and the cause of the Diesel Spring. It was a broken seal on the diesel filter, which was responsible.
While Wilfried and Dieter conductors a makeshift repair, I ran 300 meters back to a workshop and asked for a seal which nearly fit. Since the temporary repair service was so well done, my seal was put into storage and saved for the next time. 
Without further mishaps, passing mines of Rio Tinto we reached Aracena. 
This city is quite unlike any other Spanish places that we had met until then.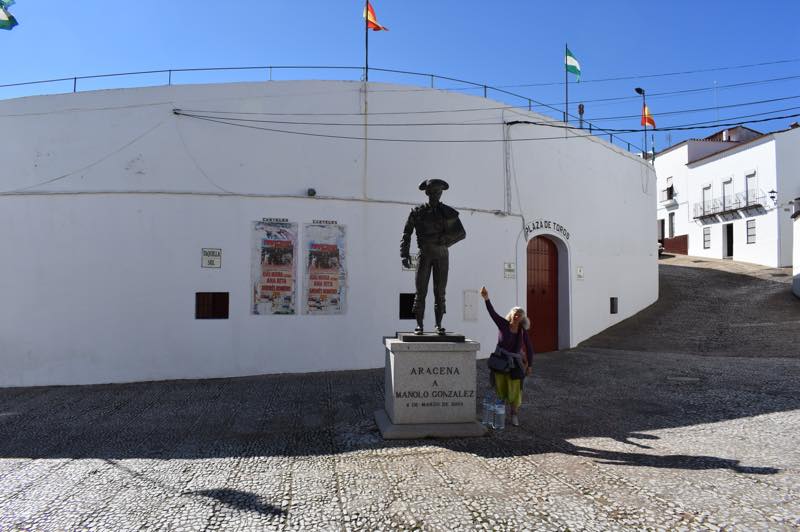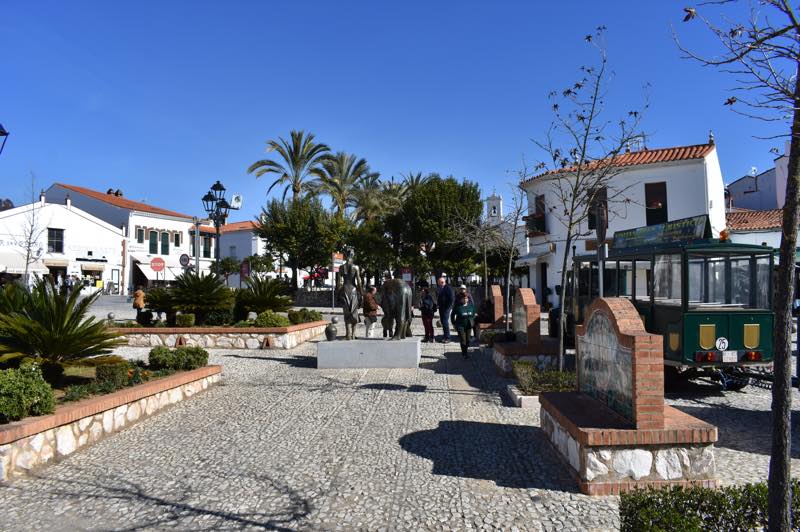 Absolutely clean, no trash on the street or next to the garbage cans, like everywhere else. An outdoor museum with great sculptures runs through the city.
We left out the cave for cost reasons and because we have seen too many caves in our lives and strolled through the city, until we found the ham museum. Here we learned for a small contribution of € 3 per person all about the Jarmon. The real Iberian ham – from pigs fed on acorns only – is supposed to be even healthy and its fat reduces cholesterol.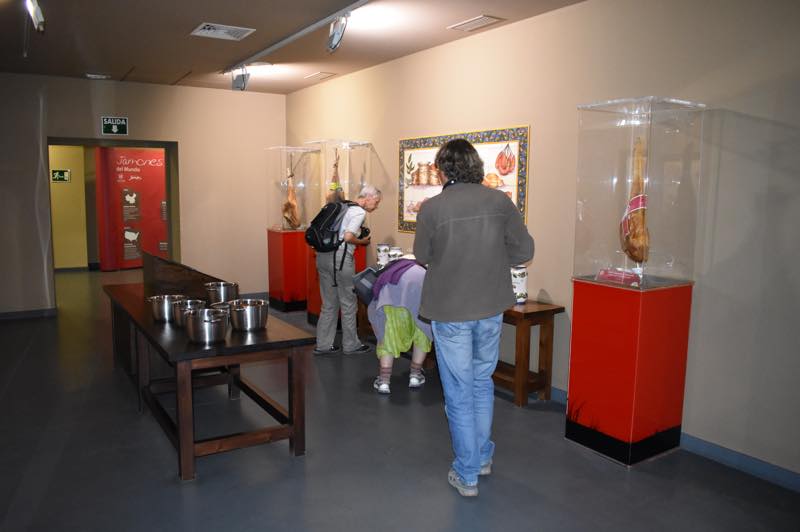 The most valuable hams come from purebred Iberian pigs that live 100% on acorns. Then there are mixed forms of nutrition and breeding. The preparation and storage takes 2 years, and is a true art. 
Dieter and Petra said goodbye the next morning (it was a holiday in Andalusia) and left towards Portugal. 
We wanted to keep an eye on some more Spanish models, and remained in Aracena. 
Wilfried marched out with drawing pad and pencils and wanted to draw. 
Since we discovered a "living sculpture". It was a simulated form of the swineherd,  perfectly cast in bronze.
Some people were so shocked when they registered that the figure was alive, that she jumped to the side crying out loud. Wilfried drew the swineherd 2 times while I was filming.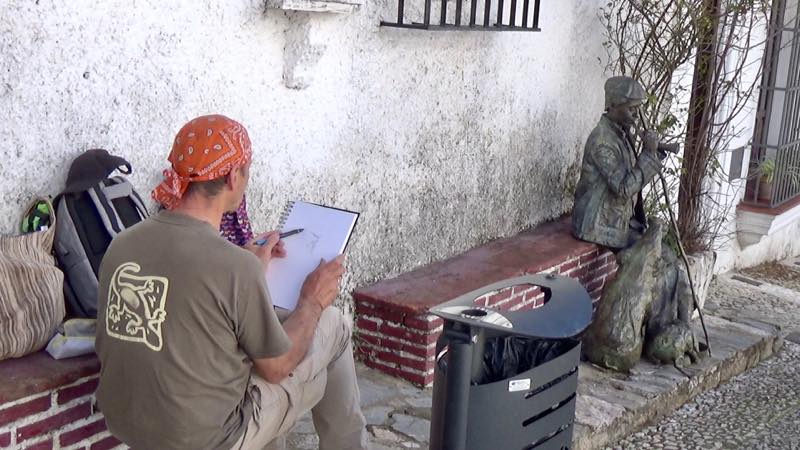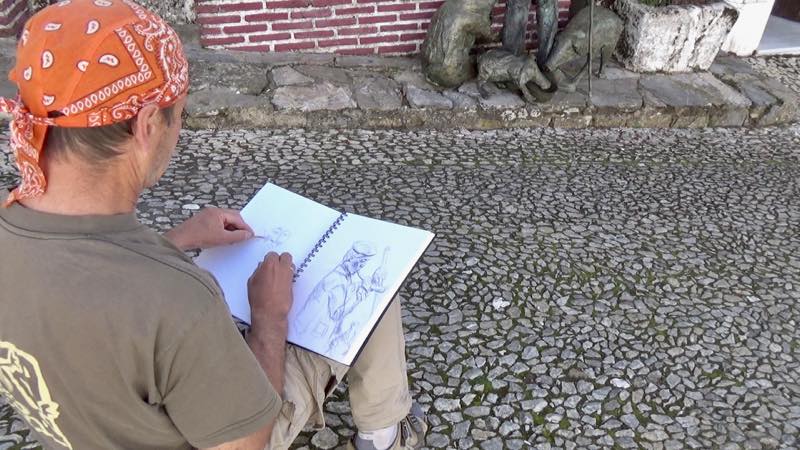 There were crowds of people on the move, but few took notice of Wilfried. There were mainly children who were attentive. But their parents were too busy with themselves to take notice of us. 
After that we decided on  short notice to leave Aracena and Spain and to move on to Portugal. 
The green line drawn in the map N433 took us on good roads into Portugal. 
No sooner had we crossed the border, nature was apparently just exploding. Suddenly everything was green. The shrubs and trees showed their first delicate green leaves and the meadows were lush green and dotted with yellow and white flowers. 
Petra had written us from a reservoir, where they had been over night and had liked very well. In one town before they had washed their laundry at Intermarché while they had shopped there. That fit just as well for us, so we headed to the same point. Only 15 km away which then was also a recommended nice parking space at the reservoir of Alqueva.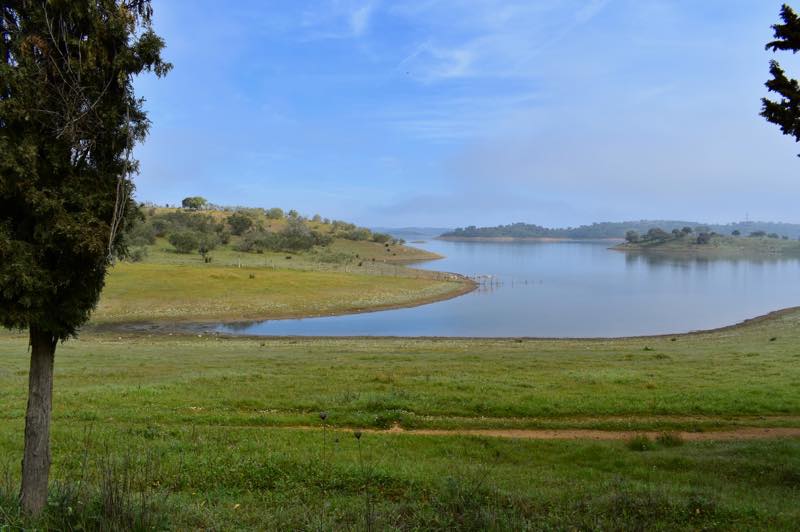 And – who we see there! Again, and yet – the car of Dieter and Petra. What a reunion! Then next morning we said goodbye for the last time to them, for they must now go home quickly. 
We remained, enjoyed the summer temperatures and got to know Ines and her two friends. Ines, a psychology student, was supposed to be part of Face Europe the next day.
But unfortunately, as it happened before, we waited in vain. Instead Wilfried drew me while I was knitting a sock. Later we received an apology from Ines, for personal reasons, her attendance was not possible. Too bad. 
Yesterday, Sunday, we took a stroll through the adjacent forest on the banks of the reservoir.
Then we set out on another lake which is smaller, called "Barragem do Pego do Altar".
At the local inn Ines, a very pretty young girl, who spoke good English and would have liked to be painted by Wilfried served us. Unfortunately, her father did not allow her. She would have to use her vacation time to study for a test and to serve in the family business.
So it passed another day without Face Europe action. The car park is visited very internationally. [:]