Blog entry 4. 3. 2019
We are in Portugal.
From Rio Tinto in Niebla, we began our journey together with Dieter and Petra to Aracena. There we expected the caves of wonder: "Grutas de las Maravillas" and it also attracted us with the ham Museum. 
After a few minutes, however, we noticed that it had a strange smell of gasoline. At first we thought the smell was coming from outside, then from a piece of paper towel from the dustbin to which the dipstick had been wiped off. At a stoplight I quickly rose and shouted alert as of diesel running onto the street. I quickly informed Petra in the car who also had to wait for the light to turn and just after the traffic light turned Wilfried parked Big Fredi, and the Wilfried and Dieter searched for the leek and the cause of the Diesel Spring. It was a broken seal on the diesel filter, which was responsible.
While Wilfried and Dieter conductors a makeshift repair, I ran 300 meters back to a workshop and asked for a seal which nearly fit. Since the temporary repair service was so well done, my seal was put into storage and saved for the next time. 
Without further mishaps, passing mines of Rio Tinto we reached Aracena. 
This city is quite unlike any other Spanish places that we had met until then.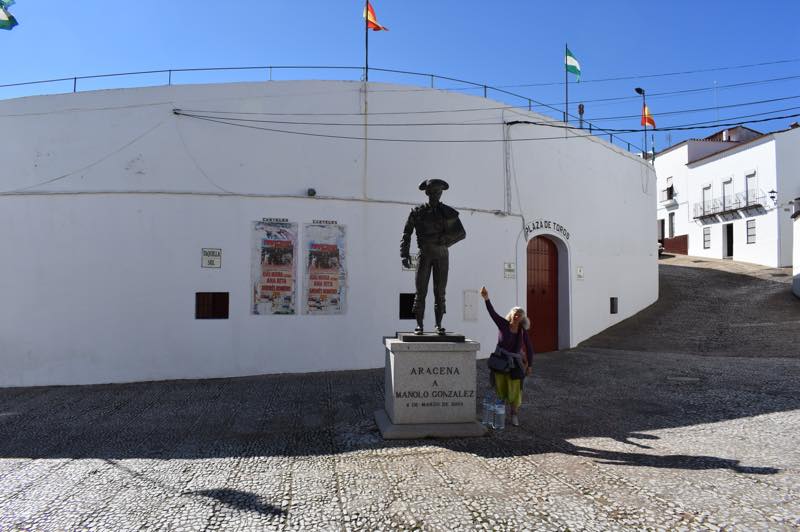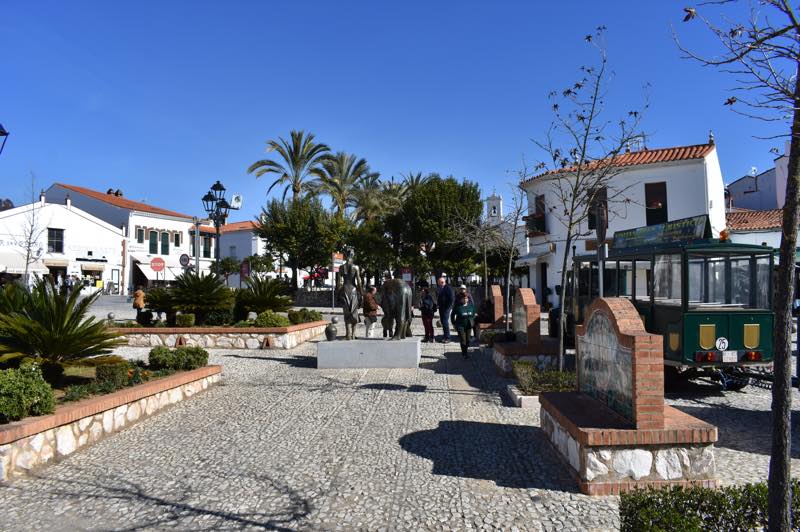 Absolutely clean, no trash on the street or next to the garbage cans, like everywhere else. An outdoor museum with great sculptures runs through the city.
We left out the cave for cost reasons and because we have seen too many caves in our lives and strolled through the city, until we found the ham museum. Here we learned for a small contribution of € 3 per person all about the Jarmon. The real Iberian ham – from pigs fed on acorns only – is supposed to be even healthy and its fat reduces cholesterol.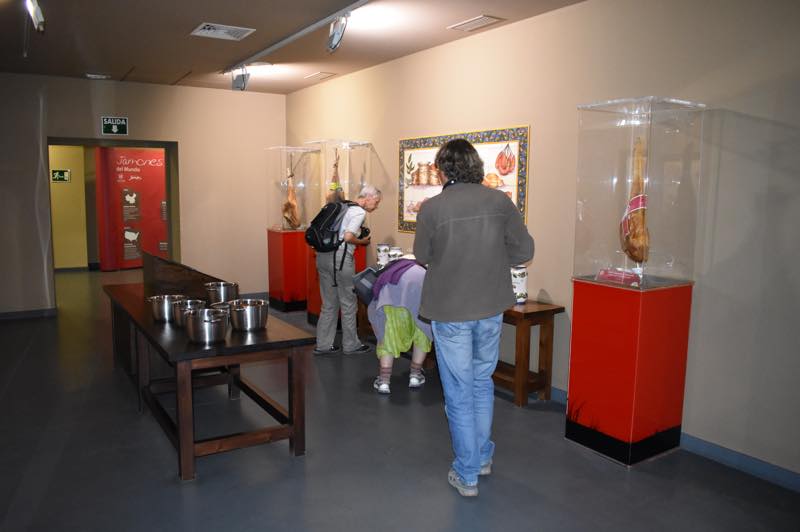 The most valuable hams come from purebred Iberian pigs that live 100% on acorns. Then there are mixed forms of nutrition and breeding. The preparation and storage takes 2 years, and is a true art. 
Dieter and Petra said goodbye the next morning (it was a holiday in Andalusia) and left towards Portugal. 
We wanted to keep an eye on some more Spanish models, and remained in Aracena. 
Wilfried marched out with drawing pad and pencils and wanted to draw. 
Since we discovered a "living sculpture". It was a simulated form of the swineherd,  perfectly cast in bronze.
Some people were so shocked when they registered that the figure was alive, that she jumped to the side crying out loud. Wilfried drew the swineherd 2 times while I was filming.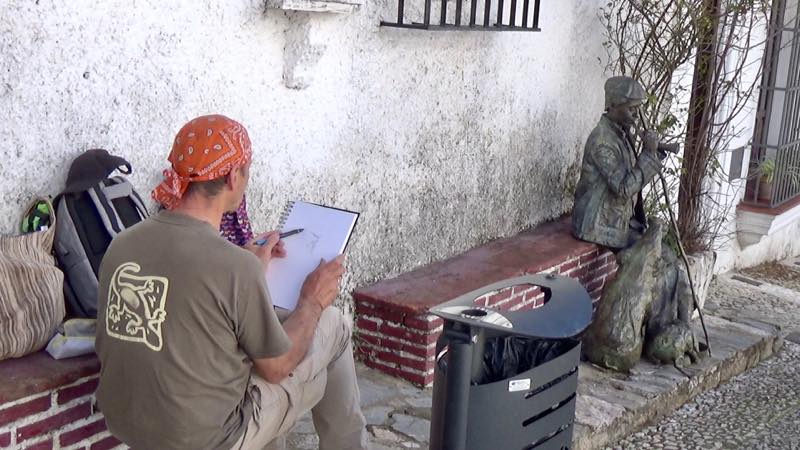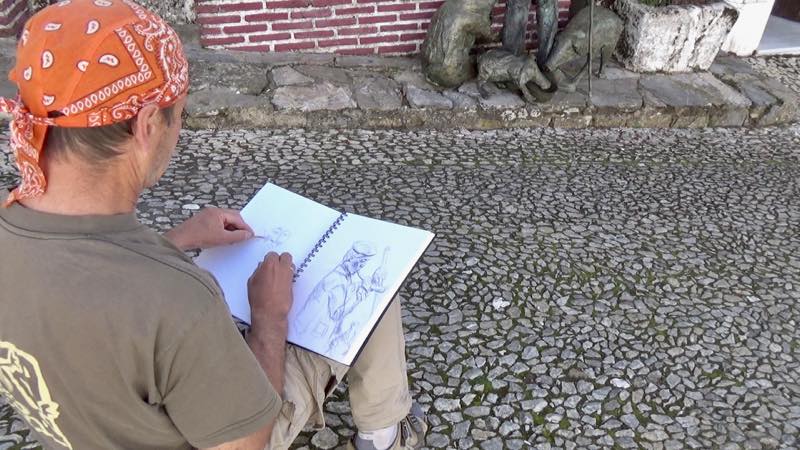 There were crowds of people on the move, but few took notice of Wilfried. There were mainly children who were attentive. But their parents were too busy with themselves to take notice of us. 
After that we decided on  short notice to leave Aracena and Spain and to move on to Portugal. 
The green line drawn in the map N433 took us on good roads into Portugal. 
No sooner had we crossed the border, nature was apparently just exploding. Suddenly everything was green. The shrubs and trees showed their first delicate green leaves and the meadows were lush green and dotted with yellow and white flowers. 
Petra had written us from a reservoir, where they had been over night and had liked very well. In one town before they had washed their laundry at Intermarché while they had shopped there. That fit just as well for us, so we headed to the same point. Only 15 km away which then was also a recommended nice parking space at the reservoir of Alqueva.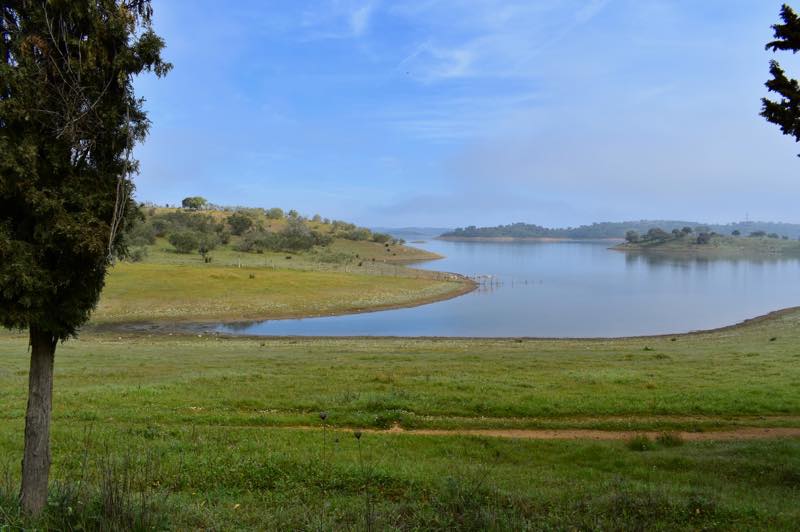 And – who we see there! Again, and yet – the car of Dieter and Petra. What a reunion! Then next morning we said goodbye for the last time to them, for they must now go home quickly. 
We remained, enjoyed the summer temperatures and got to know Ines and her two friends. Ines, a psychology student, was supposed to be part of Face Europe the next day.
But unfortunately, as it happened before, we waited in vain. Instead Wilfried drew me while I was knitting a sock. Later we received an apology from Ines, for personal reasons, her attendance was not possible. Too bad. 
Yesterday, Sunday, we took a stroll through the adjacent forest on the banks of the reservoir.
Then we set out on another lake which is smaller, called "Barragem do Pego do Altar".
At the local inn Ines, a very pretty young girl, who spoke good English and would have liked to be painted by Wilfried served us. Unfortunately, her father did not allow her. She would have to use her vacation time to study for a test and to serve in the family business.
So it passed another day without Face Europe action. The car park is visited very internationally.