Blog entry 03/07/2019
Yesterday afternoon there was the hell going on on the football field.
It was training time for several teams and the parking lot was full in no time. Parents of younger children froze in the visitors stands. The training sessions lasted until dark. 
A good thing people had repaired the floodlights during the day.
This morning we wanted to explore the area and hiked a bit towards the coast,
when suddenly the bus, which we noticed yesterday, stood in front of us. The Portuguese license plates let us hope that we had found locals. My question: "Do you speak English" was answered with a "Sure!" And my next question I asked was: "where are you from?" "Germany and Austria ". Somehow disappointing but then quite nice, this chat with Annette from Germany and Benjamin from Austria in their Portuguese rental car. They live in Vienna and perhaps they are also one day part of Face Europe. Anyway, very kind and interesting young people.
We said goodbye and admired the courage of the two to penetrate so far into the forest.
A bit deeper in the forest and already facing the sea, we looked at a large burnt down forest.
It looked very sad and desolate. How pretty it was though, to see the juicy yellow meadows under the remaining trees.
When we returned to the car, the sun blinked through the sky.
Sintra was our goal for today. We wanted to go to the parking lot and explore the city from there by foot tomorrow. 
At the weekend we wanted to be gone from there.
But yet everything turned out to be different. The parking spot for Big Fredi was far too narrow. So we went on towards Ericeira.
Passing through the city we sweated blood. It started to rain, even pour. The streets are so narrow that they barely fit for our Big Fredi. Then there is also still the oncoming traffic.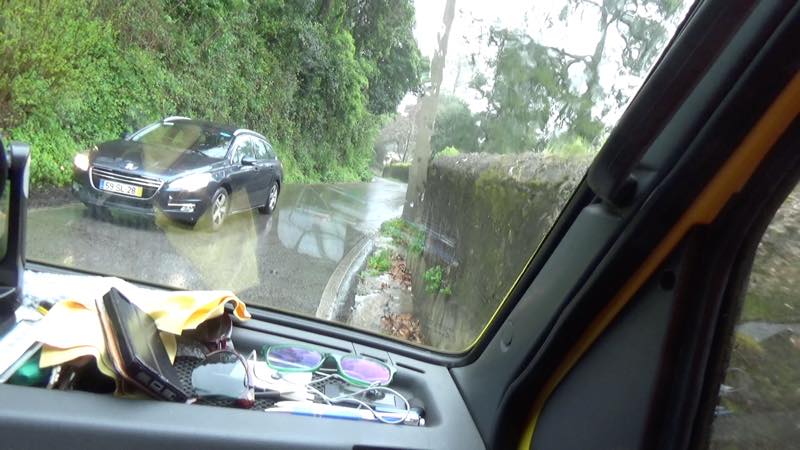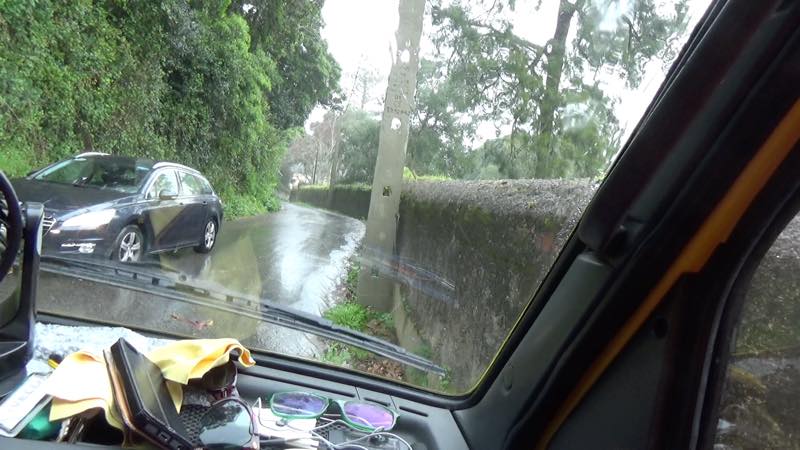 And the Portuguese do no slow drivers. And then a 11 km long stretch feels like the eternity. We drove past the palaces. We just wanted to get out of this city . Some by the Navi suggested roads were denied by Wilfried. Too narrow and too steep. So we drove quite a detour until we reached Ericeira at the pitch of the Intermarche. We found the place for  four motorhomes already occupied and are now just next to that place. If a camper moves away, we will take its place tomorrow.
The reason for this selection of the place is the ability to paint someone here. There are already contacts.