[:de]Blogeintrag 7.3.2019
Gestern Nachmittag war auf dem Fußballplatz die Hölle los.
Es war Training für mehrere Mannschaften und der Parkplatz war im Nu voll. Die Eltern der kleineren Kinder froren auf der Zuschauertribüne. Die Trainingseinheiten dauerten bis in die Dunkelheit. Gut, dass den ganzen Tag über Arbeiter die Flutlichtanlage repariert hatten. 
Wir wollten heute früh noch die Umgebung erkunden und wanderten ein Stück in Richtung Küste, als plötzlich der Bus, der uns gestern aufgefallen war, vor uns stand.
Das portugiesische Kennzeichen ließ mich hoffen, dass wir Einheimische gefunden hatten. Auf meine Frage: "Do you speak English?" kam "Sure!" Und auf meine weitere Frage: "where are you from?" Germany and Austria". Irgendwie enttäuschend, aber dann doch recht nett, diese Begegnung mit Annette aus Deutschland und Benjamin aus Österreich in ihrem portugiesischen Leihauto. Sie leben in Wien und vielleicht sind sie auch einmal Teil von Face Europe. Jedenfalls sehr liebe und interessante junge Menschen. 
Wir verabschiedeten uns und bewunderten den Mut der beiden, so weit in die Eingeweide des Waldes vorgedrungen zu sein. 
Ein Stück tiefer im Wald und bereits mit Blick auf das Meer nahmen wir ein großes abgebranntes Waldstück wahr. Es sah sehr traurig und öd aus.
Wie hübsch sich doch dagegen die saftigen gelben Wiesen unter den verbliebenen Bäumen zeigten. 
Als wir zum Auto zurück kehrten, kam sogar die Sonne durch. 
Sintra war unser Ziel für heute. Wir wollten den Stellplatz aufsuchen und von dort aus morgen zu Fuß die Stadt erkunden. Am Wochenende wollten wir mit Sicherheit weg von dort sein. 
Aber es kam doch alles anders. Der gepriesene Stellplatz für Big Fredi viel zu eng. Also fuhren wir einfach weiter Richtung Ericeira. Bei der Durchfahrt 
durch die Stadt haben wir Blut geschwitzt. Es begann zu regnen, teilweise schütten. Die Straßen sind so eng, dass sie für unseren Big Fredi gerade noch passen.
Dann gibt es da aber auch noch den Gegenverkehr. Und die Portugiesen sind nicht langsam unterwegs.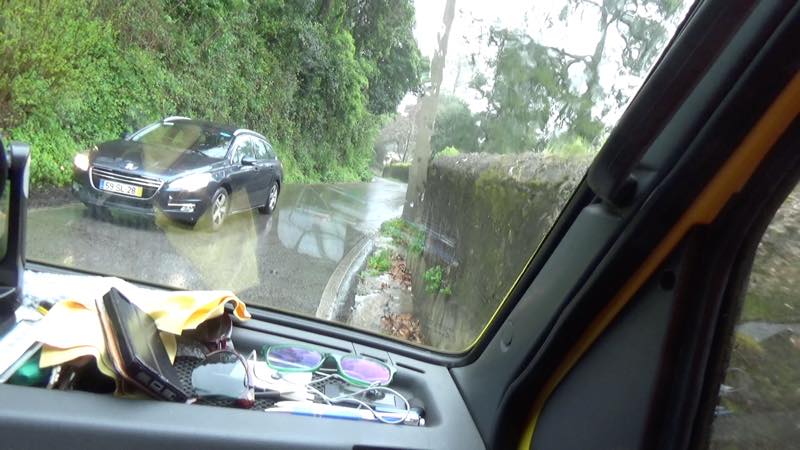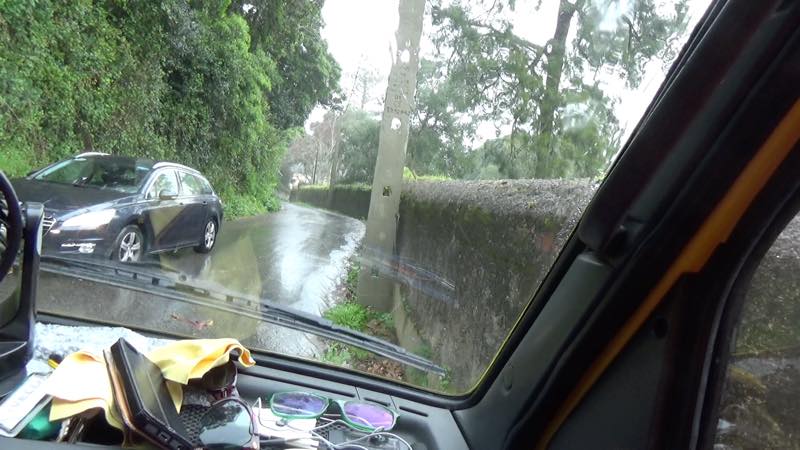 Und dann erscheint einem ein 11 km langes Stück wie eine Ewigkeit. An den Palästen sind wir vorbei gefahren. Wir wollten nix wie weg. Einige der vom Navi vorgeschlagenen Wege verweigerte Wilfried einzuschlagen. Zu schmal und zu steil. So fuhren wir einen ziemlichen Umweg bis wir schließlich in Ericeira am Stellplatz des Intermarche ankamen. Wir fanden den für vier Wohnmobile ausgewiesenen Platz voll belegt vor und stehen jetzt knapp davor. Sollte ein Wohnmobil sich weg bewegen, werden wir dessen Platz morgen einnehmen. Der Grund für diese Auswahl des Ortes liegt in der Möglichkeit jemanden hier malen zu können. Es gibt bereits Kontakte. [:en]Blog entry 03/07/2019
Yesterday afternoon there was the hell going on on the football field.
It was training time for several teams and the parking lot was full in no time. Parents of younger children froze in the visitors stands. The training sessions lasted until dark. 
A good thing people had repaired the floodlights during the day.
This morning we wanted to explore the area and hiked a bit towards the coast,
when suddenly the bus, which we noticed yesterday, stood in front of us. The Portuguese license plates let us hope that we had found locals. My question: "Do you speak English" was answered with a "Sure!" And my next question I asked was: "where are you from?" "Germany and Austria ". Somehow disappointing but then quite nice, this chat with Annette from Germany and Benjamin from Austria in their Portuguese rental car. They live in Vienna and perhaps they are also one day part of Face Europe. Anyway, very kind and interesting young people.
We said goodbye and admired the courage of the two to penetrate so far into the forest.
A bit deeper in the forest and already facing the sea, we looked at a large burnt down forest.
It looked very sad and desolate. How pretty it was though, to see the juicy yellow meadows under the remaining trees.
When we returned to the car, the sun blinked through the sky.
Sintra was our goal for today. We wanted to go to the parking lot and explore the city from there by foot tomorrow. 
At the weekend we wanted to be gone from there.
But yet everything turned out to be different. The parking spot for Big Fredi was far too narrow. So we went on towards Ericeira.
Passing through the city we sweated blood. It started to rain, even pour. The streets are so narrow that they barely fit for our Big Fredi. Then there is also still the oncoming traffic.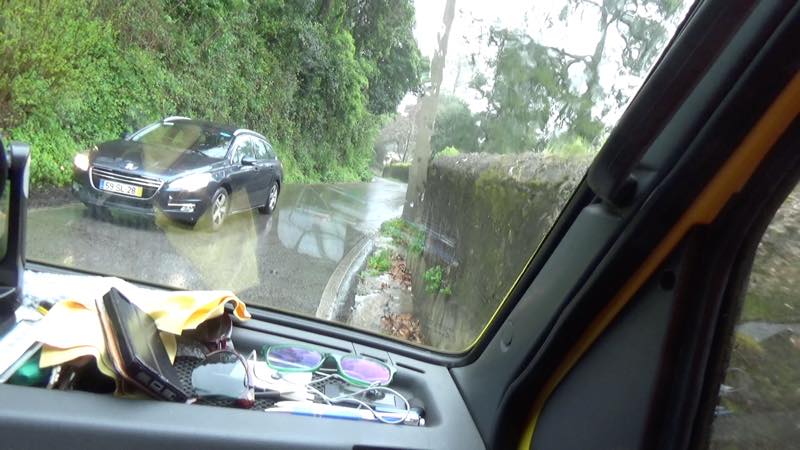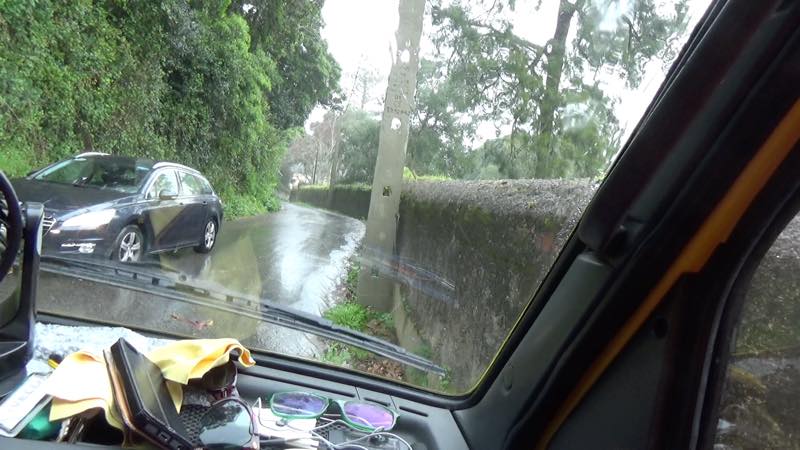 And the Portuguese do no slow drivers. And then a 11 km long stretch feels like the eternity. We drove past the palaces. We just wanted to get out of this city . Some by the Navi suggested roads were denied by Wilfried. Too narrow and too steep. So we drove quite a detour until we reached Ericeira at the pitch of the Intermarche. We found the place for  four motorhomes already occupied and are now just next to that place. If a camper moves away, we will take its place tomorrow.
The reason for this selection of the place is the ability to paint someone here. There are already contacts.[:]