[:de]Blogeintrag 12.3.2019
Am Samstag, den 9. März haben wir beschlossen, zu Fuß ca. 4 km zu gehen
und uns die von Park4night vorgeschlagenen Stellplätze näher zu begutachten, bevor wir mit Big Fredi weiter fahren. 
Es wurde ein erfolgreicher Spaziergang. Als wir am 2. Stellplatz ankamen, trafen wir vorerst Maria in ihrem blauen VW wieder. Sie teilte uns mit, dass die Nacht ganz ruhig gewesen war und keine Joungsters irgendeine Musik gemacht hatten. Von dem Platz aus könnte man auf das Flussdelta des Rio Lisandro hinuntergehen und am Sandstrand spazieren gehen. 
Etwas weiter am Fluss entdeckten wir einige Wohnmobile.
Eine belgische Besitzerin -Sanna – fragten wir nach ihren Erfahrungen an diesem Platz. Außer, dass es sehr windig ist, gibt es nichts auszusetzen. Also entschlossen wir uns, am Sonntag hier her zu kommen. Der Samstag Abend war Wilfried doch zu riskant gewesen, dazu hatten wir zu gute Erfahrungen am Intermache Parkplatz gemacht. 
Auf dem Weg zurück entdeckten wir einen grauen, zum Wohnmobil ausgebauten VW Bus mit lettischen Kennzeichen. Wir sprachen den jungen Mann an, ob er wirklich aus Lettland hier her gekommen sei und er erzählte uns stolz, dass er das Auto selbst ausgebaut hatte und die ganze Strecke hier her gefahren war. Hier macht er ein Skulpturen Praktikum bei einem Portugiesen ein paar Kilometer entfernt. Er versprach uns, den Workshopleiter zu fragen, ob er bei Face Europe mitmachen wolle. Er selbst wäre auf jeden Fall begeistert, dabei zu sein. 
Am Sonntag Morgen entsorgten wir noch unsere Toilette und bunkerten noch einmal Lebensmittel bei Lidl. 
Sanna war noch dort, aber bereits im Begriff, abzufahren. Sie sucht sich ein windgeschütztes Plätzchen im Landesinneren. 
Am Abend meldete sich Rui,  ein Freund von Mica, um uns für ein eventuelles Porträt kennen zu lernen. 
Er versprach uns bis Dienstag Bescheid zu geben ob für ihn Dienstag oder Freitag besser wäre. 
Nach einer absolut ruhigen Nacht wachten wir am Montag fast alleine auf dem Platz auf. Ganz weit weg war noch ein zweites Auto mit deutschem Kennzeichen, wie sich später herausstellte. 
Gegen Mittag tauchte ein dänischer roter Mercedes hier auf und erkundigte sich, ob hier böse Hunde wären. Am Tag davor war sein braver 9 Monate alter Hund von einem anderen Hund gebissen worden. Erst dessen Besitzer und er selbst konnten ihn befreien. Der Hund biss auch gleich noch seinen Besitzer. Deshalb müsse er genau nachfragen. Sein Hund sei sehr gutmütig, aber stehe noch unter Schock. 
Schnell freundeten wir uns mit den beiden an: Behnam, ein ursprünglich mit seinen Eltern aus dem Iran geflüchteter Däne mit seinem schönen und braven Leo. Als wir dann bei Kaffee und Kuchen vor Big Fredi saßen, näherte sich uns Philipp, der Mann aus Deutschland, den wir bislang noch keine 10 Meter von seinem Auto entfernt gesehen hatten und sprach uns auf Englisch an, denn unsere Konversation mit Behnam war schließlich in englisch. 
Philipp war eingepackt, als ob er eine Nordpolexpedition beginne.
Rasch ließ er die überzähligen Jacken fallen und gesellte sich in den Windschatten zu uns. 
Seine mitgebrachte Frisbeescheibe tanzte danach bei viel Wind zwischen uns Vier hin und her. 
Anschließend luden wir die beiden Männer zum Nachtmahl zu uns ein. Jeder brachte etwas mit und wir lernten uns bis Mitternacht bei kalter Platte kennen. Es wurde trotzdem viel gelacht und die Stimmung war besonders heiter. 
Auch die vergangene Nacht war total ruhig. 
Heute Vormittag machte ich mit Behnam und Leo eine große Runde über den gegenüberliegenden Berg und zurück hinab auf das Flussufer.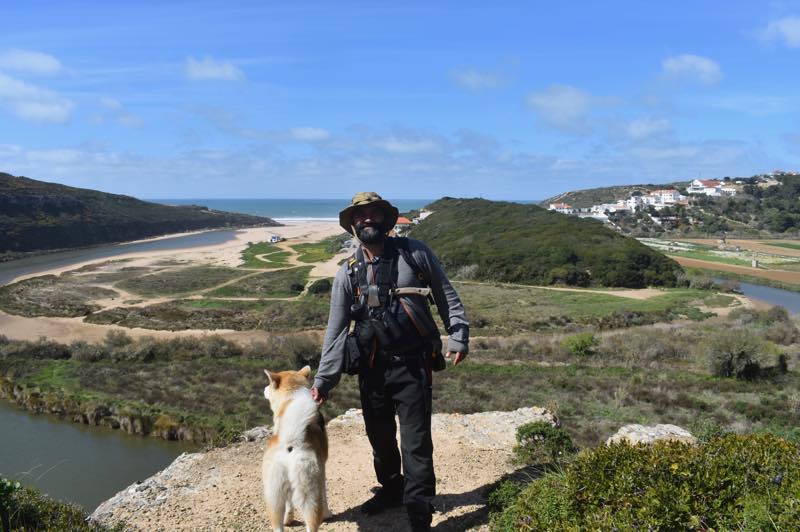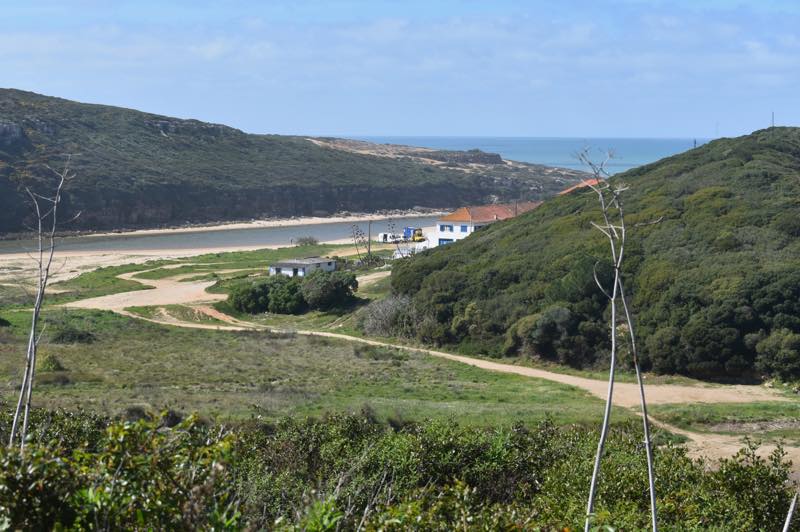 Wir durchwateten den Fluss und kamen nach 1,5 Stunden Rundwanderung von der anderen Seite zum Stellplatz zurück. 
[:en]Blog entry 12/03/2019
On Saturday, March 9, we decided to walk about 4 km
and to examine the proposed by Park4night pitches closer by ourselves before we continue with Big Fredi. 
It was a successful walk. When we arrived at the second parking lot, we met again Maria in her blue VW. She informed us that the night had been calm and no youngsters had made some music. From the parking place you could go down to the river delta of the Rio Lisandro and walk along the sandy beach. 
A little further along the river we found some campers.
A Belgian owner -Sanna – we asked about her experiences at this place. "Except that it is very windy", she said, "there is nothing wrong". So we decided to come there on Sunday. The Saturday night Wilfried would have been too risky, besides we had made good experiences on intermarché parking. 
On the way back we found a gray, VW bus converted to a camper with Latvian license plates. We talked to the young man if he had really come from Latvia all the way over here and he told us proudly that he had driven the car himself over here. Here he makes a sculpture workshop with a Portuguese guy a few kilometers away. He promised to ask the workshop leader if he wanted to join Face Europe. He himself would be thrilled to take part. 
On Sunday morning, we disposed our toilet and bought enough food at Lidl. 
Sanna was still there, but already ready to depart. She looks for a wind sheltered spot in the countryside. 
In the evening, Rui, a friend of Mica  met us for a discussions about a possible portrait. 
He promised to give notice if it would be better for him to come on Tuesday or Friday. 
After a very quiet night we woke up almost alone on the parking place. There was a second car with a German license plate further away. 
Around noon, a Danish red Mercedes showed up here and asked if there were evil dogs around. The day before his brave nine months old dog was bitten by another dog. Only the owner and he could free him. The dog bit its owner even into his arm. Therefore, he must just ask. His dog was very good-natured, but is still in shock. 
We quickly became friends with the two: Behnam, originally a refugee with his parents from Iran with his beautiful and brave Leo. As we sat over coffee and cake in front of Big Fredi, suddenly Philip approached us, the man from the German car, which we had seen. He addressed us in English, because our conversation with Behnam was English. 
Philip was packed into clothes as if he started a North Pole expedition.
He quickly dropped the surplus jackets and joined into our conversation. 
His Frisbee danced back and forth between the four of us four against strong winds. 
Then we invited the two men to have dinner with us. Everyone brought something and we got to know each other until midnight. There was a lot of laughter and the atmosphere was very cheerful. 
The last night was totally quiet. 
This morning I did a great hike over the opposite hill and back down at the riverside with Behnam and Leo.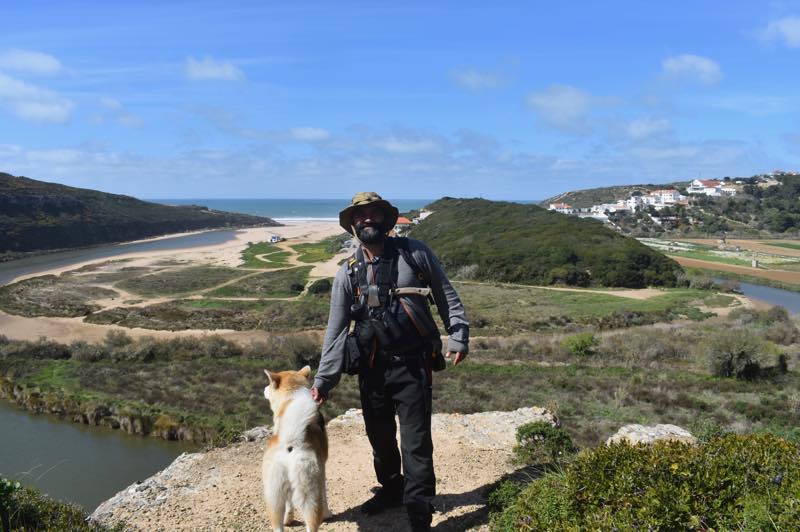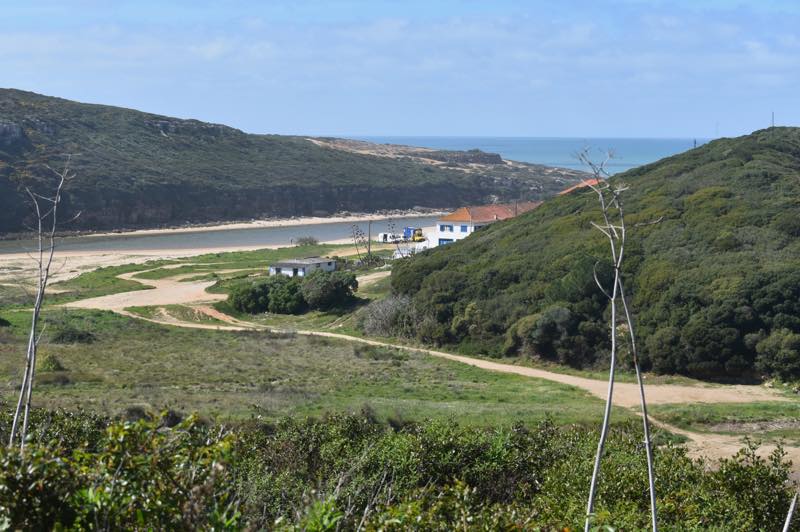 We crossed the river and after 1.5 hours round trip we came back from the other side of the parking place. 
[:]