Blog entry 12/03/2019
On Saturday, March 9, we decided to walk about 4 km
and to examine the proposed by Park4night pitches closer by ourselves before we continue with Big Fredi. 
It was a successful walk. When we arrived at the second parking lot, we met again Maria in her blue VW. She informed us that the night had been calm and no youngsters had made some music. From the parking place you could go down to the river delta of the Rio Lisandro and walk along the sandy beach. 
A little further along the river we found some campers.
A Belgian owner -Sanna – we asked about her experiences at this place. "Except that it is very windy", she said, "there is nothing wrong". So we decided to come there on Sunday. The Saturday night Wilfried would have been too risky, besides we had made good experiences on intermarché parking. 
On the way back we found a gray, VW bus converted to a camper with Latvian license plates. We talked to the young man if he had really come from Latvia all the way over here and he told us proudly that he had driven the car himself over here. Here he makes a sculpture workshop with a Portuguese guy a few kilometers away. He promised to ask the workshop leader if he wanted to join Face Europe. He himself would be thrilled to take part. 
On Sunday morning, we disposed our toilet and bought enough food at Lidl. 
Sanna was still there, but already ready to depart. She looks for a wind sheltered spot in the countryside. 
In the evening, Rui, a friend of Mica  met us for a discussions about a possible portrait. 
He promised to give notice if it would be better for him to come on Tuesday or Friday. 
After a very quiet night we woke up almost alone on the parking place. There was a second car with a German license plate further away. 
Around noon, a Danish red Mercedes showed up here and asked if there were evil dogs around. The day before his brave nine months old dog was bitten by another dog. Only the owner and he could free him. The dog bit its owner even into his arm. Therefore, he must just ask. His dog was very good-natured, but is still in shock. 
We quickly became friends with the two: Behnam, originally a refugee with his parents from Iran with his beautiful and brave Leo. As we sat over coffee and cake in front of Big Fredi, suddenly Philip approached us, the man from the German car, which we had seen. He addressed us in English, because our conversation with Behnam was English. 
Philip was packed into clothes as if he started a North Pole expedition.
He quickly dropped the surplus jackets and joined into our conversation. 
His Frisbee danced back and forth between the four of us four against strong winds. 
Then we invited the two men to have dinner with us. Everyone brought something and we got to know each other until midnight. There was a lot of laughter and the atmosphere was very cheerful. 
The last night was totally quiet. 
This morning I did a great hike over the opposite hill and back down at the riverside with Behnam and Leo.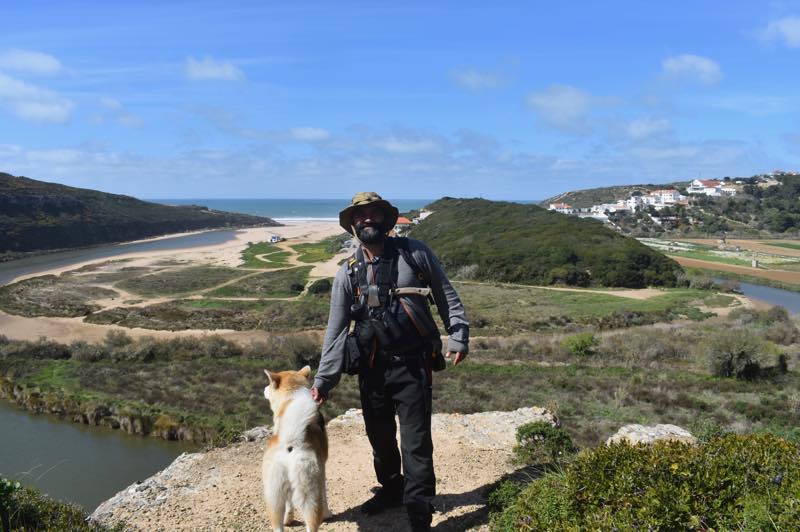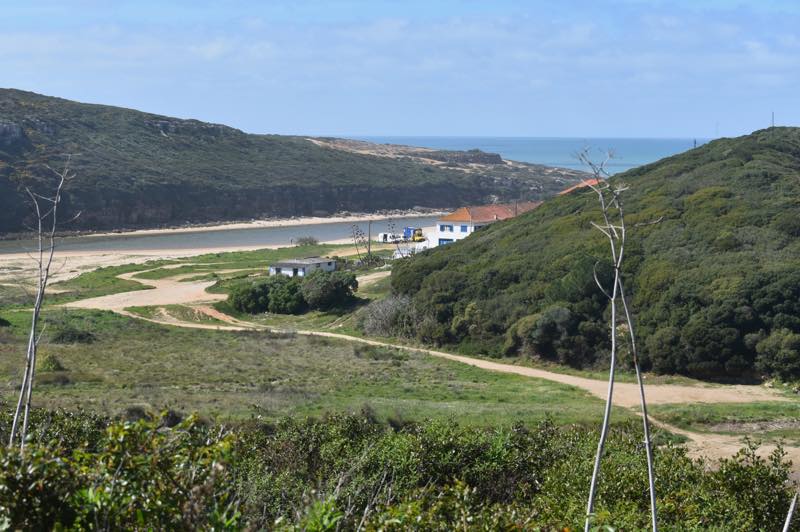 We crossed the river and after 1.5 hours round trip we came back from the other side of the parking place.