Blog entry 26/03/2019
Everywhere flowers and greens here.
The figs shoot out their leaves. Fruits I have not seen yet, but they will show up soom. The hills are full of a variety of wild flowers and the gardens and front gardens flourish in the most exuberant colors. Nasturtium proliferates flourishes on the hills along the way and all kinds of yellow daisies and yellow and pink shrubs line the rocks and paths. It is a variety of colors, which accompanies us here in late March.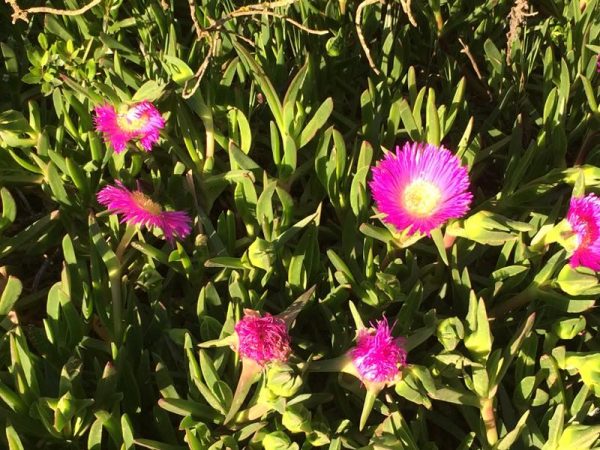 But even for the Portuguese everything is much too early and they are concerned about the lack of rain. For us it means one sunny day after the other bringing us into pure holiday mood but it is a concern for the farmers. Hopefully it rains enough soon so that nature survives the summer. 
Last night we got a visit from our new neighbors: Andi and Konrad. Andi just wanted to borrow a corkscrew from us. He and his friend are on their holidays with a tent and a rented car. It was an exciting evening, Andi told us about his many travels and that he must now look for a job, but he would prefer to travel. He has traveled to many countries and completed his community service in Central America in a school as a teacher. It's so nice when young people are   expanding their horizons in this way and they can always rely on so much life experience at a young age. No one can ever take that away from them.  Andi's friend, Konrad is Californian and just finished his master's degree in Hamburg. 
This morning we packed our things again and moved on northwards. 
Currently, we are waiting for news from Marco, in order to plan our next days. 
When we had just found a place for the night on the beach of São Lourenço, a nice German couple joined us, which gladly accepted our invitation to a coffee and cake. Eckhart (Ecki) and Uschi loved Face Europe and Uschi has decided spontaneously to be  portrayed tomorrow. If she stays here, her portrait is the 50th. 
A third car joined us later, a blue Iveco, in size as our Willi was. A young family, she is Portuguese, he Frenchman and their about 2 years old daughter is both. Tomorrow they want to visit us in Big Fredi.