[:de]Blogeintrag 26.3.2019
Überall blüht und grünt es.
Die Feigen schießen ihre Blätter heraus. Früchte habe ich noch keine gesehen, aber das geht ja dann recht schnell. Die Hügel sind voll mit den verschiedensten Wildblumen und auch die Gärten und Vorgärten erblühen in den üppigsten Farben. Kapuzinerkresse wuchert und blüht auf den "Gstetten" am Wegesrand und alle Arten von gelben Margeriten und gelben und rosa Bodendeckern säumen die Felsen und Wege.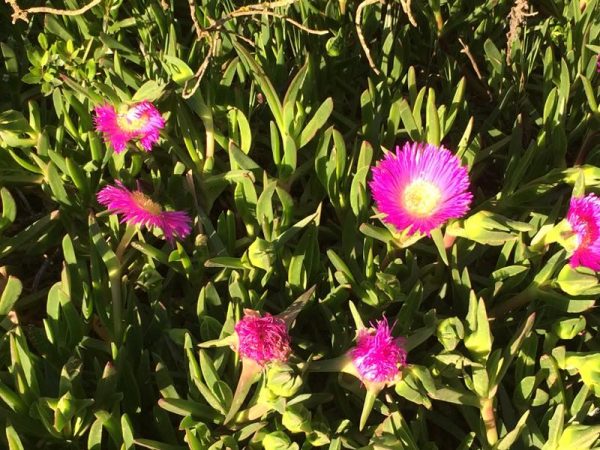 Es ist ein Farbenmeer, das uns hier Ende März schon begleitet. Aber selbst für die Portugiesen ist alles viel zu zeitig und sie machen sich Sorgen wegen des fehlenden Regens. Was für uns einen sonnigen Tag nach dem anderen bedeutet und reine Urlaubsstimmung verbreitet ist für die Landwirte ein Grund zur Sorge. Hoffentlich regnet es doch noch genug, so dass die Natur ihr Auslangen findet. 
Wir haben gestern Abend noch Besuch von unseren neuen Nachbarn bekommen: Andi und Konrad. Andi wollte sich nur einen Korkenzieher von uns ausborgen. Er ist mit seinem Freund mit Zelt und Leihwagen unterwegs. Es wurde ein spannender Abend, Andi erzählte uns von seinen vielen Reisen und davon, dass er sich jetzt um einen Job umsehen muss, er aber lieber reisen würde. Er hat bereits viele Länder bereist und seinen Zivildienst in Mittelamerika in einer Schule als Lehrer absolviert. Es ist so schön, wenn junge Menschen ihren  Horizont auf diese Weise erweitern und schon in jungen Jahren auf so viel Lebenserfahrung zurückgreifen können. Das kann Ihnen niemand mehr wegnehmen. Andis Freund, Konrad, ist Kalifornier und beendet gerade sein Master Studium in Hamburg. 
Heute früh packten wir wieder unsere Sachen zusammen und zogen weiter Richtung Norden. 
Derzeit warten wir auf Nachricht von Marco, um unsere weiteren Tage planen zu können. 
Als wir gerade einen Platz für die Nacht am Strand von São Lourenço gefunden hatten, gesellte sich ein deutsches liebenswürdiges Ehepaar zu uns, das unsere Einladung auf einen Kaffe und Kuchen gerne annahm. Eckehart (Ecki) und Uschi waren von Face Europe begeistert und Uschi hat sich gleich spontan zu einem Porträt für morgen entschieden. Wenn sie dabei bleibt, ist ihr Porträt das 50.  
Ein drittes Auto kam später noch zu uns – ein blauer Iveco, in der Größe so, wie unser Willi war. Eine junge Familie, sie ist Portugiesin, er Franzose und die etwa 2 jährige Tochter beides. Morgen wollen sie uns in Big Fredi besuchen. [:en]Blog entry 26/03/2019
Everywhere flowers and greens here.
The figs shoot out their leaves. Fruits I have not seen yet, but they will show up soom. The hills are full of a variety of wild flowers and the gardens and front gardens flourish in the most exuberant colors. Nasturtium proliferates flourishes on the hills along the way and all kinds of yellow daisies and yellow and pink shrubs line the rocks and paths. It is a variety of colors, which accompanies us here in late March.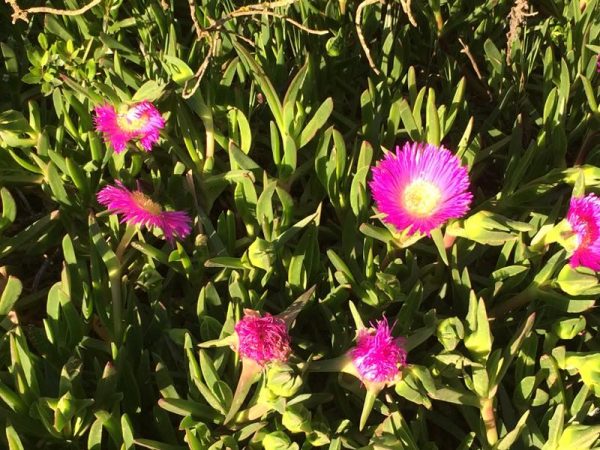 But even for the Portuguese everything is much too early and they are concerned about the lack of rain. For us it means one sunny day after the other bringing us into pure holiday mood but it is a concern for the farmers. Hopefully it rains enough soon so that nature survives the summer. 
Last night we got a visit from our new neighbors: Andi and Konrad. Andi just wanted to borrow a corkscrew from us. He and his friend are on their holidays with a tent and a rented car. It was an exciting evening, Andi told us about his many travels and that he must now look for a job, but he would prefer to travel. He has traveled to many countries and completed his community service in Central America in a school as a teacher. It's so nice when young people are   expanding their horizons in this way and they can always rely on so much life experience at a young age. No one can ever take that away from them.  Andi's friend, Konrad is Californian and just finished his master's degree in Hamburg. 
This morning we packed our things again and moved on northwards. 
Currently, we are waiting for news from Marco, in order to plan our next days. 
When we had just found a place for the night on the beach of São Lourenço, a nice German couple joined us, which gladly accepted our invitation to a coffee and cake. Eckhart (Ecki) and Uschi loved Face Europe and Uschi has decided spontaneously to be  portrayed tomorrow. If she stays here, her portrait is the 50th. 
A third car joined us later, a blue Iveco, in size as our Willi was. A young family, she is Portuguese, he Frenchman and their about 2 years old daughter is both. Tomorrow they want to visit us in Big Fredi. [:]