[:de]Blogeintrag 30.3.2019
Es begann am Foz do Lisandro und es endet am Foz do Lisandro.
Aber alles der Reihe nach. 
Am Mittwoch, den 27.3.2019 wurde Mena gezeichnet. Sie ist wirklich eine außergewöhnliche Persönlichkeit. Jeden Schicksalsschlag hat sie mit Bravour weggesteckt. Sei es der Tod ihres Mannes vor 6 Jahren. Oder der Brand ihres Restaurants. Sie steht auf und macht das Beste daraus.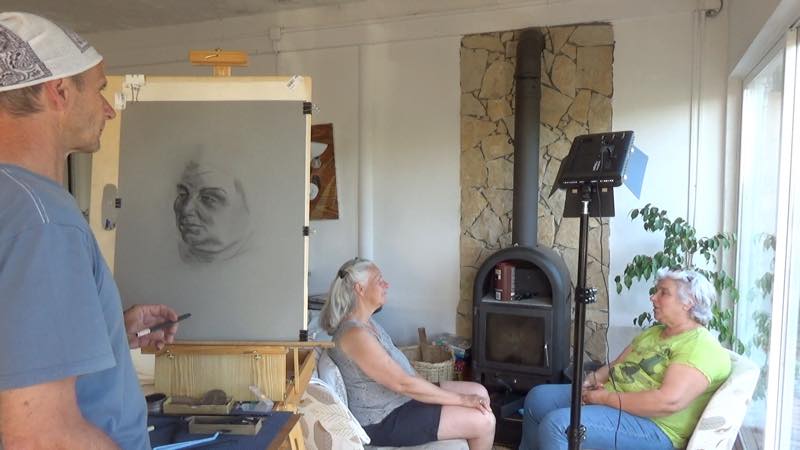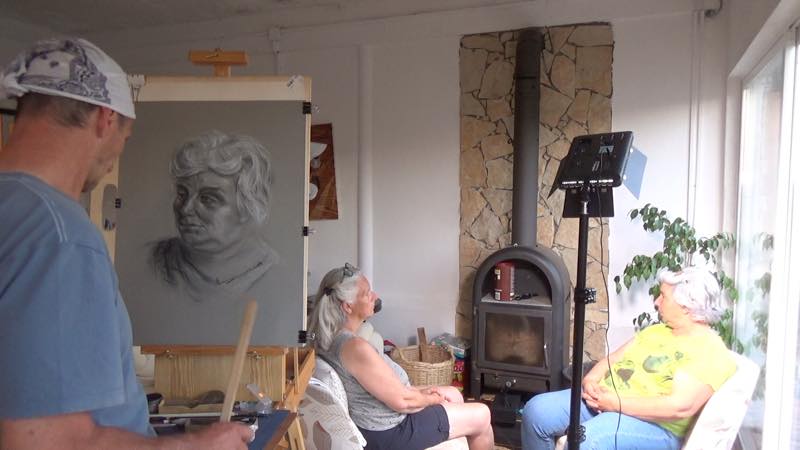 Ihr ganzes Engagement gilt den herzkranken Kindern von Portugiesisch Guinea, denen sie eine Herzoperation in Portugal vermitteln hilft. Das führte sogar so weit, dass sie eines dieser Kinder vor 6 Jahren adoptierte. Sie hat eine Aufgabe in ihrem Leben gefunden, die sie mit ganzem Herzen ausfüllt. 
Anschließend an das Face Europe Porträt waren wir bei Marco und Anna zum Abendessen eingeladen.
Es war ein lukullisches Erlebnis. 
Am Donnerstag wollte Philipp ein Porträt von sich malen lassen, um es seinem Vater zum Geburtstag zu schenken. Er entschloss sich kurzerhand, die Sitzung auch filmen zu lassen und da war es nur mehr ein weiterer Schritt, um Teil von Face Europe zu werden.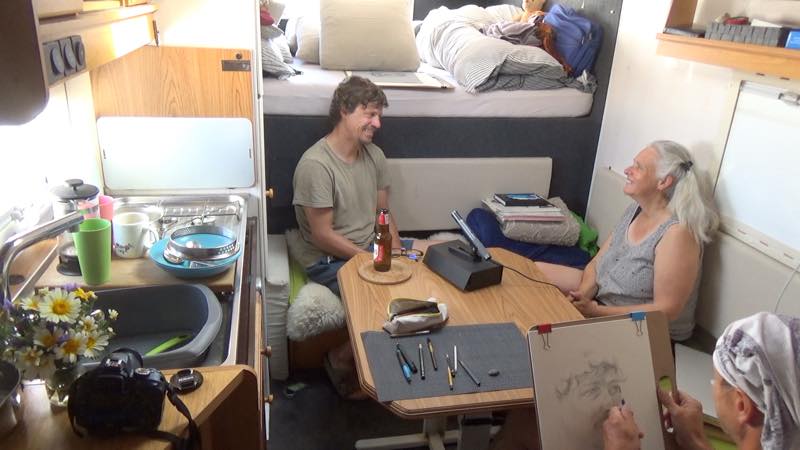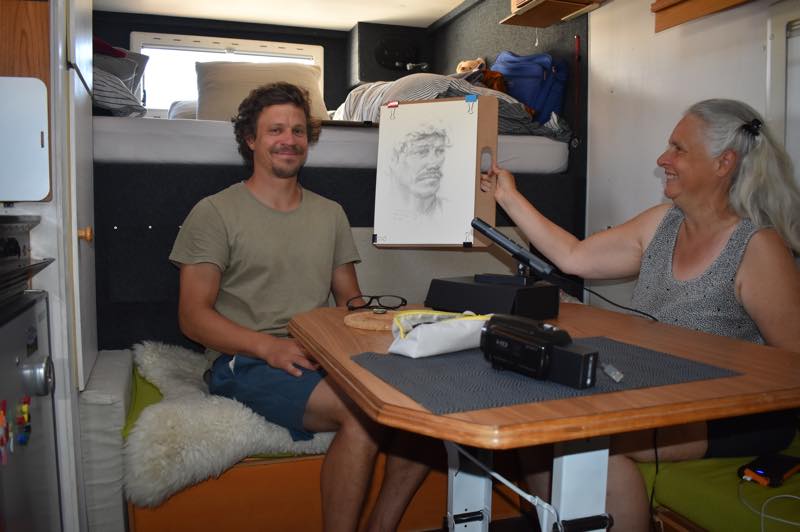 Spät am Abend erhielten wir noch ein E-Mail von Anne, die gerne Modell für Face Europe wäre. Zufällig wohnt sie gegenüber von Mica und hatte auch gleich am nächsten Tag Zeit, um sich zeichnen zu lassen. Den Weg zu Mica kennen wir nun schon gut.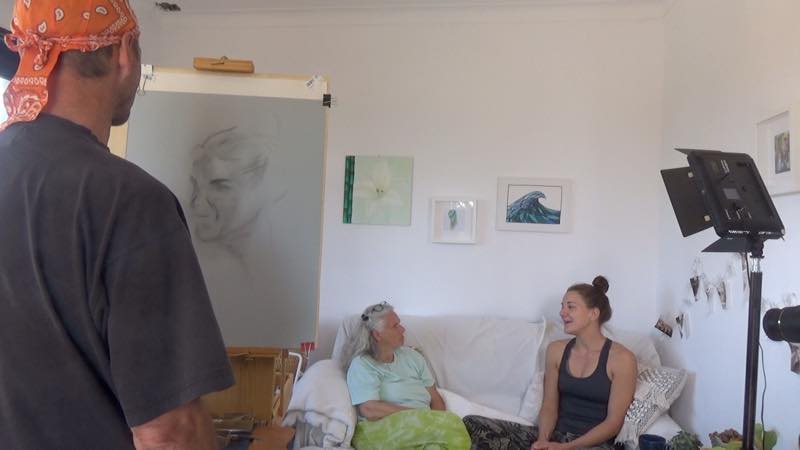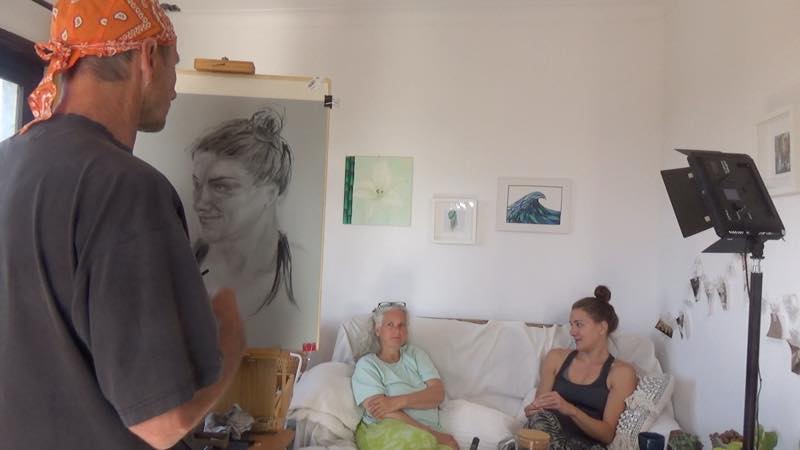 Anne ist eine ganz liebenswerte Flugbegleiterin, Buchhalterin, Surferin und außerdem war sie das Wochenende davor als Nachbarin auf dem Strand von São Julião bei einer Party direkt neben uns.
Die Welt in Ericeira ist klein. Jeder kennt jeden, Surfer kennen einander und Locals nehmen auch "Zugezogene" gerne in ihren Freundeskreis auf. 
Ich hatte den Wunsch geäußert, ein Mal in Portugal gut Fisch essen zu gehen. Weder Sonja noch Rui, Marco und Anna, Mica und Melli hatten Zeit, mit uns essen zu gehen. Auch Anne war schon verabredet. 
Der einzige treue Philipp ging mit uns und verriet uns auch das super Restaurant inmitten der Altstadt von Ericeira. Wir konnten in seinem Auto mit fahren und mussten uns nicht um einen Parkplatz in der engen City kümmern. 
So wurde unser vorletzter Tag noch mit einem köstlichen Fisch gekrönt. 
Wilfried wollte den Samstag noch in Ruhe genießen und am Sonntag müssen wir uns definitiv losreißen. 
Unverhofft kam uns am Samstag dann noch Pedro, der Freund von Philipp besuchen. Leider hatte er keine Zeit, sich porträtieren zu lassen.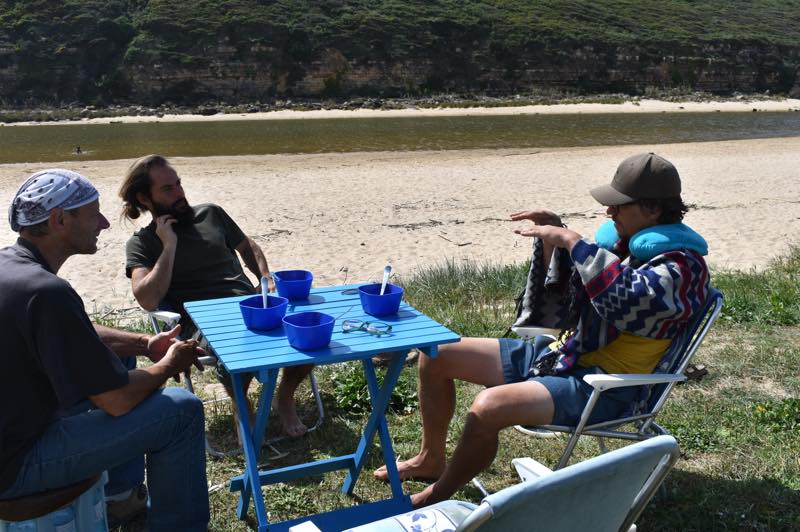 Er ist Filmemacher und – sollten wir wieder nach Portugal kommen – gerne bereit, bei Face Europe dabei zu sein. 
Eigentlich wollten wir uns am Sonntag mit Ricardo in der Nähe von Caldas da Rainha treffen. Er musste aber leider absagen. 
Deshalb starten wir am Sonntag, den 31.3.2019 definitiv mit unserer Heimfahrt und lassen Obidos, Caldas da Rainha und Nazaré für unseren nächsten Portugal Besuch, den wir uns ganz fest vorgenommen haben. Dieses Land wollen wir bestimmt näher und intensiver kennen lernen. [:en]Blog entry 30/03/2019
It began at Foz do Lisandro and it ends at Foz do Lisandro.
But first things first. 
On Wednesday, 03.27.2019 Mena was drawn. She is really an extraordinary person. Every stroke of fate she has coped brilliantly. Whether her husband's death 6 years ago or the fire of her restaurants. She gets up and makes the most of it. Her time commitment applies to children with heart disease who live in Portuguese Guinea, where she helps to support their heart surgery in Portugal. This even went so far that she adopted one of these children 6 years ago. She has found a passion in her life, which she fills with all her heart.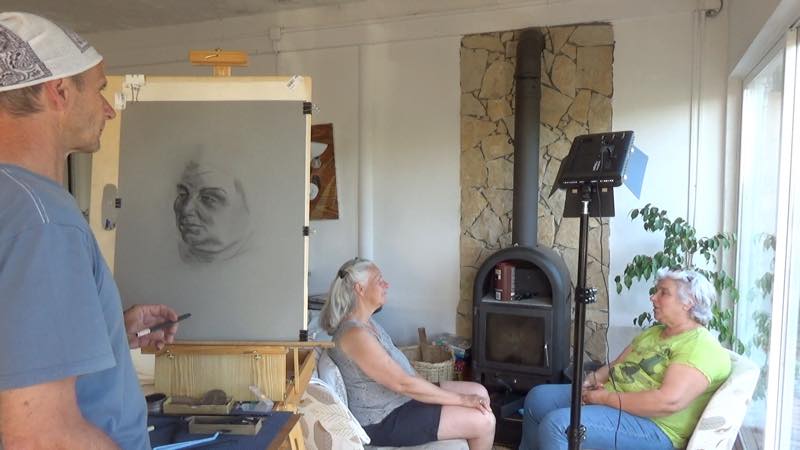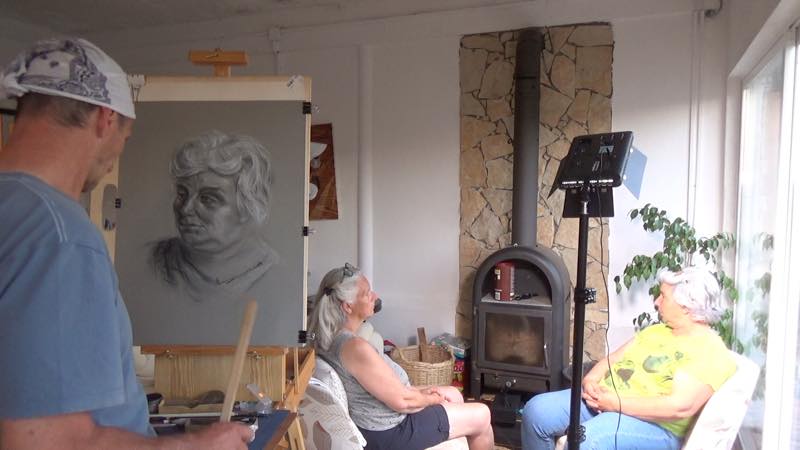 After drawing the Face Europe portrait we were invited to Marco and Anna for dinner.
It was a delicious experience. 
On Thursday Philipp wanted to have a portrait painted of himself in order to give it to his father for his birthday. He decided finally to have it also filmed and since it was only one more step to be part of Face Europe he decided to be part of Face europe as well.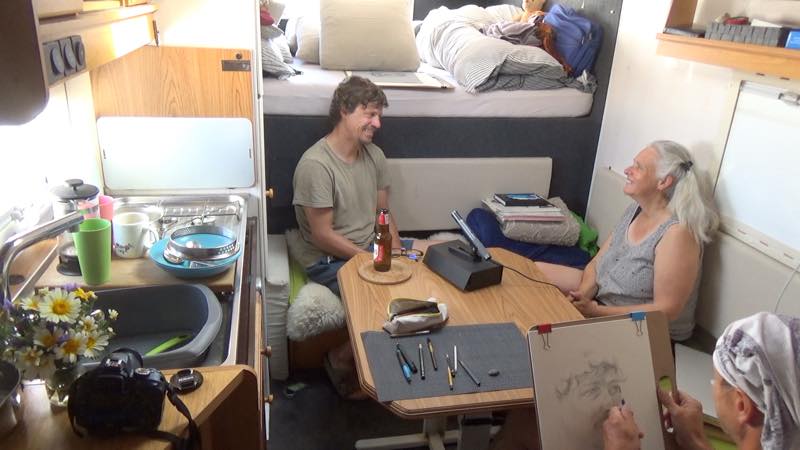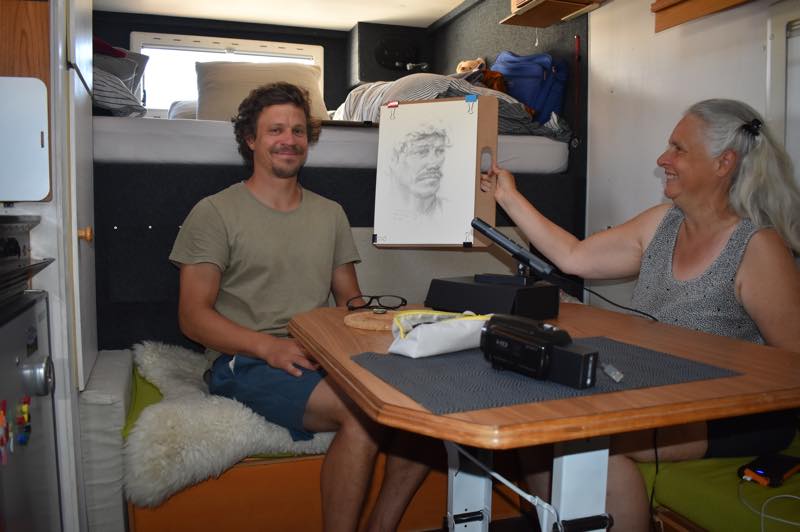 Late in the evening we received another email from Anne, who wanted to be a model for Face Europe. By chance she lives across the street from Mica and also had some time the very next day to be portrayed. We already know the way to Mica's place.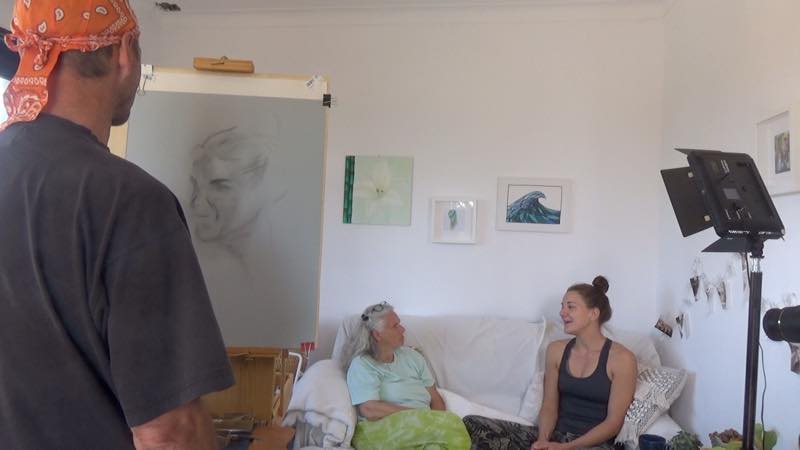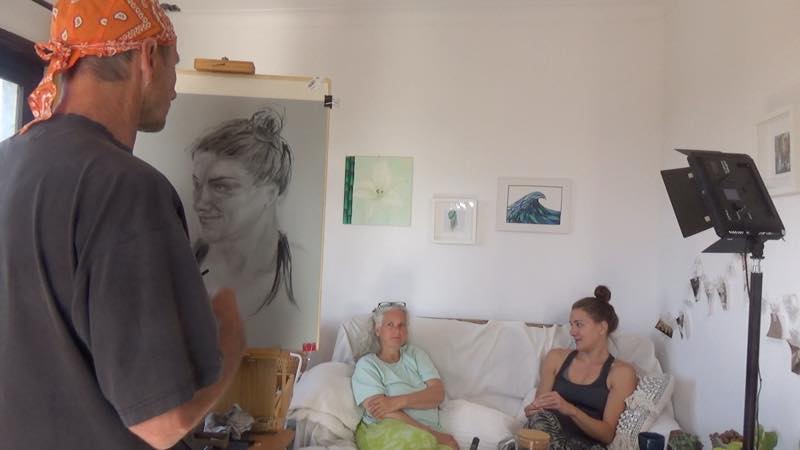 Anne is a very lovely flight attendant, accountant, surfer and besides, she was the weekend before a neighbor on the beach of São Julião at a party right next to us.
The world in Ericeira is small. Everyone knows everyone, surfers know each other and locals welcome "newcomers" like their friends. 
I had expressed a desire to eat fish at least once in Portugal. Neither Sonja not Rui, Marco and Anna, Mica and Melli had time to eat with us. Even Anne was already tied in a meeting. 
The only faithful Philip went with us and showed us the great restaurant in the old town of Ericeira. We were able to accompany him in his car and did not have to worry about parking in the narrow City. 
So our penultimate day was crowned with a delicious fish. 
Wilfried wanted to enjoy the Saturday for rest and on Sunday we definitely need to tear ourselves away. 
Unexpectedly, Pedro, the friend of Philip came to visit us on Saturday afternoon. Unfortunately, he had no time to have his portrait done.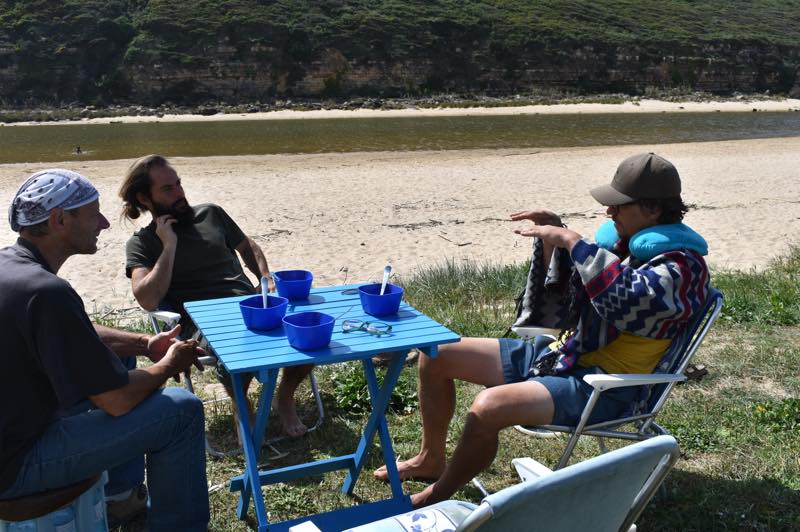 He is a filmmaker and – if we should come back to Portugal – he would be happy to be a part of Face Europe. 
We had planned to meet with Ricardo near Caldas da Rainha on Sunday but he had to cancel. 
Therefore, we will start our way home on Sunday, 31/03/2019 definitely and leave Obidos, Caldas da Rainha and Nazaré for our next visit to Portugal. 
We definitely want to get to know this country more closely and intensively.[:]