Blog entry 30/03/2019
It began at Foz do Lisandro and it ends at Foz do Lisandro.
But first things first. 
On Wednesday, 03.27.2019 Mena was drawn. She is really an extraordinary person. Every stroke of fate she has coped brilliantly. Whether her husband's death 6 years ago or the fire of her restaurants. She gets up and makes the most of it. Her time commitment applies to children with heart disease who live in Portuguese Guinea, where she helps to support their heart surgery in Portugal. This even went so far that she adopted one of these children 6 years ago. She has found a passion in her life, which she fills with all her heart.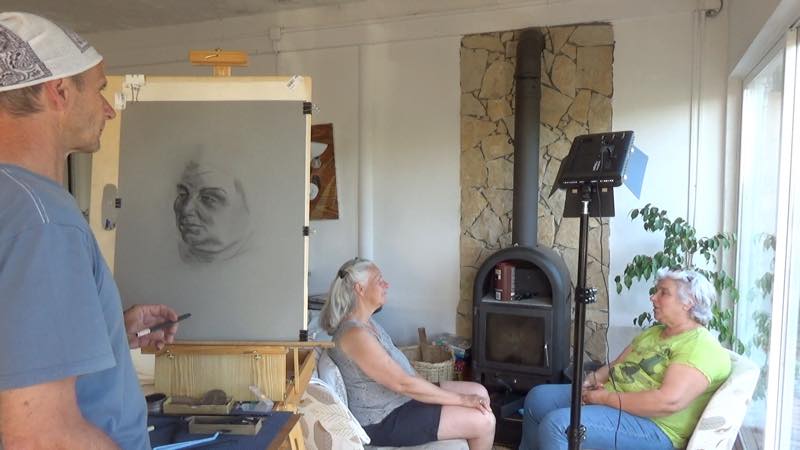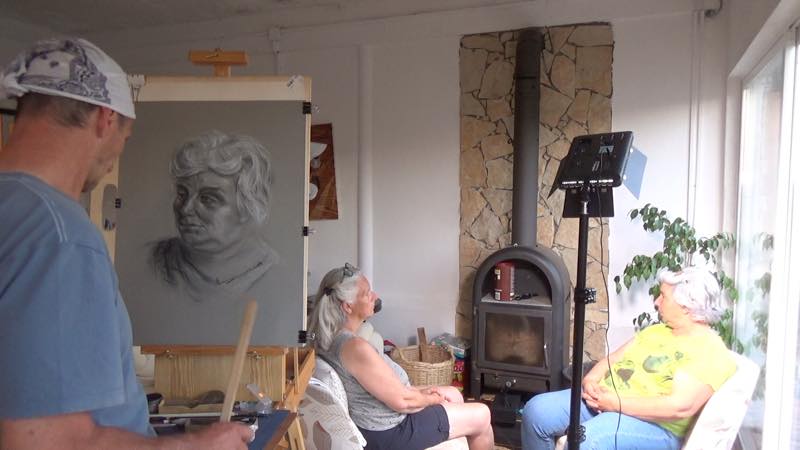 After drawing the Face Europe portrait we were invited to Marco and Anna for dinner.
It was a delicious experience. 
On Thursday Philipp wanted to have a portrait painted of himself in order to give it to his father for his birthday. He decided finally to have it also filmed and since it was only one more step to be part of Face Europe he decided to be part of Face europe as well.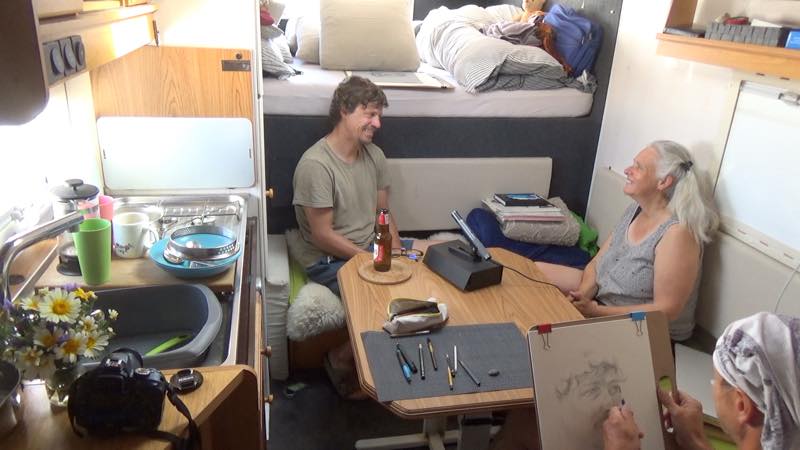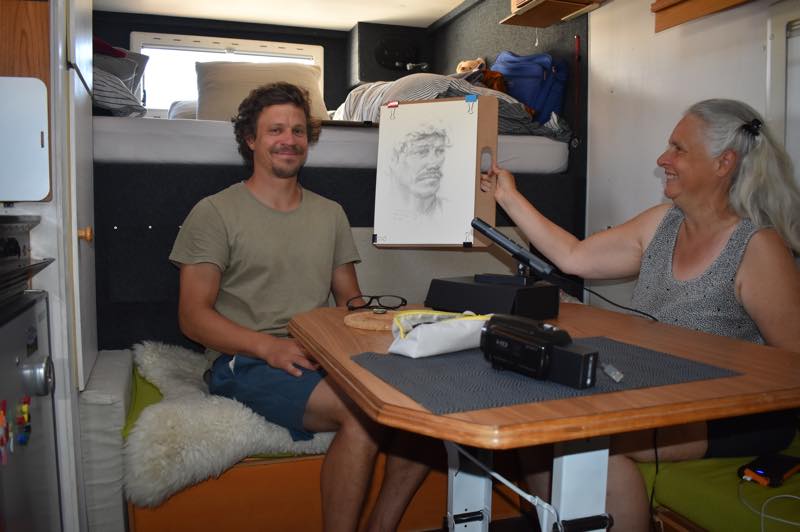 Late in the evening we received another email from Anne, who wanted to be a model for Face Europe. By chance she lives across the street from Mica and also had some time the very next day to be portrayed. We already know the way to Mica's place.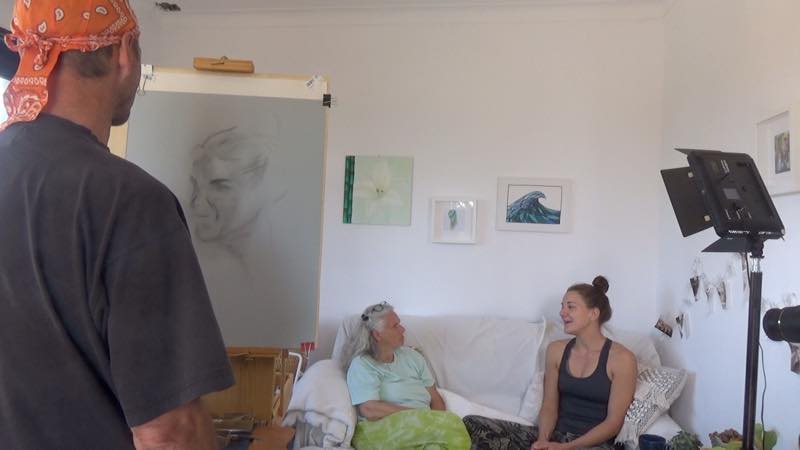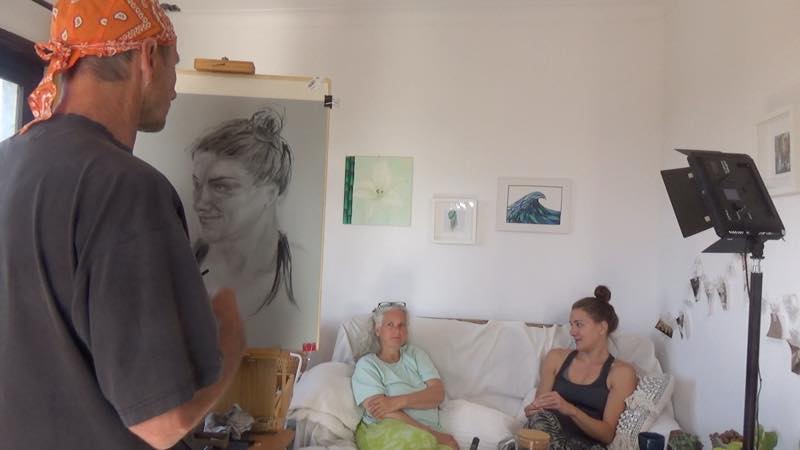 Anne is a very lovely flight attendant, accountant, surfer and besides, she was the weekend before a neighbor on the beach of São Julião at a party right next to us.
The world in Ericeira is small. Everyone knows everyone, surfers know each other and locals welcome "newcomers" like their friends. 
I had expressed a desire to eat fish at least once in Portugal. Neither Sonja not Rui, Marco and Anna, Mica and Melli had time to eat with us. Even Anne was already tied in a meeting. 
The only faithful Philip went with us and showed us the great restaurant in the old town of Ericeira. We were able to accompany him in his car and did not have to worry about parking in the narrow City. 
So our penultimate day was crowned with a delicious fish. 
Wilfried wanted to enjoy the Saturday for rest and on Sunday we definitely need to tear ourselves away. 
Unexpectedly, Pedro, the friend of Philip came to visit us on Saturday afternoon. Unfortunately, he had no time to have his portrait done.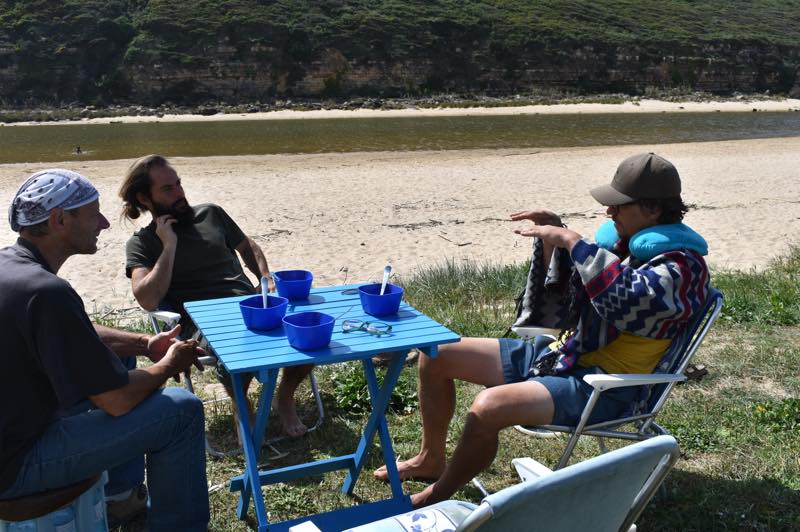 He is a filmmaker and – if we should come back to Portugal – he would be happy to be a part of Face Europe. 
We had planned to meet with Ricardo near Caldas da Rainha on Sunday but he had to cancel. 
Therefore, we will start our way home on Sunday, 31/03/2019 definitely and leave Obidos, Caldas da Rainha and Nazaré for our next visit to Portugal. 
We definitely want to get to know this country more closely and intensively.