[:de]Blogeintrag 2. 4. 2019
Heute haben wir es schon eine Stunde früher aus dem Bett geschafft.
Es war 8 Uhr als wir bei Sonnenschein zu frühstücken begannen. 
Da ich am Abend noch eine Tankstelle in der Nähe erspäht hatte, die Diesel um 1.164 € pro Liter anbot, starteten wir gleich einmal mit der Befüllung von Big Fredis Tank. 
Auch das Öl wurde kontrolliert und nachgefüllt. So ein alter Kerl braucht schon hin und wieder ein bisschen Schmiere. 
Als Wilfried auch die Reifen kontrollieren wollte, stellte sich heraus, dass der Kompressor nur bis 4 bar belastbar war. Big Fredi braucht aber 4,5 bar und so verloren wir noch eher Luft als dass wir etwas in den Reifen brachten. 
Bei der nächsten Tankstelle wollten wir gleich dieses Problem lösen. Allerdings war da der Reifen schon kaputt. Deutliches Zischen zeigte uns an, dass da nichts mehr zu machen war, als den Reservereifen zu montieren. 
Zum Glück waren 2 nette rumänische LKW Fahrer mit Muskelkraft, gutem Willen und einer starken Eisenstange zum Verlängern des Hebelarmes gleich zur Stelle.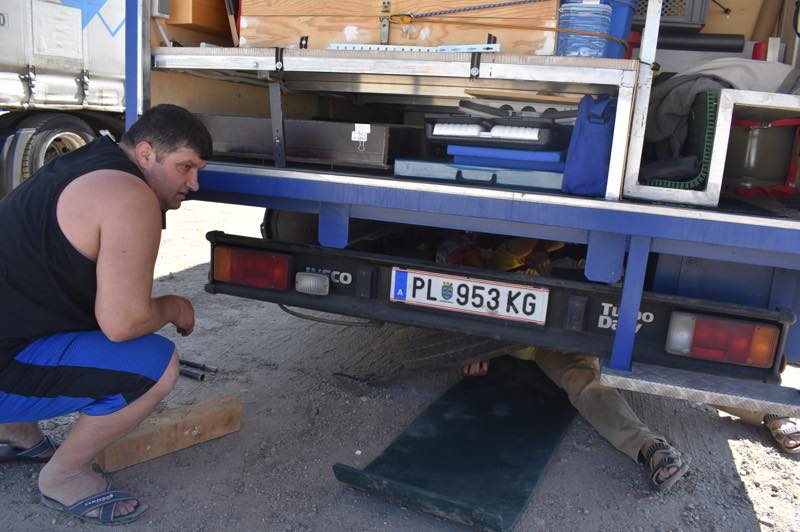 Der Reifenwechsel dauerte insgesamt fast eine Stunde und kostete uns in der nächsten Stadt (in Miranda) 92 € für einen neuen Reifen. 
Morgen will Wilfried den neuen Reifen montieren, da sich die Reifenfirma wieder einmal geweigert hatte, ihn zu montieren. 
Wir sind in Vitoria Gasteiz auf einem öffentlichen Parkplatz ohne Wohnmobilkollegen. Ich schaute noch bei Leroy Merlin hinein, ob sie eine Eisenstange haben, die uns beim Reifenwechsel helfen könnte, aber dort gibt es nichts Brauchbares. 
Gerade hat es ein wenig zu regnen begonnen und es hat auch abgekühlt. 
Überhaupt haben wir heute Mittag eine Wetterscheide überschritten und befinden uns im bergigeren Norden Spaniens. Da gibt es rundherum Gipfel mit 1.300 Höhenmetern, auf denen noch ein wenig Schnee zu sehen war. Zum Glück dürfen wir auf der Ruta de la Plata fahren, übersetzt Silberstraße, eine alte römische Handelsstraße.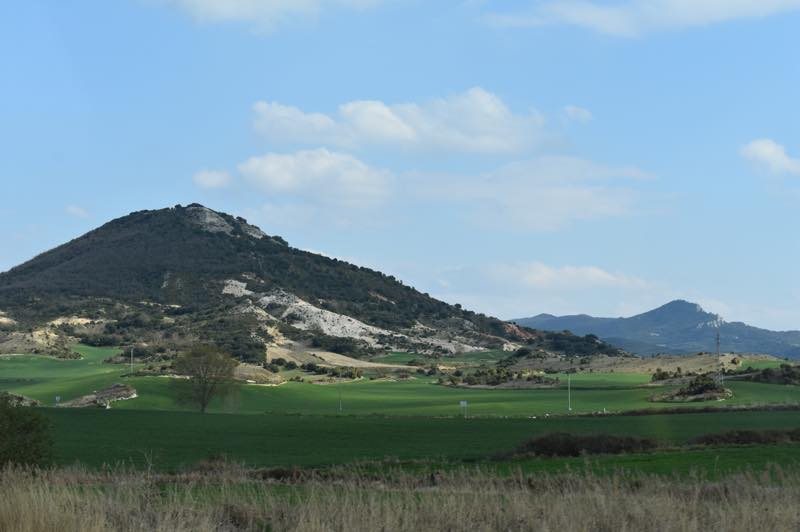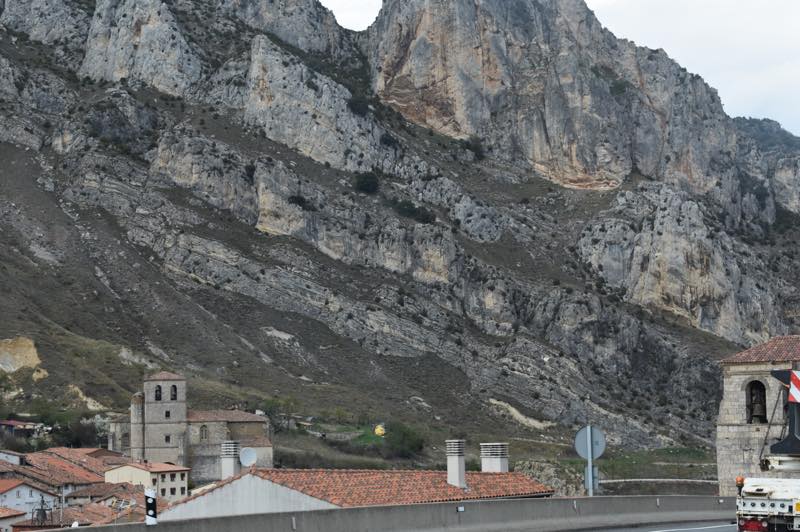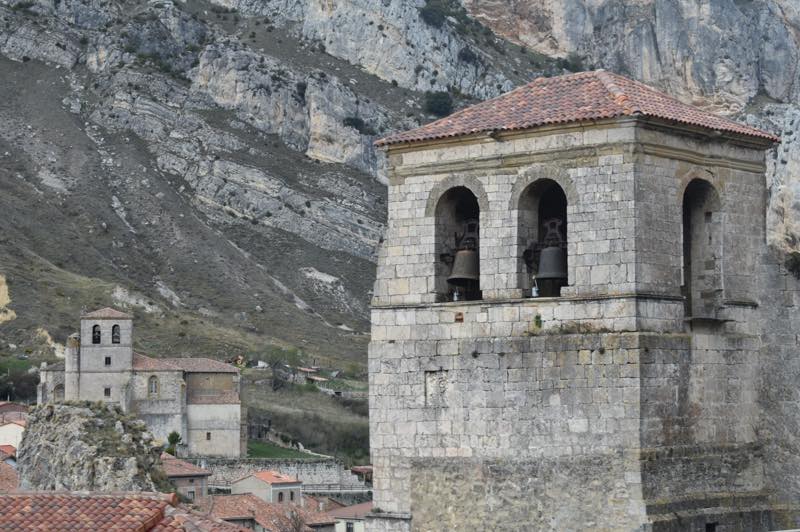 Plata klingt auch ein wenig wie Teller oder flach. Wir müssen nicht viele Steigungen bewältigen, schlängeln uns durch die weiten Täler Kilometer für Kilometer auf recht guten Straßen, die zum Teil autobahnmäßig ausgebaut sind unserem Ziel näher. Nur mehr 2.000 km zu fahren. Als wir unsere Heimreise begannen, waren es insgesamt 3.000 km. Tüchtig unser Big Fredi und Wilfried, Kings of the Road!
Danke dass wir so gut vorwärts kommen![:en]Blog entry 2. 4. 2019
Today we made it out of bed one hour earlier.
It was 8:00 when we started to have breakfast in the sunshine. 
Since last night I had spotted a gas station near by, which offered diesel for 1,164 € per liter, we started out with the filling of Big Fredi's tank. 
Also, the oil got checked and refilled. Such an old guy needs a little bit of grease now and again. 
Wilfried also wanted to check the tires, it turned out that the compressor was only giving 4 bars, but Big Fredi needs 4.5 Bars and so we rather lost air instead. 
At the next gas station we hoped to solve this problem. However, the tire was broken. Significant hiss showed us that there was nothing to do but to mount the spare tire. The old one was gone for good. 
Luckily we found two nice Romanian truck drivers with good muscle strength, good will and a strong iron bar to lengthen the lever arm to unscrew the screws.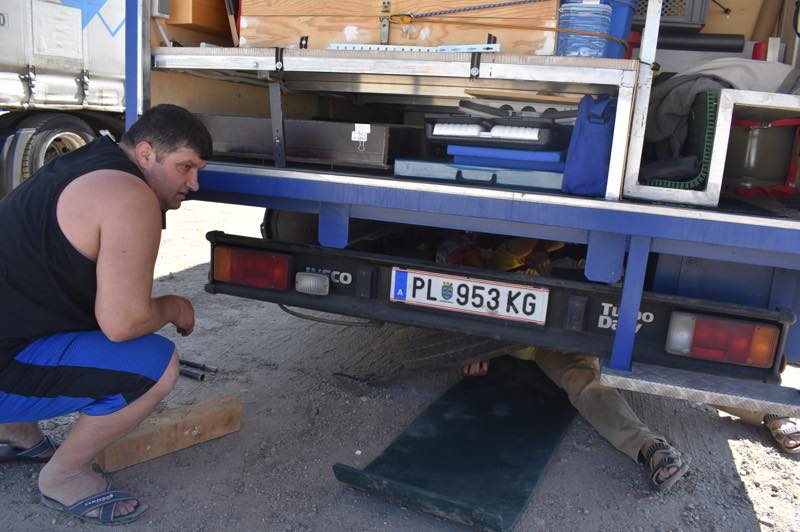 The changing of the tire took nearly an hour and it cost us (Miranda) 92 € for a new tire in the next town. 
Tomorrow Wilfried wants to mount the new tire, because this tire company had refused to mount it like they did in England last year. 
We are in Vitoria Gasteiz in a public parking without RV colleagues. I looked into  Leroy Merlin, whether they had an iron bar that could help us during the tire change, but there was nothing useful. 
Later it began to rain a little and it also cooled down quite a bit. 
Actually, we have crossed  a weather division this afternoon and are located in the more mountainous northern Spain. There are even snow covered peaks with an altitude of 1,300 meters. Fortunately we can use the Ruta de la Plata, translated as "Silver Route", an old Roman trade route. Plata also sounds to me a little Bit like plates or flat.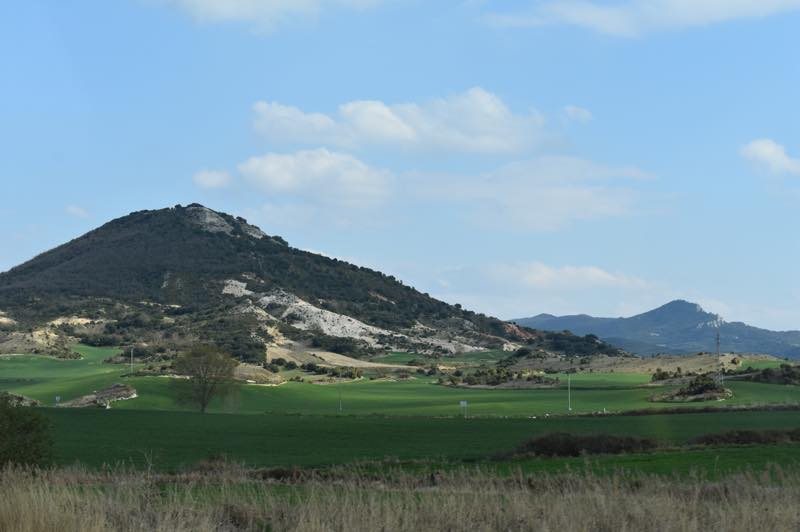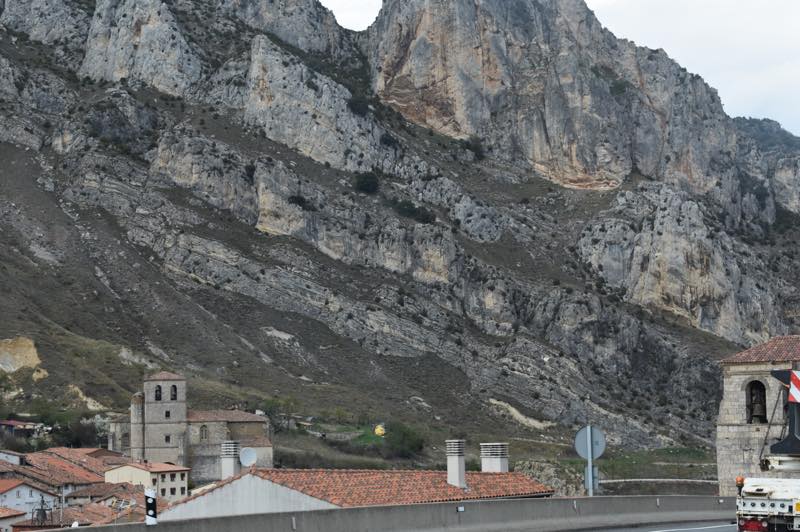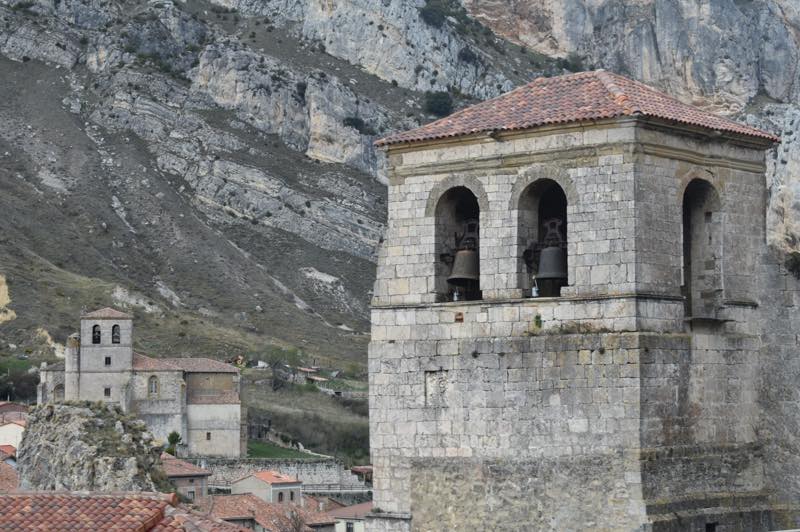 We do not have to deal with many slopes but meander through the wide valleys kilometer after kilometer on fairly good roads that are built as good motorways. Only to drive 2,000 kilometers more. When we started our journey home, there were a total of 3,000 kilometers. Our Big Fredi and Wilfried are the efficient "Kings of the Road"!
Thank you for our safe trip home![:]