[:de]Blogeintrag 16. August 2019
Eine wundervolle Urlaubswoche bei unseren Freunden in Kaliningrad sorgte für Entspannung und viel Spaß.
Die Woche verging wie im Flug und bei der Ausreise standen wir 5,5 Stunden an der Grenze zu Polen. Dienst nach Vorschrift. Gefühlte 100 mal Öffnen sämtlicher Türen und Klappen in unserem Big Fredi, Erstaunen oder einfach nur "Blechgesichter" bei den Beamten, deren Tragen der überdimensionalen Kappen schon eine Sonderzulage beim Gehalt rechtfertigen würde. 
Endlich nach dem letzten Fenster zur Passkontrolle hieß es dann auch noch Fahren durch die Röntgenbeschau. Ich wollte wissen wonach sie suchen und wurde aufgeklärt, sie suchten nach Tieren und versteckten Menschen. Welch ein Schreck: wir haben doch unsere Bärenfamilie an Bord und sicher auch ein paar Moskitos russischen Ursprungs. Gott sei Dank konnten sich alle gut verstecken und wir setzten unsere Fahrt noch bis Frombork, zu deutsch Frauenburg fort. An einem ruhigen Parkplatz an der Straße übernachteten wir ein Mal. In der Früh frühstückten wir mit unserem englischen Nachbarn Nikolaus. Wilfried half ihm anschließend bei seiner Autoreparatur. Während ich mich mit einem süßen kleinen Babykätzchen vergnügte, es mit Milch zutraulich machte, werkelte Wilfried im Auto von Nikolaus.
Zum Dank lud er uns ein in Portugal mit ihm essen zu gehen. Ja, so groß ist die Gemeinschaft des fahrenden Volkes!
Es wäre zwar möglich gewesen unser nächstes Ziel – Smoldzino – am selben Tag noch zu erreichen, aber wir zogen es vor, noch einmal an einem wunderschönen naturbelassenen See umgeben von viel Wald zu übernachten
bevor wir unseren Freund Michael in Smoldzino am 26. Juli schließlich erreichten.
Welch wunderbarer Garten nahm uns hier auf! Weitere 2 Wochen ohne erfolgreiche Face-Europe Suche.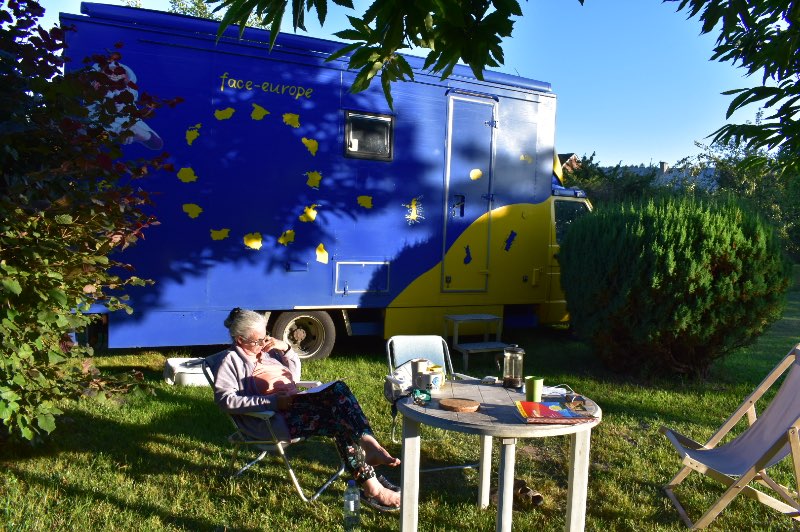 Obwohl Michael schon vorgearbeitet hatte, fand sich keiner, der porträtiert werden wollte. Also nützten wir die Zeit mit Strandbesuchen
und einer tollen Faltbootfahrt auf der unberührten Lupawa.
Am Donnerstag, den 8. August wendete sich das Blatt dann gewaltig. Ein Ausflug nach Słupsk endete in einer Einladung der Stadt direkt vor dem Rathaus zu stehen und unser Projekt weiter zu führen. Sogar für die Nacht hatte Dariusz, der Kulturmanager, für uns einen Platz im Kulturzentrum reserviert. Das Kulturzentrum ist ein videokontrollierter Park mitten in der Stadt. Wasser und Stromanschluss ebenso inkludiert wie eine Toilette. Dariusz wusste sofort, worum es bei unserem Projekt geht und unterstützt uns großartig. Die Cafeteria und die Toilette im Rathaus sind für uns immer untertags zugänglich.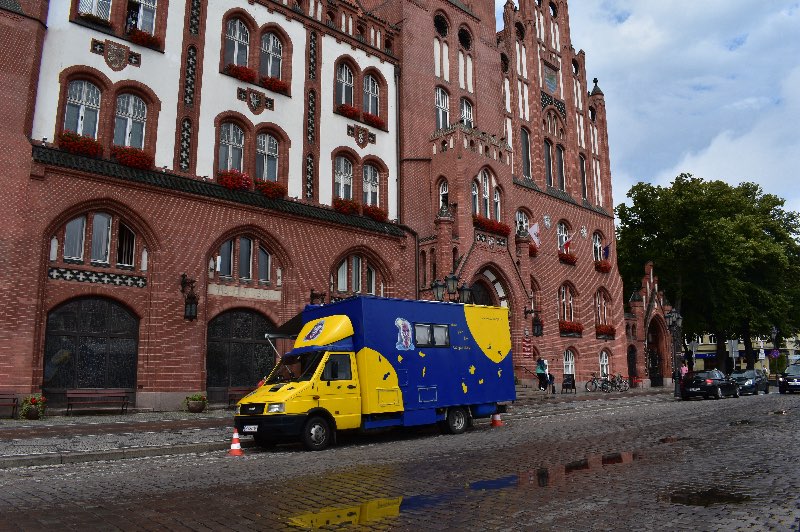 Das erleichtert unser Leben hier ungemein und wir können uns hier den wesentlichen Dingen zuwenden: Face Europe bekommt heute das 9. polnische Gesicht. Davon sind dann 8 in Słupsk entstanden.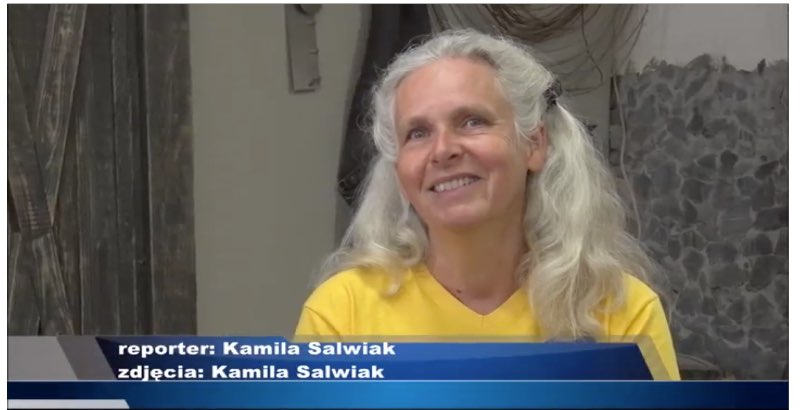 Dariusz stellte den Kontakt zum lokalen Fernsehen her: seit Mittwoch sind wir mit einem umfassenden Video dort vertreten. Ebenso das Stadtblatt und die Lokalzeitung haben uns erwähnt.
Am Mittwoch wollte ich ein Stück Stoff kaufen. Michael hatte uns einen uralten witzigen Klappsessel geschenkt, dessen Bezug zu erneuern war.
Da ich meine Nähmaschine mit an Bord habe, ist es mir möglich auch größere Projekte zu nähen. Die Verkäuferin, Beata und ihre Tochter Kalina sind nun auch im Projekt dabei. Das Stück Stoff für den Sessel bekam ich obendrein geschenkt. Der Sessel ist nun frisch bezogen mit einem Stoff, der in 100 Jahren noch gut ist. Er wird uns immer an Słupsk erinnern. 
Von Montag bis Freitag entstanden somit 8 Porträts und die Anfragen gehen immer noch weiter.
[:en]Blog post August 16, 2019
A wonderful holiday week with our friends in Kaliningrad made for relaxation and fun.
The week flew by and when leaving we were 5.5 hours on the border with Poland. Call of duty. Felt like 100 times: Open all doors and hatches in our Big Fredi, astonishment or simply "straight faces" among officials whose wearing the oversized caps would already justify a special allowance in salary. 
Finally, after the last window to passport control it meant also driving through the x-Ray. I wanted to know what they were looking for and it was clarified, they searched for hidden animals and humans. What a shock: We have our bear family on board and certainly a few mosquitoes of Russian origin. Thank God they could hide well and we continued our journey until Frombork, in German "Frauenburg". On a quiet street we stayed one night. In the morning we had breakfast with our English neighbor Nicholas. Wilfried helped him with his car repair. While I amused myself with a sweet little baby kitten, taming it with some milk, Wilfried worked in the car of Nicholas.
In gratitude, he invited us to eat with him in Portugal. Yes, such is the community of the traveling people!
It would have been possible to arrive Smoldzino on the same day,
but we preferred to stay one more night on a beautiful natural lake surrounded by a forest before we finally reached our friend Michael in Smoldzino July 26.
What a wonderful garden he invited us to! Another 2 weeks without a successful Face-Europe search.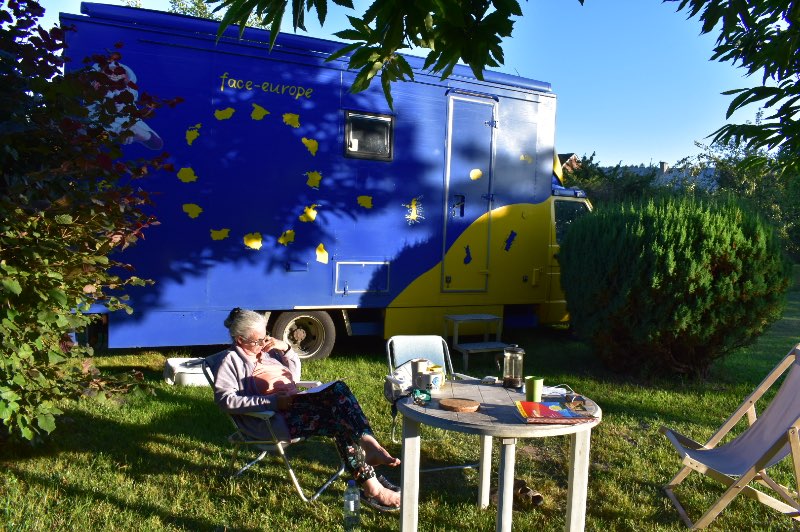 Although Michael had already prepared the village, no one wanted to be portrayed.
So we took advantage of the time with beach visits and a great trip with our folding paddling boat on the Łupawa river.
On Thursday, 8 August, everything changed. A trip to Słupsk ended in an invitation to stand in front of the town hall and to lead our project further to success. Even for the night Dariusz, cultural events manager, reserved a place in the cultural center for us. The Cultural Center is a video-controlled leisure area in a park within  the city center. Water and electricity as well as a toilet are on site. Dariusz knew immediately what is involved in our project and supports us greatly. The cafeteria and the toilet in the town hall are always accessible during the day for us.


This makes our life here immensely comfortable and we can turn to the essential things to us here: Face Europe got the 9th Polish face today. 8 of these have then been created in Slupsk.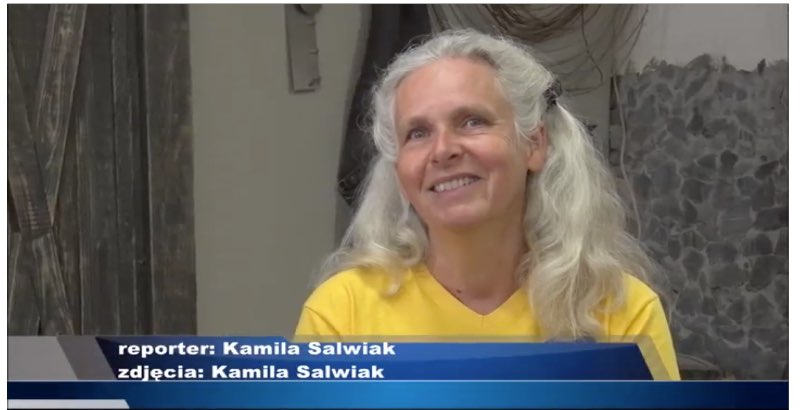 Dariusz established contact to the local TV: since Wednesday we are represented with a comprehensive video there. Similarly, the City Journal and the local newspaper have mentioned us.
On Wednesday, I wanted to buy a piece of cloth. Michael had given us an ancient folding chair which I wanted to renew. Since I have my sewing machine on board, it is possible for me to sew larger projects.
The saleswoman, Beata and her daughter Kalina are now also in the project. The piece of fabric for the chair I got on top of it as a gift. The chair is now freshly made with a fabric that will still be good in 100 years. It will always remind us of Slupsk. 
Between Monday and Friday 8 portraits have been created and inquiries are still continuing.
[:]