Blog post August 16, 2019
A wonderful holiday week with our friends in Kaliningrad made for relaxation and fun.
The week flew by and when leaving we were 5.5 hours on the border with Poland. Call of duty. Felt like 100 times: Open all doors and hatches in our Big Fredi, astonishment or simply "straight faces" among officials whose wearing the oversized caps would already justify a special allowance in salary. 
Finally, after the last window to passport control it meant also driving through the x-Ray. I wanted to know what they were looking for and it was clarified, they searched for hidden animals and humans. What a shock: We have our bear family on board and certainly a few mosquitoes of Russian origin. Thank God they could hide well and we continued our journey until Frombork, in German "Frauenburg". On a quiet street we stayed one night. In the morning we had breakfast with our English neighbor Nicholas. Wilfried helped him with his car repair. While I amused myself with a sweet little baby kitten, taming it with some milk, Wilfried worked in the car of Nicholas.
In gratitude, he invited us to eat with him in Portugal. Yes, such is the community of the traveling people!
It would have been possible to arrive Smoldzino on the same day,
but we preferred to stay one more night on a beautiful natural lake surrounded by a forest before we finally reached our friend Michael in Smoldzino July 26.
What a wonderful garden he invited us to! Another 2 weeks without a successful Face-Europe search.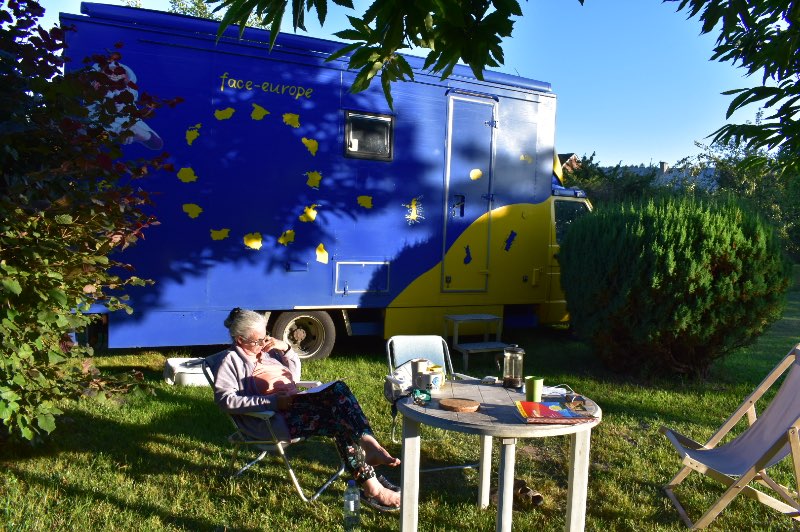 Although Michael had already prepared the village, no one wanted to be portrayed.
So we took advantage of the time with beach visits and a great trip with our folding paddling boat on the Łupawa river.
On Thursday, 8 August, everything changed. A trip to Słupsk ended in an invitation to stand in front of the town hall and to lead our project further to success. Even for the night Dariusz, cultural events manager, reserved a place in the cultural center for us. The Cultural Center is a video-controlled leisure area in a park within  the city center. Water and electricity as well as a toilet are on site. Dariusz knew immediately what is involved in our project and supports us greatly. The cafeteria and the toilet in the town hall are always accessible during the day for us.


This makes our life here immensely comfortable and we can turn to the essential things to us here: Face Europe got the 9th Polish face today. 8 of these have then been created in Slupsk.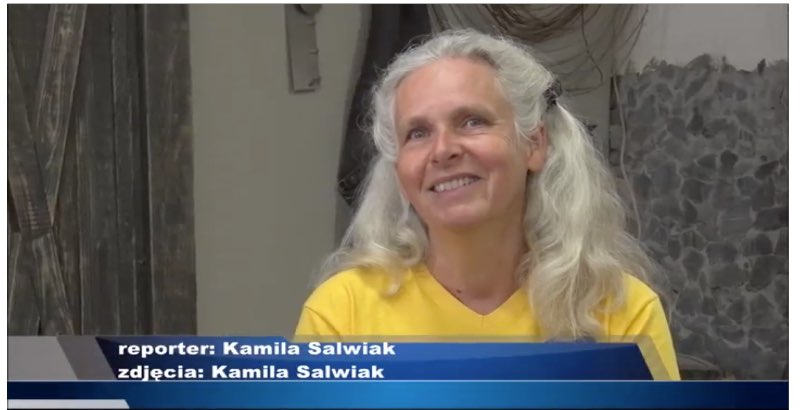 Dariusz established contact to the local TV: since Wednesday we are represented with a comprehensive video there. Similarly, the City Journal and the local newspaper have mentioned us.
On Wednesday, I wanted to buy a piece of cloth. Michael had given us an ancient folding chair which I wanted to renew. Since I have my sewing machine on board, it is possible for me to sew larger projects.
The saleswoman, Beata and her daughter Kalina are now also in the project. The piece of fabric for the chair I got on top of it as a gift. The chair is now freshly made with a fabric that will still be good in 100 years. It will always remind us of Slupsk. 
Between Monday and Friday 8 portraits have been created and inquiries are still continuing.