[:de]Blogeintrag 24.9.2019
Nach 2 weiteren Etappen durch das hügelige Weinland westlich des Schwarzwaldes sind wir nun gestern in Saint Louis angekommen
Sophie, die uns schon vor einigen Wochen in den Elsaß einlud, hat mit der Kulturabteilung vereinbart, dass wir vor dem Rathaus mit Face Europe stehen dürfen. 
Das hat dann auch gleich sehr unkompliziert funktioniert. 
Letzte Nacht teilten wir uns den Stellplatz am Rhein in Village-Neuf mit ein paar Romas. Sie verhielten sich aber still. Ohne musikalische Beilagen. 
Grillten in Ruhe und hinterließen ihren Mist gesammelt. 
Gleich in den Morgenstunden vor dem Rathaus am ersten Tag machten wir Bekanntschaft mit dem Schweizer Redakteur der Elsass-Gazette.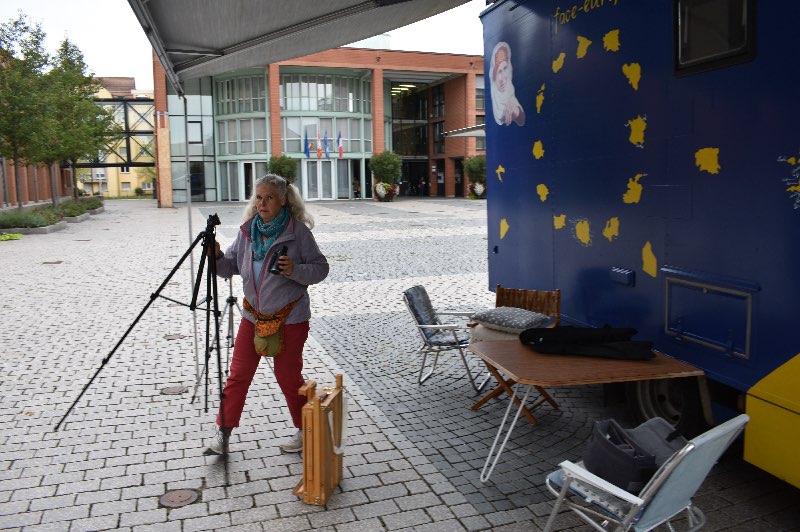 Er versprach seinen Kollegen zu informieren, der Redakteur der hiesischen elsässischen Zeitung L'Alsace ist. Eine Stunde später waren beide wieder hier und Jean-Christophe machte sich mit uns gleich für Donnerstag einen Termin für eine Face Europe Sitzung aus. Er wird uns dabei interviewen und den Artikel während des Interviews in seinen Computer tippen. Besser geht es gar nicht![:en]Blog entry 24/09/2019
After 2 more days through the hilly wine country west of the Black Forest, we have now arrived Saint Louis
Sophie, who invited us to Alsace a few weeks ago, has agreed with the Cultural Department that we can stand in front of the town hall with Face Europe. 
This works pur very straightforward. 
Last night we shared the parking lot at the Rhine in Village-Neuf with a few Romas. But they were peaceful. Without musical accompanying. 
Grilled alone, leaving their garbage collected. 
Early the next morning in front of the town hall we made the acquaintance with the Swiss editor of Alsace-Gazette.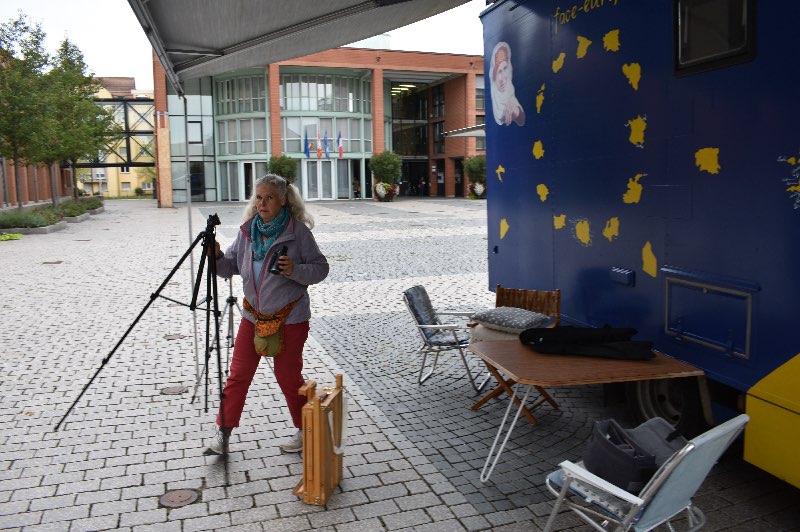 He promised to inform his colleague from France, who is the editor of the newspaper "L'Alsace". An hour later, both came back together and Jean-Christophe made a date for Thursday for a face Europe session. He will interview us and write the story for his newspaper into his Computer during the session while he is being portrayed . Nothing could be better  than that![:]